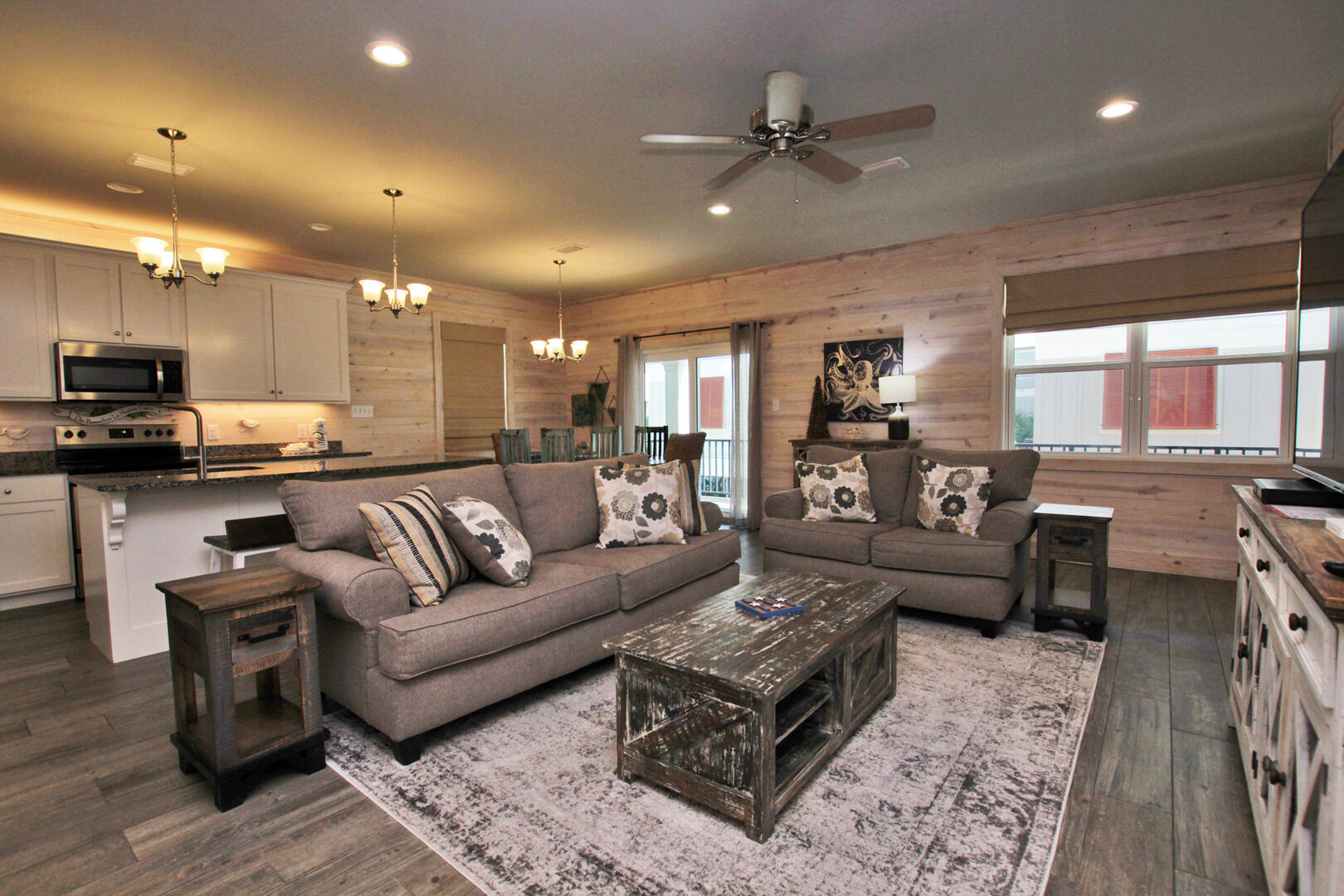 Romeo Beach Cottage M is a beautiful 3-bedroom 4-bathroom beach cottage, newly built and is located right across the street from the beach in Gulf Shores! The living area offers a large smart television. The open floor plan allows your friends and family to mingle no matter where they are! The fully-equipped kitchen has custom cabinetry, granite countertops and stainless steel appliances.

Romeo Beach Cottages is one of the newest developments in Gulf Shores and is located just minutes and within walking distance to dining, shopping, and local attractions. This community offers a shared outdoor swimming pool and offers deeded beach access. The beach can be accessed by the crosswalk at the red light, directly between the Lighthouse condominium and The Whaler condominium.

Covered parking under house up to two (3) vehicles. Minimum age to rent is 25.

Bedding:
2 King
2 Full
2 Twins Bunk Beds

473 E 1st Ave. Gulf Shores, AL
Area : Gulf Shores
Sleep Cap : 10
Bedrooms : 3.00
Internet Type : Free Unit WiFi
Square Ft. : 1816
Master Bedroom : King
Building Orientation : Across the Street
Guest Bedroom 1 : King
Guest Bedroom 2 : 2 Full
ilink : ilink Booking
Balcony View : Across the Street - Gulf View
Number Bathrooms : 4.0
Complex : House
TV - Unit : 4
Number of Beds : 5
Pool - Outdoor : Yes
Rental Type : House
Sleeps : 10
Age Requirement : 25
Long Term : No
Pet Policy : No Pets
Pet Restriction : No Pets
Parking - Guest Purchase :
Thank you for submitting your review. It will be processed shortly!
January 2, 2022 - Website
Holiday Vacation!
by Lance T
We stayed at Romeo Beach M. The house has a great layout and is just a short walk from the beach. The house is very clean. We will be staying here again.-Reviewed on Google
October 12, 2021 - Website
Property was amazing.
by Andrea W
Property was amazing. Beautiful and comfortable with short walk to beach.
December 28, 2020 - Website
Quarantine Christmas
by Lindsey T
My family and I (8 adults, 2 children) stayed at the Romeo Beach M house for our quarantine Christmas in December. The pictures didn't do the house enough justice! It's beautifully decorated, spacious and was in pristine condition. Check in and check out was easy. Having 4 full bathrooms made it an especially good location for a large group. There's enough seating in the dining/kitchen area as well as in the living room because of the open layout. They provided linens, towels and basic kitchen supplies (pots, pans, utensils), as well as a washer and dryer. The only thing to be aware of is entry into the house requires going up somewhat steep steps so it's not wheelchair accessible or good for people with mobility issues. Overall a wonderful experience and I would recommend this location for families and large groups! - Reviewed on Google
November 27, 2020 - Website
Beautiful Stay at Romeo M
by Debra T
We had a beautiful stay in beach house M !! There were a lot of us but we had plenty of space and towels and beds! The kitchen was almost stocked enough for us to cook our turkey dinner, we only needed to grab a few items! We look forward to staying there again!! Thank you for making it easy and hassle free. - Reviewed on Google
October 2022
S
M
T
W
T
F
S
01
02
03

$190

04
05
06
07
08
09
10
11
12
13
14
15
16
17
18
19
20
21
22
23
24
25
26
27
28
29
30
31
November 2022

| S | M | T | W | T | F | S |
| --- | --- | --- | --- | --- | --- | --- |
| | | 01 | 02 | 03 | 04 | 05 |
| 06 | 07 | 08 | 09 | 10 | 11 | 12 |
| 13 | 14 | 15 | 16 | 17 | 18 | 19 |
| 20 | 21 | 22 | 23 | 24 | 25 | 26 |
| 27 | 28 | 29 | 30 | | | |
December 2022

| S | M | T | W | T | F | S |
| --- | --- | --- | --- | --- | --- | --- |
| | | | | 01 | 02 | 03 |
| 04 | 05 | 06 | 07 | 08 | 09 | 10 |
| 11 | 12 | 13 | 14 | 15 | 16 | 17 |
| 18 | 19 | 20 | 21 | 22 | 23 | 24 |
| 25 | 26 | 27 | 28 | 29 | 30 | 31 |
January 2023

| S | M | T | W | T | F | S |
| --- | --- | --- | --- | --- | --- | --- |
| 01 | 02 | 03 | 04 | 05 | 06 | 07 |
| 08 | 09 | 10 | 11 | 12 | 13 | 14 |
| 15 | 16 | 17 | 18 | 19 | 20 | 21 |
| 22 | 23 | 24 | 25 | 26 | 27 | 28 |
| 29 | 30 | 31 | | | | |
February 2023

| S | M | T | W | T | F | S |
| --- | --- | --- | --- | --- | --- | --- |
| | | | 01 | 02 | 03 | 04 |
| 05 | 06 | 07 | 08 | 09 | 10 | 11 |
| 12 | 13 | 14 | 15 | 16 | 17 | 18 |
| 19 | 20 | 21 | 22 | 23 | 24 | 25 |
| 26 | 27 | 28 | | | | |
March 2023

| S | M | T | W | T | F | S |
| --- | --- | --- | --- | --- | --- | --- |
| | | | 01 | 02 | 03 | 04 |
| 05 | 06 | 07 | 08 | 09 | 10 | 11 |
| 12 | 13 | 14 | 15 | 16 | 17 | 18 |
| 19 | 20 | 21 | 22 | 23 | 24 | 25 |
| 26 | 27 | 28 | 29 | 30 | 31 | |
April 2023

| S | M | T | W | T | F | S |
| --- | --- | --- | --- | --- | --- | --- |
| | | | | | | 01 |
| 02 | 03 | 04 | 05 | 06 | 07 | 08 |
| 09 | 10 | 11 | 12 | 13 | 14 | 15 |
| 16 | 17 | 18 | 19 | 20 | 21 | 22 |
| 23 | 24 | 25 | 26 | 27 | 28 | 29 |
| 30 | | | | | | |
May 2023

| S | M | T | W | T | F | S |
| --- | --- | --- | --- | --- | --- | --- |
| | 01 | 02 | 03 | 04 | 05 | 06 |
| 07 | 08 | 09 | 10 | 11 | 12 | 13 |
| 14 | 15 | 16 | 17 | 18 | 19 | 20 |
| 21 | 22 | 23 | 24 | 25 | 26 | 27 |
| 28 | 29 | 30 | 31 | | | |
June 2023

| S | M | T | W | T | F | S |
| --- | --- | --- | --- | --- | --- | --- |
| | | | | 01 | 02 | 03 |
| 04 | 05 | 06 | 07 | 08 | 09 | 10 |
| 11 | 12 | 13 | 14 | 15 | 16 | 17 |
| 18 | 19 | 20 | 21 | 22 | 23 | 24 |
| 25 | 26 | 27 | 28 | 29 | 30 | |
July 2023

| S | M | T | W | T | F | S |
| --- | --- | --- | --- | --- | --- | --- |
| | | | | | | 01 |
| 02 | 03 | 04 | 05 | 06 | 07 | 08 |
| 09 | 10 | 11 | 12 | 13 | 14 | 15 |
| 16 | 17 | 18 | 19 | 20 | 21 | 22 |
| 23 | 24 | 25 | 26 | 27 | 28 | 29 |
| 30 | 31 | | | | | |
August 2023

| S | M | T | W | T | F | S |
| --- | --- | --- | --- | --- | --- | --- |
| | | 01 | 02 | 03 | 04 | 05 |
| 06 | 07 | 08 | 09 | 10 | 11 | 12 |
| 13 | 14 | 15 | 16 | 17 | 18 | 19 |
| 20 | 21 | 22 | 23 | 24 | 25 | 26 |
| 27 | 28 | 29 | 30 | 31 | | |
September 2023

| S | M | T | W | T | F | S |
| --- | --- | --- | --- | --- | --- | --- |
| | | | | | 01 | 02 |
| 03 | 04 | 05 | 06 | 07 | 08 | 09 |
| 10 | 11 | 12 | 13 | 14 | 15 | 16 |
| 17 | 18 | 19 | 20 | 21 | 22 | 23 |
| 24 | 25 | 26 | 27 | 28 | 29 | 30 |
October 2023

| S | M | T | W | T | F | S |
| --- | --- | --- | --- | --- | --- | --- |
| 01 | 02 | 03 | 04 | 05 | 06 | 07 |
| 08 | 09 | 10 | 11 | 12 | 13 | 14 |
| 15 | 16 | 17 | 18 | 19 | 20 | 21 |
| 22 | 23 | 24 | 25 | 26 | 27 | 28 |
| 29 | 30 | 31 | | | | |