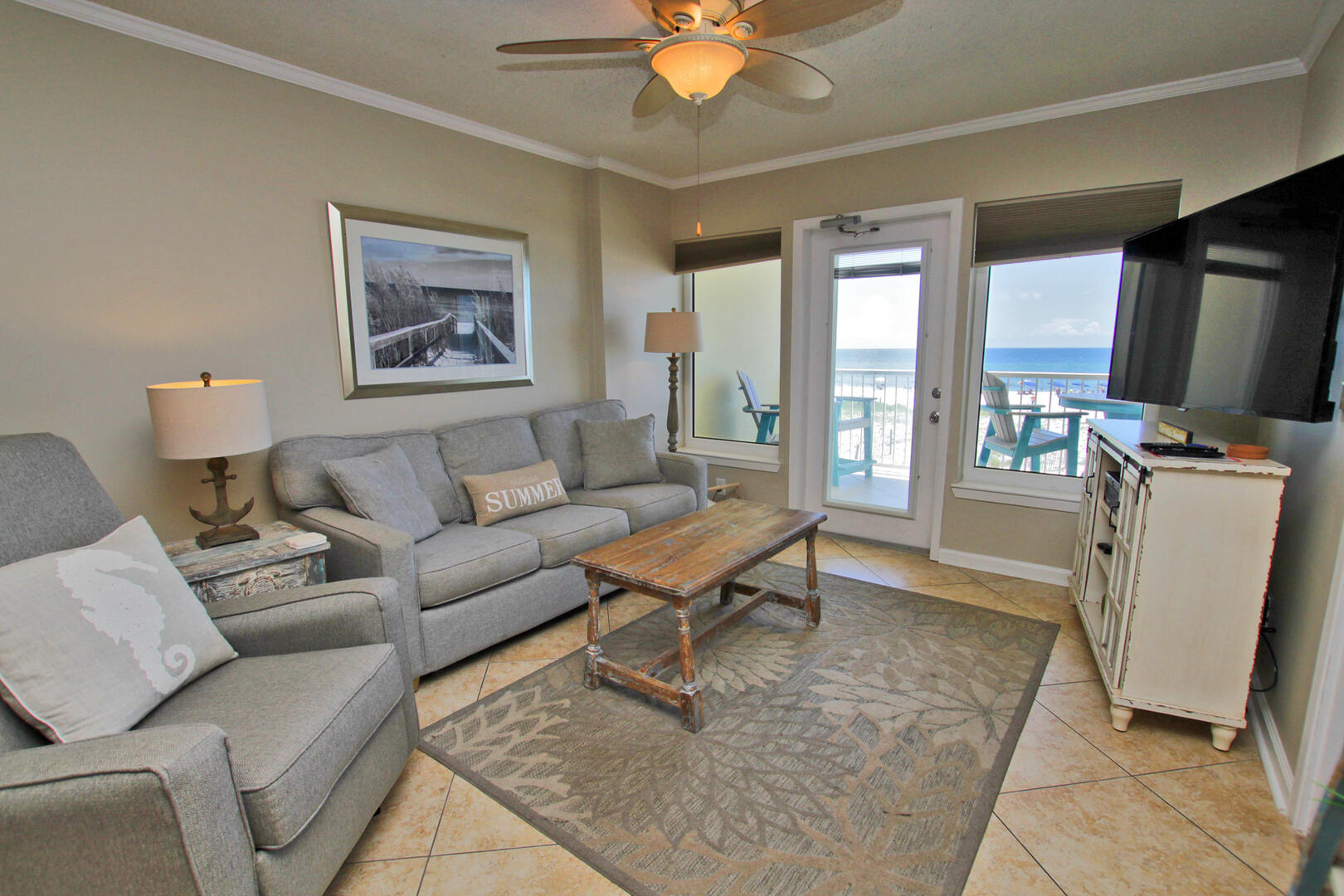 Boardwalk 183 is the place to be! A 2 bedroom 2 bathroom Gulf Shores condo that will provide you with priceless memories you will never forget. Enjoy family time in the cheery living room with a mounted flat screen television, and unobstructed views of the Gulf of Mexico. There is a fully equipped kitchen with seating for up to 6 people. The primary bedroom with balcony access, has a king bed and private bath with a tub/shower combo, and the other bedroom has two twin sized beds. There is a queen sized sofa sleeper in the living room which allows 6 people to enjoy this condo comfortably.

This 70 unit complex is in the heart of shopping, attractions, entertainment and dining, including the famous Sea-n-Suds restaurant on-site. While outdoors, enjoy the gulf side pool a sundeck and BBQ area. There is a full size washing machine and dryer in the condo, as well as free Wi-Fi and flat screen televisions throughout.

You must be at least 25 years of age or older to reserve this vacation rental. This is a non-smoking property. Free Parking with a 2 car maximum. No pets are permitted

Monthly rentals accepted January through March 1st.

Bedding:
Primary- King
Bedroom 1- Two-Twins
Living area- Queen Size sleeper sofa

409 East Beach Blvd. Gulf Shores Al. 36542

Unit Location : Close to Elevator
Area : Gulf Shores
Sleep Cap : 6
Bedrooms : 2.00
Internet Type : Free Public WiFi
Square Ft. : 940
Master Bedroom : King
Building Orientation : Gulf Side
Guest Bedroom 1 : 2 Twins
ilink : ilink Booking
Balcony View : Gulf Front
Number Bathrooms : 2.0
Complex : Boardwalk
TV - Unit : 3
Number of Beds : 3
Pool - Outdoor : Yes
BBQ Grills : Yes
Elevator : Yes
Parking Limit : 2 Vehicles
Rental Type : Condo
Sleeps : 6
Age Requirement : 25
Long Term : No
Pet Policy : No Pets
Pet Restriction : No Pets
Parking - Guest Purchase :
Thank you for submitting your review. It will be processed shortly!
Boardwalk unit 183
by Jane M
Excellent condo with a beach and pool view. The condo was very clean and beautifully decorated, loved the beach theme! We had a great time hanging out at the beach and pool. The location is perfect with the beach, pool, and great restaurant next door- Sea and suds was a great place to Excellent condo with a great view of the beach and pool. The condo was very clean and beautifully decorated, loved the beach theme! The location was perfect- right on the beach, nice pool, and a great restaurant next door- Sea and Suds was convenient for lunch, drinks, and carry out shrimp on the beach. I highly recommend this condo! I can't wait to go back! Great vacation!
Great location!
by Stacy D
Great location right on the beach with easy access to shopping and dining. Owners were super easy to deal with, very pleasant and responsive. The condo was very clean and my husband sure enjoyed the 52\" TV in the evenings. Great views from the balcony and master. We will definitely stay here again.
Summer Fun Boardwalk 183
by Jennie D
Excellent condo with comfortable furniture and fabulous view. Loved the patio and pool too. Highly recommend
I have stayed in this unit twice and absolutely loved it. Very clean, first floor but high enough to see the ocean!! Sea and suds is right next door, so convenient for drinks, shrimp, etc.., to take on the beach. A market right across the street. I could literally never leave the property and have a GREAT time. Can\'t wait for our next trip!!
Great place. Beautifully decorated. Great patio can see ocean and pool. Close to restaurants and shopping. Loved it and highly recommend
Best trip ever!
by Betsy B
October 2022
S
M
T
W
T
F
S
01
02
03

$145

04

$145

05

$145

06
07
08
09
10
11
12
13
14
15
16
17
18
19
20
21
22
23
24

$145

25

$145

26

$145

27

$145

28

$145

29

$145

30

$145

31

$145
November 2022
S
M
T
W
T
F
S
01

$145

02

$145

03

$145

04

$145

05

$145

06

$145

07

$145

08

$145

09

$145

10

$145

11

$145

12

$145

13

$145

14

$145

15

$145

16

$145

17

$145

18

$145

19

$145

20
21
22
23
24
25
26

$195

27

$175

28

$145

29

$145

30

$145
December 2022
S
M
T
W
T
F
S
01

$145

02
03
04
05
06
07
08
09
10
11
12
13
14
15
16
17
18
19
20
21
22
23
24
25
26
27
28
29
30
31
January 2023

| S | M | T | W | T | F | S |
| --- | --- | --- | --- | --- | --- | --- |
| 01 | 02 | 03 | 04 | 05 | 06 | 07 |
| 08 | 09 | 10 | 11 | 12 | 13 | 14 |
| 15 | 16 | 17 | 18 | 19 | 20 | 21 |
| 22 | 23 | 24 | 25 | 26 | 27 | 28 |
| 29 | 30 | 31 | | | | |
February 2023

| S | M | T | W | T | F | S |
| --- | --- | --- | --- | --- | --- | --- |
| | | | 01 | 02 | 03 | 04 |
| 05 | 06 | 07 | 08 | 09 | 10 | 11 |
| 12 | 13 | 14 | 15 | 16 | 17 | 18 |
| 19 | 20 | 21 | 22 | 23 | 24 | 25 |
| 26 | 27 | 28 | | | | |
March 2023
S
M
T
W
T
F
S
01

$180

02

$210

03

$215

04

$220

05

$220

06

$215

07

$210

08

$210

09

$220

10

$280

11

$285

12

$285

13

$280

14

$280

15

$280

16

$285

17

$285

18

$275

19

$270

20

$275

21

$275

22

$270

23

$270

24

$270

25

$285

26

$290

27

$295

28

$295

29

$300

30

$310

31

$310
April 2023
S
M
T
W
T
F
S
01
02
03
04
05
06
07
08

$330

09

$315

10

$305

11

$300

12

$295

13

$300

14

$315

15

$305

16

$280

17

$175

18

$180

19

$185

20

$200

21

$225

22
23
24
25
26
27
28

$225

29

$225

30

$225
May 2023
S
M
T
W
T
F
S
01

$220

02

$220

03

$230

04

$260

05

$280

06

$285

07

$250

08

$200

09
10
11

$245

12

$270

13

$280

14

$250

15

$245

16

$250

17

$265

18

$545

19

$565

20

$575

21

$555

22

$295

23

$295

24

$305

25

$330

26

$455

27

$460

28

$445

29

$450

30

$340

31

$355
June 2023
S
M
T
W
T
F
S
01

$370

02

$375

03

$385

04

$375

05

$380

06

$385

07

$395

08

$400

09

$400

10

$400

11

$390

12

$400

13

$410

14

$405

15

$410

16

$410

17

$410

18

$420

19

$435

20

$435

21

$410

22

$415

23

$415

24

$415

25

$410

26

$415

27

$415

28

$415

29

$445

30

$445
July 2023
S
M
T
W
T
F
S
01

$445

02

$440

03

$445

04

$445

05

$445

06

$450

07

$450

08

$435

09

$430

10

$430

11

$430

12

$430

13

$440

14

$445

15

$445

16

$435

17

$445

18

$445

19

$440

20

$450

21

$460

22

$450

23

$435

24

$445

25

$440

26

$435

27

$450

28

$450

29

$445

30

$415

31

$420
August 2023
S
M
T
W
T
F
S
01

$415

02

$410

03

$425

04

$430

05

$415

06

$380

07

$375

08

$375

09

$370

10

$380

11

$385

12

$370

13

$330

14

$320

15

$315

16

$315

17

$325

18

$330

19

$320

20

$270

21

$265

22

$255

23

$255

24

$265

25

$280

26

$270

27

$230

28

$225

29

$215

30

$215

31

$235
September 2023
S
M
T
W
T
F
S
01

$385

02

$380

03

$350

04

$345

05

$200

06

$200

07

$220

08

$240

09

$235

10

$210

11

$205

12

$195

13

$195

14

$210

15

$230

16

$230

17

$200

18

$200

19

$190

20

$190

21

$205

22

$225

23

$220

24

$195

25

$190

26

$190

27

$190

28

$205

29

$225

30

$225
October 2023
S
M
T
W
T
F
S
01

$200

02

$190

03

$200

04

$200

05

$220

06

$370

07

$370

08

$330

09

$320

10

$190

11

$185

12

$205

13

$215

14

$210

15

$170

16

$165

17

$165

18

$165

19

$175

20

$185

21

$180

22

$165

23

$165

24

$165

25

$165

26

$165

27

$165

28

$165

29

$165

30

$165

31

$165