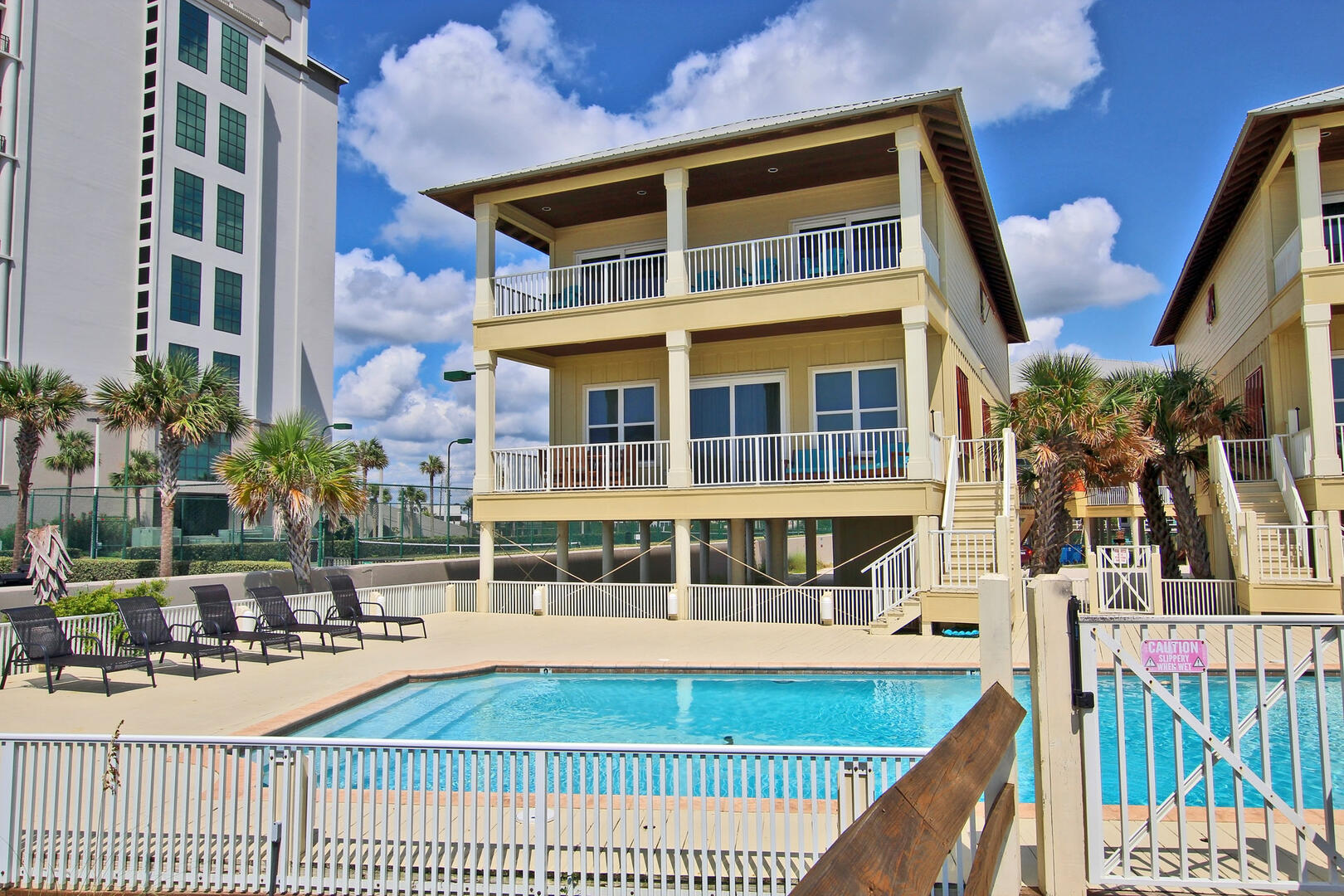 Summer Salt West is a brand new luxurious gulf front beach house in Orange Beach. Construction completed in May of 2014. Bring your family or group and experience the space and privacy of a 7 bedroom, 6 bath gulf front retreat with a private shared pool. The shared pool is 800 sq ft with a 2,222 sq ft pool deck. The main level has a gulf front balcony the width of the house. You can sit and watch family play in the shared gulf front pool or gaze out at the waves and emerald green waters of the gulf. Just inside you'll find the spacious living with 55-inch HDTV, dining and kitchen areas. The 1st level has 2 of the 7 bedrooms with king beds. 1 bedroom offers a private bath while the other has a small private north facing balcony. On the 2nd level you will find the remaining 5 bedrooms and the laundry. There are 2 gulf front master bedroom suites with king beds that share a balcony. Next is a bunk room in the middle with 8 built-in bunks. The final 2 bedrooms are on the north side with a king bed in one and 2 queen beds in the other. Summer Salt West comfortably sleeps 24 people with 4 of the 7 bedrooms containing private baths, offering privacy for guests even in a house of this size. The bedding is: 5 King beds, 2 Queens, 8 single bunks and a sleeper sofa. The living room and all 7 bedrooms have TVs with Blu-Ray.

Covered parking is available under the house. Bring your family and friends this summer and make memories you will share for a lifetime! Minimum age to rent is 25.
Area : Orange Beach
Sleep Cap : 24
Bedrooms : 7.00
Internet Type : Free Unit WiFi
Square Ft. : 3600
Master Bedroom : King
Building Orientation : Gulf Side
Guest Bedroom 1 : King
Guest Bedroom 2 : King
Guest Bedroom 3 : 2 Queens
ilink : ilink Booking
Guest Bedroom 4 : 4 Twin/Twin Bunk Beds
Balcony View : Gulf Front
Video rm2 : Blu-Ray
Number Bathrooms : 6.0
Complex : House
TV - Unit : 8
Number of Beds : 15
Pool - Outdoor : Yes
BBQ Grills : Yes
Rental Type : House
Sleeps : 24
Guest Bedroom 5 : King
Age Requirement : 25
Long Term : No
Guest Bedroom 6 : King
Pet Policy : No Pets
Pet Restriction : No Pets
Parking - Guest Purchase :
Thank you for submitting your review. It will be processed shortly!
September 4, 2022 - Manual Entry
Great Beach Vacay
by Dominick V.
We had a great time on a Labor Day. Not a far drive from the famous FloraBama and many restaurants. House was beautiful and perfect to be able to walk straight to the beach.- Reviewed on VRBO
Beach trip for the family
by Diane D
We stayed at Summer Salt West for a week in May, 2021.The house was perfect for 9 adults and 9 grandchildren. This house had a bunk bed room for all the little ones. 8 beds!! It was a short walk to beach and pool for hot afternoons. We had an outage one night which made the air conditioners not work. Suncoast responded within the hour and reset the thermostats. They were great and response time was amazing! Would recommend this house with any big groups and we will definitely be back!
Velocity Volleyball Madison MS
by Chris W
Great property and it allowed all the girls to stay under one roof. - Reviewed on VRBO
December 20, 2020 - Website
We enjoyed our stay at Summer Salt West!
by Juliana L
The house was clean, spacious, and has beautiful views. It was a perfect place for our extended family of 20 to celebrate Christmas together. We enjoyed the open kitchen living area, two fridges, lots of cookware, deck, and plenty of bedrooms and bathrooms. It was memorable and we are thankful for our time together there! - Reviewed on Google
October 2022
S
M
T
W
T
F
S
01
02
03

$610

04
05
06
07

$845

08

$1235

09

$1095

10
11
12
13
14
15
16
17
18
19
20
21
22

$780

23

$580

24

$520

25

$520

26

$535

27

$650

28

$685

29

$625

30

$520

31

$520
November 2022
S
M
T
W
T
F
S
01
02
03
04
05
06

$520

07

$520

08

$520

09

$520

10

$645

11

$635

12

$600

13

$520

14

$520

15

$520

16

$520

17

$520

18

$520

19

$520

20

$610

21

$1005

22

$1045

23

$1105

24

$1200

25

$1195

26

$1135

27

$1060

28

$520

29

$520

30

$520
December 2022
S
M
T
W
T
F
S
01

$560

02

$555

03

$520

04

$520

05

$520

06

$520

07

$520

08

$520

09
10
11
12

$520

13

$520

14

$520

15

$520

16
17
18

$520

19

$520

20

$720

21

$735

22

$770

23

$1010

24

$1035

25

$1075

26

$1125

27

$1160

28

$1290

29

$1345

30

$1405

31

$1370
January 2023
S
M
T
W
T
F
S
01

$1405

02
03
04
05
06
07
08
09
10
11
12
13
14
15
16
17
18
19
20
21
22
23
24
25
26
27
28
29
30
31
February 2023

| S | M | T | W | T | F | S |
| --- | --- | --- | --- | --- | --- | --- |
| | | | 01 | 02 | 03 | 04 |
| 05 | 06 | 07 | 08 | 09 | 10 | 11 |
| 12 | 13 | 14 | 15 | 16 | 17 | 18 |
| 19 | 20 | 21 | 22 | 23 | 24 | 25 |
| 26 | 27 | 28 | | | | |
March 2023
S
M
T
W
T
F
S
01

$850

02

$995

03

$1015

04

$1140

05

$1180

06

$950

07

$925

08

$975

09

$1000

10

$1345

11

$1375

12

$1375

13

$1345

14

$1350

15

$1375

16

$1340

17

$1380

18

$1280

19

$1315

20

$1315

21

$1335

22

$1330

23

$1290

24

$1305

25
26
27
28
29
30
31
April 2023
S
M
T
W
T
F
S
01

$1540

02

$1580

03

$1600

04

$1650

05

$1665

06

$1825

07

$1830

08

$1810

09

$1755

10

$1695

11

$1680

12

$1605

13

$1650

14

$1665

15

$1685

16

$1555

17

$1015

18

$1040

19

$1005

20

$1165

21

$1245

22

$1315

23

$1105

24

$1035

25

$1040

26

$1005

27

$1165

28

$1245

29

$1315

30

$1120
May 2023
S
M
T
W
T
F
S
01

$1065

02

$1060

03

$1090

04

$1220

05

$1315

06

$1395

07
08
09
10
11
12
13

$1410

14

$1310

15

$1285

16

$1285

17

$1345

18

$2405

19

$2500

20

$2550

21

$2505

22

$1560

23
24
25
26

$2425

27

$2460

28

$2445

29

$2485

30

$1875

31

$1920
June 2023
S
M
T
W
T
F
S
01

$1990

02

$2025

03

$2055

04
05
06
07
08
09
10

$2240

11

$2220

12

$2255

13

$2280

14

$2305

15

$2350

16

$2365

17

$2380

18

$2410

19

$2430

20

$2440

21

$2380

22

$2385

23

$2380

24

$2350

25
26
27
28
29
30
July 2023
S
M
T
W
T
F
S
01
02
03
04
05
06
07
08

$2415

09

$2400

10

$2405

11

$2420

12

$2445

13

$2455

14

$2465

15

$2450

16

$2415

17

$2420

18

$2415

19

$2430

20

$2440

21

$2445

22

$2440

23

$2390

24

$2390

25

$2380

26

$2375

27

$2380

28

$2380

29

$2340

30

$2270

31

$2255
August 2023
S
M
T
W
T
F
S
01

$2245

02

$2245

03

$2270

04

$2290

05

$2240

06

$2150

07

$2120

08

$2100

09

$2060

10

$2090

11

$2130

12

$1990

13

$1820

14

$1745

15

$1660

16

$1640

17

$1750

18

$1795

19

$1660

20

$1440

21

$1340

22

$1305

23

$1300

24

$1435

25

$1500

26

$1355

27

$1110

28

$1035

29

$1045

30

$1055

31

$1245
September 2023
S
M
T
W
T
F
S
01

$2230

02

$2100

03

$1950

04

$1855

05

$1010

06

$1025

07

$1205

08

$1360

09

$1230

10

$1050

11

$960

12

$1000

13

$1020

14

$1185

15

$1340

16

$1230

17

$1025

18

$920

19

$940

20

$960

21

$1085

22

$1215

23

$1130

24

$925

25

$840

26

$895

27

$955

28

$1075

29

$1175

30

$1180
October 2023
S
M
T
W
T
F
S
01

$985

02

$910

03

$895

04

$950

05

$1095

06

$2050

07

$2160

08

$1960

09

$1895

10

$925

11

$990

12

$1145

13

$1150

14

$1150

15

$895

16

$825

17

$805

18

$880

19

$1065

20

$1110

21

$1045

22

$785

23

$710

24

$670

25

$730

26

$870

27

$915

28

$830

29

$610

30

$580

31

$580