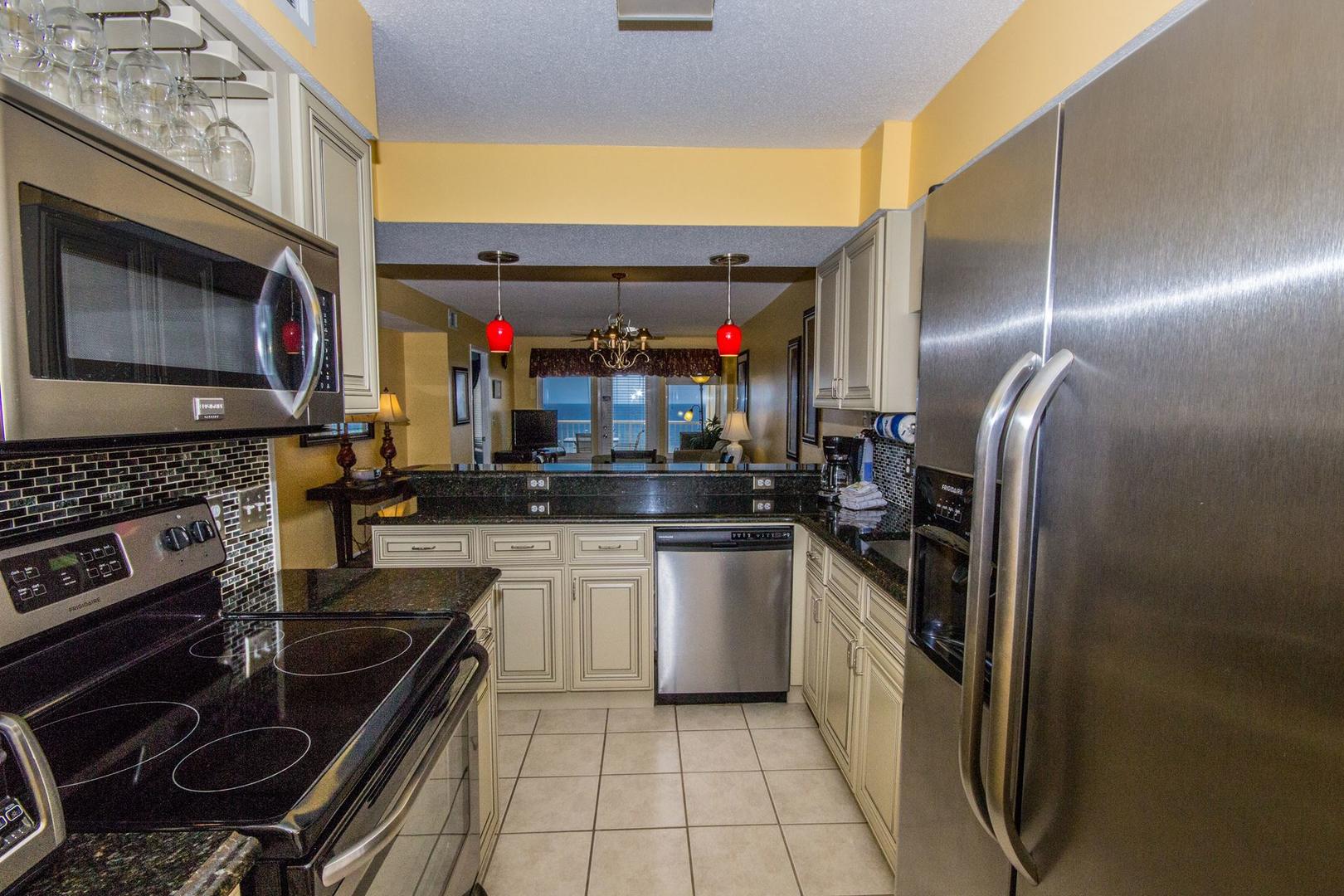 Feel right at home at Boardwalk 685. This gulf-front 6th floor condo is designed with comfort in mind. The cozy living room has a front row seat to the views of the Gulf Shores coast and has a flat screen television for when you want to kick back and relax. The kitchen is fully equipped to make home cooked meals and has seating for 4 at the dining table. There is also a breakfast bar that can seat 3 people.

The master bedroom has a king-size bed and a door leading to the private balcony. The master bath has a tub/shower combo. The second bedroom has a queen bed, and the living room has a queen size sofa sleeper which allows this gulf front condo to sleep up to 6 people. There is a full bathroom in the hall which has a tub/shower combo.

This 70-unit complex is in the heart of shopping, attractions, entertainment and dining, including the famous Sea-n-Suds restaurant on-site. While outdoors, enjoy the gulf side pool, sundeck and BBQ area.

Monthly rentals available October- March 1st. FREE parking - 2 car maximum. This is a Non-Smoking Unit and No Pets are permitted. Must be 21 years of age to rent.

Bedding:
Master- King
Bedroom 2- Queen
Living Room- Sofa Sleeper queen

409 East Beach Blvd. Gulf Shores, Alabama

Unit Location : Close to Elevator
Area : Gulf Shores
Sleep Cap : 6
Bedrooms : 2.00
Internet Type : Free Public WiFi
Square Ft. : 940
Master Bedroom : King
Building Orientation : Gulf Side
Guest Bedroom 1 : Queen
ilink : ilink Booking
Balcony View : Gulf Front
Number Bathrooms : 2.0
Complex : Boardwalk
TV - Unit : 3
Number of Beds : 2
Pool - Outdoor : Yes
BBQ Grills : Yes
Elevator : Yes
Parking Limit : 2 Vehicles
Rental Type : Condo
Sleeps : 6
Age Requirement : 21
Long Term : No
Pet Policy : No Pets
Pet Restriction : No Pets
Parking - Guest Purchase :
Thank you for submitting your review. It will be processed shortly!
August 13, 2021 - Website
Great Beach Vacation
by Taryn W
My husband and I spent our anniversary at this property and had a wonderful time. We have been to Gulf Shores many times, but stayed at other condo buildings. We really enjoyed how close the condo was to many restaurants that we could walk to in the evenings. We almost always found parking in the parking lot next to the building, and only had to park across the street one night. The condo itself was pretty clean upon arrival and had everything we could need in the kitchen for meals. We really liked the keypad entry to get into the condo. One of our only complaints was the smoking on other balconies. Every time we went out to sit on the balcony no matter the time of day, someone was always smoking.- Reviewed on VRBO
September 2022
S
M
T
W
T
F
S
01
02
03
04
05
06
07
08
09
10
11
12
13
14
15
16
17
18
19
20
21
22
23
24
25

$145

26
27

$145

28

$145

29

$165

30

$180
October 2022
S
M
T
W
T
F
S
01

$175

02
03
04
05
06
07
08
09
10
11
12
13
14
15
16
17
18
19
20
21
22
23
24
25
26
27
28
29
30
31
November 2022
S
M
T
W
T
F
S
01

$145

02

$145

03

$145

04

$145

05

$145

06

$145

07

$145

08

$145

09

$145

10

$145

11

$145

12

$145

13

$145

14

$145

15

$145

16

$145

17

$145

18

$145

19

$145

20

$145

21

$190

22

$190

23

$185

24

$195

25

$210

26

$205

27

$185

28

$145

29

$145

30

$145
December 2022
S
M
T
W
T
F
S
01

$145

02

$145

03

$145

04

$145

05

$145

06

$145

07

$145

08

$145

09

$145

10

$145

11

$145

12

$145

13

$145

14

$145

15

$145

16

$145

17

$145

18

$145

19

$145

20

$165

21

$165

22

$170

23

$195

24

$185

25

$195

26

$195

27

$195

28

$215

29

$220

30

$220

31

$215
January 2023
S
M
T
W
T
F
S
01

$225

02
03
04
05
06
07
08
09
10
11
12
13
14
15
16
17
18
19
20
21
22
23
24
25
26
27
28
29
30
31
February 2023

| S | M | T | W | T | F | S |
| --- | --- | --- | --- | --- | --- | --- |
| | | | 01 | 02 | 03 | 04 |
| 05 | 06 | 07 | 08 | 09 | 10 | 11 |
| 12 | 13 | 14 | 15 | 16 | 17 | 18 |
| 19 | 20 | 21 | 22 | 23 | 24 | 25 |
| 26 | 27 | 28 | | | | |
March 2023
S
M
T
W
T
F
S
01

$210

02

$215

03

$225

04

$230

05

$225

06

$225

07

$220

08

$220

09

$225

10

$290

11

$295

12
13
14
15
16
17
18

$280

19

$280

20

$280

21

$280

22

$280

23

$280

24

$280

25

$295

26

$300

27

$305

28

$310

29

$315

30

$320

31

$320
April 2023
S
M
T
W
T
F
S
01

$330

02

$335

03

$330

04

$325

05

$320

06

$360

07

$355

08

$345

09

$325

10

$315

11

$310

12

$305

13

$305

14

$325

15

$320

16

$290

17

$185

18

$185

19

$190

20

$210

21

$235

22

$225

23

$190

24

$180

25

$185

26

$190

27

$215

28

$235

29

$230

30

$235
May 2023
S
M
T
W
T
F
S
01

$225

02

$225

03

$240

04

$270

05

$290

06

$290

07

$260

08

$205

09

$210

10

$225

11

$255

12

$280

13

$285

14

$260

15

$255

16

$260

17

$275

18

$565

19

$585

20

$595

21

$570

22

$305

23

$305

24

$315

25

$340

26

$470

27

$480

28

$460

29

$465

30

$355

31

$365
June 2023
S
M
T
W
T
F
S
01

$380

02

$390

03

$395

04

$390

05

$395

06

$400

07

$405

08

$415

09

$410

10

$415

11

$405

12

$415

13

$420

14

$420

15

$425

16

$425

17

$425

18

$435

19

$445

20

$450

21

$425

22

$425

23

$430

24

$430

25

$420

26

$430

27

$430

28

$430

29

$460

30

$460
July 2023
S
M
T
W
T
F
S
01

$460

02

$455

03

$460

04

$460

05

$460

06

$465

07

$465

08

$445

09

$445

10

$445

11

$445

12

$445

13

$455

14

$460

15

$460

16

$450

17

$460

18

$460

19

$460

20

$465

21

$470

22

$465

23

$445

24

$460

25

$455

26

$455

27

$460

28

$465

29

$460

30

$430

31

$435
August 2023
S
M
T
W
T
F
S
01

$430

02

$430

03

$435

04

$440

05

$430

06

$390

07

$390

08

$385

09

$385

10

$395

11

$400

12

$385

13

$340

14

$330

15

$325

16

$325

17

$335

18

$340

19

$330

20

$280

21

$275

22

$260

23

$260

24

$275

25

$290

26

$280

27

$240

28

$235

29

$220

30

$225

31

$240
September 2023
S
M
T
W
T
F
S
01

$400

02

$390

03

$360

04

$355

05

$205

06

$210

07

$225

08

$245

09
10
11
12
13
14
15

$235

16

$230

17

$210

18

$200

19

$190

20

$200

21

$210

22

$235

23

$225

24

$200

25

$195

26

$205

27

$205

28

$220

29

$240

30

$235