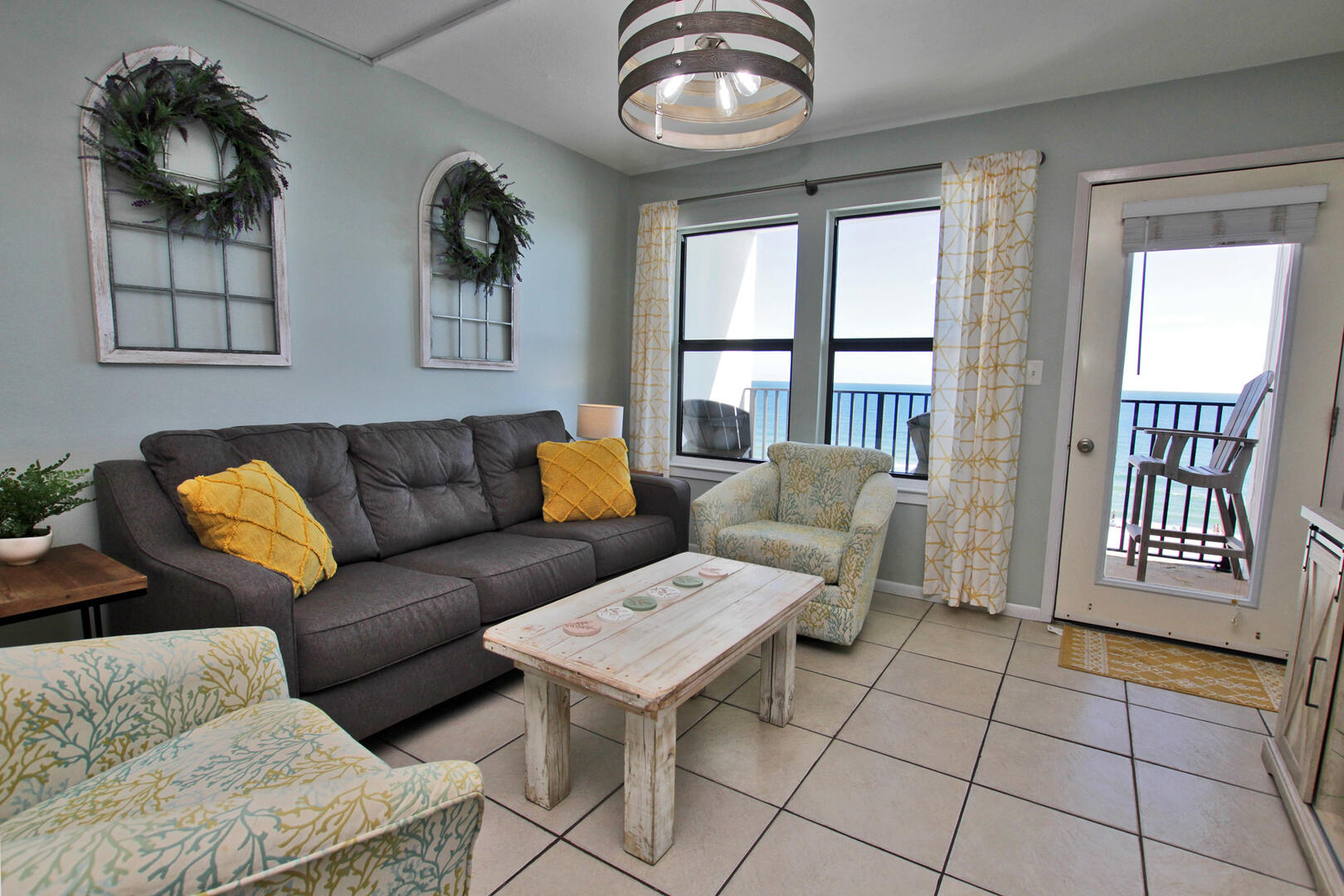 Island Sunrise currently has ongoing construction projects. Due to this, you may experience noise and possible disruptions during your stay. The Island Sunrise HOA apologizes for this inconvenience.

Live the beach life at Island Sunrise 565. A 2 bedroom and 2-bathroom condo in the heart of Gulf Shores is exactly what you need during your trip to get your toes in the sand. Enjoy the views from your Gulf Front balcony of both the sugar white sands and downtown Gulf Shores. The charming, authentic coastal decor in the living room will make you feel right at home. There is a flat screen television with cable, and free in unit WIFI for entertainment. The kitchen is fully equipped with everything you need to prepare a home cooked meal the entire family can enjoy. The dining table seats up to four people and there is room for three more at the breakfast counter.

After a long day in the sun find your way back to relax in the comfy king size bed in the master bedroom. You can relax and kick back while watching your favorite show on the wall mounted flat screen TV. In the master bathroom there is spacious vanity area, and a bathtub/shower combo. The second bedroom has a Queen-size bed which allows this vacation rental to sleep up to six people. There is a queen size sofa sleeper in the living room. The guest bathroom is also a full bath with a tub and shower combination.

Island Sunrise is a timeless tradition for beach goers. There is an outdoor pool and charcoal grills for guests. Within a short walk you are in the heart of it all. For your convenience there is a washing machine and dryer. This unit comes with 2 parking passes except for holidays and special events in which during those times 1 parking pass per condo will be allowed.

You must be 25 years of age or older to reserve this unit. Pets are not permitted, and no smoking is allowed. Monthly rentals are available November ? March 1st.



Bedding:
Master- King
Bedroom 2- 1 Queen
Living Room- Queen Sofa Sleeper

427 East Beach Blvd. Gulf Shores, AL

Unit Location : Far from Elevator
Area : Gulf Shores
Sleep Cap : 6
Bedrooms : 2.00
Internet Type : Free Unit WiFi
Square Ft. : 950
Master Bedroom : King
Building Orientation : Gulf Side
Guest Bedroom 1 : Queen
ilink : ilink Booking
Balcony View : Gulf Front
Number Bathrooms : 2.0
Complex : Island Sunrise
TV - Unit : 3
Number of Beds : 3
Pool - Outdoor : Yes
BBQ Grills : Yes
Elevator : Yes
Parking Limit : 2 Vehicles
Rental Type : Condo
Sleeps : 6
Age Requirement : 21
Long Term : No
Pet Policy : No Pets
Pet Restriction : No Pets
Parking - Guest Purchase :
Thank you for submitting your review. It will be processed shortly!
We are sorry, there are no reviews for this unit. Be the first to leave a review!
October 2022
S
M
T
W
T
F
S
01
02
03
04

$140

05
06
07
08
09
10
11
12
13
14
15
16
17
18
19

$140

20

$140

21

$140

22
23
24

$140

25

$140

26

$140

27

$140

28

$140

29

$140

30

$140

31

$140
November 2022
S
M
T
W
T
F
S
01

$140

02

$140

03

$140

04

$140

05

$140

06

$140

07

$140

08

$140

09

$140

10

$140

11

$140

12

$140

13

$140

14

$140

15

$140

16

$140

17

$140

18

$140

19

$140

20

$140

21

$170

22

$170

23

$165

24

$175

25

$190

26

$185

27

$165

28

$140

29

$140

30

$140
December 2022
S
M
T
W
T
F
S
01

$140

02

$140

03

$140

04

$140

05

$140

06

$140

07

$140

08

$140

09

$140

10

$140

11

$140

12

$140

13

$140

14

$140

15

$140

16

$140

17

$140

18

$140

19

$140

20

$140

21

$140

22

$140

23

$145

24

$140

25

$145

26

$150

27

$150

28

$165

29

$170

30

$170

31

$165
January 2023
S
M
T
W
T
F
S
01

$175

02
03
04
05
06
07
08
09
10
11
12
13
14
15
16
17
18
19
20
21
22
23
24
25
26
27
28
29
30
31
February 2023

| S | M | T | W | T | F | S |
| --- | --- | --- | --- | --- | --- | --- |
| | | | 01 | 02 | 03 | 04 |
| 05 | 06 | 07 | 08 | 09 | 10 | 11 |
| 12 | 13 | 14 | 15 | 16 | 17 | 18 |
| 19 | 20 | 21 | 22 | 23 | 24 | 25 |
| 26 | 27 | 28 | | | | |
March 2023
S
M
T
W
T
F
S
01

$170

02

$200

03

$200

04

$210

05

$205

06

$205

07

$200

08

$200

09

$205

10

$265

11

$265

12

$270

13

$265

14

$265

15

$265

16

$265

17

$270

18

$255

19

$255

20

$255

21

$260

22

$255

23

$255

24

$255

25

$270

26

$275

27

$275

28

$280

29

$280

30

$290

31

$295
April 2023
S
M
T
W
T
F
S
01

$305

02

$305

03

$300

04

$295

05

$290

06

$330

07

$320

08

$310

09

$295

10

$285

11

$280

12

$275

13

$280

14

$295

15

$285

16

$260

17

$165

18

$170

19

$175

20

$190

21

$210

22

$205

23

$170

24

$165

25

$165

26

$175

27

$200

28

$215

29

$210

30

$210
May 2023
S
M
T
W
T
F
S
01

$205

02

$205

03

$215

04

$245

05

$265

06

$265

07

$235

08

$190

09

$190

10

$205

11

$230

12

$255

13

$260

14

$235

15

$230

16

$235

17

$250

18

$515

19
20
21
22
23

$280

24

$290

25

$305

26

$425

27

$435

28

$420

29

$425

30

$320

31

$330
June 2023
S
M
T
W
T
F
S
01

$345

02

$355

03

$360

04

$355

05

$360

06

$365

07

$370

08

$375

09

$375

10

$375

11

$365

12

$375

13

$380

14

$380

15

$385

16

$385

17

$385

18

$400

19

$405

20

$410

21

$390

22

$390

23

$390

24

$390

25

$385

26

$390

27

$390

28

$390

29

$415

30

$415
July 2023
S
M
T
W
T
F
S
01

$415

02

$415

03

$415

04

$420

05

$420

06

$425

07

$425

08

$405

09

$400

10

$405

11

$405

12

$405

13

$415

14

$420

15

$415

16

$410

17

$420

18

$420

19

$415

20

$425

21

$430

22

$425

23

$405

24

$415

25

$415

26

$410

27

$420

28

$425

29

$415

30

$390

31

$395
August 2023
S
M
T
W
T
F
S
01

$390

02

$385

03

$400

04

$400

05

$390

06

$355

07

$355

08

$350

09

$350

10

$360

11

$360

12

$350

13

$310

14

$305

15

$295

16

$295

17

$305

18

$310

19

$300

20

$255

21

$250

22

$240

23

$240

24

$250

25

$260

26

$255

27

$220

28

$210

29

$200

30

$205

31

$220
September 2023
S
M
T
W
T
F
S
01

$365

02

$355

03

$330

04

$325

05

$190

06

$190

07

$205

08

$225

09

$220

10

$195

11

$195

12

$185

13

$185

14

$200

15

$215

16

$215

17

$190

18

$185

19

$180

20

$180

21

$195

22

$210

23

$205

24

$180

25

$180

26

$180

27

$180

28

$195

29

$210

30

$210
October 2023
S
M
T
W
T
F
S
01

$185

02

$180

03

$185

04

$185

05

$205

06

$350

07

$350

08

$310

09

$300

10

$175

11

$175

12

$190

13

$200

14

$200

15

$160

16

$160

17

$160

18

$160

19

$165

20

$170

21

$170

22

$160

23

$160

24

$160

25

$160

26

$160

27

$160

28

$160

29

$160

30

$160

31

$160