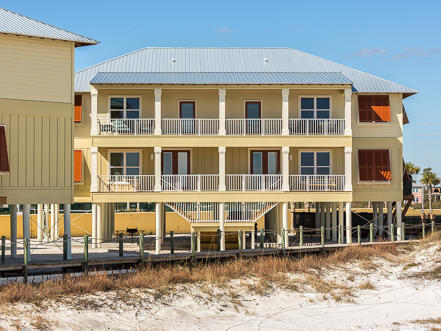 Summer Salt 3 East is a luxurious duplex added to the Summer Salt Family of Properties in Orange Beach, AL. Bring your family, friends or group to experience the privacy and space of a 4 bedroom, 3.5 bath gulf view retreat. Summer Salt 3 East sleeps 16. It shares a private pool that is 800 sq ft with a 2,222 sq ft pool deck with the other side of the duplex and 2 houses. Guests can easily access the beach by using the boardwalk to the east of the duplex or from the boardwalk just off the shared pool deck. The main and second levels both have a gulf view balcony the width of the unit. You can sit and gaze out at the waves and emerald green waters of the gulf from either balcony. You can even enjoy meals at the picnic table located on the first level balcony. The main level boosts light cool beach colors that instantly relax and set the mood for your vacation stay. The cool and calm beach inspired decor and natural wood elements flow throughout the house. The well-appointed style and open floor plan of the main level includes the living, kitchen and dining areas, so your group can easily socialize. You will find a spacious living room with a 50-inch HDTV complete with a queen sleeper sofa, another full sofa, and 2 oversized comfortable chairs with ottomans. Adjacent is the enormous open kitchen with stainless steel appliances, granite counter tops, free standing ice maker and a counter height seating for 8. The dining area has a large table that seats 8 comfortably and is perfect for family meals and catching up on the day's activities. For your convenience a half bath is also located on the main level. All bedrooms are located on the second level and the full width balcony can be accessed through the hall making it easy for all guests to enjoy the gulf view. A banister separates the two sides of the duplex. The master suite faces the Gulf and offers a beautiful view of the white sandy beaches. Guests staying in the Master Suite will have a king bed, private bath, flat screen TV and Blu-Ray player. Next you have the bunk room where you will find 8 built in traditional twin size bunk beds. The bunk room comes with a flat screen TV and Blu-Ray to keep the children entertained. Just across the hall from the bunk room is a full size bathroom. The other two bedrooms also have TVs and Blu-Ray players where guests can retreat to their private space and relax. One has a King bed and the other has a Queen and they share a Jack and Jill bathroom. There is a full size washer and dryer located in the hall on the second level. Summer Salt 3 East has free WIFI throughout WIFI throughout and a charcoal grill under the duplex. The bedding is: 2 King beds, 1 Queen, 8 built in twin beds - bunk style (standard 75" length) and a queen sleeper sofa. The living room and all 4 bedrooms have Flat Screen TVs with Blu-Ray. Covered parking is available under the duplex (4 vehicles under cover). Bring your family and friends this summer and make memories in Orange Beach, Alabama that you will talk about for life! This duplex is perfect for individual family vacations or for large family reunions or group meetings as the adjoining duplex can be rented along with the two 7-bedroom houses which make up the Summer Salt Family of Properties.


Minimum age to rent is 25.

Bedding:
Master- King
Bedroom 2- 4 Twin over Twin Bunk Beds
Bedroom 3- Queen
Bedroom 4 - King
Living Room - Sofa Sleeper Queen
Area : Orange Beach
Sleep Cap : 16
Bedrooms : 4.00
Internet Type : Free Unit WiFi
Square Ft. : 2850
Master Bedroom : King
Building Orientation : Gulf Side
Guest Bedroom 1 : 4 Twin/Twin Bunk Beds
Guest Bedroom 2 : Queen
Guest Bedroom 3 : King
ilink : ilink Booking
Balcony View : Gulf Front
Video rm2 : Blu-Ray
Number Bathrooms : 3.5
Complex : House
TV - Unit : 5
Number of Beds : 11
Pool - Outdoor : Yes
BBQ Grills : Yes
Rental Type : House
Sleeps : 16
Age Requirement : 25
Long Term : No
Pet Policy : No Pets
Pet Restriction : No Pets
Parking - Guest Purchase :
Thank you for submitting your review. It will be processed shortly!
We had a wonderful time in this house. This beach house was unbelievable. We would love to stay here again.
September 2022
S
M
T
W
T
F
S
01
02
03
04
05
06
07
08
09
10
11
12
13
14
15
16
17
18
19
20
21
22
23
24
25

$295

26
27
28
29
30

$355
October 2022
S
M
T
W
T
F
S
01

$435

02
03
04
05
06
07
08

$660

09

$605

10

$565

11

$540

12

$535

13
14
15
16

$315

17

$295

18

$290

19

$315

20

$375

21

$410

22

$415

23

$305

24

$290

25

$290

26

$290

27

$340

28

$360

29

$330

30

$290

31

$290
November 2022
S
M
T
W
T
F
S
01

$290

02

$290

03

$290

04

$300

05

$290

06

$290

07

$290

08

$290

09

$290

10

$305

11

$300

12

$290

13

$290

14

$290

15

$290

16

$290

17

$290

18

$290

19

$290

20
21
22
23
24
25
26

$595

27

$520

28

$290

29

$290

30

$290
December 2022
S
M
T
W
T
F
S
01

$290

02

$290

03

$290

04

$290

05

$290

06

$290

07

$290

08

$290

09

$290

10

$290

11

$290

12

$290

13

$290

14

$290

15

$290

16

$290

17

$290

18

$290

19

$290

20

$385

21

$390

22

$405

23

$560

24

$570

25

$590

26

$610

27

$625

28

$695

29

$720

30

$750

31

$735
January 2023
S
M
T
W
T
F
S
01

$750

02
03
04
05
06
07
08
09
10
11
12
13
14
15
16
17
18
19
20
21
22
23
24
25
26
27
28
29
30
31
February 2023

| S | M | T | W | T | F | S |
| --- | --- | --- | --- | --- | --- | --- |
| | | | 01 | 02 | 03 | 04 |
| 05 | 06 | 07 | 08 | 09 | 10 | 11 |
| 12 | 13 | 14 | 15 | 16 | 17 | 18 |
| 19 | 20 | 21 | 22 | 23 | 24 | 25 |
| 26 | 27 | 28 | | | | |
March 2023
S
M
T
W
T
F
S
01

$440

02

$465

03

$475

04

$475

05

$480

06

$445

07

$430

08

$450

09

$465

10

$630

11

$645

12

$640

13

$630

14

$630

15

$640

16

$625

17

$640

18

$595

19

$610

20

$615

21

$620

22

$620

23

$605

24

$610

25

$630

26
27
28
29
30
31
April 2023
S
M
T
W
T
F
S
01

$715

02

$735

03

$745

04

$770

05

$775

06

$850

07

$850

08

$845

09

$820

10

$790

11

$780

12

$745

13

$770

14

$775

15

$785

16

$720

17

$470

18
19
20
21

$580

22

$610

23

$515

24

$480

25

$485

26

$470

27

$545

28

$580

29

$615

30

$520
May 2023
S
M
T
W
T
F
S
01

$495

02

$495

03

$505

04

$570

05

$615

06

$650

07

$575

08

$550

09

$530

10

$550

11

$595

12

$625

13

$655

14

$610

15

$600

16

$595

17

$625

18

$1120

19

$1165

20

$1190

21

$1165

22

$730

23

$735

24

$760

25

$805

26

$1130

27

$1150

28
29
30
31
June 2023
S
M
T
W
T
F
S
01
02
03
04
05
06
07
08
09
10

$1045

11

$1035

12

$1050

13

$1065

14

$1075

15

$1095

16

$1100

17

$1110

18
19
20
21
22
23
24

$1095

25

$1075

26

$1075

27

$1075

28

$1080

29

$1150

30

$1150
July 2023
S
M
T
W
T
F
S
01

$1160

02
03
04
05
06
07
08

$1125

09

$1120

10

$1120

11

$1125

12

$1140

13

$1145

14

$1150

15

$1140

16

$1125

17

$1130

18

$1125

19

$1130

20

$1135

21

$1140

22

$1140

23

$1115

24

$1115

25

$1110

26

$1105

27

$1110

28

$1110

29

$1090

30

$1055

31

$1050
August 2023
S
M
T
W
T
F
S
01

$1045

02

$1045

03

$1055

04

$1070

05

$1045

06

$1000

07

$990

08

$980

09

$960

10

$975

11

$995

12

$930

13

$850

14

$815

15

$775

16

$765

17

$815

18

$835

19

$775

20

$670

21

$625

22

$610

23

$605

24

$670

25

$700

26

$635

27

$525

28

$475

29

$485

30

$495

31

$580
September 2023
S
M
T
W
T
F
S
01

$1045

02

$975

03

$920

04

$850

05

$465

06

$485

07

$560

08

$640

09

$560

10

$525

11

$425

12

$450

13

$485

14

$545

15

$635

16

$550

17

$515

18

$395

19

$405

20

$455

21

$495

22

$555

23

$530

24

$445

25

$400

26

$440

27

$460

28

$485

29

$570

30

$555