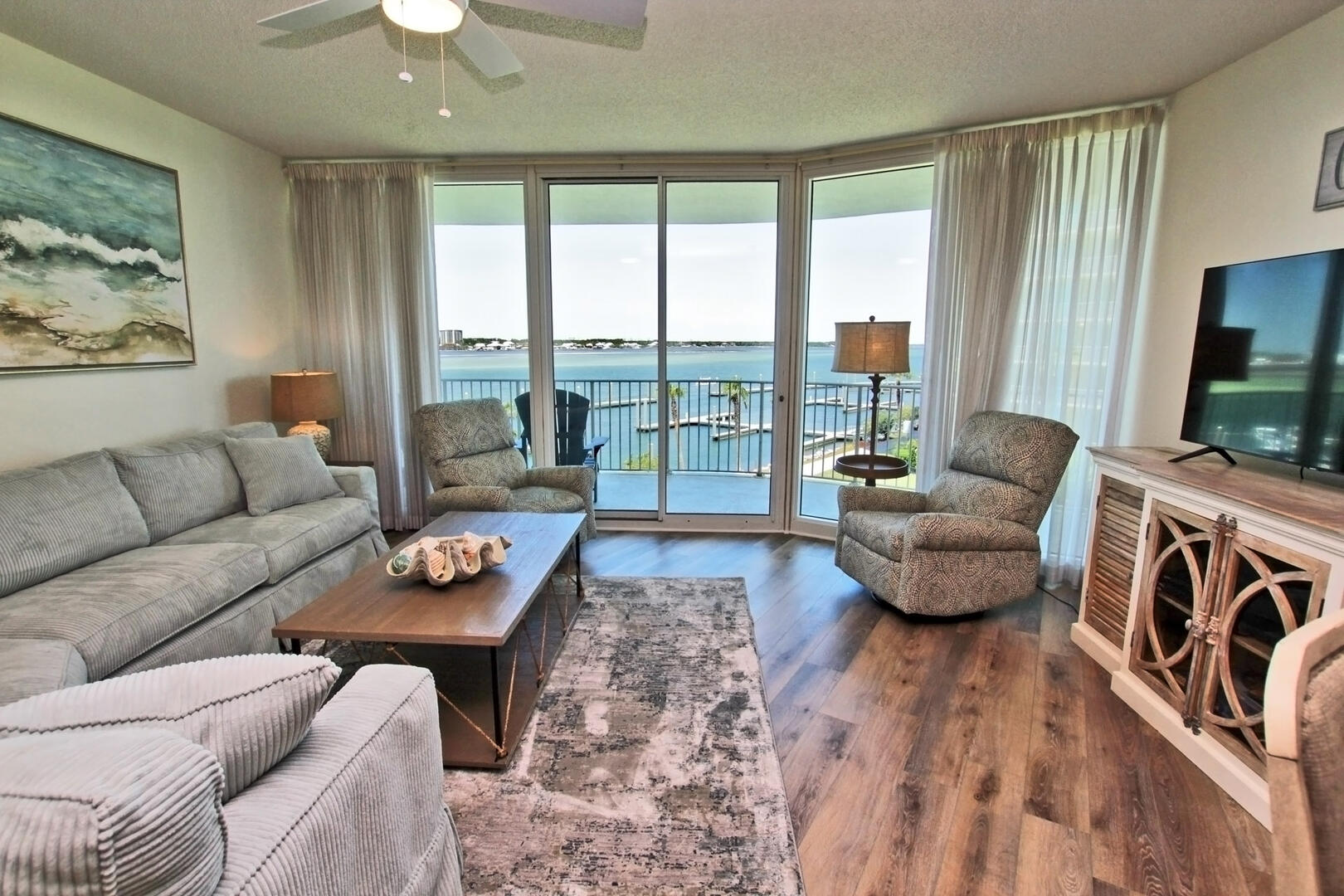 Due to ongoing balcony work, guests may not be able to access balconies and may be asked to allow works to access the balconies during their stay. The project has an estimated completion date of April 2023.

*The oven is out of order. There is an air fryer available for guest use*

Escape to Caribe 308B. This 2-bedroom, 2-bathroom vacation rental is in one of Orange Beachs most desirable resorts. The living room is surrounded by floor to ceiling windows which overlook the back bay and leads to a large private balcony with comfortable balcony furniture to enjoy sunsets. The modern, fully equipped kitchen has everything you need to prepare a meal for the family to enjoy.
When it is time to end the day the comfort of the king bed in the master bedroom awaits you. Open the curtains and enjoy the sounds of the Alabama coast at night. The master bathroom has a jetted tub, and a large walk-in shower. The second bedroom has a queen size bed and there is also another full bathroom with a tub/shower combination.

The prestigious Caribe Resort is in Orange Beach and sits on the Perdido Pass, which connects the Gulf of Mexico and Intracoastal Waterway. The views are spectacular from every angle. This show stopping complex boasts unsurpassed amenities, a few of which include, on-site restaurant, state of the art fitness center, countless pools, lazy river, water slides, playground, tennis courts, Jacuzzi, beach shuttles, putting green, upscale lobby with fountains and lounging areas and so much more!

No pets are permitted. You must be 21 years of age or older to rent. This is a non-smoking property. Monthly rentals are available October-March 1st.

Bedding:
Master- King
Bedroom 2- Queen
Living Room- Sofa Sleeper Queen

28103 Perdido Beach Blvd. Orange Beach, AL

Unit Location : Close to Elevator
Area : Orange Beach
Sleep Cap : 6
Bedrooms : 2.00
Internet Type : Free Unit DSL
Square Ft. : 1401
Master Bedroom : King
Building Orientation : Across the Street
Guest Bedroom 1 : Queen
ilink : ilink Booking
Balcony View : Waterfront
Number Bathrooms : 2.0
Complex : Caribe Resort
TV - Unit : 3
Number of Beds : 3
Pool - Outdoor : Yes
Pool - Indoor : Yes
Pool - Indoor Heated : Yes
Jacuzzi : Yes
Fitness Room : Yes
Pool - Indoor Slides : Yes
Pool - Outdoor Lazy River : Yes
Pool - Outdoor Slides : Yes
Sauna : Yes
Boat Parking : $10 Per Day
BBQ Grills : Yes
Elevator : Yes
Parking Limit : 2 Vehicles
Rental Type : Condo
Sleeps : 6
Age Requirement : 21
Long Term : No
Pet Policy : No Pets
Pet Restriction : No Pets
Parking - Guest Purchase :
Thank you for submitting your review. It will be processed shortly!
We rented 308 B at the Caribe from Young's Suncoast Vacation Rentals. It's a beautiful Condominium! I love the Caribe....beautiful resort! - Reviewed on Google
September 6, 2021 - Website
It was awesome! - Reviewed on VRBO
August 16, 2021 - Website
Very good for the price!
by Felicia D
Very nice… few imperfections but still great! YOU DO HAVE TO GO SOMEWHERE ELSE TO PICK UP KEYS. If coming in late, kind of an inconvenience. They made process easy for pickup after hours tho. Texts and emails often with great reminders. View wasn't direct but you could see both sides of water! The buildings had lots to offer. Nice for friends or for family.-Reviewed on VRBO
September 2022
S
M
T
W
T
F
S
01
02
03
04
05
06
07
08
09
10
11
12
13
14
15
16
17
18
19
20
21
22
23
24
25

$160

26
27
28
29
30
October 2022
S
M
T
W
T
F
S
01
02

$160

03

$160

04

$160

05

$165

06

$190

07

$230

08

$260

09

$245

10

$230

11

$220

12

$210

13

$210

14
15
16
17
18
19

$160

20

$160

21

$160

22

$160

23

$160

24

$160

25

$160

26

$160

27

$160

28

$160

29

$160

30

$160

31

$160
November 2022
S
M
T
W
T
F
S
01

$160

02

$160

03

$160

04

$160

05

$160

06

$160

07

$160

08

$160

09

$160

10

$160

11

$160

12

$160

13

$160

14

$160

15

$160

16

$160

17

$160

18

$160

19

$160

20

$160

21

$205

22

$205

23

$230

24

$240

25

$240

26

$235

27

$205

28

$160

29

$160

30

$160
December 2022
S
M
T
W
T
F
S
01

$160

02

$160

03

$160

04

$160

05

$160

06

$160

07

$160

08

$160

09

$160

10

$160

11

$160

12

$160

13

$160

14

$160

15

$160

16

$160

17

$160

18

$160

19

$160

20

$165

21

$165

22

$165

23

$225

24

$230

25

$235

26

$245

27

$250

28

$275

29

$285

30

$295

31

$290
January 2023
S
M
T
W
T
F
S
01

$295

02

$290

03

$290

04

$160

05

$160

06

$160

07

$160

08

$160

09

$160

10

$160

11

$160

12

$160

13

$160

14

$160

15

$160

16

$160

17

$160

18

$160

19

$160

20

$160

21

$160

22

$160

23

$160

24

$160

25

$160

26

$160

27

$160

28

$160

29

$160

30

$160

31

$160
February 2023
S
M
T
W
T
F
S
01

$160

02

$160

03

$160

04

$160

05

$160

06

$160

07

$160

08

$160

09

$160

10

$160

11

$160

12

$160

13

$170

14

$160

15

$160

16

$175

17

$190

18

$200

19

$200

20

$175

21

$185

22

$240

23

$240

24

$245

25

$245

26

$240

27

$220

28

$190
March 2023
S
M
T
W
T
F
S
01

$205

02

$195

03

$210

04

$215

05

$215

06

$195

07

$195

08

$205

09

$195

10

$275

11

$280

12

$280

13

$265

14

$270

15

$270

16

$265

17

$275

18

$265

19

$265

20

$265

21

$270

22

$265

23

$260

24

$265

25

$280

26

$285

27

$290

28

$295

29

$295

30

$290

31

$300
April 2023
S
M
T
W
T
F
S
01

$315

02

$315

03

$320

04

$325

05

$325

06

$350

07

$350

08

$345

09

$335

10

$325

11

$320

12

$310

13

$310

14

$325

15

$310

16

$290

17

$190

18

$190

19

$195

20

$215

21

$240

22

$230

23

$200

24

$185

25

$185

26

$195

27

$220

28

$245

29

$240

30

$200
May 2023
S
M
T
W
T
F
S
01

$190

02

$190

03

$200

04

$230

05

$255

06

$255

07

$220

08

$205

09

$200

10

$210

11

$240

12

$265

13

$270

14

$240

15

$235

16

$230

17

$245

18

$455

19

$485

20

$495

21

$470

22

$290

23

$285

24

$295

25

$320

26

$465

27

$475

28

$455

29

$460

30

$335

31

$345
June 2023
S
M
T
W
T
F
S
01

$370

02

$385

03

$395

04

$380

05

$385

06

$385

07

$395

08

$410

09

$420

10

$420

11

$410

12

$415

13

$420

14

$425

15

$440

16

$435

17

$435

18

$430

19

$440

20

$445

21

$435

22

$445

23

$440

24

$440

25

$425

26

$435

27

$435

28

$445

29

$480

30

$475
July 2023
S
M
T
W
T
F
S
01

$480

02

$475

03

$485

04

$485

05

$480

06

$485

07

$480

08

$455

09

$440

10

$445

11

$440

12

$445

13

$455

14

$450

15

$440

16

$425

17

$435

18

$440

19

$440

20

$455

21

$455

22

$450

23

$430

24

$435

25

$440

26

$440

27

$450

28

$450

29

$440

30

$410

31

$410
August 2023
S
M
T
W
T
F
S
01

$410

02

$415

03

$425

04

$425

05

$410

06

$375

07

$365

08

$365

09

$360

10

$375

11

$375

12

$355

13

$315

14

$300

15

$290

16

$290

17

$305

18

$305

19

$295

20

$245

21

$230

22

$220

23

$220

24

$240

25

$250

26

$240

27

$190

28

$180

29

$180

30

$185

31

$210
September 2023
S
M
T
W
T
F
S
01

$390

02

$390

03

$355

04

$335

05

$180

06

$180

07

$205

08

$225

09

$225

10

$195

11

$180

12

$180

13

$180

14

$200

15

$220

16

$220

17

$195

18

$180

19

$180

20

$180

21

$200

22

$220

23

$220

24

$185

25

$180

26

$180

27

$180

28

$195

29

$225

30

$220