Gulf Shores Surf & Racquet 304C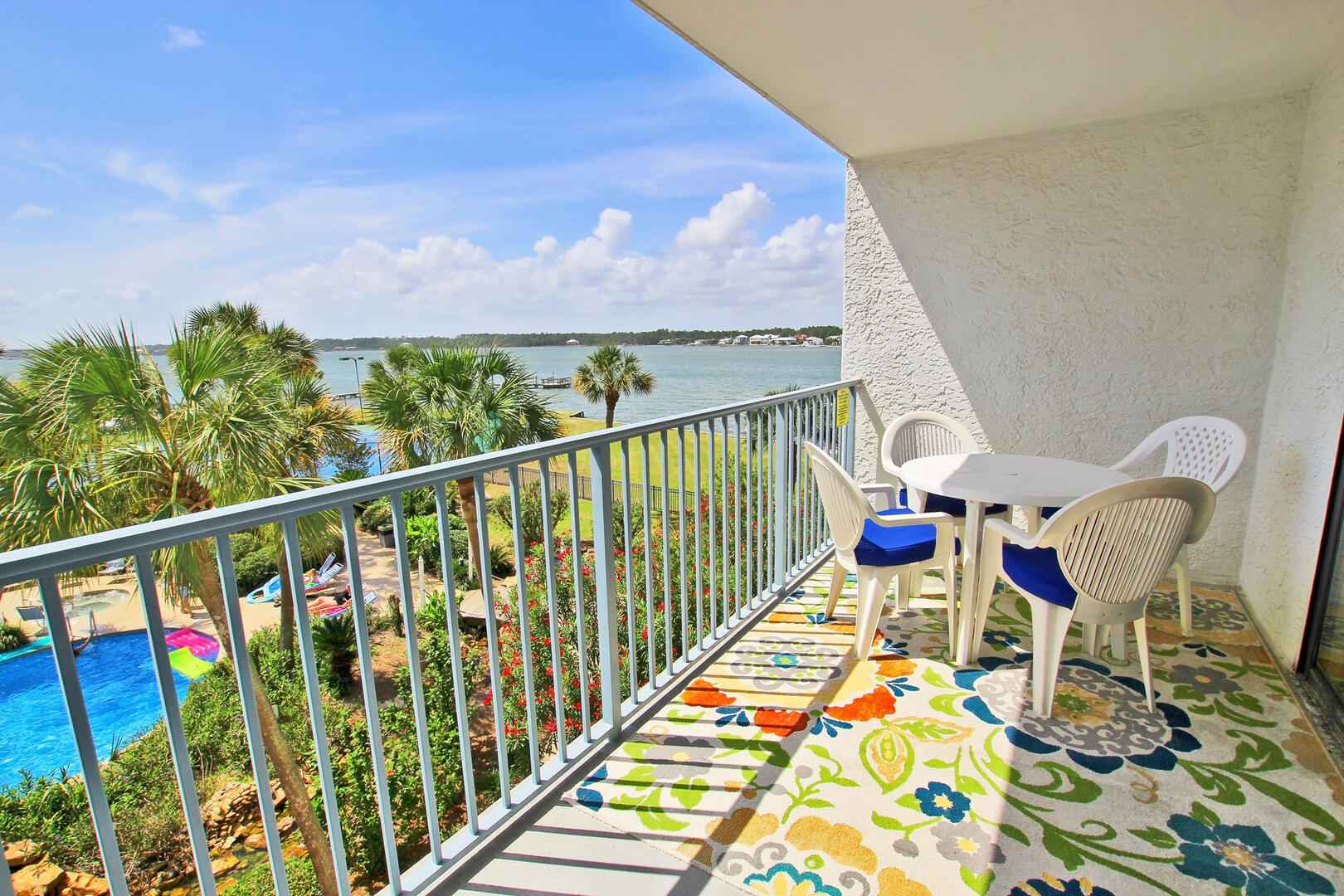 Elevator A is Out of Order Until Further Notice

Beautiful views, easy beach access to gazebo, and family friendly accommodations make Gulf Shores Surf and Racquet the ideal choice for your Gulf Shores getaway! This 7 story complex of 3 buildings is conveniently situated directly across the street from the beach & close to area attractions. It boasts a tropical oasis of pools, hot tubs, tennis, putting green, shuffleboard, as well as a pier & private beach, all overlooking Little Lagoon. From this 3rd floor condo, catch a cool breeze on the private balcony or enjoy using the full kitchen. This property boasts great views of the lagoon & pool with tile/carpet floors, unit has WIFI, washer/dryer & a contemporary beach style. WIFI is also available throughout lobby, outdoor areas & interior units. Due to limited parking a 2 car maximum is enforced. No Snowbirds January through March.

This property collects parking fees onsite. The cost is $25.00 per parking pass for vehicles and $20.00 for trailers. The passes will be valid for the duration of your stay. No ice-maker in unit, guest will need to purchase some bag ice for freezer.
Unit Location : Close to Elevator
Area : Gulf Shores
Sleep Cap : 4
Bedrooms : 2.00
Internet Type : Free Unit WiFi
Square Ft. :
Master Bedroom : Queen
Building Orientation : Across the Street
Guest Bedroom 1 : Queen
ilink : ilink Booking
Balcony View : Waterfront
Number Bathrooms : 1.0
Complex : GS Surf and Racquet
TV - Unit : 3
Number of Beds : 2
Pool - Outdoor : Yes
Pool - Childrens : Yes
Jacuzzi : Yes
BBQ Grills : Yes
Elevator : Yes
Parking Limit : 2 Vehicles
Rental Type : Condo
Sleeps : 4
Age Requirement : 25
Long Term : No
Pet Policy : No Pets
Pet Restriction : No Pets
Parking - Guest Purchase : This property requires parking passes to be purchased on-site. The cost is $25.00 each. The cost of
Thank you for submitting your review. It will be processed shortly!
We are sorry, there are no reviews for this unit. Be the first to leave a review!
September 2022
S
M
T
W
T
F
S
01
02
03
04
05
06
07
08
09
10
11
12
13
14
15
16
17
18
19
20
21
22
23
24
25
26

$120

27

$120

28

$120

29

$120

30

$120
October 2022
S
M
T
W
T
F
S
01

$120

02

$120

03

$120

04

$120

05

$120

06

$135

07

$174

08

$186

09

$174

10

$120

11

$120

12

$120

13

$120

14

$120

15

$120

16

$120

17

$120

18

$120

19

$120

20

$120

21

$120

22

$120

23

$120

24

$120

25

$120

26

$120

27

$120

28

$120

29

$120

30

$120

31

$120
November 2022
S
M
T
W
T
F
S
01

$120

02

$120

03

$120

04

$120

05

$120

06

$120

07

$120

08

$120

09

$120

10

$120

11

$120

12

$120

13

$120

14

$120

15

$120

16

$120

17

$120

18

$120

19

$120

20

$120

21

$120

22

$120

23

$120

24

$120

25

$120

26

$120

27

$120

28

$120

29

$120

30

$120
December 2022
S
M
T
W
T
F
S
01

$120

02

$120

03

$120

04

$120

05

$120

06

$120

07

$120

08

$120

09

$120

10

$120

11

$120

12

$120

13

$120

14

$120

15

$120

16

$120

17

$120

18

$120

19

$120

20

$120

21

$120

22

$120

23

$125

24

$125

25

$125

26

$125

27

$130

28

$140

29

$140

30

$140

31

$145
January 2023
S
M
T
W
T
F
S
01

$145

02

$145

03

$150

04

$120

05

$120

06

$120

07

$120

08

$120

09

$120

10

$120

11

$120

12

$120

13

$120

14

$120

15

$120

16

$120

17

$120

18

$120

19

$120

20

$120

21

$120

22

$120

23

$120

24

$120

25

$120

26

$120

27

$120

28

$120

29

$120

30

$120

31

$120
February 2023
S
M
T
W
T
F
S
01

$120

02

$120

03

$120

04

$120

05

$120

06

$120

07

$120

08

$120

09

$120

10

$120

11

$120

12

$120

13

$120

14

$120

15

$120

16

$120

17

$130

18

$135

19

$125

20

$125

21

$140

22

$150

23

$155

24

$155

25

$155

26

$140

27

$140

28

$135
March 2023
S
M
T
W
T
F
S
01

$135

02

$135

03

$140

04

$150

05

$140

06

$140

07

$140

08

$140

09

$135

10

$185

11

$190

12

$185

13

$185

14

$185

15

$180

16

$175

17

$185

18

$180

19

$170

20

$175

21

$180

22

$170

23

$170

24

$180

25

$190

26

$195

27

$190

28

$200

29

$190

30

$195

31

$200
April 2023
S
M
T
W
T
F
S
01

$210

02

$205

03

$200

04

$205

05

$190

06

$210

07

$215

08

$210

09

$200

10

$190

11

$195

12

$185

13

$185

14

$200

15

$200

16

$185

17

$135

18

$135

19

$135

20

$135

21

$140

22

$140

23

$135

24

$135

25

$135

26

$135

27

$135

28

$140

29

$145

30

$135
May 2023
S
M
T
W
T
F
S
01

$135

02

$135

03

$135

04

$135

05

$150

06

$150

07

$135

08

$135

09

$135

10

$135

11

$145

12

$165

13

$165

14

$150

15

$150

16

$155

17

$155

18

$335

19

$360

20

$355

21

$345

22

$180

23

$180

24

$185

25

$195

26

$285

27

$285

28

$275

29

$285

30

$210

31

$215
June 2023
S
M
T
W
T
F
S
01

$225

02

$240

03

$240

04

$230

05

$260

06

$260

07

$260

08

$265

09

$270

10

$255

11

$250

12

$255

13

$260

14

$260

15

$280

16

$260

17

$260

18

$270

19

$280

20

$280

21

$260

22

$265

23

$265

24

$265

25

$260

26

$265

27

$270

28

$265

29

$285

30

$285
July 2023
S
M
T
W
T
F
S
01

$280

02

$285

03

$290

04

$295

05

$285

06

$290

07

$290

08

$275

09

$275

10

$280

11

$280

12

$280

13

$285

14

$285

15

$280

16

$275

17

$285

18

$285

19

$290

20

$290

21

$290

22

$285

23

$275

24

$285

25

$285

26

$290

27

$290

28

$290

29

$285

30

$270

31

$280
August 2023
S
M
T
W
T
F
S
01

$275

02

$275

03

$275

04

$280

05

$270

06

$250

07

$250

08

$245

09

$245

10

$245

11

$250

12

$235

13

$215

14

$205

15

$200

16

$200

17

$205

18

$210

19

$200

20

$170

21

$165

22

$160

23

$160

24

$170

25

$175

26

$170

27

$145

28

$140

29

$135

30

$135

31

$150
September 2023
S
M
T
W
T
F
S
01

$225

02

$225

03

$205

04

$200

05

$135

06

$135

07

$140

08

$150

09

$155

10

$135

11

$135

12

$135

13

$135

14

$135

15

$145

16

$145

17

$135

18

$135

19

$135

20

$135

21

$135

22

$145

23

$145

24

$135

25

$135

26

$135

27

$135

28

$140

29

$150

30

$150