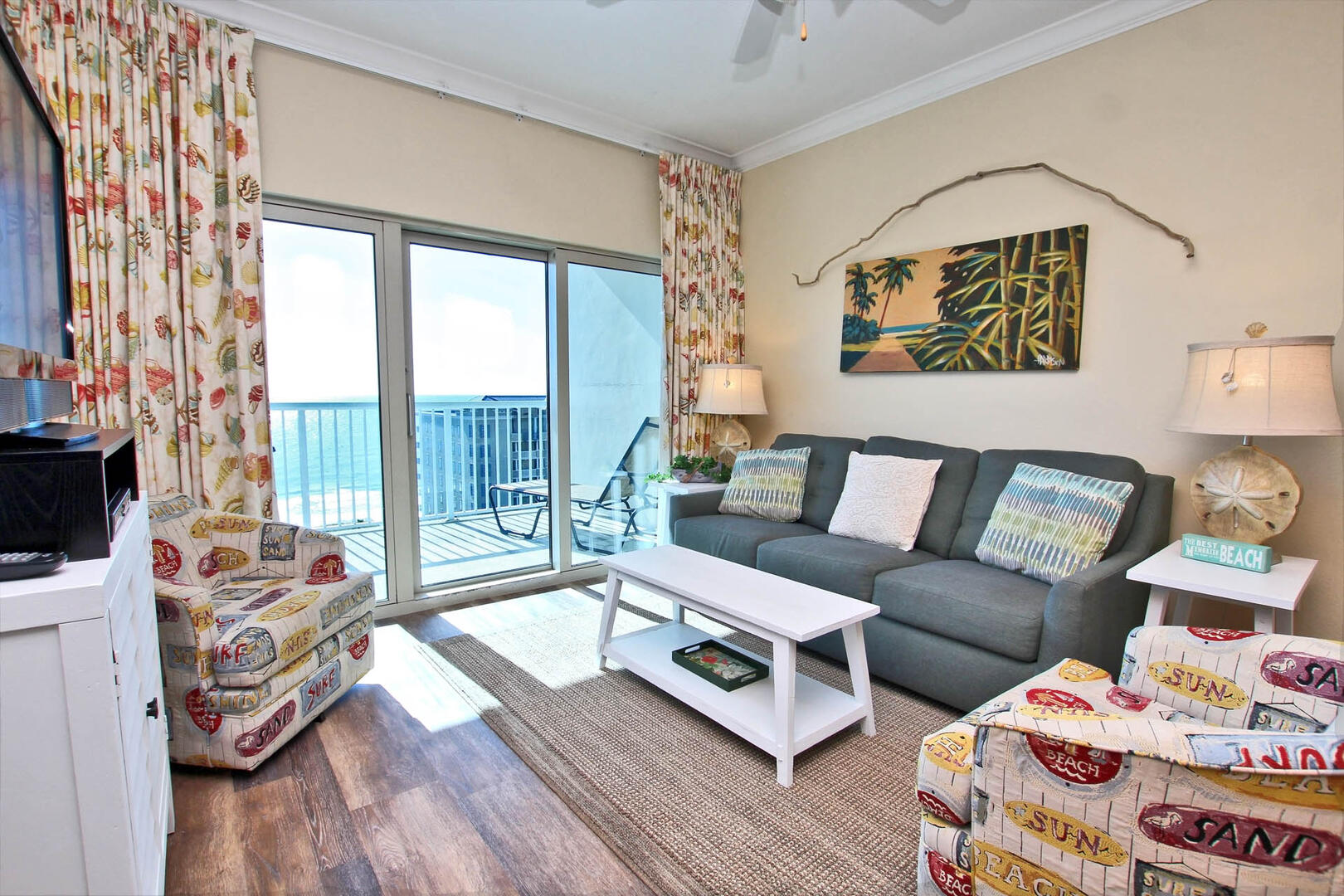 You'll love your time in this 2-bedroom 2-bathroom condo located on the 10th floor of Crystal Tower in Gulf Shores! The fun coastal decor is sure to put you in a beach state-of-mind. The spacious living area has cozy furniture including a queen sleeper sofa, plus a flat screen television. The dining area table sits four people comfortably and the breakfast counter seats an additional three. The fully equipped kitchen offers black granite countertops and crisp white cabinetry and new stainless steel appliances.

The master suite features a King size bed, a flat screen television, balcony access and the bathroom offers an extended double sink vanity with granite countertop, and a tub and shower combination. The guest bedroom has a queen bed and a flat screen television. A full-size washer and dryer are conveniently located inside the unit. Enjoy the amazing views of the Gulf of Mexico from your balcony table set that seats four or from the comfortable loungers.

Crystal Tower is the jewel of West Beach showcasing a premier location on the North side of Hwy. 182 and is enhanced by the island's only air conditioned walk over to the gulf side of the street! This beautiful complex boasts 170 units and many amenities including free WIFI throughout the building, an indoor swimming pool, outdoor swimming pool and hot tub on the complex side and one of the largest outdoor pools on the island, including a lazy river and a hot tub on the Gulf side! Other amenities include a fitness room, sauna, and outdoor grill area

This is a Non-Smoking condo. No Pets are Permitted. You must be 25 years of age or older to rent. Monthly rentals available November to March 1.

Bedding:
Master- King
Bedroom 2- Queen
Living Room- Sofa Sleeper Queen

1010 West Beach Blvd. Gulf Shores, AL
Unit Location : Far from Elevator
Area : Gulf Shores
Sleep Cap : 6
Bedrooms : 2.00
Internet Type : Free Public WiFi
Square Ft. : 1042
Master Bedroom : King
Building Orientation : Across the Street
Guest Bedroom 1 : Queen
ilink : ilink Booking
Balcony View : Across the Street - Gulf View
Number Bathrooms : 2.0
Complex : Crystal Tower
TV - Unit : 3
Number of Beds : 2
Pool - Outdoor : Yes
Pool - Indoor : Yes
Pool - Indoor Heated : Yes
Jacuzzi : Yes
Fitness Room : Yes
Pool - Outdoor Lazy River : Yes
Sauna : Yes
BBQ Grills : Yes
Elevator : Yes
Parking Limit : 2 Vehicles
Rental Type : Condo
Sleeps : 6
Age Requirement : 25
Long Term : No
Pet Policy : No Pets
Pet Restriction : No Pets
Parking - Guest Purchase :
Thank you for submitting your review. It will be processed shortly!
Great Winter Stay
by Bob S
This was our second year staying in Crystal Towers Unit 1003 and are scheduled to return for the winter of 2020. We were especially pleased that the wall to wall carpeting was removed and a laminate floor installed. The floor was easier to clean, and it also made the space look bigger. The kitchen was also updated with a new backsplash which looked great. I also think one chair was removed which gave us more space. We like the patio furniture and are especially happy that the new owners are trying to improve their condo. The first year they replaced the trundle bed in the second bedroom with a queen size bed which was a big improvement. The next year they made those changes mentioned above. The only problem we had this past hear was the bedding. None of the sheets seemed to fit the beds; the sheets for the King were clearly queen or smaller. We called Young and they replaced the sheets but with the same size as before. We decided the best solution was to go to the store and buy sheets for a King, which is what we did. We have a couple of observations or suggestions. Not sure of the purpose of the rug that sits under the table on the balcony. Perhaps it has value at other times during the year when there is significant pool/beach use, but for us it's just something to trip over. We would be very pleased to see all of the extra pillows and sheets removed. Since we are there for three months and the weather seems to touch all of the seasons, we bring a lot of clothing. The closet storage shelves are lost to us because the pillows and sheets are there. The pillows on the beds look nice but are just in the way so they also have to be stored during our stay. Overall, we're very pleased with the unit and hope to keep returning.
This property was an amazing find for our Gulf Shores trip. Two couples shared this home for 5 nights and had a fabulous time. The private access to the beach was perfect, we enjoyed the pool often and had most of all the comforts of home. The games were a bonus find! The view from the kitchen, living area and patio are all that you desire for a beach trip. We had a 30 minute delay during the check in process which resulted in the 4 star rating. Thanks so much.
The condo had everything needed for a stress free week
by Sherri S
The condo had everything needed for a stress free week. Everything was clean. The staff was great
Great location, pool and beach
by Neil M
The condo was exactly as advertised. The master bed was super comfy. The 10th floor was great.
The condo was cute, comfortable, with lots of kitchen amenities. The Smart TV let us enjoy our favorite Netflix and Hulu shows, in addition to regular programming. Games and cd\'s also provided in a cabinet. This condo is definitely first on our list when we return to Gulf Shores ! The condo complex was great with two outdoor pools and easy beach access. We recommend it !!
Great location, pool and beach
by Michelle R
The condo was exactly as advertised. The master bed was super comfy. The 10th floor was great.
Fantastic Family Vacation
by Jennifer V
This condo was a perfect setting for a fun-filled week with my husband and in-laws! With two pools, the beach, and a great gym available to us, we kept very busy during our stay! The condo itself was clean, organized, and very well decorated with beach accents! The kitchen had everything we needed to cook several meals at the condo. We didn\'t have to run out for a thing during our stay, which was so nice! The view from the balcony is beautiful and a great way to start and end the day! The beds are all comfy and each bedroom has a tv, which is nice! The TV in the living room is a smart tv and made binge watching our favorite shows on several apps easy! Overall, I rate this condo a 5/5 and would LOVE to come back again!
This was a great place for a family trip. It was updated. It had an awesome view and great facilities. This was a 10/10.
We Had a Great Time
by Jodi E
Beautiful condo, sat on the balcony one morning watching Dolphins play. We cooked Breakfast and lunch there . We had everything we needed. Suncoast rentals were very helpful every step of the way. Even when we we're at the wrong condo. Thank you for sharing your home with us.
September 5, 2021 - Website
Crystal towers room 1003. It was GREAT. WE will come back soon. Thanks it was a blast.
October 2022
S
M
T
W
T
F
S
01
02
03

$120

04
05

$120

06

$140

07

$234

08

$246

09
10
11
12
13

$120

14

$120

15

$135

16

$120

17

$120

18

$120

19

$120

20

$120

21

$120

22

$125

23

$120

24

$120

25

$120

26

$120

27

$120

28

$120

29

$120

30

$120

31

$120
November 2022
S
M
T
W
T
F
S
01

$120

02

$120

03

$120

04

$120

05
06
07
08
09
10
11

$120

12

$120

13
14
15
16
17
18
19

$120

20

$120

21

$130

22
23

$130

24

$135

25

$140

26

$135

27

$125

28

$120

29

$120

30

$120
December 2022
S
M
T
W
T
F
S
01

$120

02

$120

03

$120

04

$120

05

$120

06

$120

07

$120

08

$120

09

$120

10

$120

11

$120

12

$120

13

$120

14

$120

15

$120

16

$120

17

$120

18

$120

19

$120

20

$120

21

$120

22

$120

23

$135

24

$135

25

$140

26

$140

27

$140

28

$155

29

$155

30

$160

31

$160
January 2023
S
M
T
W
T
F
S
01

$165

02
03
04
05
06
07
08
09
10
11
12
13
14
15
16
17
18
19
20
21
22
23
24
25
26
27
28
29
30
31
February 2023

| S | M | T | W | T | F | S |
| --- | --- | --- | --- | --- | --- | --- |
| | | | 01 | 02 | 03 | 04 |
| 05 | 06 | 07 | 08 | 09 | 10 | 11 |
| 12 | 13 | 14 | 15 | 16 | 17 | 18 |
| 19 | 20 | 21 | 22 | 23 | 24 | 25 |
| 26 | 27 | 28 | | | | |
March 2023

| S | M | T | W | T | F | S |
| --- | --- | --- | --- | --- | --- | --- |
| | | | 01 | 02 | 03 | 04 |
| 05 | 06 | 07 | 08 | 09 | 10 | 11 |
| 12 | 13 | 14 | 15 | 16 | 17 | 18 |
| 19 | 20 | 21 | 22 | 23 | 24 | 25 |
| 26 | 27 | 28 | 29 | 30 | 31 | |
April 2023
S
M
T
W
T
F
S
01

$275

02

$275

03

$260

04

$270

05

$250

06

$285

07

$285

08

$280

09

$270

10

$250

11

$260

12

$245

13

$245

14

$260

15

$265

16

$245

17

$150

18

$160

19

$155

20

$160

21

$180

22

$185

23

$155

24

$150

25

$155

26

$160

27

$160

28

$185

29

$190

30

$155
May 2023
S
M
T
W
T
F
S
01

$155

02

$155

03

$165

04

$175

05

$200

06

$205

07

$170

08

$170

09

$170

10

$175

11

$190

12

$215

13

$230

14

$195

15

$200

16

$200

17

$205

18

$440

19

$470

20

$490

21

$450

22

$235

23

$235

24

$235

25

$250

26

$375

27

$400

28

$360

29

$370

30

$275

31

$280
June 2023
S
M
T
W
T
F
S
01

$295

02

$315

03

$330

04

$305

05

$315

06

$320

07

$320

08

$330

09

$340

10

$345

11

$330

12

$340

13

$340

14

$340

15

$350

16

$345

17

$345

18

$355

19

$365

20

$370

21

$350

22

$355

23

$355

24

$350

25

$345

26

$350

27

$355

28

$355

29

$370

30

$375
July 2023
S
M
T
W
T
F
S
01

$375

02

$370

03

$375

04

$375

05

$380

06

$380

07

$380

08

$365

09

$365

10

$365

11

$370

12

$370

13

$375

14

$370

15

$375

16

$365

17

$375

18

$375

19

$375

20

$380

21

$375

22

$375

23

$365

24

$380

25

$380

26

$385

27

$385

28

$375

29

$375

30

$360

31

$370
August 2023
S
M
T
W
T
F
S
01

$365

02

$365

03

$365

04

$360

05

$355

06

$330

07

$330

08

$325

09

$325

10

$325

11

$330

12

$310

13

$280

14

$275

15

$265

16

$265

17

$270

18

$275

19

$260

20

$225

21

$220

22

$210

23

$210

24

$225

25

$230

26

$225

27

$190

28

$185

29

$180

30

$180

31

$195
September 2023
S
M
T
W
T
F
S
01

$295

02

$300

03

$270

04

$265

05

$170

06

$170

07

$190

08

$200

09

$205

10

$180

11

$175

12

$170

13

$165

14

$180

15

$195

16

$200

17

$175

18

$170

19

$165

20

$165

21

$175

22

$190

23

$190

24

$170

25

$165

26

$160

27

$160

28

$175

29

$195

30

$195
October 2023
S
M
T
W
T
F
S
01

$175

02

$165

03

$165

04

$175

05

$190

06

$345

07

$335

08

$310

09

$300

10

$160

11

$165

12

$175

13

$185

14

$175

15

$150

16

$140

17

$135

18

$140

19

$150

20

$155

21

$150

22

$135

23

$135

24

$135

25

$135

26

$135

27

$135

28

$135

29

$135

30

$135

31

$135