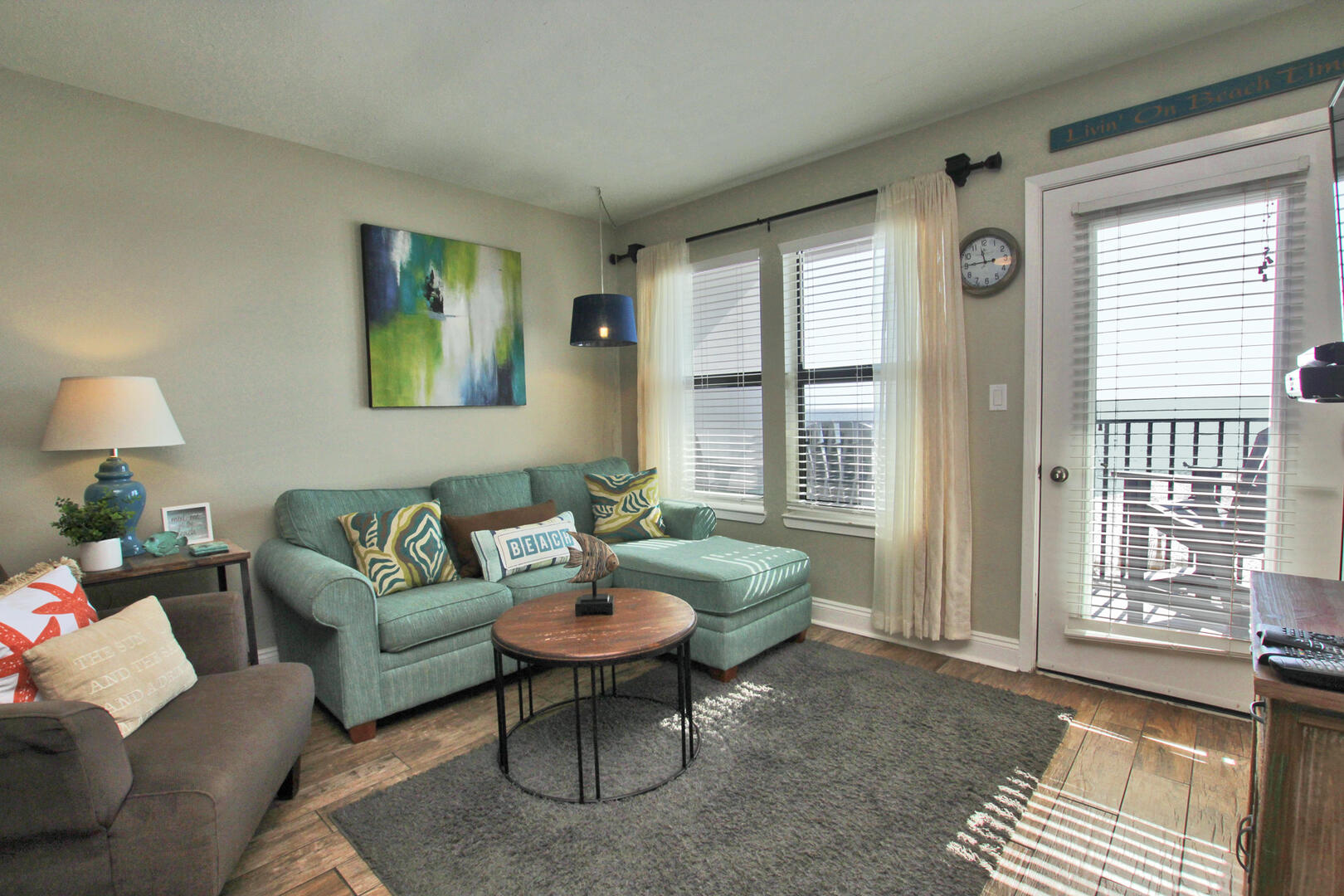 Island Sunrise currently has ongoing construction projects. Due to this, you may experience noise and possible disruptions during your stay. The Island Sunrise HOA apologizes for this inconvenience.

When you choose this beautiful, 2nd floor, 950 sq ft condo, you are sure to enjoy the private balcony accessed from the living room, direct gulf view from the bedroom, 3, flat screen TVs, washer/dryer, and free unlimited WIFI. With an outdoor pool and plenty of space to grill and picnic, spend your days in the lazy swing or on sugar sands. The 60 units in this traditional building are sure to please you and your entire family. Want to stay longer? Monthly rentals are available November to March 1. Call for pricing. Parking is limited to 2 vehicles. You must be 25 years of age or older to rent this unit.

There is a one (1) Parking Pass limit beginning at Island Sunrise for the following weekends:
Hangout Festival - May 20-24, 2021
Memorial Day - May 28-31, 2021
July 4th - July 2-6, 2021
Labor Day - September 3-6, 2021
Unit Location : Far from Elevator
Area : Gulf Shores
Sleep Cap : 6
Bedrooms : 2.00
Internet Type : Free Unit WiFi
Square Ft. : 950
Master Bedroom : King
Building Orientation : Gulf Side
Guest Bedroom 1 : Queen, Twin/Twin Bunk Beds
ilink : ilink Booking
Balcony View : Gulf Front
Number Bathrooms : 2.0
Complex : Island Sunrise
TV - Unit : 3
Number of Beds : 4
Pool - Outdoor : Yes
BBQ Grills : Yes
Elevator : Yes
Parking Limit : 2 Vehicles
Rental Type : Condo
Sleeps : 6
Age Requirement : 25
Long Term : No
Pet Policy : No Pets
Pet Restriction : No Pets
Parking - Guest Purchase :
Thank you for submitting your review. It will be processed shortly!
Our Vacay Stay
by Samantha F
Was a little worried at first when we pulled into the parking lot, but once we got into our room, we were blown away by house beautiful everything was..most places do not look like the photos you see on the internet or travel sites but this one was head on. Nothing exaggerated. By far would definitely stay there again!!
October 2022
S
M
T
W
T
F
S
01
02
03

$140

04

$140

05

$140

06

$160

07

$306

08
09
10
11

$140

12

$140

13

$140

14
15
16
17
18

$140

19

$140

20

$140

21

$140

22
23
24
25
26
27
28
29
30

$140

31

$140
November 2022
S
M
T
W
T
F
S
01

$140

02

$140

03

$140

04

$140

05

$140

06

$140

07

$140

08

$140

09

$140

10

$140

11

$140

12

$140

13

$140

14

$140

15

$140

16

$140

17

$140

18

$140

19

$140

20

$140

21

$185

22

$185

23

$180

24

$190

25

$205

26

$200

27

$180

28

$140

29

$140

30

$140
December 2022
S
M
T
W
T
F
S
01

$140

02

$140

03

$140

04

$140

05

$140

06

$140

07

$140

08

$140

09

$140

10

$140

11

$140

12

$140

13

$140

14

$140

15

$140

16

$140

17

$140

18

$140

19

$140

20

$140

21

$140

22

$140

23

$160

24

$150

25

$155

26

$160

27

$160

28

$180

29

$185

30

$185

31

$180
January 2023
S
M
T
W
T
F
S
01

$190

02
03
04
05
06
07
08
09
10
11
12
13
14
15
16
17
18
19
20
21
22
23
24
25
26
27
28
29
30
31
February 2023

| S | M | T | W | T | F | S |
| --- | --- | --- | --- | --- | --- | --- |
| | | | 01 | 02 | 03 | 04 |
| 05 | 06 | 07 | 08 | 09 | 10 | 11 |
| 12 | 13 | 14 | 15 | 16 | 17 | 18 |
| 19 | 20 | 21 | 22 | 23 | 24 | 25 |
| 26 | 27 | 28 | | | | |
March 2023
S
M
T
W
T
F
S
01

$180

02

$215

03

$220

04

$225

05

$225

06

$220

07

$215

08

$215

09

$225

10

$285

11

$290

12

$290

13

$285

14

$285

15

$285

16

$290

17

$290

18

$280

19
20
21
22
23
24
25

$290

26

$295

27

$300

28

$305

29

$305

30

$315

31

$320
April 2023
S
M
T
W
T
F
S
01

$330

02

$330

03

$320

04

$320

05

$310

06

$355

07

$350

08

$340

09

$320

10

$305

11

$305

12

$300

13

$305

14

$320

15

$310

16

$285

17

$180

18

$185

19

$190

20

$205

21

$230

22

$225

23

$185

24

$180

25

$180

26

$190

27

$215

28

$230

29

$225

30

$230
May 2023
S
M
T
W
T
F
S
01

$225

02

$225

03

$235

04

$265

05

$285

06

$290

07

$255

08

$205

09

$205

10

$220

11

$250

12

$280

13

$285

14

$255

15

$250

16

$255

17

$270

18

$555

19

$580

20

$590

21

$565

22

$300

23

$305

24

$315

25

$335

26

$465

27

$470

28

$455

29

$460

30

$350

31

$360
June 2023
S
M
T
W
T
F
S
01

$375

02

$385

03

$390

04

$380

05

$390

06

$395

07

$400

08

$405

09

$405

10

$410

11

$400

12

$410

13

$415

14

$415

15
16
17
18

$430

19

$440

20

$445

21

$420

22

$425

23

$425

24

$425

25

$415

26

$425

27

$425

28

$425

29

$455

30

$450
July 2023
S
M
T
W
T
F
S
01

$455

02

$450

03

$455

04

$455

05

$455

06

$460

07

$460

08

$440

09

$435

10

$440

11

$440

12

$440

13

$450

14

$455

15

$450

16

$445

17

$455

18

$450

19

$450

20

$460

21

$465

22

$460

23

$440

24

$450

25

$450

26

$445

27

$460

28

$460

29

$450

30

$425

31

$430
August 2023
S
M
T
W
T
F
S
01

$425

02

$420

03

$435

04

$435

05

$425

06

$390

07

$385

08

$380

09

$375

10

$390

11

$395

12

$380

13

$335

14

$330

15

$320

16

$320

17

$330

18

$335

19

$325

20

$275

21

$270

22

$260

23

$260

24

$270

25

$285

26

$280

27

$235

28

$230

29

$220

30

$220

31

$235
September 2023
S
M
T
W
T
F
S
01

$395

02

$385

03

$355

04

$350

05

$205

06

$205

07

$225

08

$245

09

$240

10

$210

11

$210

12

$200

13

$200

14

$215

15

$235

16

$230

17

$205

18

$200

19

$195

20

$195

21

$210

22

$225

23

$225

24

$195

25

$195

26

$195

27

$195

28

$210

29

$230

30

$230
October 2023
S
M
T
W
T
F
S
01

$200

02

$195

03

$200

04

$200

05

$225

06

$375

07

$375

08

$335

09

$325

10

$190

11

$190

12

$205

13

$220

14

$215

15

$175

16

$160

17

$160

18

$160

19

$175

20

$185

21

$180

22

$160

23

$160

24

$160

25

$160

26

$160

27

$160

28

$160

29

$160

30

$160

31

$160