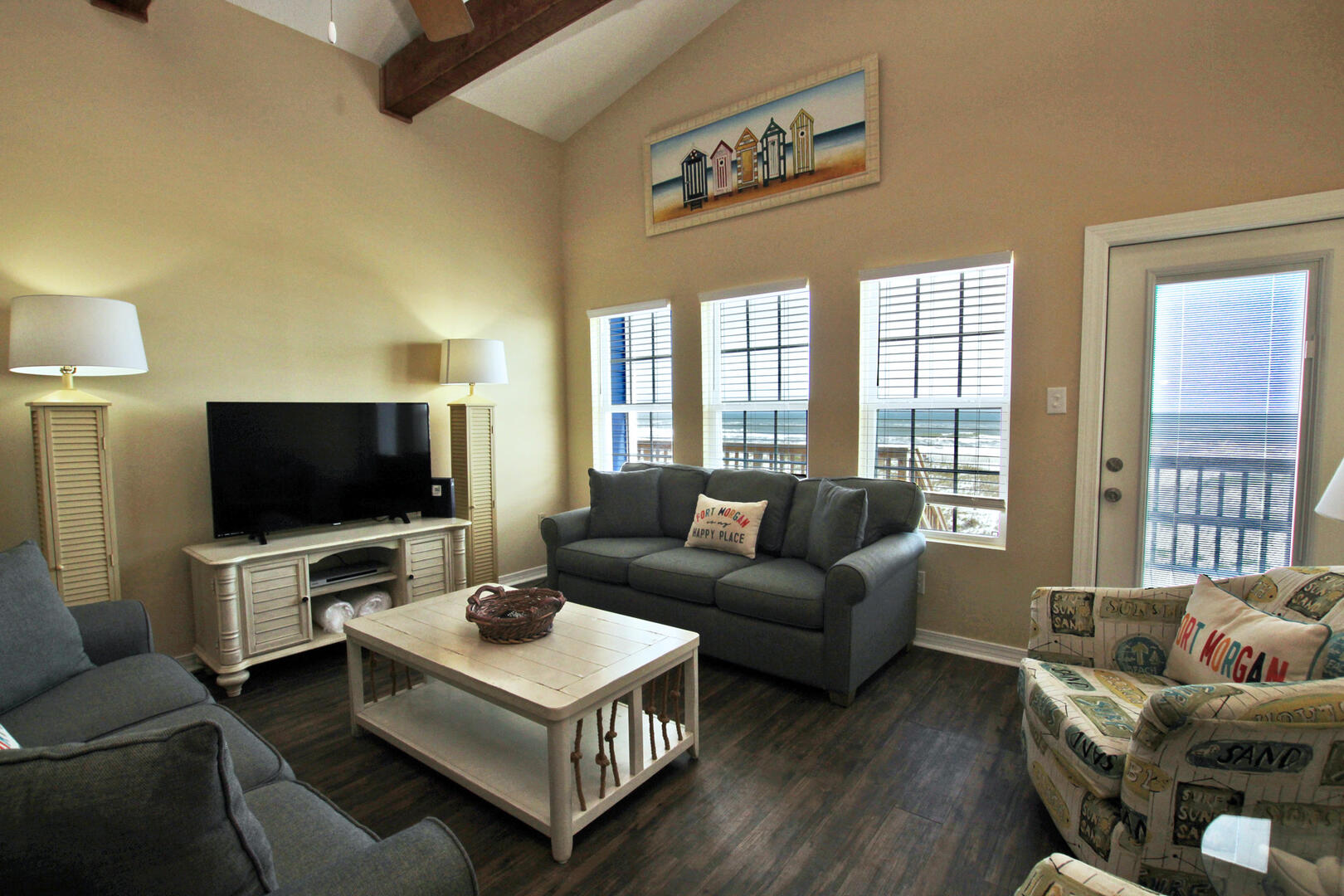 When you think of a beach vacation, think of a private home directly on sugar white sands with views of dolphins and the sound of waves gently lapping on the shore. Cabana Beach House in Fort Morgan is the place to make your dreams a reality! This 4-bedroom, 2-bathroom Gulf Front paradise is the perfect place to bring the whole family. The living area allows beautiful natural lighting to pour into the coastally themed room. The open floor plan is great at bringing people together while you are cooking in the fully equipped kitchen which has everything you need to prepare delicious and fresh Gulf Seafood meals. The dining area has seating for 4 people at table and an additional 4 people at the breakfast bar.

When it is time to unwind for the day step into the master suite and relax in the king size bed. You can even open the doors to let in the tranquil sounds of the Gulf of Mexico. There is a private master bathroom which has a tub/ shower combination. The second bedroom also has a king size bed and great views of the world around you. The third bedroom has a queen size bed and access to a balcony facing the sparkling water. The fourth bedroom has two twin size beds, and the living room has a queen size sofa sleeper which allows Cabana Beach House to comfortably sleep up to 10 people. There is also another full bathroom for guests to access that has a tub/shower combination.

With 75 ft. of beach frontage, this 1 story house has a washer and dryer, and a private outside deck. Free WiFi is also available.

This is a non-smoking property. Pets are not permitted. Minimum Age Requirement is 25.

Bedding:
Master- King
Bedroom 2- King
Bedroom-3 Queen
Bedroom 4- 2 Twins
Living Room- Sofa Sleeper Queen

8886 Pompano Way, Fort Morgan, AL
Area : Fort Morgan
Sleep Cap : 10
Bedrooms : 4.00
Internet Type : Free Unit WiFi
Square Ft. : 1600
Master Bedroom : King
Building Orientation : Gulf Side
Guest Bedroom 1 : King
Guest Bedroom 2 : Queen
Guest Bedroom 3 : 2 Twin
ilink : ilink Booking
Balcony View : Gulf Front
Number Bathrooms : 2.0
Complex : House
TV - Unit : 2
Number of Beds : 4
Rental Type : House
Sleeps : 10
Age Requirement : 25
Long Term : No
Pet Policy : No Pets
Pet Restriction : No Pets
Parking - Guest Purchase :
Thank you for submitting your review. It will be processed shortly!
August 14, 2021 - Website
Cabana Beach House
by Bobbie L
The house was a great location for the beach and had a beautiful view. It was well stocked with kitchen needs and it was clean. We had a great time!!
February 19, 2021 - Website
We had a wonderful stay! The only thing that had room for improvement was the weather, hands down it was better than what we left! The condo is was exceptionally clean and cozy, and we enjoyed the beautiful views and location was spot on! - Reviewed on Google
October 2022
S
M
T
W
T
F
S
01
02
03

$250

04
05
06

$280

07

$330

08

$435

09
10
11
12
13
14
15
16
17
18
19
20
21
22
23
24
25
26
27
28
29
30

$250

31

$250
November 2022
S
M
T
W
T
F
S
01

$250

02

$250

03

$250

04
05
06

$250

07

$250

08

$250

09
10
11
12
13
14
15

$250

16

$250

17

$250

18

$250

19

$250

20
21
22
23
24
25
26
27
28
29
30
December 2022

| S | M | T | W | T | F | S |
| --- | --- | --- | --- | --- | --- | --- |
| | | | | 01 | 02 | 03 |
| 04 | 05 | 06 | 07 | 08 | 09 | 10 |
| 11 | 12 | 13 | 14 | 15 | 16 | 17 |
| 18 | 19 | 20 | 21 | 22 | 23 | 24 |
| 25 | 26 | 27 | 28 | 29 | 30 | 31 |
January 2023

| S | M | T | W | T | F | S |
| --- | --- | --- | --- | --- | --- | --- |
| 01 | 02 | 03 | 04 | 05 | 06 | 07 |
| 08 | 09 | 10 | 11 | 12 | 13 | 14 |
| 15 | 16 | 17 | 18 | 19 | 20 | 21 |
| 22 | 23 | 24 | 25 | 26 | 27 | 28 |
| 29 | 30 | 31 | | | | |
February 2023

| S | M | T | W | T | F | S |
| --- | --- | --- | --- | --- | --- | --- |
| | | | 01 | 02 | 03 | 04 |
| 05 | 06 | 07 | 08 | 09 | 10 | 11 |
| 12 | 13 | 14 | 15 | 16 | 17 | 18 |
| 19 | 20 | 21 | 22 | 23 | 24 | 25 |
| 26 | 27 | 28 | | | | |
March 2023
S
M
T
W
T
F
S
01
02
03
04
05
06
07
08
09
10
11
12
13
14
15

$495

16

$490

17

$510

18

$480

19

$475

20

$480

21

$490

22

$475

23

$465

24

$480

25

$505

26

$515

27

$500

28

$535

29

$510

30

$520

31

$535
April 2023
S
M
T
W
T
F
S
01

$560

02

$570

03

$550

04

$580

05

$535

06

$620

07

$615

08

$615

09

$590

10

$540

11

$570

12

$520

13

$545

14

$560

15

$590

16

$550

17

$335

18

$360

19

$335

20

$360

21

$390

22

$435

23

$360

24

$350

25

$355

26

$345

27

$360

28

$390

29

$440

30
May 2023
S
M
T
W
T
F
S
01
02
03
04
05
06
07
08
09
10
11

$420

12

$455

13

$500

14

$445

15

$450

16

$460

17

$470

18

$965

19

$1010

20

$1055

21

$1005

22

$530

23

$540

24

$550

25

$560

26

$815

27

$865

28

$805

29

$835

30

$635

31

$645
June 2023
S
M
T
W
T
F
S
01

$660

02

$685

03

$715

04

$670

05

$700

06

$710

07

$720

08

$735

09

$745

10

$760

11
12
13
14
15
16
17
18
19
20
21
22
23
24

$780

25

$770

26

$770

27

$770

28

$765

29

$805

30

$810
July 2023
S
M
T
W
T
F
S
01

$810

02

$810

03

$810

04

$815

05

$820

06

$820

07

$825

08

$800

09

$815

10

$820

11

$830

12

$840

13

$845

14

$850

15

$855

16

$855

17

$860

18

$860

19

$860

20

$855

21

$850

22

$850

23

$850

24

$860

25

$850

26

$855

27

$855

28

$840

29

$840

30

$820

31

$825
August 2023
S
M
T
W
T
F
S
01

$815

02

$815

03

$815

04

$810

05

$805

06
07
08
09
10
11
12

$720

13

$670

14

$660

15

$630

16

$620

17

$645

18

$660

19

$615

20

$550

21

$520

22

$510

23

$505

24

$545

25

$570

26

$530

27

$475

28

$445

29

$445

30

$440

31

$495
September 2023
S
M
T
W
T
F
S
01

$730

02

$680

03

$650

04

$615

05

$425

06

$425

07

$475

08

$530

09

$480

10

$440

11

$405

12

$410

13

$415

14

$455

15

$495

16

$450

17

$405

18

$365

19

$365

20

$365

21

$395

22

$435

23

$415

24

$370

25

$350

26

$355

27

$370

28

$405

29

$435

30

$445
October 2023
S
M
T
W
T
F
S
01

$385

02

$360

03

$350

04

$370

05

$415

06

$730

07

$760

08

$685

09

$665

10

$355

11

$375

12

$420

13

$425

14

$420

15

$325

16

$295

17

$285

18

$300

19

$355

20

$375

21

$365

22

$280

23

$280

24

$280

25

$280

26

$290

27

$295

28

$285

29

$280

30

$280

31

$280