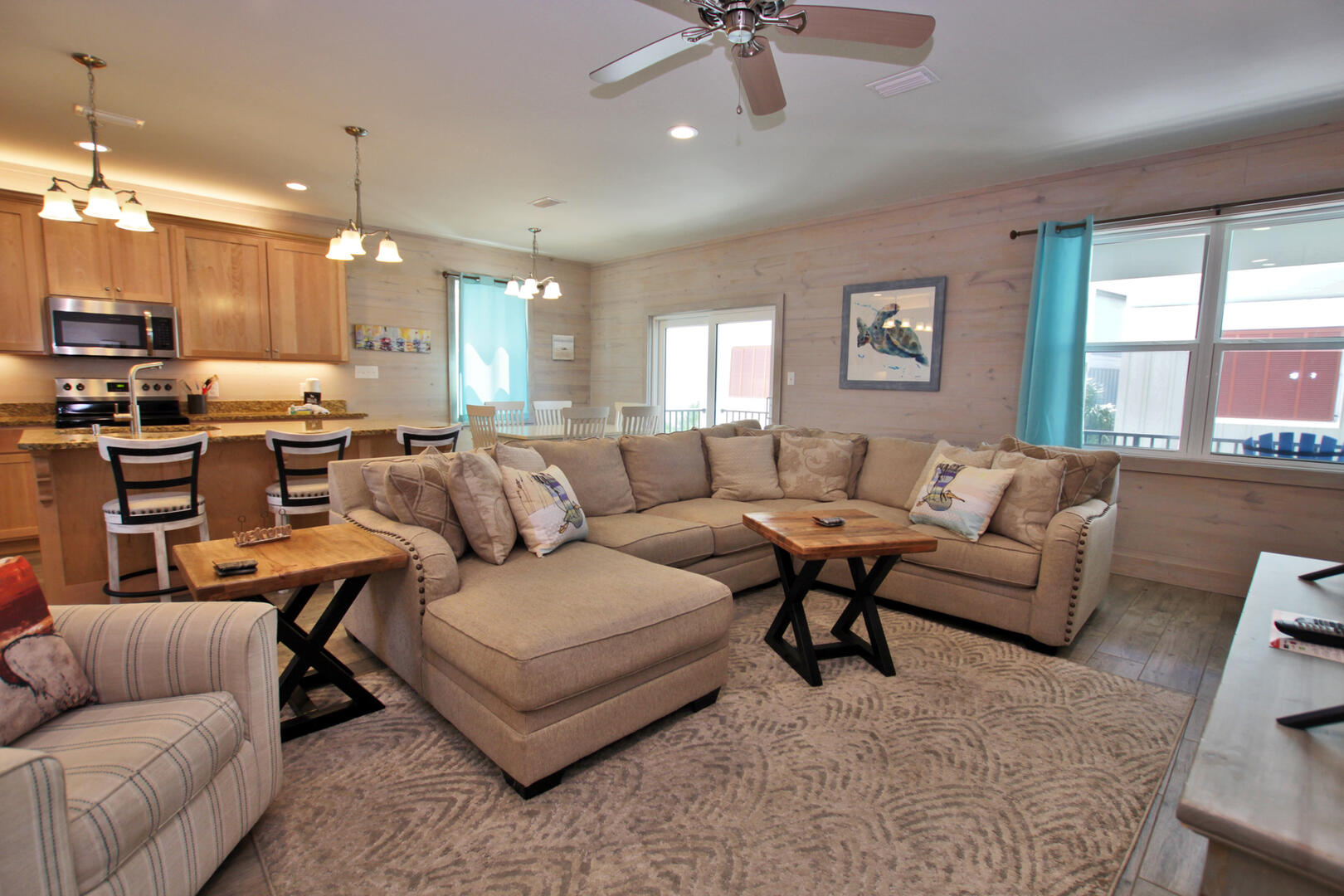 Romeo Beach Cottage L is a charming 3-bedroom 4-bathroom beach cottage boasting coastal colors and décor in a spacious open floor layout. This pet-friendly beach cottage is located right across the street from the beach in the heart of Gulf Shores and offers easy deeded beach access.

The main living area features a cozy oversized sectional for maximum relaxation while enjoying your favorite shows on the large flat screen Smart TV. The adjacent dining area offers a table that seats 6 comfortably and offers easy access to your balcony where there is additional dining options with bistro style table and chair sets. The fully-equipped kitchen is well appointed with custom cabinetry, granite countertops, stainless steel appliances, plus additional seating for 3 at the kitchen island. A full bath is also located on the main floor and offers an extended granite countertop and a shower and tub combo.

All bedrooms can be found upstairs. The master suite is spacious with a king size bed, flat screen television and private bathroom featuring a long granite counter and beautiful walk-in shower. The 2nd bedroom offers a queen size bed with a flat screen television plus a private bathroom with a walk-in shower. Kids and the young at heart will enjoy the 3rd bedroom with a full size bed plus a set of twin-over-twin bunk beds. The 4th bathroom is convenient to this bedroom and features a single sink vanity with a tub and shower combo. For ultimate convenience, the laundry room with a full size washer and dryer is located on the 2nd floor with the bedrooms.

Romeo Beach Cottages is located just minutes and within walking distance to dining, shopping, and local attractions. The Romeo Beach Cottage community offers covered parking at each house, a shared outdoor swimming pool surrounded by a spacious sun patio with lounge chairs. The beach can be accessed by the crosswalk at the red light, directly between the Lighthouse condominium and The Whaler condominium.

This property is pet-friendly for one (1) dog only, with a size restriction up to 20 lbs.
Must be at least 25 years of age to rent this house.
Monthly rentals available Nov. 1 to March 1.

Bedding:
Master - King
Guest 1 - Queen
Guest 2 - 1 Full and 1 twin/twin bunk bed

1 Twin Roll-A-Way also available.

473 E 1st Ave. Gulf Shores, AL
Area : Gulf Shores
Sleep Cap : 8
Bedrooms : 3.00
Internet Type : Free Unit WiFi
Square Ft. :
Master Bedroom : King
Building Orientation : Across the Street
Guest Bedroom 1 : Queen
Guest Bedroom 2 : Full, Twin/Twin Bunk Beds
ilink : ilink Booking
Balcony View : Across the Street - Gulf View
Number Bathrooms : 4.0
Complex : House
TV - Unit : 3
Number of Beds : 5
Pool - Outdoor : Yes
Rental Type : House
Sleeps : 9
Age Requirement : 25
Long Term : No
Pet Policy : Pet Friendly
Pet Restriction : Dog under 25lbs
Parking - Guest Purchase :
Thank you for submitting your review. It will be processed shortly!
Spring Break 2019
by Biblest & Pulliams Family
Loved the home. Perfect for two families.
Week of Family Fun
by Dicicco Family
We came for a week of family fun at the beach....and had so much more fun than we imagined!! This home is amazing , comfortable clean, inviting, and super convenient to all things fun! Thank you for an incredible week .
Loved the House! Perfect for families. We made amazing memories. Thank you to the owners for allowing our stay.
Perfect Stay!
by The McKenneys
Another perfect stay in this peaceful home. We loved the new additions and all the amenities. We celebrated 3 birthdays here and had such fun. Thank you!
Birthday Weekend
by James W
We will be back! Great hospitality, and very clean!
Loved this Beach House
by Bartlett Family
We really enjoyed the stay at your lovely beach house. It was well stocked and very family friendly. It is convenient tot he beach and local food and shops. We would recommend this house to anyone. Thank you for the opportunity to stay!
September 3, 2021 - Website
It is a very comfortable property.
by Marna B
It is a lovely condo, the only thing lacking is kitchen and dishware. The pots and pans are quite bad; knives are bad; very few cups and glasses. They really do need to add better cookware. Otherwise, everything was good.- Reviewed on VRBO
Great Stay at Romeo L
by Adria K
October 2022
S
M
T
W
T
F
S
01
02
03
04

$190

05
06
07
08
09
10
11
12
13
14
15
16

$190

17

$190

18

$190

19

$190

20

$190

21

$190

22

$190

23

$190

24

$190

25

$190

26

$190

27

$190

28

$190

29

$190

30

$190

31

$190
November 2022
S
M
T
W
T
F
S
01

$190

02

$190

03

$190

04

$190

05

$190

06

$190

07

$190

08

$190

09

$190

10

$190

11

$190

12

$190

13

$190

14

$190

15

$190

16

$190

17

$190

18

$190

19

$190

20
21
22
23
24
25
26

$255

27

$225

28

$190

29

$190

30

$190
December 2022
S
M
T
W
T
F
S
01

$190

02

$190

03

$190

04

$190

05

$190

06

$190

07

$190

08

$190

09

$190

10

$190

11

$190

12

$190

13

$190

14

$190

15

$190

16

$190

17

$190

18

$190

19

$190

20

$190

21

$190

22

$190

23

$195

24

$190

25

$195

26

$195

27

$190

28

$215

29

$220

30

$230

31

$225
January 2023
S
M
T
W
T
F
S
01

$235

02
03
04
05
06
07
08
09
10
11
12
13
14
15
16
17
18
19
20
21
22
23
24
25
26
27
28
29
30
31
February 2023

| S | M | T | W | T | F | S |
| --- | --- | --- | --- | --- | --- | --- |
| | | | 01 | 02 | 03 | 04 |
| 05 | 06 | 07 | 08 | 09 | 10 | 11 |
| 12 | 13 | 14 | 15 | 16 | 17 | 18 |
| 19 | 20 | 21 | 22 | 23 | 24 | 25 |
| 26 | 27 | 28 | | | | |
March 2023
S
M
T
W
T
F
S
01

$215

02

$250

03

$250

04

$255

05

$255

06

$255

07

$245

08

$250

09

$255

10

$330

11

$335

12

$335

13

$335

14

$335

15

$340

16

$345

17

$340

18

$325

19

$320

20

$330

21

$330

22

$330

23

$330

24

$325

25

$340

26

$340

27

$350

28

$355

29

$360

30

$365

31

$370
April 2023
S
M
T
W
T
F
S
01

$385

02

$390

03

$380

04

$375

05

$375

06

$440

07

$425

08

$425

09

$380

10

$370

11

$365

12

$360

13

$380

14

$400

15

$410

16

$350

17

$225

18

$225

19

$225

20

$260

21

$290

22

$300

23

$230

24

$230

25

$230

26

$225

27

$260

28

$285

29

$290

30

$290
May 2023
S
M
T
W
T
F
S
01

$280

02

$285

03

$295

04

$330

05

$360

06

$365

07

$330

08

$260

09

$265

10

$285

11

$315

12

$345

13

$350

14

$325

15

$310

16

$320

17

$340

18

$695

19

$715

20

$725

21

$705

22

$370

23

$380

24

$400

25

$425

26

$575

27

$585

28

$565

29

$575

30

$445

31

$455
June 2023
S
M
T
W
T
F
S
01

$475

02

$470

03

$485

04

$465

05

$485

06

$490

07

$500

08

$510

09

$510

10

$515

11

$490

12

$520

13

$525

14

$525

15

$525

16

$530

17

$530

18

$545

19

$565

20

$565

21

$530

22

$530

23

$530

24

$525

25

$515

26

$520

27

$520

28

$520

29

$550

30

$550
July 2023
S
M
T
W
T
F
S
01

$550

02

$550

03

$550

04

$555

05

$555

06

$560

07

$565

08

$550

09

$550

10

$555

11

$560

12

$565

13

$575

14

$580

15

$580

16

$580

17

$585

18

$580

19

$580

20

$585

21

$585

22

$585

23

$575

24

$575

25

$570

26

$565

27

$570

28

$570

29

$565

30

$545

31

$545
August 2023
S
M
T
W
T
F
S
01

$540

02

$535

03

$540

04

$550

05

$535

06

$505

07

$510

08

$495

09

$495

10

$500

11

$515

12

$490

13

$445

14

$440

15

$425

16

$425

17

$440

18

$455

19

$425

20

$375

21

$360

22

$345

23

$345

24

$365

25

$390

26

$370

27

$325

28

$300

29

$285

30

$295

31

$325
September 2023
S
M
T
W
T
F
S
01

$530

02

$520

03

$470

04

$455

05

$265

06

$275

07

$310

08

$350

09

$340

10

$285

11

$270

12

$250

13

$260

14

$290

15

$320

16

$315

17

$260

18

$245

19

$235

20

$240

21

$265

22

$290

23

$290

24

$245

25

$235

26

$240

27

$250

28

$275

29

$295

30

$295
October 2023
S
M
T
W
T
F
S
01

$245

02

$245

03

$250

04

$250

05

$280

06

$465

07

$475

08

$410

09

$405

10

$240

11

$240

12

$270

13

$285

14

$280

15

$215

16

$215

17

$215

18

$215

19

$225

20

$240

21

$225

22

$215

23

$215

24

$215

25

$215

26

$215

27

$215

28

$215

29

$215

30

$215

31

$215