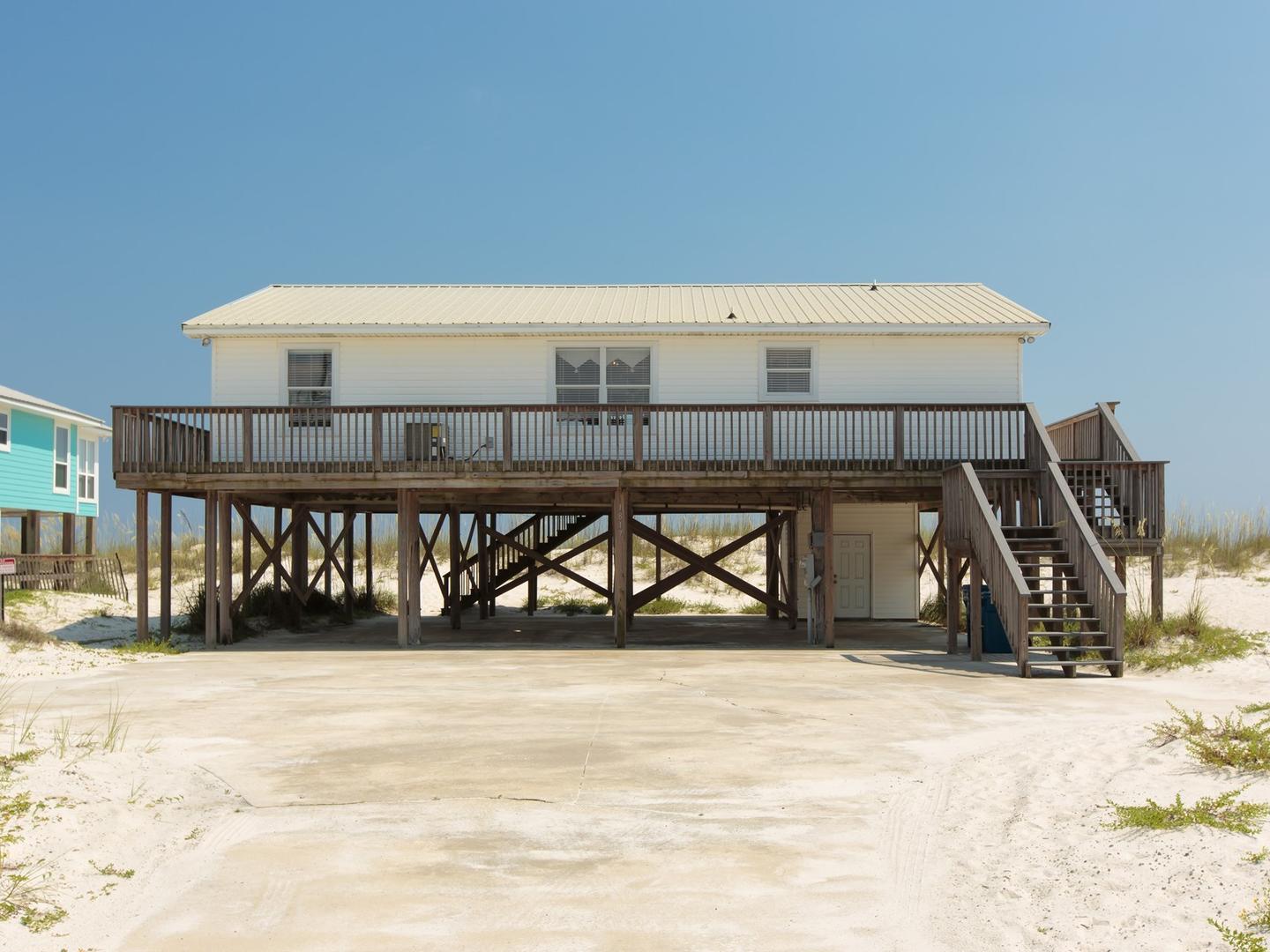 This 1600 sq ft traditional privately owned beach cottage sits right on the pristine sands of the Gulf of Mexico. Bring your small dog to one of the only gulf front beach homes that allows pets in Gulf Shores (nonrefundable fee applies). Enjoy the wraparound balcony overlooking the Gulf of Mexico, covered parking, fully-equipped kitchen, full size washer/dryer and cable TV. This nonsmoking home will remind you of beach vacation past. With updated furnishings, spacious seating area, a master bedroom with view of the beach and much more, there are plenty of reasons to choose Klitzke for your next visit to the beach.

Monthly rentals available Nov1 to March 1 This property is pet friendly for one (1) dog only, with a size restriction up to 25 lbs. If applicable, the pet fee is $150.00 in addition to the reserved price of the property. Must be 21 years of age or older to rent this property.
Area : Gulf Shores
Sleep Cap : 10
Bedrooms : 3.00
Internet Type : Free Unit WiFi
Square Ft. : 1600
Master Bedroom : Queen
Building Orientation : Gulf Side
Guest Bedroom 1 : 2 Twins
Guest Bedroom 2 : 2 Twins
ilink : ilink Booking
Balcony View : Gulf Front
Number Bathrooms : 2.0
Complex : House
TV - Unit : 2
Number of Beds : 5
Rental Type : House
Sleeps : 10
Age Requirement : 21
Long Term : No
Pet Policy : Pet Friendly
Pet Restriction : Dog under 25lbs
Parking - Guest Purchase :
Thank you for submitting your review. It will be processed shortly!
Loved the House
by Kathleen T
We loved the house and its beautiful view of the gulf. Being able to walk off the porch and stand on the beach in just a few steps was wonderful. The house is older, but was very comfortable. Since we were not aware of the size and population of Gulf Shores, and coming from a small town, we were not ready for the sky-high apartment buildings and congestion of traffic. We thought that by coming in February, we would avoid the tourist season, but it was crowded. - Reviewed on VRBO
January 3, 2021 - Website
Great Location!
by Celeste P
Location was spot on as it's away from the hustle and bustle. Perfect for those who like to enjoy the beach without a huge crowd. We always stay on this end but this is our first time staying here. We highly recommend. Home is definitely outdated but was clean and spacious. - Reviewed on VRBO
October 2022
S
M
T
W
T
F
S
01
02
03

$195

04
05
06
07
08
09
10
11
12
13
14
15
16
17
18
19
20
21
22
23
24
25
26
27
28
29
30
31
November 2022

| S | M | T | W | T | F | S |
| --- | --- | --- | --- | --- | --- | --- |
| | | 01 | 02 | 03 | 04 | 05 |
| 06 | 07 | 08 | 09 | 10 | 11 | 12 |
| 13 | 14 | 15 | 16 | 17 | 18 | 19 |
| 20 | 21 | 22 | 23 | 24 | 25 | 26 |
| 27 | 28 | 29 | 30 | | | |
December 2022

| S | M | T | W | T | F | S |
| --- | --- | --- | --- | --- | --- | --- |
| | | | | 01 | 02 | 03 |
| 04 | 05 | 06 | 07 | 08 | 09 | 10 |
| 11 | 12 | 13 | 14 | 15 | 16 | 17 |
| 18 | 19 | 20 | 21 | 22 | 23 | 24 |
| 25 | 26 | 27 | 28 | 29 | 30 | 31 |
January 2023

| S | M | T | W | T | F | S |
| --- | --- | --- | --- | --- | --- | --- |
| 01 | 02 | 03 | 04 | 05 | 06 | 07 |
| 08 | 09 | 10 | 11 | 12 | 13 | 14 |
| 15 | 16 | 17 | 18 | 19 | 20 | 21 |
| 22 | 23 | 24 | 25 | 26 | 27 | 28 |
| 29 | 30 | 31 | | | | |
February 2023

| S | M | T | W | T | F | S |
| --- | --- | --- | --- | --- | --- | --- |
| | | | 01 | 02 | 03 | 04 |
| 05 | 06 | 07 | 08 | 09 | 10 | 11 |
| 12 | 13 | 14 | 15 | 16 | 17 | 18 |
| 19 | 20 | 21 | 22 | 23 | 24 | 25 |
| 26 | 27 | 28 | | | | |
March 2023
S
M
T
W
T
F
S
01

$245

02

$280

03

$285

04

$290

05

$285

06

$285

07

$285

08

$285

09

$285

10

$375

11

$380

12

$380

13

$380

14

$385

15

$375

16

$370

17

$385

18

$365

19

$360

20

$365

21

$375

22

$360

23

$360

24

$370

25

$390

26

$390

27

$390

28

$410

29

$395

30

$400

31

$410
April 2023
S
M
T
W
T
F
S
01

$430

02

$425

03

$410

04

$430

05

$400

06

$460

07

$460

08

$470

09

$435

10

$400

11

$425

12

$395

13

$410

14

$440

15

$460

16

$410

17

$245

18

$265

19

$250

20

$265

21

$305

22

$330

23
24
25
26
27
28
29

$330

30

$230
May 2023
S
M
T
W
T
F
S
01

$265

02
03
04
05
06
07
08
09
10
11
12
13
14
15
16
17
18
19
20
21
22
23
24
25
26
27
28
29
30
31
June 2023
S
M
T
W
T
F
S
01
02
03
04
05
06
07
08
09
10
11
12
13
14
15
16
17

$595

18

$605

19

$625

20

$630

21

$590

22

$590

23

$590

24

$585

25

$570

26

$575

27

$575

28

$575

29

$605

30

$605
July 2023
S
M
T
W
T
F
S
01

$605

02
03
04
05
06
07
08

$605

09

$615

10

$615

11

$625

12

$630

13

$635

14

$635

15

$640

16

$645

17

$645

18

$650

19

$645

20

$645

21

$640

22

$640

23

$640

24

$645

25

$640

26

$645

27

$645

28

$635

29

$630

30

$620

31

$625
August 2023
S
M
T
W
T
F
S
01

$615

02

$615

03

$610

04

$610

05

$605

06

$580

07

$580

08

$565

09

$565

10

$560

11

$575

12

$540

13

$500

14

$490

15

$470

16

$465

17

$485

18

$500

19

$460

20

$410

21

$385

22

$375

23

$375

24

$400

25

$425

26

$400

27

$355

28

$320

29

$315

30

$320

31

$360
September 2023
S
M
T
W
T
F
S
01

$545

02

$540

03
04
05
06
07
08
09

$385

10

$320

11

$295

12

$285

13

$290

14
15
16
17

$300

18

$270

19

$260

20

$270

21

$300

22

$320

23

$330

24
25
26
27
28
29
30

$270
October 2023
S
M
T
W
T
F
S
01

$285

02
03
04
05
06
07
08
09
10
11
12
13
14
15
16
17
18
19
20
21
22
23
24
25
26
27
28
29
30
31

$220