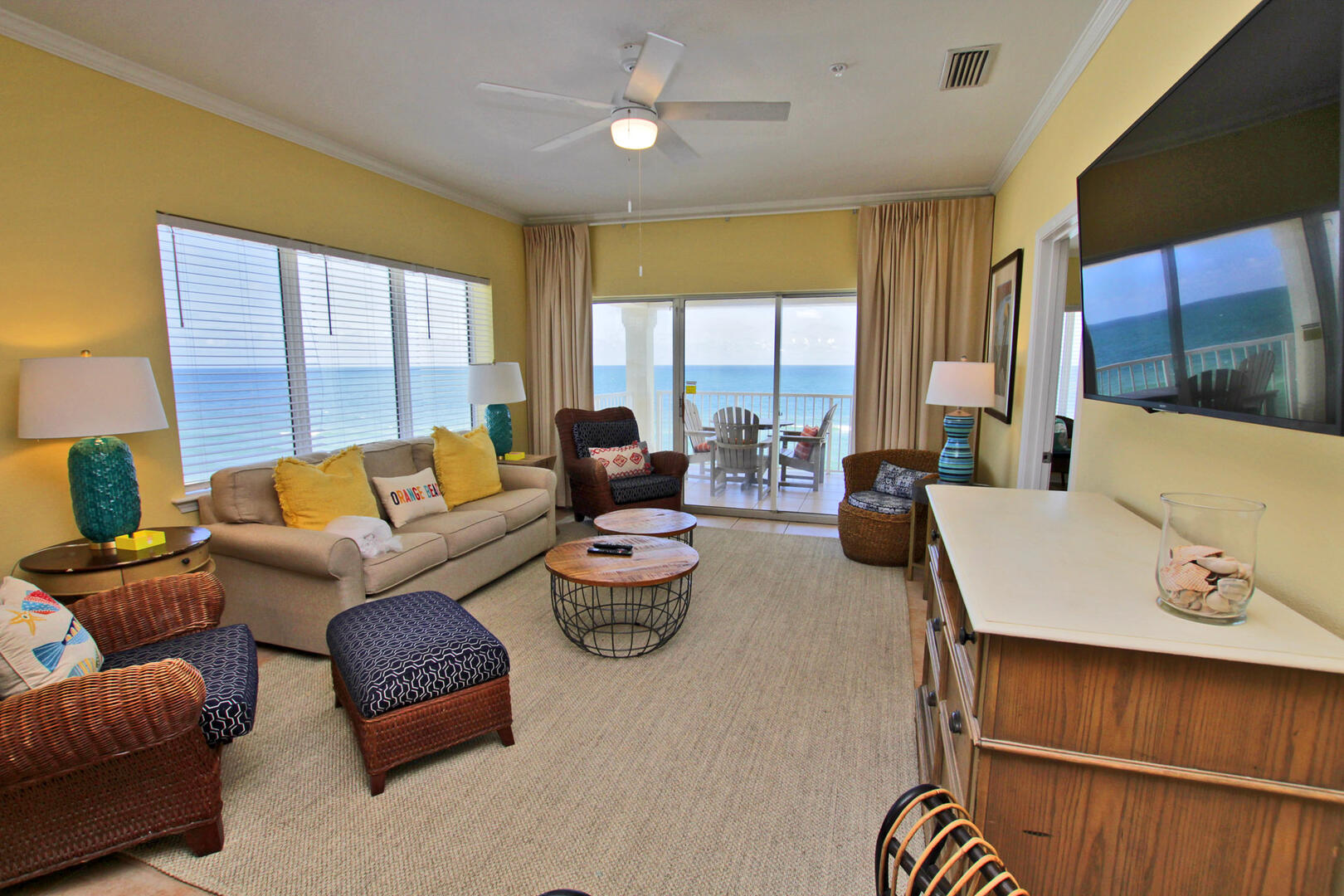 Relax and unwind in this spacious 1500sq ft. condo. Take in the views from your very large east corner balcony. Everything you need is just a short drive away. Shopping, restaurants, live entertainment, boat rentals and beautiful golf courses are all in abundance. A few miles east of the Alabama/Florida line and the world famous Florida Bama. The floor plan encompasses a very spacious upscale fully equipped kitchen, which opens up to a very large dining and living room. The living room has a large 50-inch mounted flat screen TV for your viewing pleasure! There are 3 spacious bedrooms and flat screen TVs with DVD players in every room. Have fun with the family with the games that are provided in the condo. The outdoor tropical pool is beach side and is family fun ready with access to a BBQ grill picnic area and your very own short boardwalk to the beautiful beach and emerald colored waters of the gulf of mexico. Monthly stays are permitted from Oct.1 to March 1. Covered parking is also available. 2 car maximum. MK4G is your perfect family getaway!
Unit Location : Close to Elevator
Area : Orange Beach
Sleep Cap : 10
Bedrooms : 3.00
Internet Type : Free Unit WiFi
Square Ft. : 1500
Master Bedroom : King
Building Orientation : Gulf Side
Guest Bedroom 1 : Queen
Guest Bedroom 2 : 2 Twin/Twin Bunk Beds
ilink : ilink Booking
Balcony View : Gulf Front
Video rm2 : DVD
Number Bathrooms : 3.0
Complex : Marlin Key
TV - Unit : 4
Number of Beds : 6
Pool - Outdoor : Yes
BBQ Grills : Yes
Elevator : Yes
Parking Limit : 2 Vehicles
Rental Type : Condo
Sleeps : 10
Age Requirement : 21
Long Term : No
Pet Policy : No Pets
Pet Restriction : No Pets
Parking - Guest Purchase :
Thank you for submitting your review. It will be processed shortly!
Very nice condo. Location perfect for a family beach vacation. Beautiful views. Safety concern regarding plug-in lights for bunks. Not a very smart idea to have extension plug-ins in walls with bunks up against them. Definitely a hazard with small children.
Great Memories
by Stacey C
Hello! This is the Cooper family and we just stayed in your condo Marlin Key 4G. It was amazing!! Everything was perfect. Clean and well stocked with anything we could need. Comfortable beds and furniture. So much room. Beautiful beach and views. We just can't say enough about how perfect our time was in your condo. We are so grateful. We look forward to renting with you again next year!!
Family Vacation
by Penny C
We had the best time at Marlin Key 4G. It was clean, spacious, and comfortable. The beach and the views were beautiful. We will be staying there again next year for sure!!-Reviewed on VRBO
Beautiful views, great location
by Linzi S
We loved everything about this place. The pictures can't capture the beauty and space. With a fully stocked kitchen, three bathrooms and a view of the ocean that will make your heart melt, once you arrive at this beautiful condo you'll never need to leave. We enjoyed the quick beach access and the kids enjoyed the pool. Our stay was peaceful and quiet and one we will treasure for years. - Reviewed on VRBO
September 2022
S
M
T
W
T
F
S
01
02
03
04
05
06
07
08
09
10
11
12
13
14
15
16
17
18
19
20
21
22
23
24
25

$185

26
27
28
29
30
October 2022
S
M
T
W
T
F
S
01

$195

02

$205

03
04
05
06
07
08
09
10
11
12
13
14
15
16
17
18
19
20
21
22

$185

23

$185

24
25
26
27
28
29
30
31
November 2022

| S | M | T | W | T | F | S |
| --- | --- | --- | --- | --- | --- | --- |
| | | 01 | 02 | 03 | 04 | 05 |
| 06 | 07 | 08 | 09 | 10 | 11 | 12 |
| 13 | 14 | 15 | 16 | 17 | 18 | 19 |
| 20 | 21 | 22 | 23 | 24 | 25 | 26 |
| 27 | 28 | 29 | 30 | | | |
December 2022
S
M
T
W
T
F
S
01

$185

02

$185

03

$185

04

$185

05

$185

06
07
08
09
10
11
12

$185

13

$185

14

$185

15

$185

16

$185

17

$185

18

$185

19

$185

20

$215

21

$220

22

$225

23

$310

24

$315

25

$325

26

$335

27

$340

28

$380

29

$390

30

$410

31

$400
January 2023
S
M
T
W
T
F
S
01

$415

02

$410

03

$405

04

$190

05

$185

06

$190

07

$190

08

$185

09

$185

10

$185

11

$185

12

$195

13

$200

14

$210

15

$205

16

$205

17

$185

18

$185

19

$190

20

$195

21

$195

22

$190

23

$185

24

$185

25

$185

26

$185

27

$190

28

$185

29

$185

30

$185

31

$185
February 2023
S
M
T
W
T
F
S
01

$185

02

$190

03

$195

04

$195

05

$200

06

$190

07

$190

08

$195

09

$200

10

$205

11

$210

12

$215

13

$250

14

$215

15

$220

16

$250

17

$265

18

$270

19

$275

20

$255

21

$270

22

$335

23

$330

24

$330

25

$320

26

$315

27

$305

28

$255
March 2023
S
M
T
W
T
F
S
01

$265

02

$265

03

$270

04

$270

05

$270

06

$260

07

$255

08

$265

09

$265

10

$355

11

$360

12

$360

13

$355

14

$350

15

$360

16

$355

17

$365

18

$340

19

$345

20

$350

21

$355

22

$355

23

$350

24

$350

25

$365

26

$365

27

$375

28

$380

29

$385

30

$385

31

$390
April 2023
S
M
T
W
T
F
S
01

$410

02

$415

03

$420

04

$430

05

$430

06

$475

07

$475

08

$480

09

$445

10

$435

11

$430

12

$420

13

$435

14

$455

15

$460

16

$395

17

$260

18

$265

19

$260

20

$300

21

$340

22

$350

23

$275

24

$265

25

$265

26

$260

27

$300

28

$340

29

$345

30

$285
May 2023
S
M
T
W
T
F
S
01

$270

02

$275

03

$280

04

$320

05

$360

06

$365

07

$320

08

$300

09

$290

10

$305

11

$335

12

$370

13

$375

14

$340

15

$320

16

$325

17

$345

18

$635

19

$675

20

$680

21

$660

22

$400

23

$400

24

$420

25

$455

26

$645

27

$655

28

$635

29

$640

30

$480

31

$500
June 2023
S
M
T
W
T
F
S
01

$520

02

$530

03

$550

04
05
06
07
08

$510

09

$585

10

$595

11
12
13
14
15
16
17
18
19
20
21
22
23
24

$615

25

$590

26

$595

27

$605

28

$605

29

$645

30

$645
July 2023
S
M
T
W
T
F
S
01

$650

02

$650

03

$655

04

$665

05

$655

06

$655

07

$660

08

$635

09
10
11
12
13
14
15

$640

16

$630

17

$630

18

$635

19

$635

20

$640

21

$640

22

$640

23

$625

24

$625

25

$625

26

$625

27

$625

28

$625

29

$615

30

$595

31

$590
August 2023
S
M
T
W
T
F
S
01

$590

02

$590

03

$595

04

$605

05

$585

06

$555

07

$550

08

$540

09

$535

10

$540

11

$555

12

$525

13

$475

14

$450

15

$430

16

$430

17

$455

18

$475

19

$435

20

$375

21

$345

22

$330

23

$335

24

$365

25

$390

26

$365

27

$300

28

$260

29

$260

30

$275

31

$325
September 2023
S
M
T
W
T
F
S
01

$590

02

$580

03

$525

04

$480

05

$250

06

$270

07

$315

08

$355

09

$355

10

$295

11

$245

12

$245

13

$265

14

$305

15

$345

16

$345

17

$280

18

$215

19

$215

20

$245

21

$280

22

$310

23

$305

24

$255

25

$225

26

$250

27

$260

28

$275

29

$325

30

$310