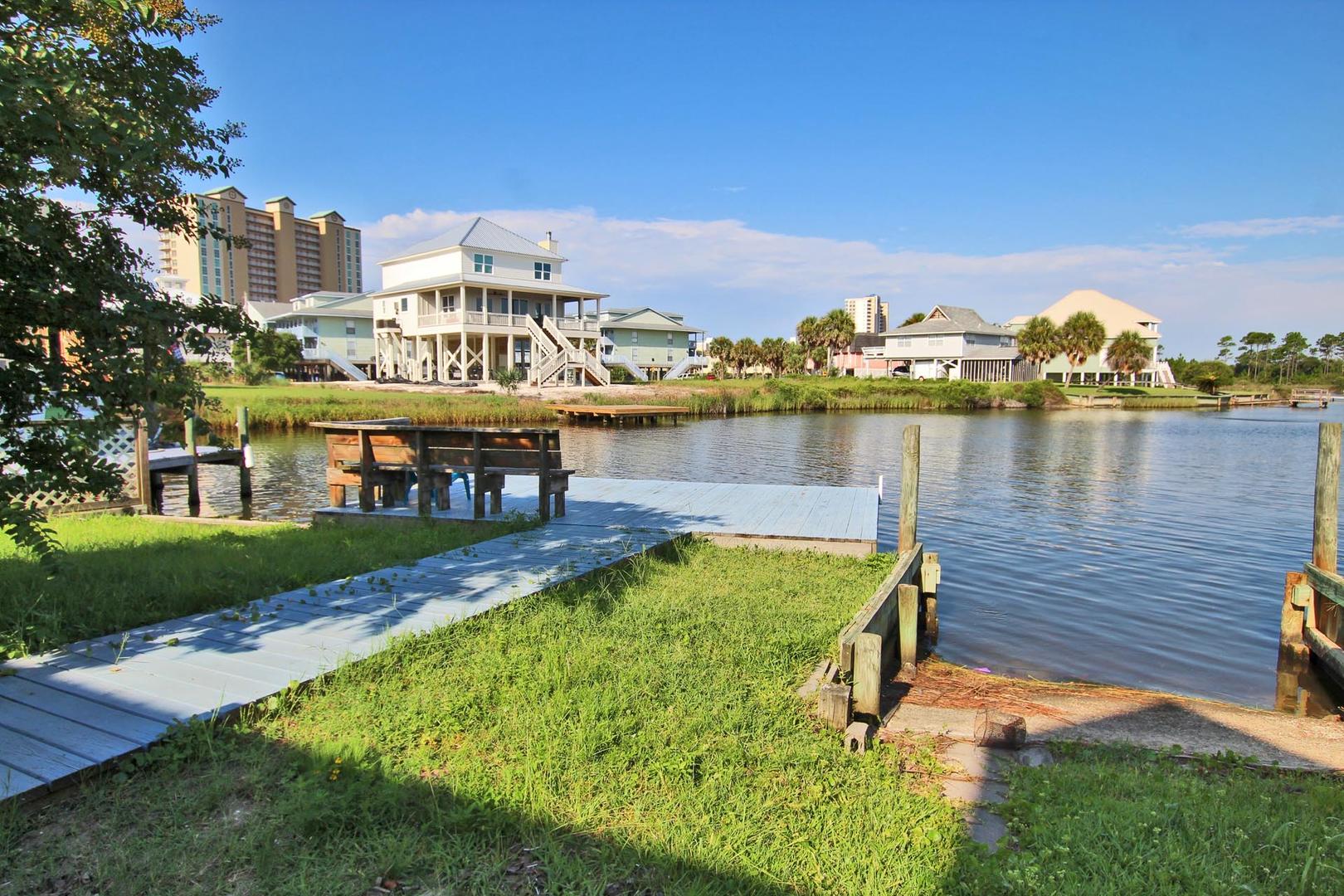 Pet Friendly, 3 bedroom beach house in Gulf Shores with its own private boat launch and dock. This freshly painted eclectic style beach house is in the West Beach area of Gulf Shores right behind Pier 33 Grocery. It is 3 blocks from Beach Access and walking distance to downtown Gulf Shores shops and restaurants like the Hangout and Pink Pony Pub, yet set back in a quiet neighborhood away from the main beach road. This is the perfect beach house if you enjoy sitting on a deck watching back bay sunsets with Fido right beside you in the fenced back yard. Sunset Daze is 3 bedrooms, 2.5 baths, sleeps 10 and offers free WiFi. You will find a king bed in the master, queen and twin in one guest bedroom, and a queen in the other bedroom along with a new queen sleeper sofa in the living room. There is also a separate study to retreat with a good book for some peace and quiet. Have a small boat? Do you enjoy fishing while on your beach vacation? Well bring your boat down and launch right out of the back yard into the inlet that goes into Little Lagoon. The new owners have more updates planned, but they have already replaced the kitchen appliances with all Stainless Steel, replaced all mattresses and bedding and added a fresh coat of paint throughout. This beach house is a perfect option if you're looking to bring your fur baby and come down for a relaxing vacation with family and friends. It's also a great vacation rental option if visiting for the Hangout Music Festival or Shrimp Festival that both take place in the heart of Gulf Shores and walking distance from Sunset Daze.

Monthly rentals available Monthly November to March 1. Minimum age to rent is 25.
This property is pet friendly for one (1) dog only, with a size restriction up to 25 lbs. If applicable, the pet fee is $150.00 in addition to the reserved price of the property.

Bedding:
Master - King
Guest BR 1 - Queen and Full
Guest BR 2 - Queen
Living Area - Queen sleeper

207 W 8th St., Gulf Shores, AL 36542
Area : Gulf Shores
Sleep Cap : 10
Bedrooms : 3.00
Internet Type : Free Unit WiFi
Square Ft. : 1736
Master Bedroom : King
Building Orientation : Across the Street
Guest Bedroom 1 : Full-Queen
Guest Bedroom 2 : Queen
ilink : ilink Booking
Balcony View : Waterfront
Video rm2 : DVD
Number Bathrooms : 2.5
Complex : House
TV - Unit : 4
Number of Beds : 5
Boat Parking : Free
BBQ Grills : Yes
Rental Type : House
Sleeps : 10
Age Requirement : 25
Long Term : No
Pet Policy : Pet Friendly
Pet Restriction : Dog under 25lbs
Parking - Guest Purchase :
Thank you for submitting your review. It will be processed shortly!
August 17, 2022 - Manual Entry
Relaxing Stay!
by Anthony M.
Very nice home, the back porch is a great spot to relax and look out over the lagoon.- Reviewed on VRBO
July 19, 2022 - Manual Entry
We loved the house. Such a nice area. House was so very well stocked.
Perfect beach getaway
by Elizabeth F
We had the best spring break at Sunset Daze. The house is so convenient to the beach and activities, but also on a peaceful lagoon for when you need a minute to get away. The sunsets on the deck overlooking the lagoon are incredible. The house was so clean with updated appliances and had everything we needed. We will definitely be back.
Excellent house my husband and 2 dogs thoroughly enjoyed the house so much that we now have the entire month of November 2019.
Fantastic Winter Stay
by Lynn & Bill S
Could not be in a better location. It is a well-maintained vacation home offered by Young's Suncoast. Our stay at this property for January and February 2021 and 2022 could not have been better. The owner has put in updated appliances, windows and overall keeps most everything in very good condition. The house was well equipped for a longer stay including kitchen items, linens and having Media Com for great TV watching. Rebeca ,a manager for Young's Suncoast and our contact as well as their whole staff were very responsive and professional in addressing our questions and needs. We plan on renting this pet-friendly unit on the Little Lagoon as long as we are able for our winter get-a-ways
August 22, 2021 - Website
Late summer vacation
by Anonymous
The property is very nice, be prepared to traverse lots of stairs but that's a necessary evil along the water. The house was beautiful and nicely laid out, the deck was very nice. The only downfall was the grass looked like it hadn't been cut it weeks. It REALLY needs to be mowed. The grill was kinda cheap but functional. Overall a nice place very close to attractions just needs a few tweaks.
October 2022
S
M
T
W
T
F
S
01
02
03

$195

04
05
06
07
08
09
10

$195

11

$195

12
13
14
15

$195

16

$195

17

$195

18

$195

19

$195

20

$195

21

$195

22

$195

23

$195

24

$195

25

$195

26

$195

27

$195

28

$195

29

$195

30

$195

31

$195
November 2022
S
M
T
W
T
F
S
01

$195

02
03
04
05
06

$195

07

$195

08

$195

09

$195

10

$195

11

$195

12

$195

13

$195

14

$195

15

$195

16

$195

17

$195

18

$195

19

$195

20

$195

21

$195

22

$195

23

$195

24

$195

25

$195

26

$195

27

$195

28

$195

29

$195

30

$195
December 2022
S
M
T
W
T
F
S
01

$195

02

$195

03

$195

04

$195

05

$195

06

$195

07

$195

08

$195

09

$195

10

$195

11

$195

12

$195

13

$195

14

$195

15

$195

16

$195

17

$195

18

$195

19

$195

20

$195

21

$195

22

$195

23

$195

24

$195

25
26
27
28
29
30
31

$195
January 2023
S
M
T
W
T
F
S
01

$215

02
03
04
05
06
07
08
09
10
11
12
13
14
15
16
17
18
19
20
21
22
23
24
25
26
27
28
29
30
31
February 2023

| S | M | T | W | T | F | S |
| --- | --- | --- | --- | --- | --- | --- |
| | | | 01 | 02 | 03 | 04 |
| 05 | 06 | 07 | 08 | 09 | 10 | 11 |
| 12 | 13 | 14 | 15 | 16 | 17 | 18 |
| 19 | 20 | 21 | 22 | 23 | 24 | 25 |
| 26 | 27 | 28 | | | | |
March 2023
S
M
T
W
T
F
S
01

$195

02

$220

03

$225

04

$230

05

$225

06

$225

07

$225

08

$220

09

$220

10

$295

11

$300

12

$295

13

$295

14

$305

15

$295

16

$290

17

$300

18

$285

19

$280

20

$290

21

$295

22

$285

23

$285

24

$290

25

$305

26
27
28
29
30
31
April 2023
S
M
T
W
T
F
S
01

$340

02

$335

03

$320

04

$335

05

$315

06

$360

07

$360

08

$370

09

$340

10

$315

11

$330

12

$310

13

$325

14

$345

15

$365

16

$320

17

$220

18

$220

19

$220

20

$220

21

$240

22

$260

23

$220

24

$220

25

$220

26

$220

27

$220

28

$240

29

$260

30

$220
May 2023
S
M
T
W
T
F
S
01

$220

02

$220

03

$220

04

$225

05

$260

06

$270

07

$235

08

$230

09

$230

10

$235

11

$245

12

$280

13

$295

14

$260

15

$255

16

$260

17

$270

18

$575

19

$610

20

$635

21

$590

22

$305

23

$310

24

$320

25

$335

26

$485

27

$520

28

$470

29

$485

30

$365

31

$375
June 2023
S
M
T
W
T
F
S
01

$385

02

$405

03

$430

04

$380

05

$410

06

$415

07

$425

08

$435

09

$440

10

$455

11

$425

12

$445

13

$455

14

$455

15

$460

16

$465

17

$465

18

$475

19

$490

20

$495

21

$465

22

$465

23

$465

24

$460

25

$445

26

$450

27

$450

28

$450

29

$475

30

$475
July 2023
S
M
T
W
T
F
S
01

$475

02

$470

03

$475

04

$480

05

$485

06

$485

07

$490

08

$475

09

$480

10

$485

11

$490

12

$495

13

$495

14

$500

15

$505

16

$505

17

$505

18

$510

19

$505

20

$505

21

$505

22

$505

23

$500

24

$505

25

$505

26

$505

27

$505

28

$500

29

$495

30

$485

31

$490
August 2023
S
M
T
W
T
F
S
01

$485

02

$480

03

$480

04

$475

05

$475

06

$455

07

$455

08

$445

09

$440

10

$440

11

$455

12

$425

13

$395

14

$385

15

$370

16

$365

17

$380

18

$390

19

$365

20

$325

21

$305

22

$295

23

$295

24

$315

25

$335

26

$315

27

$275

28

$250

29

$245

30

$250

31

$285
September 2023
S
M
T
W
T
F
S
01

$430

02

$425

03

$380

04

$355

05

$230

06

$240

07

$275

08

$300

09

$300

10

$255

11

$230

12

$225

13

$230

14

$255

15

$275

16

$280

17

$235

18

$220

19

$220

20

$220

21

$235

22

$250

23

$260

24

$220

25

$220

26

$220

27

$220

28

$245

29

$255

30

$265
October 2023
S
M
T
W
T
F
S
01

$225

02

$220

03

$220

04

$225

05

$250

06

$445

07

$440

08

$400

09

$390

10

$220

11

$220

12

$240

13

$250

14

$235

15

$220

16

$220

17

$220

18

$220

19

$220

20

$220

21

$220

22

$220

23

$220

24

$220

25

$220

26

$220

27

$220

28

$220

29

$220

30

$220

31

$220