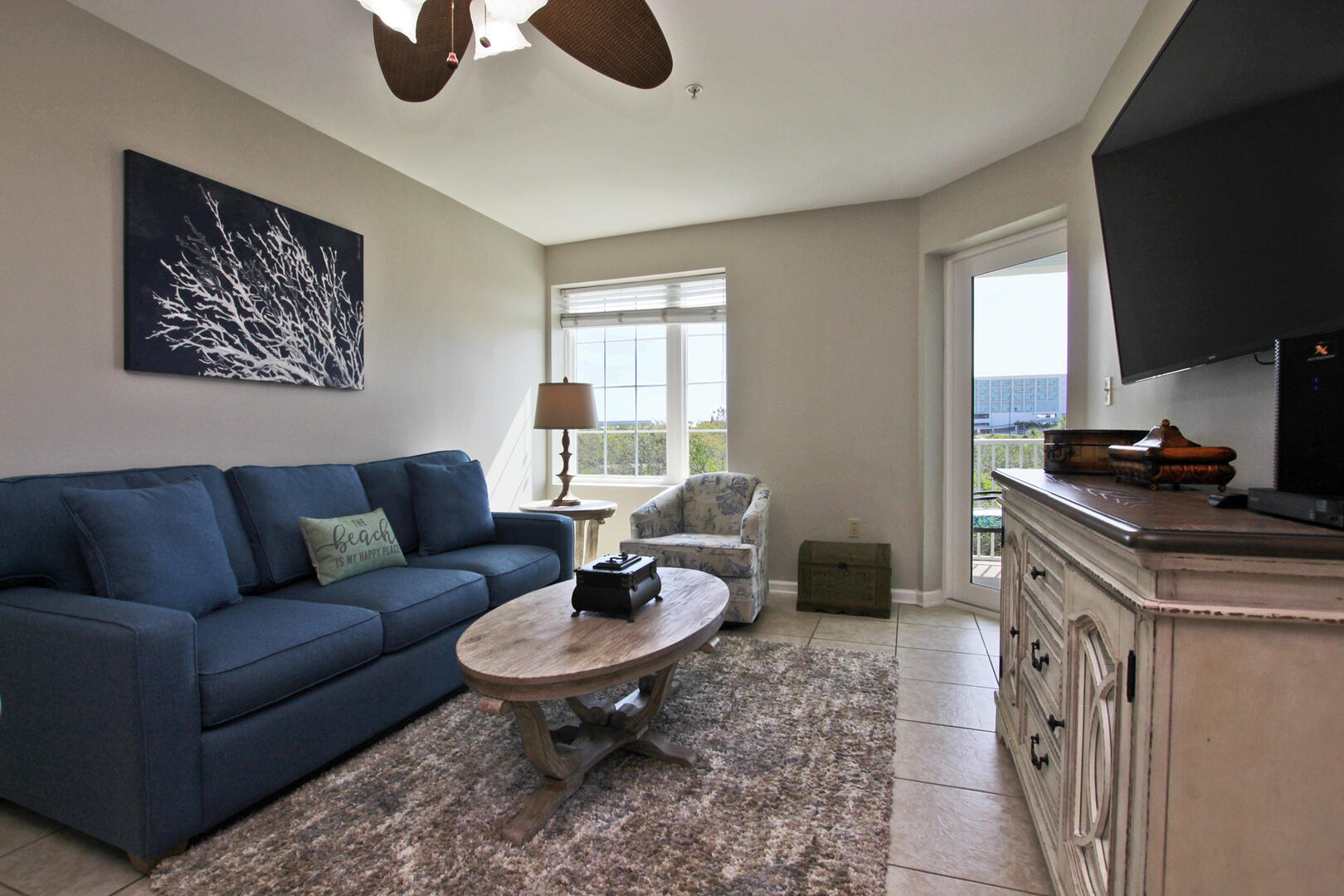 Talk about value for your vacation dollar! Grande Caribbean sits like a castle directly across the street from the beautiful Gulf of Mexico near Perdido Pass bridge This unit in Orange Beach is near shopping, dining & activities your whole family will enjoy. With beach access directly across the street & a community veranda, and fitness center your 1st floor privately owned condo boasts 880 sq ft, a private balcony accessed from the living room and master bedroom, washer/dryer, WIFI, and modern tropical decor sure to create your own private oasis. During peak times of the year 2 car limit is enforced but additional passes may be purchased if parking is available. Monthly reservations in this nonsmoking property can be made November to March 1.
Unit Location : Close to Elevator
Area : Orange Beach
Sleep Cap : 6
Bedrooms : 2.00
Internet Type : Free Unit WiFi
Square Ft. : 880
Master Bedroom : King
Building Orientation : Across the Street
Guest Bedroom 1 : Queen
ilink : ilink Booking
Balcony View : Indirect Gulf View
Number Bathrooms : 2.0
Complex : Grande Caribbean
TV - Unit : 3
Number of Beds : 2
Pool - Outdoor : Yes
Fitness Room : Yes
BBQ Grills : Yes
Elevator : Yes
Parking Limit : 2 Vehicles
Rental Type : Condo
Sleeps : 6
Age Requirement : 21
Long Term : No
Pet Policy : No Pets
Pet Restriction : No Pets
Parking - Guest Purchase :
Thank you for submitting your review. It will be processed shortly!
Great place to Stay
by Dan
Great Location , easy Booking , and Convenient processing time and checkout .
October 2022
S
M
T
W
T
F
S
01
02
03

$105

04
05
06
07
08
09
10

$110

11

$105

12

$110

13

$115

14
15
16
17
18
19
20
21
22
23
24
25
26
27
28
29
30
31

$105
November 2022
S
M
T
W
T
F
S
01

$105

02

$105

03

$105

04

$105

05

$105

06

$105

07

$105

08

$105

09

$105

10

$105

11

$105

12

$105

13

$105

14

$105

15

$105

16

$105

17

$105

18

$105

19

$105

20

$105

21

$115

22

$115

23

$120

24

$125

25

$125

26

$120

27

$110

28

$105

29

$105

30

$105
December 2022
S
M
T
W
T
F
S
01

$105

02
03
04
05
06
07
08
09
10
11
12
13
14
15
16
17
18
19
20
21
22
23
24
25
26
27
28
29
30
31
January 2023

| S | M | T | W | T | F | S |
| --- | --- | --- | --- | --- | --- | --- |
| 01 | 02 | 03 | 04 | 05 | 06 | 07 |
| 08 | 09 | 10 | 11 | 12 | 13 | 14 |
| 15 | 16 | 17 | 18 | 19 | 20 | 21 |
| 22 | 23 | 24 | 25 | 26 | 27 | 28 |
| 29 | 30 | 31 | | | | |
February 2023

| S | M | T | W | T | F | S |
| --- | --- | --- | --- | --- | --- | --- |
| | | | 01 | 02 | 03 | 04 |
| 05 | 06 | 07 | 08 | 09 | 10 | 11 |
| 12 | 13 | 14 | 15 | 16 | 17 | 18 |
| 19 | 20 | 21 | 22 | 23 | 24 | 25 |
| 26 | 27 | 28 | | | | |
March 2023
S
M
T
W
T
F
S
01

$105

02

$120

03

$120

04

$140

05

$135

06

$120

07

$120

08

$120

09

$120

10

$160

11

$160

12

$160

13

$155

14

$155

15

$160

16

$155

17

$160

18

$150

19

$155

20

$155

21

$155

22

$155

23

$150

24

$155

25

$160

26

$165

27

$165

28

$170

29

$170

30

$170

31

$170
April 2023
S
M
T
W
T
F
S
01

$180

02

$185

03

$185

04

$185

05

$185

06

$200

07

$205

08

$200

09

$195

10

$185

11

$185

12

$180

13

$180

14

$185

15

$180

16

$165

17

$120

18

$120

19

$120

20

$125

21

$140

22

$135

23

$120

24

$120

25

$120

26

$120

27

$125

28

$140

29

$140

30

$120
May 2023
S
M
T
W
T
F
S
01

$120

02

$120

03

$120

04

$130

05

$145

06

$145

07

$125

08

$120

09

$120

10

$120

11

$135

12

$155

13

$155

14

$140

15

$135

16

$135

17

$140

18

$260

19

$280

20

$285

21

$270

22

$170

23

$165

24

$170

25

$185

26

$270

27

$275

28

$260

29

$265

30

$195

31

$200
June 2023
S
M
T
W
T
F
S
01

$210

02

$225

03

$225

04

$220

05

$220

06

$225

07

$230

08

$235

09

$240

10

$245

11

$235

12

$240

13

$245

14

$245

15

$255

16

$250

17

$250

18

$250

19

$255

20

$255

21

$250

22

$260

23

$255

24

$255

25

$245

26

$250

27

$250

28

$255

29

$280

30

$275
July 2023
S
M
T
W
T
F
S
01

$275

02

$265

03

$270

04

$270

05

$275

06

$280

07

$280

08

$265

09

$255

10

$260

11

$255

12

$260

13

$260

14

$260

15

$255

16

$245

17

$250

18

$250

19

$255

20

$260

21

$260

22

$260

23

$245

24

$250

25

$255

26

$255

27

$260

28

$260

29

$255

30

$235

31

$235
August 2023
S
M
T
W
T
F
S
01

$240

02

$235

03

$245

04

$245

05

$235

06

$215

07

$210

08

$210

09

$210

10

$215

11

$215

12

$205

13

$180

14

$170

15

$165

16

$165

17

$175

18

$175

19

$170

20

$140

21

$130

22

$130

23

$125

24

$140

25

$140

26

$140

27

$120

28

$120

29

$120

30

$120

31

$120
September 2023
S
M
T
W
T
F
S
01

$225

02

$225

03

$200

04

$195

05

$120

06

$120

07

$120

08

$130

09

$130

10

$120

11

$120

12

$120

13

$120

14

$120

15

$130

16

$130

17

$120

18

$120

19

$120

20

$120

21

$120

22

$125

23

$125

24

$120

25

$120

26

$120

27

$120

28

$120

29

$125

30

$125
October 2023
S
M
T
W
T
F
S
01

$120

02

$120

03

$120

04

$120

05

$120

06

$230

07

$225

08

$210

09

$205

10

$120

11

$120

12

$120

13

$125

14

$120

15

$120

16

$120

17

$120

18

$120

19

$120

20

$120

21

$120

22

$120

23

$120

24

$120

25

$120

26

$120

27

$120

28

$120

29

$120

30

$120

31

$120