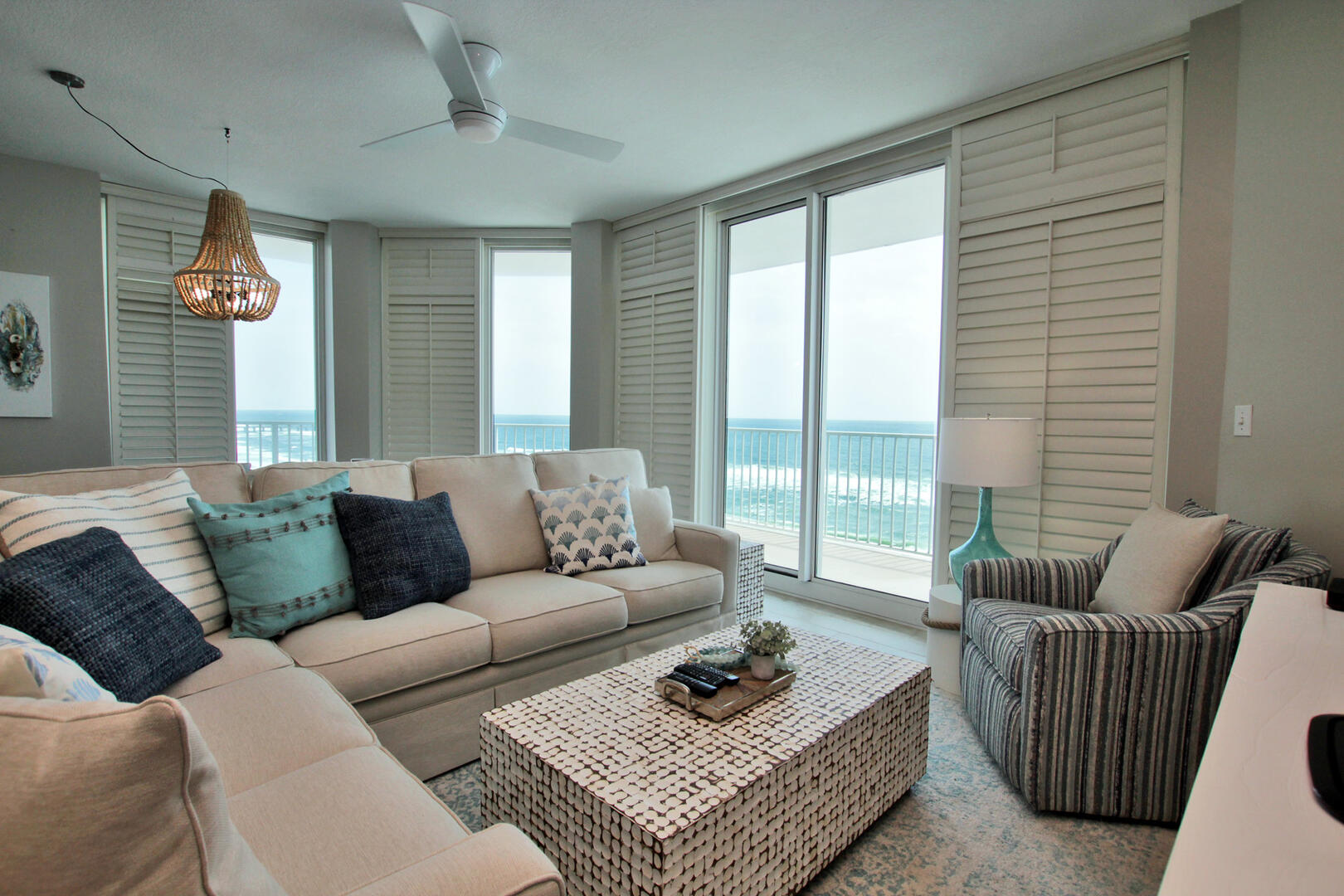 ** There is still active construction at this property. Guests must sign a construction waiver when purchasing parking passes*

Inhale the salty coastal breezes and exhale the worries of the real world because you have found the perfect place for your Gulf Shores vacation. Lighthouse 901 will make all of your perfect beach vacation dreams come true. Newly remodeled with fresh paint, décor, and furnishings, you will fall in love with this 3-bedroom, 3-bath corner condo and the stunning panoramic beachfront views from the 9th floor balcony. Relax in pure coastal luxury as you and your family settle into the new cozy living room furniture which includes a queen sleeper sofa, large flat-screen television, and balcony access. The spacious, open floor plan allows conversations to flow from the living room to the dining area which accommodates seating for 6, to the kitchen breakfast bar which seats an additional 4 guests. Whether you decide to dine out or in, you will have everything you need to prepare meals in the fully equipped kitchen, complete with stainless steel appliances and granite countertops or the storage required to bring your leftover goodies home from one of the excellent nearby restaurants.

After spending a day on the beach or in the swimming pools, retreat to the comfort of your master ensuite with a king size bed, wall-mounted flat screen television, gulf front views and balcony access. The master bath will give you ample room to pamper yourself with the extended double sink vanity, corner soaking tub with jets, and separate step-in shower. In the first guest bedroom, you get to enjoy a queen size bed, wall-mounted flatscreen television, as well as gulf views and access to the balcony. This guest bedroom also has a private full bathroom with a large vanity and shower-tub combo. The final guest bedroom offers you another queen size bed, a flat screen television and a shared full bathroom with a single sink vanity and a combination shower and tub.

The entire condo offers free Wi-Fi which benefits anyone needing to "work or school from anywhere". You also have a spacious laundry room with a full size washer and dryer for ultimate convenience.

The Lighthouse condominium has been a beacon of Gulf Shores for as long as most vacationers can remember. A visit to this 250 condo property places you near shopping, attractions, entertainment, and dining! You and your friends and family are able to enjoy a number of pools on this gulf front property. The Lighthouse boasts 2 outdoor swimming pools, one being a zero-entry, plus an heated indoor swimming pool and 2 Jacuzzis. Many other amenities await you, including a fitness center, barbecue area with several charcoal grills, sauna, and even meeting rooms.

You must be 25 years of age or older to rent this condo. This is a non-smoking property. No pets are permitted.

This property collects parking fees onsite on the 2nd floor at $40.00/pass. Credit or Debit Cards ONLY. Passes are valid for the duration of your stay.

Bedding:
Master- King
Bedroom 2- Queen
Bedroom 3 – Queen
Living Room- Sofa Sleeper Queen

455 East Beach Blvd. Gulf Shores, AL

Unit Location : East Corner
Area : Gulf Shores
Sleep Cap : 8
Bedrooms : 3.00
Internet Type : Free Public WiFi
Square Ft. : 1547
Master Bedroom : King
Building Orientation : Gulf Side
Guest Bedroom 1 : Queen
Guest Bedroom 2 : Queen
ilink : ilink Booking
Balcony View : Gulf Front
Number Bathrooms : 3.0
Complex : Lighthouse
TV - Unit : 3
Number of Beds : 3
Pool - Outdoor : Yes
Pool - Indoor : Yes
Pool - Indoor Heated : Yes
Jacuzzi : Yes
Fitness Room : Yes
Sauna : Yes
BBQ Grills : Yes
Elevator : Yes
Parking Limit : 2 Vehicles
Rental Type : Condo
Sleeps : 8
Age Requirement : 25
Long Term : No
Pet Policy : No Pets
Pet Restriction : No Pets
Parking - Guest Purchase : This property collects parking fees onsite on the 3rd floor at $40.00/pass. Only CREDIT CARDS are ac
Thank you for submitting your review. It will be processed shortly!
Lighthouse 901
by Anonymous U
Amazing!!! Wow!!! The BEST unit!!!
by Anonymous U
September 13, 2021 - Website
Lighthouse is Amazing
by Maggie R
We enjoyed it!!! The best property we've stayed at, the condo over all 10/10.. it was definitely a home away from home. We will definitely chose this property again..
We Love the Lighthouse!
by Rose B
Thank you again for a great stay. We love booking with y'all. I recommend you guys to everyone I know that loves the beach. We love the Lighthouse too. Hope to use you guys again soon. The Bryant Family
October 2022
S
M
T
W
T
F
S
01
02
03
04

$210

05

$210

06

$240

07
08
09
10
11
12
13
14
15
16
17
18
19
20
21
22
23
24
25
26
27
28
29

$210

30

$210

31

$210
November 2022
S
M
T
W
T
F
S
01
02
03
04
05
06

$210

07

$210

08
09
10
11
12
13

$210

14

$210

15
16
17

$210

18

$210

19

$210

20

$210

21

$270

22

$275

23

$265

24
25
26
27
28
29
30
December 2022
S
M
T
W
T
F
S
01

$210

02

$210

03

$210

04

$210

05

$210

06

$210

07

$210

08

$210

09

$210

10

$210

11

$210

12

$210

13

$210

14

$210

15

$210

16

$210

17

$210

18

$210

19

$210

20

$210

21

$210

22

$210

23

$230

24

$215

25

$225

26

$230

27

$225

28

$255

29
30
31
January 2023

| S | M | T | W | T | F | S |
| --- | --- | --- | --- | --- | --- | --- |
| 01 | 02 | 03 | 04 | 05 | 06 | 07 |
| 08 | 09 | 10 | 11 | 12 | 13 | 14 |
| 15 | 16 | 17 | 18 | 19 | 20 | 21 |
| 22 | 23 | 24 | 25 | 26 | 27 | 28 |
| 29 | 30 | 31 | | | | |
February 2023

| S | M | T | W | T | F | S |
| --- | --- | --- | --- | --- | --- | --- |
| | | | 01 | 02 | 03 | 04 |
| 05 | 06 | 07 | 08 | 09 | 10 | 11 |
| 12 | 13 | 14 | 15 | 16 | 17 | 18 |
| 19 | 20 | 21 | 22 | 23 | 24 | 25 |
| 26 | 27 | 28 | | | | |
March 2023
S
M
T
W
T
F
S
01

$250

02

$295

03

$295

04

$300

05

$300

06

$300

07

$290

08

$295

09

$300

10

$390

11

$390

12

$395

13

$395

14

$395

15

$400

16

$405

17

$400

18

$380

19

$380

20

$390

21

$390

22

$390

23

$390

24

$385

25
26
27
28
29
30

$430

31

$435
April 2023
S
M
T
W
T
F
S
01

$455

02

$455

03

$445

04

$445

05

$445

06

$515

07

$500

08

$500

09

$450

10

$440

11

$430

12

$425

13

$445

14

$470

15

$485

16

$410

17
18
19
20
21
22

$355

23

$270

24

$270

25

$270

26

$265

27

$310

28

$340

29
30
May 2023
S
M
T
W
T
F
S
01
02
03
04
05
06

$430

07

$390

08

$305

09

$315

10

$335

11

$370

12

$405

13

$415

14

$380

15

$365

16

$375

17

$400

18

$820

19

$840

20

$855

21

$830

22

$435

23

$445

24

$470

25

$500

26

$675

27

$690

28

$665

29

$675

30

$525

31

$535
June 2023
S
M
T
W
T
F
S
01

$560

02

$555

03

$570

04

$545

05

$570

06

$580

07

$590

08

$600

09

$600

10

$610

11

$580

12

$610

13

$615

14

$615

15

$620

16

$625

17

$625

18

$640

19

$660

20

$665

21

$625

22

$625

23

$625

24

$620

25

$605

26

$610

27

$615

28

$610

29

$645

30

$645
July 2023
S
M
T
W
T
F
S
01

$645

02

$645

03

$645

04

$650

05

$650

06

$660

07

$665

08

$645

09

$645

10

$650

11

$660

12

$665

13

$675

14

$685

15

$685

16

$680

17

$690

18

$685

19

$685

20

$690

21

$690

22

$685

23

$675

24

$675

25

$670

26

$665

27

$670

28

$670

29

$660

30

$640

31

$645
August 2023
S
M
T
W
T
F
S
01

$635

02

$630

03

$635

04

$645

05

$630

06

$595

07

$600

08

$585

09

$580

10

$585

11

$610

12

$580

13

$525

14

$515

15

$500

16

$500

17

$515

18

$535

19

$500

20

$440

21

$420

22

$405

23

$410

24

$430

25

$460

26

$435

27

$380

28

$355

29

$335

30

$345

31

$380
September 2023
S
M
T
W
T
F
S
01

$625

02

$610

03

$555

04

$535

05

$310

06

$325

07

$365

08

$410

09

$395

10

$335

11

$320

12

$295

13

$305

14

$340

15

$375

16

$370

17

$310

18

$285

19

$275

20

$285

21

$315

22

$340

23

$340

24

$285

25

$275

26

$285

27

$295

28

$325

29

$345

30

$350
October 2023
S
M
T
W
T
F
S
01

$290

02

$285

03

$295

04

$295

05

$330

06

$550

07

$560

08

$485

09

$480

10

$285

11

$280

12

$315

13

$330

14

$330

15

$250

16

$235

17

$235

18

$235

19

$265

20

$280

21

$265

22

$235

23

$235

24

$235

25

$235

26

$235

27

$240

28

$235

29

$235

30

$235

31

$235