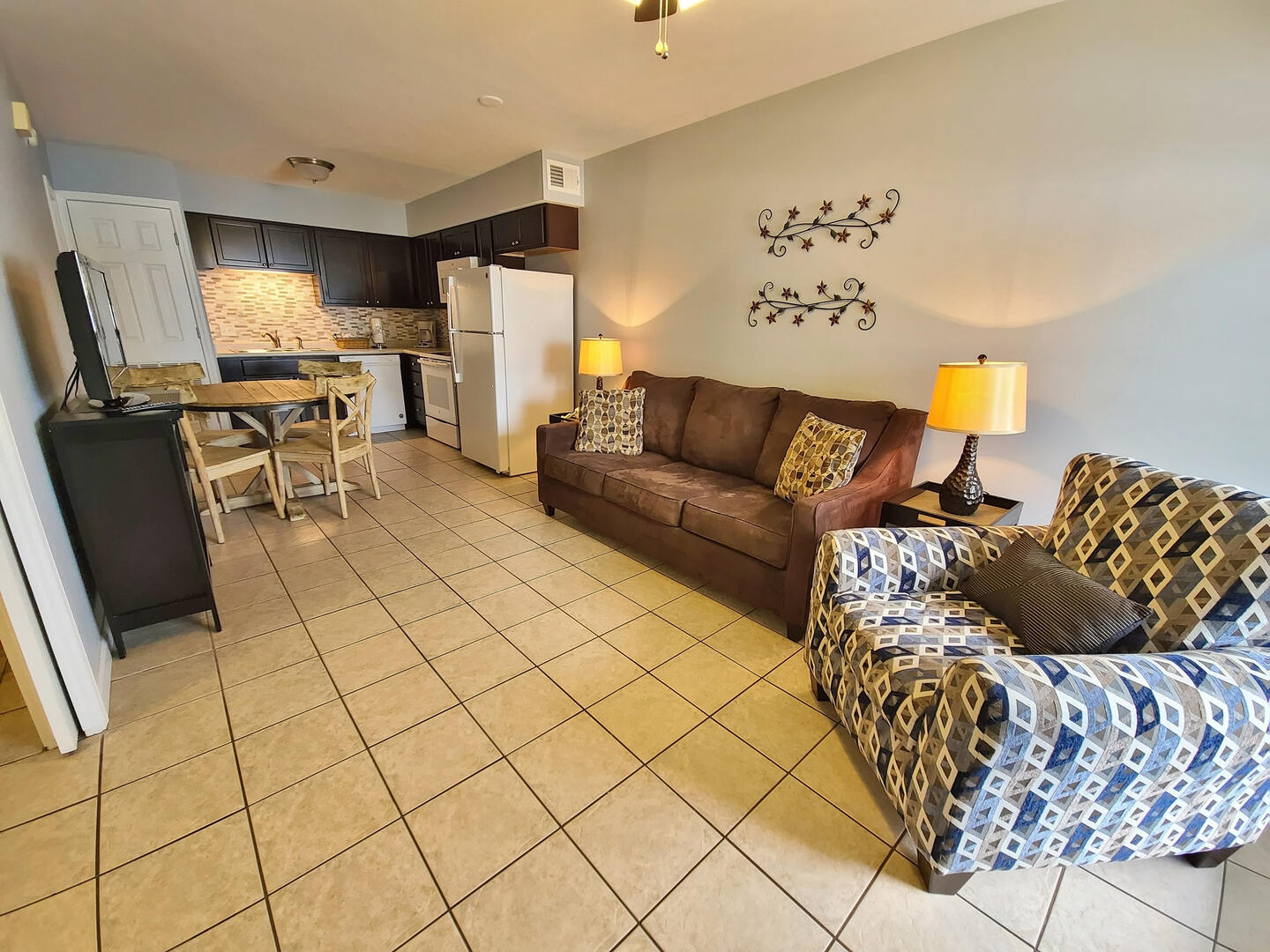 The Cove 117A in the heart of Gulf Shores is perfect for a couples getaway. If you are looking for an economical way to spend a few days at the beach look no further. This low-density complex nestled in along the shores of Little Lagoon is only a short walk away from the shopping and dining downtown Gulf Shores has to offer. The kitchen is full equipped with everything you need to prepare a home cooked meal. After you are full snuggle up next to your loved-one on the couch and watch a movie on the comfy sofa which also folds out to a queen size sofa sleeper.

In the bedroom, you will find a cozy queen size bed, as well as a flat screen television and a DVD player. The bathroom has a tiled walk-in shower. There are a washer and dryer in the condo and can sleep up to 4 people comfortably. Public beach access 2 blocks will allow you to get your toes in the sugar white sands the Alabama coast is known for.

This centrally located property offers charcoal grills at a first come first serve basis. There is an elevated community pool and a large sundeck to catch a tan. The balcony right outside your door allows you to keep up with all the happenings around you.
This is a non-smoking property. No pets are permitted. You must be 21 years of age or older to reserve this property. Parking is available for 1 vehicle. 2nd vehicle can park in gravel overflow lot. There is no elevator. Monthly rentals are allowed from October 1st- March 1st.

Bedding:
Master- Queen
Living Room ? Sofa Sleeper

920 West Lagoon Ave. Gulf Shores, AL

Area : Gulf Shores
Sleep Cap : 4
Bedrooms : 1.00
Internet Type : Not Available
Square Ft. :
Master Bedroom : Queen
Building Orientation : Inland
ilink : ilink Booking
Balcony View : Other
Number Bathrooms : 1.0
Complex : Cove
TV - Unit : 2
Number of Beds : 1
Pool - Outdoor : Yes
BBQ Grills : Yes
Parking Limit : 1 Vehicle
Rental Type : Condo
Sleeps : 4
Age Requirement : 21
Long Term : No
Pet Policy : No Pets
Pet Restriction : No Pets
Parking - Guest Purchase :
Thank you for submitting your review. It will be processed shortly!
We are sorry, there are no reviews for this unit. Be the first to leave a review!
October 2022
S
M
T
W
T
F
S
01
02
03

$90

04
05
06
07
08
09
10

$90

11

$90

12

$90

13

$90

14

$90

15

$90

16

$90

17

$90

18

$90

19

$90

20

$90

21

$90

22

$90

23

$90

24

$90

25

$90

26

$90

27

$90

28

$90

29

$90

30

$90

31

$90
November 2022
S
M
T
W
T
F
S
01

$90

02
03
04
05
06
07
08
09
10
11
12
13
14
15
16
17
18
19
20
21
22
23
24
25
26
27
28
29
30
December 2022

| S | M | T | W | T | F | S |
| --- | --- | --- | --- | --- | --- | --- |
| | | | | 01 | 02 | 03 |
| 04 | 05 | 06 | 07 | 08 | 09 | 10 |
| 11 | 12 | 13 | 14 | 15 | 16 | 17 |
| 18 | 19 | 20 | 21 | 22 | 23 | 24 |
| 25 | 26 | 27 | 28 | 29 | 30 | 31 |
January 2023

| S | M | T | W | T | F | S |
| --- | --- | --- | --- | --- | --- | --- |
| 01 | 02 | 03 | 04 | 05 | 06 | 07 |
| 08 | 09 | 10 | 11 | 12 | 13 | 14 |
| 15 | 16 | 17 | 18 | 19 | 20 | 21 |
| 22 | 23 | 24 | 25 | 26 | 27 | 28 |
| 29 | 30 | 31 | | | | |
February 2023

| S | M | T | W | T | F | S |
| --- | --- | --- | --- | --- | --- | --- |
| | | | 01 | 02 | 03 | 04 |
| 05 | 06 | 07 | 08 | 09 | 10 | 11 |
| 12 | 13 | 14 | 15 | 16 | 17 | 18 |
| 19 | 20 | 21 | 22 | 23 | 24 | 25 |
| 26 | 27 | 28 | | | | |
March 2023
S
M
T
W
T
F
S
01

$90

02

$100

03

$105

04

$110

05

$100

06

$105

07

$105

08

$100

09

$105

10

$140

11

$145

12

$140

13

$140

14

$140

15

$135

16

$135

17

$140

18

$130

19

$130

20

$130

21

$130

22

$125

23

$130

24

$130

25

$140

26

$140

27

$135

28

$145

29

$135

30

$145

31

$155
April 2023
S
M
T
W
T
F
S
01

$165

02

$165

03

$155

04

$160

05

$145

06

$170

07

$175

08

$180

09

$165

10

$155

11

$160

12

$150

13

$155

14

$165

15

$180

16

$160

17

$100

18

$105

19

$100

20

$105

21

$115

22

$135

23

$110

24

$105

25

$105

26

$100

27

$105

28

$125

29

$140

30

$110
May 2023
S
M
T
W
T
F
S
01

$105

02

$105

03

$105

04

$115

05

$140

06

$145

07

$120

08

$115

09

$110

10

$110

11

$120

12

$145

13

$155

14

$130

15

$125

16

$125

17

$125

18

$280

19

$305

20

$315

21

$290

22

$145

23

$145

24

$150

25

$160

26

$245

27

$255

28

$225

29

$230

30

$170

31

$175
June 2023
S
M
T
W
T
F
S
01

$180

02

$200

03

$210

04

$175

05

$190

06

$195

07

$200

08

$205

09

$210

10

$220

11

$200

12

$210

13

$210

14

$210

15

$215

16

$215

17

$220

18

$220

19

$230

20

$230

21

$215

22

$215

23

$215

24

$215

25

$205

26

$210

27

$210

28

$205

29

$220

30

$220
July 2023
S
M
T
W
T
F
S
01

$220

02

$215

03

$220

04

$220

05

$225

06

$225

07

$230

08

$220

09

$220

10

$225

11

$225

12

$230

13

$230

14

$235

15

$235

16

$230

17

$235

18

$235

19

$235

20

$235

21

$235

22

$235

23

$230

24

$235

25

$230

26

$235

27

$235

28

$230

29

$230

30

$220

31

$225
August 2023
S
M
T
W
T
F
S
01

$220

02

$220

03

$220

04

$225

05

$220

06

$205

07

$210

08

$200

09

$200

10

$200

11

$210

12

$200

13

$180

14

$175

15

$165

16

$165

17

$170

18

$180

19

$170

20

$145

21

$135

22

$135

23

$135

24

$140

25

$155

26

$150

27

$130

28

$120

29

$120

30

$120

31

$130
September 2023
S
M
T
W
T
F
S
01

$200

02

$200

03

$175

04

$165

05

$110

06

$115

07

$125

08

$140

09

$145

10

$120

11

$110

12

$105

13

$110

14

$125

15

$135

16

$140

17

$115

18

$100

19

$100

20

$100

21

$110

22

$125

23

$125

24

$105

25

$100

26

$100

27

$100

28

$110

29

$125

30

$130
October 2023
S
M
T
W
T
F
S
01

$105

02

$100

03

$100

04

$105

05

$120

06

$210

07

$210

08

$190

09

$180

10

$100

11

$100

12

$110

13

$115

14

$110

15

$100

16

$100

17

$100

18

$100

19

$100

20

$100

21

$100

22

$100

23

$100

24

$100

25

$100

26

$100

27

$100

28

$100

29

$100

30

$100

31

$100