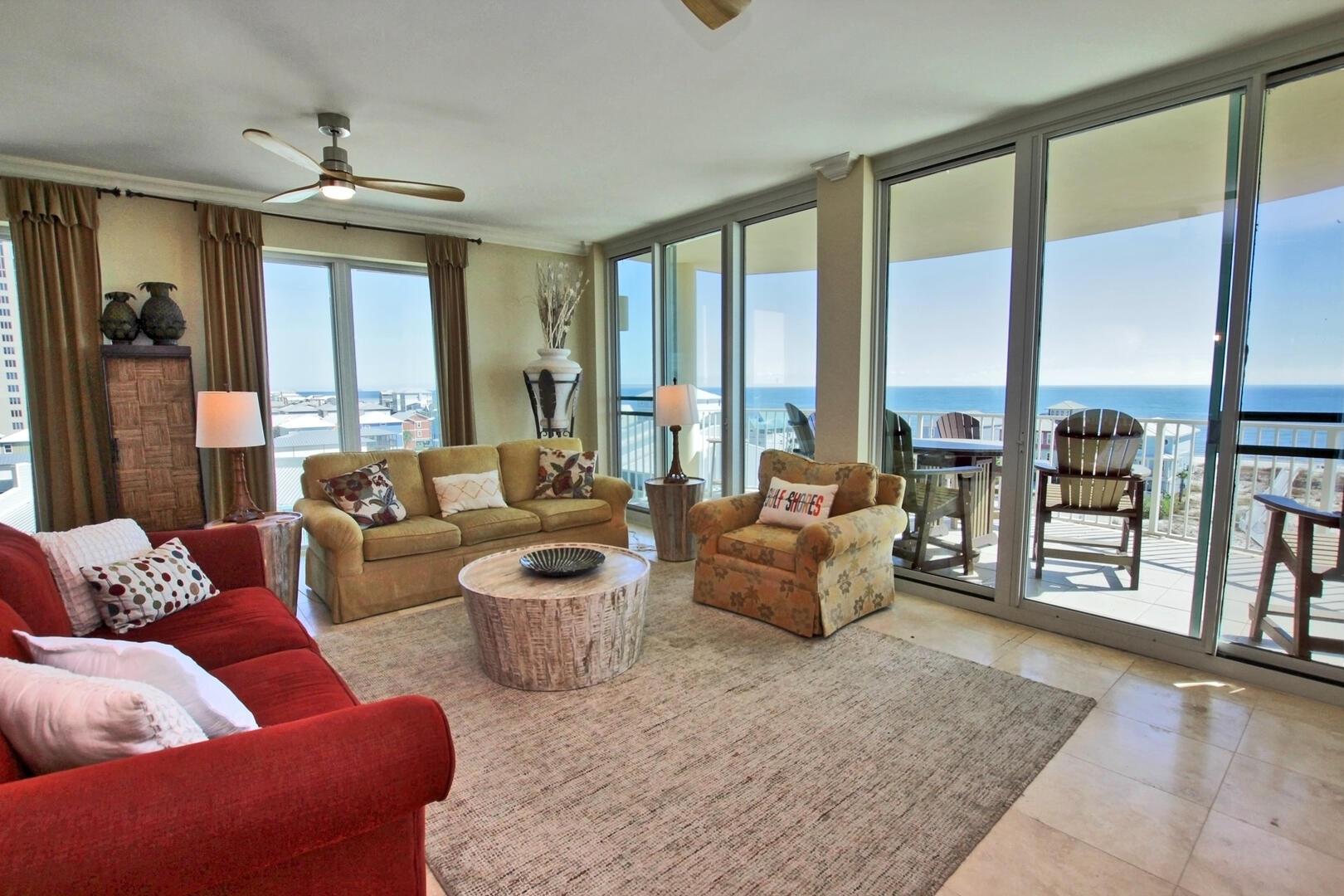 Views for days! Get lost in stunning beach views at Mustique 602. Open the door to paradise when you stay in this 4-bedroom vacation rental that can sleep up to 10 people. This unique Gulf Shores property will help make your family make memories that last a lifetime. The spacious living room is surrounded with floor to ceiling windows with sliding glass doors that lead to the private gulf facing balcony. Enjoy sitting, while sipping your morning coffee and watching the world awaken as the seagulls fly by to say good morning. There is plenty of room to play your favorite family game or watch a movie in the cozy living room.

Looking to create a culinary masterpiece? The fully equipped kitchen, featuring stainless steel appliances has everything you need to make that freshly caught, gulf seafood meal something you see on a cooking show. Everyone can grab a plate and sit around the dining table or have their meal on the balcony as the soft Alabama breeze blows by.

After a day of fun in the sun and exploring all of what the Alabama Gulf Coast has to offer, you will find solace in the comfort of the master bedroom. The king size bed which is situated perfectly to see the night from the floor to ceiling windows which has balcony access will allow you to drift to sleep. The master bathroom features a large, jetted tub and walk in shower. There is a dual vanity counter space with sinks and plenty of room for you to get ready to take on a new day.

The second bedroom also has a king bed and private bathroom. Do not worry about missing the views. This room also has floor to ceiling windows that peers over the Little Lagoon in Gulf Shores and a balcony to enjoy. The bathroom also has a jetted tub and walk in shower. In the third bedroom there is a queen size bed and a private bathroom with a walk-in shower. The kids will love the fourth bedroom. There is a queen size bed and a set of twin over twin bunk beds. The bathroom has a bathtub and shower combination. Each bedroom has flat screen televisions and there is Wifi throughout the condo.

The chore of laundry does not go away on vacation so there is a large laundry room which has counter space and a full-size washing machine and dryer. There is an outdoor pool and a fishing pier for fun in the sun. On cooler evenings enjoy the comfort of the indoor pool and hot tub and if you want to maintain your fitness routine, there is an exercise room as well. You are certain to take your vacation up a notch when you stay at Mustique 602.

This is a non-smoking property and pets are not permitted. The primary renter must be 25 years of age or older and be present during the duration of the stay.

Bedding:

Master: King
Bedroom 2: King
Bedroom 3: Queen and twin bunk bed
Bedroom 4: Queen

2000 West Beach Blvd. Gulf Shores, AL

Area : Gulf Shores
Sleep Cap : 10
Bedrooms : 4.00
Internet Type : Free Public WiFi
Square Ft. : 2700
Master Bedroom : King
Building Orientation : Across the Street
Guest Bedroom 1 : King
Guest Bedroom 2 : Queen
Guest Bedroom 3 : Queen, 2 Twins
ilink : ilink Booking
Balcony View : Waterfront
Number Bathrooms : 4.5
Complex : Mustique
TV - Unit : 5
Number of Beds : 5
Pool - Outdoor : Yes
Pool - Indoor : Yes
Pool - Indoor Heated : Yes
Fitness Room : Yes
Sauna : Yes
BBQ Grills : Yes
Elevator : Yes
Parking Limit : 2 Vehicles
Rental Type : Condo
Sleeps : 10
Age Requirement : 25
Long Term : No
Pet Policy : No Pets
Pet Restriction : No Pets
Parking - Guest Purchase :
Thank you for submitting your review. It will be processed shortly!
We are sorry, there are no reviews for this unit. Be the first to leave a review!
October 2022
S
M
T
W
T
F
S
01
02
03
04
05

$275

06

$275

07
08
09
10
11
12
13
14
15

$280

16

$275

17

$275

18

$275

19

$275

20

$275

21

$275

22

$275

23

$275

24

$275

25

$275

26

$275

27

$275

28

$275

29

$275

30

$275

31

$275
November 2022
S
M
T
W
T
F
S
01

$275

02

$275

03

$275

04

$275

05

$275

06

$275

07

$275

08

$275

09

$275

10

$275

11

$275

12

$275

13

$275

14

$275

15

$275

16

$275

17

$275

18

$275

19

$275

20

$275

21

$275

22

$275

23

$275

24
25
26
27
28
29
30
December 2022
S
M
T
W
T
F
S
01
02
03
04
05
06

$275

07

$275

08

$275

09

$275

10

$275

11

$275

12

$275

13

$275

14

$275

15

$275

16

$275

17

$275

18

$275

19

$275

20

$275

21

$275

22

$275

23

$275

24

$275

25

$285

26

$285

27

$290

28

$320

29

$325

30

$335

31

$340
January 2023
S
M
T
W
T
F
S
01

$345

02

$350

03

$350

04

$275

05

$275

06

$275

07

$275

08

$275

09

$275

10

$275

11

$275

12

$275

13

$275

14

$275

15

$275

16

$275

17

$275

18

$275

19

$275

20

$275

21

$275

22

$275

23

$275

24

$275

25

$275

26

$275

27

$275

28

$275

29

$275

30

$275

31

$275
February 2023
S
M
T
W
T
F
S
01

$275

02

$275

03

$275

04

$275

05

$275

06

$275

07

$275

08

$275

09

$275

10

$285

11

$285

12

$275

13

$275

14

$275

15

$275

16

$315

17

$340

18

$335

19

$320

20

$315

21

$275

22

$275

23

$275

24

$290

25

$295

26

$280

27

$275

28

$275
March 2023
S
M
T
W
T
F
S
01

$275

02

$285

03

$330

04

$350

05

$330

06

$335

07

$335

08

$325

09

$340

10

$455

11

$475

12

$470

13

$465

14

$475

15

$455

16

$450

17

$470

18

$445

19

$435

20

$440

21

$450

22

$435

23

$430

24

$440

25

$465

26

$475

27

$465

28

$495

29

$470

30

$480

31

$495
April 2023
S
M
T
W
T
F
S
01

$520

02

$530

03

$505

04

$535

05

$495

06

$570

07

$565

08

$565

09

$545

10

$500

11

$525

12

$480

13

$505

14

$520

15

$545

16

$505

17

$310

18

$330

19

$310

20

$330

21

$360

22

$400

23

$330

24

$325

25

$325

26

$315

27

$330

28

$360

29

$405

30

$335
May 2023
S
M
T
W
T
F
S
01

$335

02

$335

03

$340

04

$355

05

$390

06

$425

07

$375

08

$370

09

$370

10

$375

11

$385

12

$420

13

$460

14

$410

15

$415

16

$420

17

$435

18

$890

19

$930

20

$970

21

$925

22

$485

23

$495

24

$505

25

$520

26

$750

27

$800

28

$740

29

$770

30

$585

31

$595
June 2023
S
M
T
W
T
F
S
01

$610

02

$635

03

$660

04

$615

05

$645

06

$655

07

$665

08

$675

09

$690

10

$700

11

$680

12

$700

13

$710

14

$710

15

$720

16

$725

17

$730

18

$760

19

$770

20

$775

21

$730

22

$730

23

$725

24

$720

25

$710

26

$710

27

$705

28

$705

29

$740

30

$745
July 2023
S
M
T
W
T
F
S
01

$745

02

$740

03

$745

04

$750

05

$755

06

$755

07

$760

08

$740

09

$755

10

$755

11

$765

12

$775

13

$775

14

$780

15

$790

16

$790

17

$795

18

$795

19

$795

20

$790

21

$785

22

$785

23

$780

24

$790

25

$785

26

$790

27

$785

28

$775

29

$775

30

$755

31

$760
August 2023
S
M
T
W
T
F
S
01

$755

02

$755

03

$755

04

$750

05

$745

06

$720

07

$720

08

$705

09

$695

10

$695

11

$710

12

$665

13

$620

14

$610

15

$580

16

$570

17

$595

18

$610

19

$565

20

$505

21

$480

22

$470

23

$465

24

$505

25

$525

26

$490

27

$440

28

$410

29

$410

30

$405

31

$455
September 2023
S
M
T
W
T
F
S
01

$670

02

$630

03

$600

04

$570

05

$390

06

$390

07

$440

08

$485

09

$445

10

$405

11

$375

12

$380

13

$380

14

$420

15

$455

16

$415

17

$375

18

$335

19

$335

20

$335

21

$365

22

$400

23

$380

24

$340

25

$320

26

$330

27

$340

28

$375

29

$400

30

$410
October 2023
S
M
T
W
T
F
S
01

$355

02

$330

03

$325

04

$340

05

$385

06

$670

07

$700

08

$630

09

$610

10

$325

11

$345

12

$390

13

$390

14

$390

15

$310

16

$310

17

$310

18

$310

19

$330

20

$350

21

$335

22

$310

23

$310

24

$310

25

$310

26

$310

27

$310

28

$310

29

$310

30

$310

31

$310