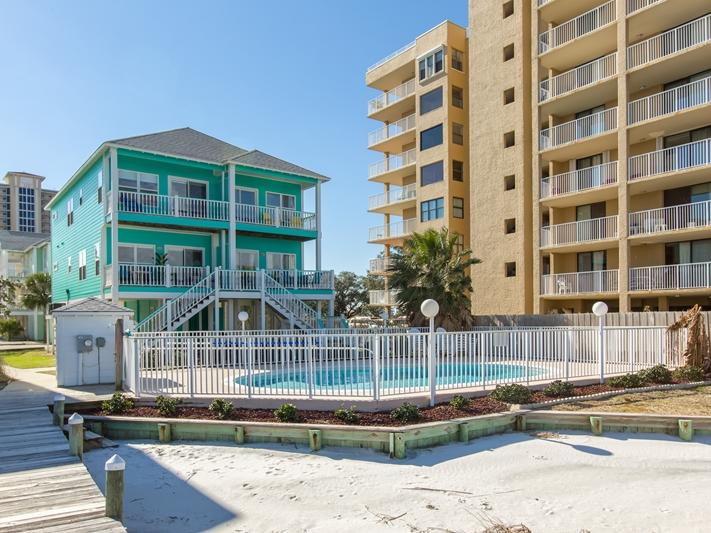 The On Golden Pond homes were designed to give large groups maximum enjoyment of the Gulf Coast by allowing groups and families to stay in privately owned homes within a single subdivision. Bring your immediate or extended family to this nonsmoking property. This West duplex features spacious rooms and multiple decks. Throw in a fully-equipped kitchen with stainless appliances, full size W/D, floor to ceiling windows plus free WIFI that extends to the pool area, and you have the perfect recipe for your vacation. Enjoy watching the large TV in the living room and flat screens throughout the house. While relaxing in the community pool, enjoy the view of Little Lagoon. One benefit of being lagoon-side is the undisturbed atmosphere to unwind after a long year at the office. Spend an afternoon fishing off the pier or enjoy the ability to tie your small/medium boat to the dock.

Only a short 1/10 mile walk to the public beach access. Monthly October to March 1. Minimum age to rent is 25.
Area : Gulf Shores
Sleep Cap : 10
Bedrooms : 4.00
Internet Type : Free Unit WiFi
Square Ft. : 2432
Master Bedroom : King
Building Orientation : Inland
Guest Bedroom 1 : Queen
Guest Bedroom 2 : Queen
Guest Bedroom 3 : Queen
ilink : ilink Booking
Balcony View : Waterfront
Video rm2 : DVD
Number Bathrooms : 4.0
Complex : House
TV - Unit : 3
Number of Beds : 4
Pool - Outdoor : Yes
Rental Type : House
Sleeps : 10
Age Requirement : 25
Long Term : No
Pet Policy : No Pets
Pet Restriction : No Pets
Parking - Guest Purchase :
Thank you for submitting your review. It will be processed shortly!
We are sorry, there are no reviews for this unit. Be the first to leave a review!
October 2022
S
M
T
W
T
F
S
01
02
03

$195

04
05
06
07
08

$282

09

$324

10
11
12
13
14

$195

15

$200

16

$195

17

$195

18

$195

19

$195

20

$195

21

$195

22

$195

23

$195

24

$195

25

$195

26

$195

27

$195

28

$195

29

$195

30

$195

31

$195
November 2022
S
M
T
W
T
F
S
01

$195

02

$195

03

$195

04

$195

05

$195

06

$195

07

$195

08

$195

09

$195

10

$195

11

$195

12

$195

13

$195

14

$195

15

$195

16

$195

17

$195

18

$195

19

$195

20

$195

21

$195

22

$195

23

$195

24

$195

25

$210

26

$195

27

$195

28

$195

29

$195

30

$195
December 2022
S
M
T
W
T
F
S
01

$195

02

$195

03

$195

04

$195

05

$195

06

$195

07

$195

08

$195

09

$195

10

$195

11

$195

12

$195

13

$195

14

$195

15

$195

16

$195

17

$195

18

$195

19

$195

20

$195

21

$195

22

$195

23

$195

24

$195

25

$195

26

$195

27

$200

28

$220

29

$225

30

$230

31

$235
January 2023
S
M
T
W
T
F
S
01

$235

02
03
04
05
06
07
08
09
10
11
12
13
14
15
16
17
18
19
20
21
22
23
24
25
26
27
28
29
30
31
February 2023

| S | M | T | W | T | F | S |
| --- | --- | --- | --- | --- | --- | --- |
| | | | 01 | 02 | 03 | 04 |
| 05 | 06 | 07 | 08 | 09 | 10 | 11 |
| 12 | 13 | 14 | 15 | 16 | 17 | 18 |
| 19 | 20 | 21 | 22 | 23 | 24 | 25 |
| 26 | 27 | 28 | | | | |
March 2023

| S | M | T | W | T | F | S |
| --- | --- | --- | --- | --- | --- | --- |
| | | | 01 | 02 | 03 | 04 |
| 05 | 06 | 07 | 08 | 09 | 10 | 11 |
| 12 | 13 | 14 | 15 | 16 | 17 | 18 |
| 19 | 20 | 21 | 22 | 23 | 24 | 25 |
| 26 | 27 | 28 | 29 | 30 | 31 | |
April 2023
S
M
T
W
T
F
S
01

$355

02

$365

03

$345

04

$370

05

$340

06

$390

07

$390

08

$390

09

$375

10

$345

11

$360

12

$330

13

$345

14

$355

15

$375

16

$345

17

$220

18

$230

19

$220

20

$230

21

$245

22

$275

23

$230

24

$220

25

$225

26

$220

27

$225

28

$250

29

$280

30

$230
May 2023
S
M
T
W
T
F
S
01

$230

02

$230

03

$235

04

$245

05

$270

06

$295

07

$255

08

$255

09

$255

10

$260

11

$265

12

$290

13

$315

14

$285

15

$285

16

$290

17

$300

18

$610

19

$640

20

$670

21

$635

22

$335

23

$340

24

$350

25

$355

26

$515

27

$550

28

$510

29

$530

30

$400

31
June 2023
S
M
T
W
T
F
S
01
02
03
04
05
06
07
08
09

$475

10

$480

11

$470

12

$480

13

$485

14

$485

15

$495

16

$495

17

$500

18

$525

19

$530

20

$535

21

$500

22

$500

23

$500

24

$495

25

$485

26

$490

27

$485

28

$485

29

$510

30

$510
July 2023
S
M
T
W
T
F
S
01

$510

02

$510

03

$515

04

$515

05

$520

06

$520

07

$520

08

$505

09

$515

10

$520

11

$525

12

$530

13

$535

14

$540

15

$540

16

$540

17

$545

18

$545

19

$545

20

$540

21

$540

22

$540

23

$535

24

$545

25

$540

26

$540

27

$540

28

$535

29

$530

30

$520

31

$525
August 2023
S
M
T
W
T
F
S
01

$520

02

$520

03

$520

04

$515

05

$510

06

$495

07

$495

08

$485

09

$480

10

$475

11

$490

12

$455

13

$425

14

$415

15

$400

16

$390

17

$410

18

$420

19

$390

20

$345

21

$330

22

$325

23

$320

24

$345

25

$360

26

$335

27

$300

28

$285

29

$280

30

$275

31

$310
September 2023
S
M
T
W
T
F
S
01

$460

02

$430

03

$410

04

$390

05

$270

06

$270

07

$300

08

$335

09

$305

10

$280

11

$260

12

$260

13

$260

14

$285

15

$315

16

$285

17

$255

18

$230

19

$230

20

$230

21

$250

22

$275

23

$260

24

$235

25

$220

26

$225

27

$235

28

$255

29

$275

30

$280
October 2023
S
M
T
W
T
F
S
01

$245

02

$225

03

$225

04

$235

05

$265

06

$460

07

$480

08

$435

09

$420

10

$225

11

$235

12

$265

13

$270

14

$265

15

$220

16

$220

17

$220

18

$220

19

$225

20

$240

21

$230

22

$220

23

$220

24

$220

25

$220

26

$220

27

$220

28

$220

29

$220

30

$220

31

$220