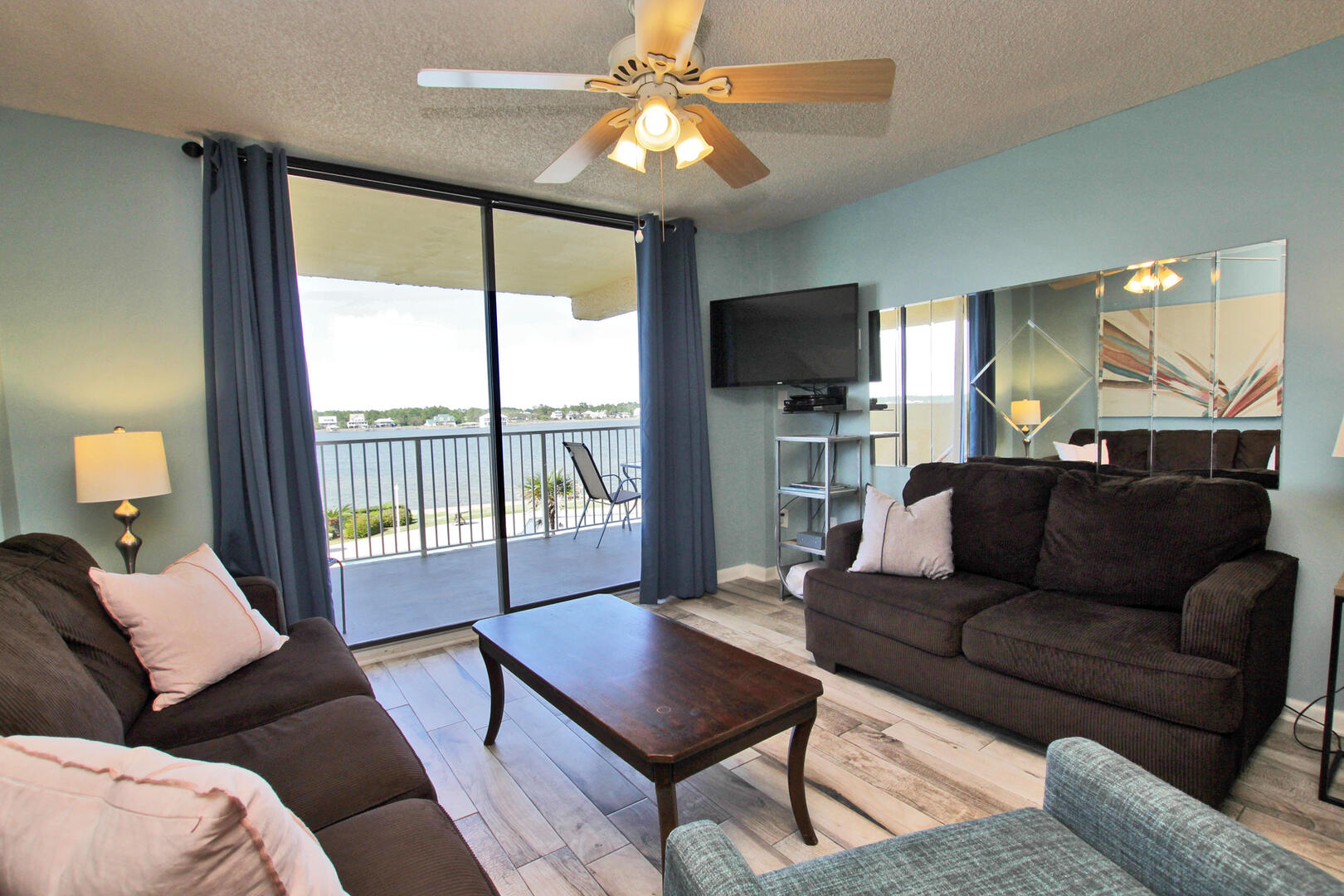 ** The Indoor Pool is Closed Until Further Notice Some construction at this property is on-going and expected to last until November 2022.**

Seclusion and a water view await you when you stay at Compass Point 205. This lagoon facing, 2 bedroom/ 2 bathroom vacation rental in Gulf Shores will offer you an unforgettable beach vacation. Slide open the doors to the private lagoon front balcony and let the salty breeze in, while you relax in the cozy, contemporary living room. Watch the big game on the flat screen television and enjoy all the perks of home with a salt air twist. The kitchen is fully equipped with everything you need to prepare a fresh gulf seafood meal. Dine at the indoor dining room table which has seating for up to 4 people, or on your private waterfront balcony that has seating for 6 people.

When it is time to end the day, drift off to sleep in the master bedroom which has a comfortable king size bed. Slide the curtains back and open the doors to the balcony and let the sounds of the crickets and frogs help you fall asleep. The master bathroom offers a private vanity area, and a bathtub/ shower combination. The soothing earth tones of the guest bedroom allow for the ultimate relaxation. The queen size bed will provide a soothing sleep which will have you ready for another fun filled day along the Alabama Gulf Coast. There is a second full bathroom that has a bathtub/shower combination. If you need a little more space for sleeping the living room couch folds out to be a queen size bed. This vacation rental can sleep up to 6 people comfortably.

There is a washer and dryer in the condo. This gorgeous complex boasts amazing amenities such as a private beach, outdoor pool that sits on the Lagoon, pier, boat dock, boat launch & heated indoor pool. There is an outdoor grilling area on a first come first serve basis for Compass Point guests.
Parking is limited to 2 passes per reservation. This is a non-smoking property. You must be 21 years of age to reserve this condo. Monthly rentals are permitted from November 1st through March 1st.

Compass Point is one of the few condominium complexes in Gulf Shores that allows owners to have pet-friendly rentals. In order to maintain this policy, it is imperative that all renters with pets strictly abide by the condominium's pet rules:

1. Pets must be on a leash at all times, except when confined to private units or vehicles.
2. Pets are not allowed on the lagoon sides of the building at any time.
3. Pets must be taken off Compass Point property to relieve themselves. Pet owners are responsible for cleaning up and disposing of their pet's waste.
4. All pets must be registered with the property managers.

Compass Point has a zero-tolerance policy. Any pet owner who violates this policy will be subject to the following penalties:
1. First offense: $25 fine
2. Second offense: $50 fine
3. Third offense: $100 fine

Only one (1) dog is allowed per pet-friendly property. Some breed restrictions apply. Please contact our office at 251-968-7158 for breed restriction details.

Bedding:
Master: King
Bedroom 1: Queen
Living Room: Queen Size Sofa Sleeper

1516 SandPiper Lane Gulf Shores, AL


Unit Location : Close to Elevator
Area : Gulf Shores
Sleep Cap : 6
Bedrooms : 2.00
Internet Type : Free Unit WiFi
Square Ft. : 950
Master Bedroom : King
Building Orientation : Inland
Guest Bedroom 1 : Queen
ilink : ilink Booking
Balcony View : Waterfront
Number Bathrooms : 2.0
Complex : Compass Point
TV - Unit : 3
Number of Beds : 2
Pool - Outdoor : Yes
Pool - Indoor : Yes
Pool - Indoor Heated : Yes
BBQ Grills : Yes
Elevator : Yes
Parking Limit : 2 Vehicles
Rental Type : Condo
Sleeps : 6
Age Requirement : 21
Long Term : No
Pet Policy : Pet Friendly
Pet Restriction : Dog under 25lbs
Parking - Guest Purchase :
Thank you for submitting your review. It will be processed shortly!
We are sorry, there are no reviews for this unit. Be the first to leave a review!
October 2022
S
M
T
W
T
F
S
01
02
03

$130

04
05
06
07
08
09
10
11
12
13
14
15
16
17
18
19
20
21
22
23
24
25

$130

26

$130

27

$130

28

$130

29

$130

30

$130

31

$130
November 2022
S
M
T
W
T
F
S
01

$130

02

$130

03
04
05
06
07
08

$130

09

$130

10

$130

11

$130

12

$130

13

$130

14

$130

15

$130

16

$130

17

$130

18

$130

19

$130

20

$130

21

$130

22

$130

23

$130

24

$130

25

$130

26

$130

27

$130

28

$130

29

$130

30

$130
December 2022
S
M
T
W
T
F
S
01

$130

02

$130

03

$130

04

$130

05

$130

06

$130

07

$130

08

$130

09

$130

10

$130

11

$130

12

$130

13

$130

14

$130

15

$130

16

$130

17

$130

18

$130

19

$130

20

$130

21

$130

22

$130

23

$130

24

$130

25

$130

26

$130

27

$130

28

$130

29

$130

30

$130

31

$130
January 2023
S
M
T
W
T
F
S
01

$130

02
03
04
05
06
07
08
09
10
11
12
13
14
15
16
17
18
19
20
21
22
23
24
25
26
27
28
29
30
31
February 2023

| S | M | T | W | T | F | S |
| --- | --- | --- | --- | --- | --- | --- |
| | | | 01 | 02 | 03 | 04 |
| 05 | 06 | 07 | 08 | 09 | 10 | 11 |
| 12 | 13 | 14 | 15 | 16 | 17 | 18 |
| 19 | 20 | 21 | 22 | 23 | 24 | 25 |
| 26 | 27 | 28 | | | | |
March 2023
S
M
T
W
T
F
S
01

$130

02

$145

03

$145

04

$155

05

$145

06

$145

07

$145

08

$145

09

$145

10

$190

11

$195

12

$190

13

$190

14

$190

15

$180

16

$180

17

$190

18

$185

19

$175

20

$180

21

$185

22

$170

23

$175

24

$180

25

$190

26

$195

27

$195

28

$205

29

$190

30

$195

31

$205
April 2023
S
M
T
W
T
F
S
01

$210

02

$210

03

$200

04

$210

05

$190

06

$220

07

$220

08

$215

09

$210

10

$190

11

$200

12

$190

13

$190

14

$200

15

$200

16

$190

17

$145

18

$145

19

$145

20

$145

21

$145

22

$145

23

$145

24

$145

25

$145

26

$145

27

$145

28

$145

29

$150

30

$145
May 2023
S
M
T
W
T
F
S
01

$145

02

$145

03

$145

04

$145

05

$150

06

$160

07

$145

08

$145

09

$145

10

$145

11

$145

12

$165

13

$175

14

$150

15

$155

16

$155

17

$160

18

$340

19

$365

20

$380

21

$350

22

$180

23

$180

24

$185

25

$190

26

$290

27

$310

28

$280

29

$285

30

$210

31

$215
June 2023
S
M
T
W
T
F
S
01

$225

02

$245

03

$255

04

$235

05

$245

06

$245

07

$245

08

$255

09

$260

10

$265

11

$255

12

$260

13

$265

14

$265

15

$270

16

$265

17

$270

18
19
20
21
22
23
24

$270

25

$265

26

$270

27

$270

28

$270

29

$285

30

$285
July 2023
S
M
T
W
T
F
S
01

$285

02

$285

03

$290

04

$290

05

$290

06

$290

07

$290

08

$285

09

$280

10

$285

11

$285

12

$285

13

$285

14

$285

15

$285

16

$280

17

$290

18

$290

19

$290

20

$295

21

$290

22

$290

23

$285

24

$295

25

$290

26

$295

27

$295

28

$290

29

$290

30

$280

31

$285
August 2023
S
M
T
W
T
F
S
01

$280

02

$280

03

$285

04

$280

05

$275

06

$255

07

$255

08

$250

09

$250

10

$250

11

$255

12

$240

13

$215

14

$210

15

$205

16

$205

17

$210

18

$210

19

$200

20

$175

21

$170

22

$165

23

$160

24

$170

25

$180

26

$175

27

$150

28

$145

29

$145

30

$145

31

$150
September 2023
S
M
T
W
T
F
S
01

$230

02

$230

03

$210

04

$205

05

$145

06

$145

07

$145

08

$155

09

$155

10

$145

11

$145

12

$145

13

$145

14

$145

15

$150

16

$155

17

$145

18

$145

19

$145

20

$145

21

$145

22

$145

23

$145

24

$145

25

$145

26

$145

27

$145

28

$145

29

$150

30

$150
October 2023
S
M
T
W
T
F
S
01

$145

02

$145

03

$145

04

$145

05

$150

06

$265

07

$260

08

$240

09

$230

10

$145

11

$145

12

$145

13

$145

14

$145

15

$145

16

$145

17

$145

18

$145

19

$145

20

$145

21

$145

22

$145

23

$145

24

$145

25

$145

26

$145

27

$145

28

$145

29

$145

30

$145

31

$145