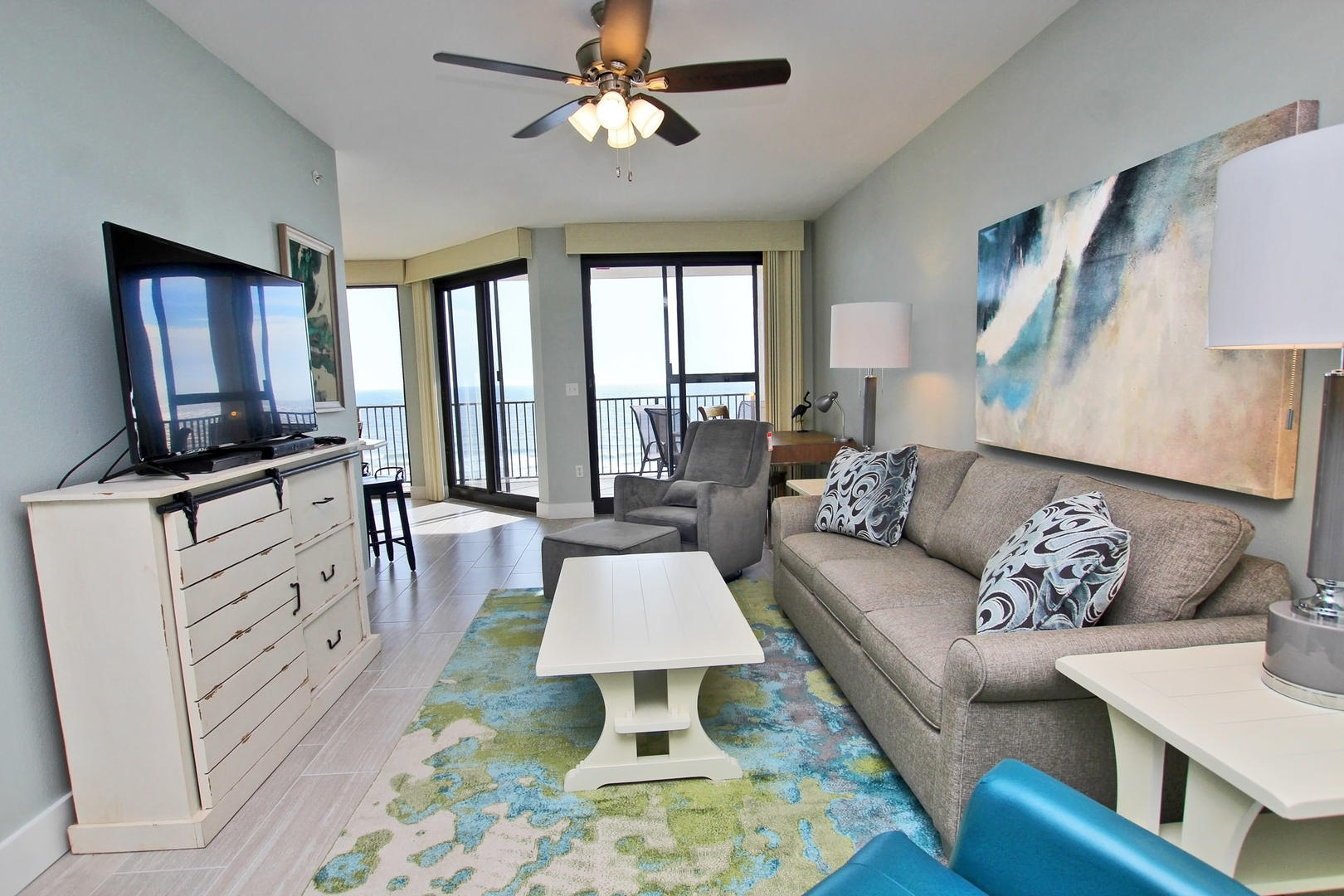 This is the place to enjoy those sugar white beaches and spectacular views of the Gulf of Mexico that you hear about! Sit on the balcony with your morning cup of coffee or evening drink and enjoy these unobstructed, direct views. This 1 bedroom condo is on the 8th floor and is 801 sq ft. The living room is decorated in cool colors and offers a sleeper sofa, and has a flat screen TV and DVD player. The bedroom has a king bed with HD TV and DVD player. Entire unit was renovated in December 2018. New paint, furniture, flooring and total kitchen and bath makeover! Must See!! There are restaurants and shopping a short distance away and the legendary Flora-Bama is just next door. This complex offers an indoor pool, fitness room, sauna, hot tubs, tennis courts and large outdoor pool. Come stay at Phoenix X - one of the most popular condominiums in Orange Beach. This is a nonsmoking property and 1 car limit. Monthly rentals available November to March 1.

This property collects parking fees onsite. The cost is $60.00 per parking pass. The passes will be valid for the duration of your stay.
Unit Location : Close to Elevator
Area : Orange Beach
Sleep Cap : 4
Bedrooms : 1.00
Internet Type : Free Unit WiFi
Square Ft. : 801
Master Bedroom : King
Building Orientation : Gulf Side
ilink : ilink Booking
Balcony View : Gulf Front
Number Bathrooms : 1.0
Complex : Phoenix X
TV - Unit : 2
Number of Beds : 1
Pool - Outdoor : Yes
Pool - Indoor : Yes
Pool - Indoor Heated : Yes
Pool - Childrens : Yes
Jacuzzi : Yes
Fitness Room : Yes
Sauna : Yes
BBQ Grills : Yes
Elevator : Yes
Parking Limit : 1 Vehicle
Rental Type : Condo
Sleeps : 4
Age Requirement : 25
Long Term : No
Pet Policy : No Pets
Pet Restriction : No Pets
Parking - Guest Purchase : This property requires parking passes to be purchased on-site. The cost is $60.00 each. The cost of
Thank you for submitting your review. It will be processed shortly!
We absolutely loved our time here. I like to cook while on vacation and there is everything you need here! The view is wonderful and it was one of the best-maintained beaches I've been on. Excellent trip!
Perfect Vacation
by Teressa P
Phonix X 808 everything was great
February 7, 2021 - Website
Perfect Getaway!
by Billy D
Great Stay! Great Beach! - Reviewed on VRBO
November 29, 2020 - Website
Great Thanksgiving Getaway!
by Amanda W
The condo was clean, well decorated, and perfect for two parents and one child. The convenience of Flora Bama next door was perfect for a quick bite and drink! We had a great Thanksgiving at Phoenix X! - Reviewed on VRBO
September 2022
S
M
T
W
T
F
S
01
02
03
04
05
06
07
08
09
10
11
12
13
14
15
16
17
18
19
20
21
22
23
24
25

$160

26
27
28
29
30

$160
October 2022
S
M
T
W
T
F
S
01

$170

02
03
04
05
06
07
08
09

$175

10

$205

11
12
13
14
15
16

$160

17

$160

18

$160

19

$160

20

$160

21

$160

22
23

$160

24

$160

25

$160

26

$160

27

$160

28

$160

29

$160

30

$160

31

$160
November 2022
S
M
T
W
T
F
S
01

$160

02

$160

03

$160

04

$160

05

$160

06

$160

07

$160

08

$160

09

$160

10

$160

11

$160

12

$160

13

$160

14

$160

15

$160

16

$160

17

$160

18

$160

19

$160

20

$160

21

$180

22

$175

23

$205

24

$220

25

$225

26

$215

27

$195

28

$160

29

$160

30

$160
December 2022
S
M
T
W
T
F
S
01

$160

02
03
04
05
06
07
08
09
10
11
12
13
14
15
16
17
18
19
20
21
22
23
24
25
26
27
28
29
30
31
January 2023

| S | M | T | W | T | F | S |
| --- | --- | --- | --- | --- | --- | --- |
| 01 | 02 | 03 | 04 | 05 | 06 | 07 |
| 08 | 09 | 10 | 11 | 12 | 13 | 14 |
| 15 | 16 | 17 | 18 | 19 | 20 | 21 |
| 22 | 23 | 24 | 25 | 26 | 27 | 28 |
| 29 | 30 | 31 | | | | |
February 2023

| S | M | T | W | T | F | S |
| --- | --- | --- | --- | --- | --- | --- |
| | | | 01 | 02 | 03 | 04 |
| 05 | 06 | 07 | 08 | 09 | 10 | 11 |
| 12 | 13 | 14 | 15 | 16 | 17 | 18 |
| 19 | 20 | 21 | 22 | 23 | 24 | 25 |
| 26 | 27 | 28 | | | | |
March 2023
S
M
T
W
T
F
S
01

$180

02

$180

03

$180

04

$180

05

$180

06

$180

07

$180

08

$180

09

$180

10

$240

11

$240

12

$235

13

$225

14

$230

15

$235

16

$235

17

$240

18

$220

19

$220

20

$220

21

$220

22

$220

23

$225

24

$225

25

$230

26

$235

27

$235

28

$240

29

$245

30

$245

31

$255
April 2023
S
M
T
W
T
F
S
01

$270

02

$280

03

$280

04

$290

05

$290

06

$320

07

$325

08

$325

09

$310

10

$300

11

$290

12

$285

13

$290

14

$300

15

$315

16

$285

17

$190

18

$190

19

$185

20

$210

21

$235

22

$255

23

$205

24

$190

25

$195

26

$185

27

$215

28

$245

29
30
May 2023
S
M
T
W
T
F
S
01

$195

02

$195

03

$190

04

$225

05

$265

06

$270

07

$225

08

$205

09

$195

10

$195

11

$230

12

$275

13

$275

14

$235

15

$220

16

$215

17

$225

18

$430

19

$475

20

$480

21

$450

22

$270

23

$265

24

$280

25

$310

26

$450

27

$450

28

$420

29

$425

30

$310

31

$325
June 2023
S
M
T
W
T
F
S
01

$340

02

$365

03

$365

04

$340

05

$350

06

$350

07

$365

08

$380

09

$395

10

$395

11

$370

12

$380

13

$385

14

$390

15

$400

16

$410

17

$410

18

$395

19

$405

20

$410

21

$400

22

$405

23

$410

24

$400

25

$380

26

$390

27

$385

28

$390

29

$420

30

$430
July 2023
S
M
T
W
T
F
S
01

$425

02

$415

03

$430

04

$430

05

$425

06

$430

07

$435

08

$415

09

$400

10

$405

11

$410

12

$415

13

$415

14

$425

15

$415

16

$400

17

$405

18

$410

19

$410

20

$410

21

$420

22

$420

23

$400

24

$400

25

$405

26

$400

27

$405

28

$415

29

$405

30

$375

31

$375
August 2023
S
M
T
W
T
F
S
01

$375

02

$375

03

$380

04

$395

05

$390

06

$355

07

$345

08

$345

09

$335

10

$345

11

$365

12

$350

13

$300

14

$285

15

$275

16

$270

17

$280

18

$300

19

$290

20

$235

21

$215

22

$210

23

$210

24

$230

25

$250

26

$245

27

$195

28

$180

29

$180

30

$185

31

$205
September 2023
S
M
T
W
T
F
S
01

$385

02

$390

03

$345

04

$310

05

$180

06

$180

07

$205

08

$235

09

$245

10

$195

11

$180

12

$180

13

$180

14

$205

15

$235

16

$240

17

$190

18

$180

19

$180

20

$180

21

$185

22

$220

23

$220

24

$180

25

$180

26

$180

27

$180

28

$180

29

$225

30

$215