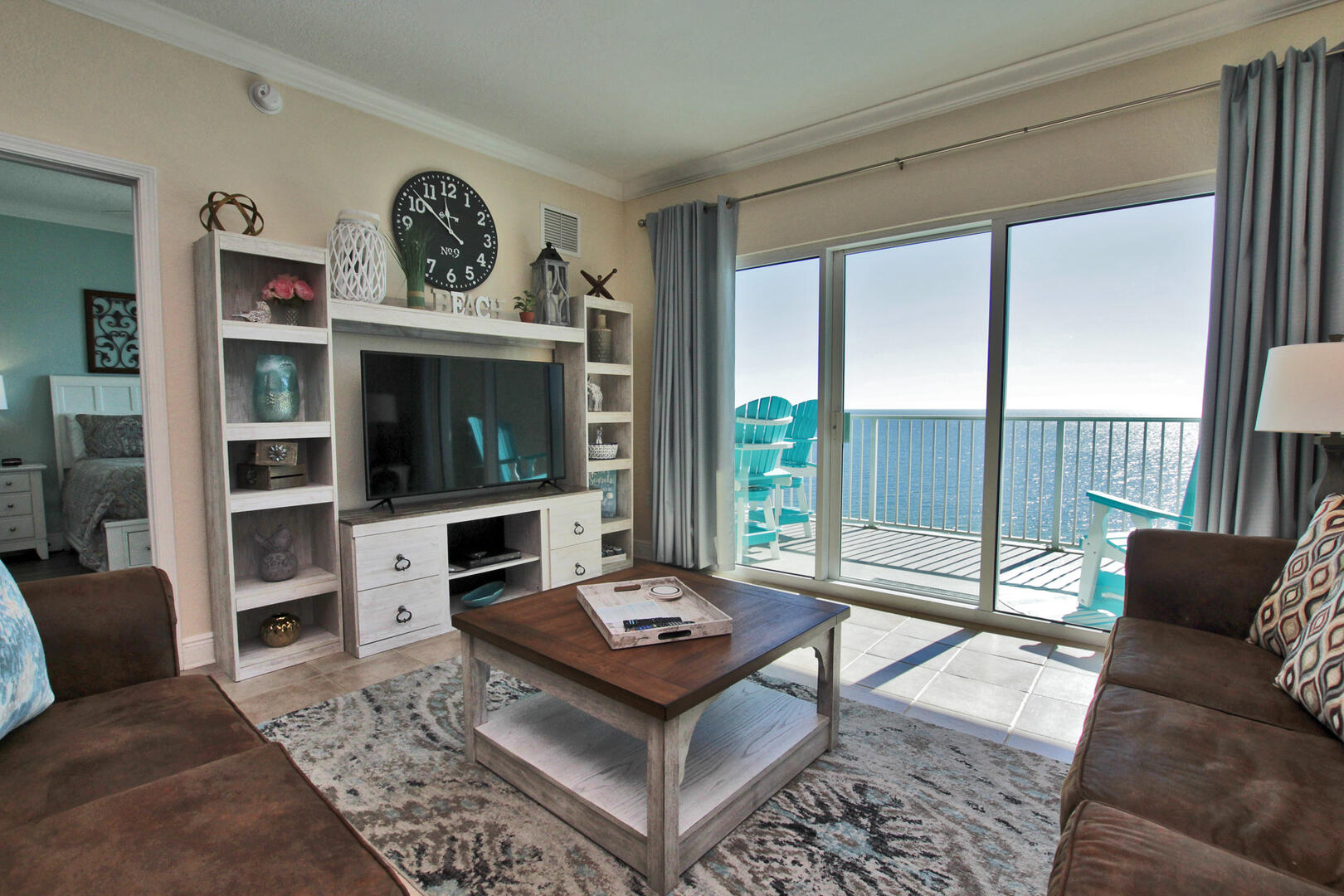 Crystal Shores West offers everything you want in a beachside vacation resort. This 108 unit complex crowns a prime location on beautiful. West Beach in Gulf Shores. Enjoy a limitless view of the emerald waters of the Gulf of Mexico from your private oversized balcony, accessed from the living room and your spacious master bedroom. A zero entry outdoor pool, plus many other amenities provide all the luxuries you deserve. This 10th floor, privately owned 1090 sq ft, nonsmoking condo features stylish furnishings & beautiful tropical decor, a fully-equipped kitchen, internet access and full sized washer and dryer. Monthly stays November to March 1. Covered parking is available and a 2 car limit is enforced. This island paradise is waiting for you, so make some wonderful vacation memories at Crystal Shores West 1007!
Unit Location : Far from Elevator
Area : Gulf Shores
Sleep Cap : 6
Bedrooms : 2.00
Internet Type : Free Public WiFi
Square Ft. : 1098
Master Bedroom : King
Building Orientation : Gulf Side
Guest Bedroom 1 : Queen
ilink : ilink Booking
Balcony View : Gulf Front
Number Bathrooms : 2.0
Complex : Crystal Shores West
TV - Unit : 3
Number of Beds : 2
Pool - Outdoor : Yes
Pool - Indoor : Yes
Pool - Indoor Heated : Yes
Jacuzzi : Yes
Fitness Room : Yes
Sauna : Yes
BBQ Grills : Yes
Elevator : Yes
Parking Limit : 2 Vehicles
Rental Type : Condo
Sleeps : 6
Age Requirement : 25
Long Term : No
Pet Policy : No Pets
Pet Restriction : No Pets
Parking - Guest Purchase :
Thank you for submitting your review. It will be processed shortly!
Crystal Shores W #1007 was perfect. Working with Young Suncoast was easy either by phone or email. They answered all of our questions and put our minds at ease about booking on line. The condo was clean, had a beautiful view right on the beach and a king bed in the master with a balcony (our 3 requirements). The room was easily accessed with the pass code and we even got notified we could check in early! We have already booked with them (a different place) again in July. Try them! - Reviewed on Google
October 8, 2021 - Website
We will keep coming back!
by Mark C
The room and grounds were amazing ! I will definitely use again every trip! The condo was clean and felt just like home away from Home!
Great Beach Trip
by Nichole M
Had a wonderful time during Spring Break (March 14 - 19, 2021) at Crystal Shores West, 1007. We were lucky and got some warm 70 degree weather to enjoy some beach time. Accommodations were great: clean, up to date, great decor, and wonderful beachfront balcony where you can see the beach down below. All amenities were open: indoor and outdoor pool, outdoor hot tub, gym and rec room (which all require a code). Beach access right from the parking garage. The vibe at this location is very family friendly with no Spring Breakers trying to party on the beach next to your kids. Had charcoal grills but were located under the parking garage ramp which was more like a wind tunnel so we didn't end up grilling. There were beach chairs and towels available for guests. Laundry machines readily available in the unit made cleaning up after beach day pretty easy. The only complaint (and reason I gave only 4 stars instead of 5) I have is the elevators were only working part of the time. There were two, total available and the one side was completely being redone and after speaking to the mechanics they said they've been working on it for 3 months already. The other elevator wasn't always working and when it was it was constantly packed shoulder to shoulder with other people who weren't wearing any masks so no opportunity to socially distance. Otherwise hosts were great! Would recommend and would stay again! - Reviewed on Google
October 2022
S
M
T
W
T
F
S
01
02
03

$160

04
05
06
07
08
09
10
11
12
13
14

$160

15

$170

16

$160

17
18
19
20
21
22

$160

23

$160

24

$160

25
26
27
28
29

$160

30

$160

31
November 2022
S
M
T
W
T
F
S
01
02
03
04
05
06
07
08
09
10
11
12
13
14
15
16
17
18
19
20

$160

21

$165

22

$165

23

$160

24

$170

25

$175

26

$170

27

$160

28

$160

29

$160

30

$160
December 2022
S
M
T
W
T
F
S
01

$160

02
03
04

$160

05

$160

06

$160

07

$160

08

$160

09

$160

10

$160

11

$160

12

$160

13

$160

14

$160

15

$160

16

$160

17

$160

18

$160

19

$160

20

$160

21

$160

22

$160

23

$170

24

$170

25

$170

26

$175

27

$180

28

$195

29

$195

30

$200

31

$200
January 2023
S
M
T
W
T
F
S
01

$205

02
03
04
05
06
07
08
09
10
11
12
13
14
15
16
17
18
19
20
21
22
23
24
25
26
27
28
29
30
31
February 2023

| S | M | T | W | T | F | S |
| --- | --- | --- | --- | --- | --- | --- |
| | | | 01 | 02 | 03 | 04 |
| 05 | 06 | 07 | 08 | 09 | 10 | 11 |
| 12 | 13 | 14 | 15 | 16 | 17 | 18 |
| 19 | 20 | 21 | 22 | 23 | 24 | 25 |
| 26 | 27 | 28 | | | | |
March 2023
S
M
T
W
T
F
S
01
02
03
04
05
06
07
08
09
10
11

$320

12

$305

13

$305

14

$310

15

$295

16

$295

17

$305

18
19
20
21
22
23
24
25
26
27
28
29
30
31

$330
April 2023
S
M
T
W
T
F
S
01

$345

02

$345

03

$325

04

$340

05

$315

06

$355

07

$355

08

$350

09

$340

10

$310

11

$325

12

$305

13

$310

14

$330

15

$330

16

$310

17

$190

18

$200

19

$195

20

$200

21

$225

22

$230

23

$195

24

$190

25

$195

26

$200

27

$200

28

$235

29

$240

30

$195
May 2023
S
M
T
W
T
F
S
01

$195

02

$195

03

$205

04

$215

05

$245

06

$255

07

$215

08

$215

09

$210

10

$220

11

$235

12

$270

13

$285

14

$245

15

$250

16

$250

17

$255

18

$550

19

$590

20

$615

21

$565

22

$295

23

$295

24

$300

25

$315

26

$470

27

$505

28

$455

29

$465

30

$345

31

$350
June 2023
S
M
T
W
T
F
S
01

$365

02

$395

03

$415

04
05
06
07
08
09
10

$435

11

$410

12

$425

13

$430

14

$425

15

$435

16

$435

17

$435

18

$450

19

$460

20

$465

21

$435

22

$440

23

$440

24

$440

25
26
27
28
29
30
July 2023
S
M
T
W
T
F
S
01

$470

02

$460

03

$470

04

$470

05

$475

06

$475

07

$475

08

$460

09

$455

10

$460

11

$460

12

$460

13

$465

14

$465

15

$470

16

$460

17

$470

18

$470

19

$475

20

$475

21

$470

22

$470

23

$460

24

$475

25

$475

26

$480

27

$480

28

$475

29

$470

30

$450

31

$460
August 2023
S
M
T
W
T
F
S
01

$455

02

$455

03

$460

04

$450

05

$445

06

$415

07

$415

08

$405

09

$405

10

$410

11

$410

12

$390

13

$355

14

$345

15

$330

16

$330

17

$340

18

$345

19

$330

20

$285

21

$270

22

$265

23

$260

24

$280

25

$290

26

$285

27

$240

28

$230

29

$225

30

$225

31

$245
September 2023
S
M
T
W
T
F
S
01

$375

02

$375

03

$340

04

$330

05

$215

06

$210

07

$235

08

$250

09

$255

10

$225

11

$215

12

$210

13

$210

14

$230

15

$245

16

$245

17

$220

18

$210

19

$205

20

$205

21

$220

22

$235

23

$240

24

$210

25

$205

26

$200

27

$205

28

$220

29

$240

30

$245
October 2023
S
M
T
W
T
F
S
01

$220

02

$205

03

$205

04

$215

05

$240

06

$430

07

$420

08

$390

09

$375

10

$200

11

$205

12

$220

13

$230

14

$220

15

$190

16

$180

17

$180

18

$180

19

$190

20

$195

21

$185

22

$180

23

$180

24

$180

25

$180

26

$180

27

$180

28

$180

29

$180

30

$180

31

$180