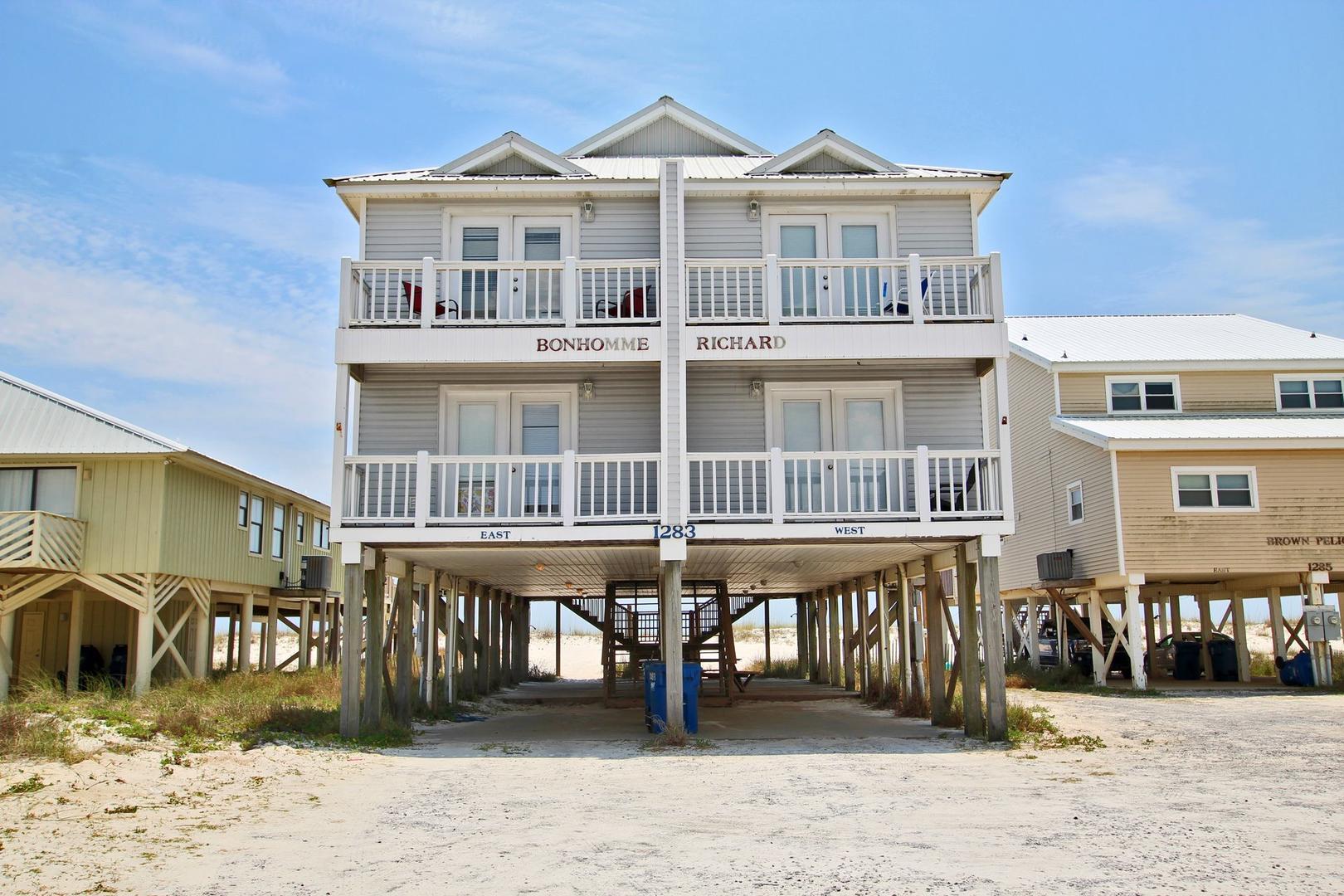 Bonhome Richard East is a Gulf Front duplex that can sleep up to 13 people. This 4-bedroom beach house offers unobstructed views of the sparkling water of the Gulf of Mexico. If you are looking for a spacious retreat for your family vacation, this vacation rental is the place for you. Take a seat in the living room and enjoy the unobstructed views of the sugar white sands. The kitchen is fully equipped with everything you need to prepare a traditional southern seafood meal.

The master bedroom has a queen bed and access to the private balcony. The master bathroom has a tub shower combination. The second bedroom has a twin and a full-size bed. The third bedroom has a twin bed and a queen bed, and there is also a twin bed and a queen bed in the fourth bedroom. With a queen size sofa sleeper this beach house can sleep up to 13 people comfortably.

This direct beach-front East duplex is located on the beautiful white sandy beaches of Gulf Shores approximately 2 miles west of Highway 59 on West Beach Blvd. Bonhomme Richard Duplex offers both covered and open decks along with covered parking. Monthly rentals available October to March 1.

You must be 21 years of age or older to rent.
This is a non-smoking property. Pets are not permitted.

Bedding
Master- Queen
Bedroom 2- 1 Twin, 1 Full
Bedroom 3- 1 Twin, 1 Queen
Bedroom 4- 1 Twin, 1 Queen
Living Room- Sofa Sleeper Queen

1283 West Beach Blvd. Gulf Shores, AL

Area : Gulf Shores
Sleep Cap : 13
Bedrooms : 4.00
Internet Type : Free Unit WiFi
Square Ft. : 1600
Master Bedroom : Queen
Building Orientation : Gulf Side
Guest Bedroom 1 : Twin - Full
Guest Bedroom 2 : Twin - Queen
Guest Bedroom 3 : Twin - Queen
ilink : ilink Booking
Balcony View : Gulf Front
Number Bathrooms : 3.0
Complex : House
TV - Unit : 2
Number of Beds : 7
Rental Type : House
Sleeps : 13
Age Requirement : 21
Long Term : No
Pet Policy : No Pets
Pet Restriction : No Pets
Parking - Guest Purchase :
Thank you for submitting your review. It will be processed shortly!
August 20, 2021 - Website
Great family vacation
by Priyanka G
This home and location were great! We had a great time. The house has everything needed for a comfortable, great vacation and it's right on the beach. Some small parts of the house could use a fresh coat of paint, but otherwise great rental!
Great Beach House
by Boone D
I thought Young's Suncoast was a great option. They provided exactly what they said they would and we comfortably slept 12 in the Bonhomme Richard East Wing Sunday-Friday for roughly $140 a person for the week. Close to everything and a nice house. The beach is right in the back yard. Will definitely use again before I am 25. - Reviewed on Google
September 2022
S
M
T
W
T
F
S
01
02
03
04
05
06
07
08
09
10
11
12
13
14
15
16
17
18
19
20
21
22
23
24
25

$235

26
27
28
29
30
October 2022

| S | M | T | W | T | F | S |
| --- | --- | --- | --- | --- | --- | --- |
| | | | | | | 01 |
| 02 | 03 | 04 | 05 | 06 | 07 | 08 |
| 09 | 10 | 11 | 12 | 13 | 14 | 15 |
| 16 | 17 | 18 | 19 | 20 | 21 | 22 |
| 23 | 24 | 25 | 26 | 27 | 28 | 29 |
| 30 | 31 | | | | | |
November 2022

| S | M | T | W | T | F | S |
| --- | --- | --- | --- | --- | --- | --- |
| | | 01 | 02 | 03 | 04 | 05 |
| 06 | 07 | 08 | 09 | 10 | 11 | 12 |
| 13 | 14 | 15 | 16 | 17 | 18 | 19 |
| 20 | 21 | 22 | 23 | 24 | 25 | 26 |
| 27 | 28 | 29 | 30 | | | |
December 2022

| S | M | T | W | T | F | S |
| --- | --- | --- | --- | --- | --- | --- |
| | | | | 01 | 02 | 03 |
| 04 | 05 | 06 | 07 | 08 | 09 | 10 |
| 11 | 12 | 13 | 14 | 15 | 16 | 17 |
| 18 | 19 | 20 | 21 | 22 | 23 | 24 |
| 25 | 26 | 27 | 28 | 29 | 30 | 31 |
January 2023

| S | M | T | W | T | F | S |
| --- | --- | --- | --- | --- | --- | --- |
| 01 | 02 | 03 | 04 | 05 | 06 | 07 |
| 08 | 09 | 10 | 11 | 12 | 13 | 14 |
| 15 | 16 | 17 | 18 | 19 | 20 | 21 |
| 22 | 23 | 24 | 25 | 26 | 27 | 28 |
| 29 | 30 | 31 | | | | |
February 2023

| S | M | T | W | T | F | S |
| --- | --- | --- | --- | --- | --- | --- |
| | | | 01 | 02 | 03 | 04 |
| 05 | 06 | 07 | 08 | 09 | 10 | 11 |
| 12 | 13 | 14 | 15 | 16 | 17 | 18 |
| 19 | 20 | 21 | 22 | 23 | 24 | 25 |
| 26 | 27 | 28 | | | | |
March 2023
S
M
T
W
T
F
S
01

$305

02

$325

03

$335

04

$355

05

$335

06

$335

07

$340

08

$325

09

$340

10

$460

11

$480

12

$470

13

$470

14

$480

15

$460

16

$455

17

$475

18

$445

19

$440

20

$445

21

$455

22

$440

23

$435

24

$445

25

$470

26

$480

27

$470

28

$500

29

$475

30

$485

31

$500
April 2023
S
M
T
W
T
F
S
01

$525

02

$530

03

$510

04

$540

05

$500

06

$575

07

$570

08

$570

09

$545

10

$505

11

$530

12

$485

13

$510

14

$520

15

$550

16

$510

17

$315

18

$335

19

$315

20

$335

21

$365

22

$405

23

$330

24
25
26
27
28
29
30

$340
May 2023
S
M
T
W
T
F
S
01

$340

02

$340

03

$345

04

$360

05

$395

06

$425

07

$380

08

$375

09

$375

10

$380

11

$395

12

$425

13

$440

14

$415

15

$425

16

$430

17

$440

18

$905

19

$945

20

$945

21

$940

22

$495

23

$505

24

$515

25

$530

26

$765

27

$765

28

$760

29

$785

30

$595

31

$605
June 2023
S
M
T
W
T
F
S
01

$620

02

$645

03

$640

04

$630

05

$705

06

$720

07

$720

08

$715

09

$735

10

$700

11

$690

12

$710

13

$720

14

$715

15

$775

16

$730

17

$735

18

$770

19

$780

20

$785

21

$735

22

$735

23

$735

24

$730

25

$720

26

$720

27

$720

28

$715

29

$755

30

$755
July 2023
S
M
T
W
T
F
S
01

$755

02

$765

03

$770

04

$780

05

$765

06

$770

07

$780

08

$745

09
10
11
12
13
14
15

$795

16

$800

17

$810

18

$805

19

$810

20

$805

21

$805

22

$795

23

$790

24

$800

25

$795

26

$800

27

$795

28

$790

29

$780

30

$765

31

$770
August 2023
S
M
T
W
T
F
S
01

$760

02

$760

03

$760

04

$765

05

$750

06

$725

07

$725

08

$715

09

$705

10

$700

11

$720

12

$670

13

$630

14

$615

15

$585

16

$575

17

$600

18

$615

19

$570

20

$510

21

$490

22

$475

23

$470

24

$510

25

$530

26

$495

27

$445

28

$420

29

$410

30

$410

31

$460
September 2023
S
M
T
W
T
F
S
01

$680

02

$635

03

$605

04

$575

05

$390

06

$400

07

$445

08

$490

09

$440

10

$415

11

$390

12

$375

13

$390

14

$420

15

$455

16

$405

17

$380

18

$340

19

$320

20

$345

21

$365

22

$400

23

$375

24

$350

25

$330

26

$350

27

$365

28

$390

29

$415

30

$410