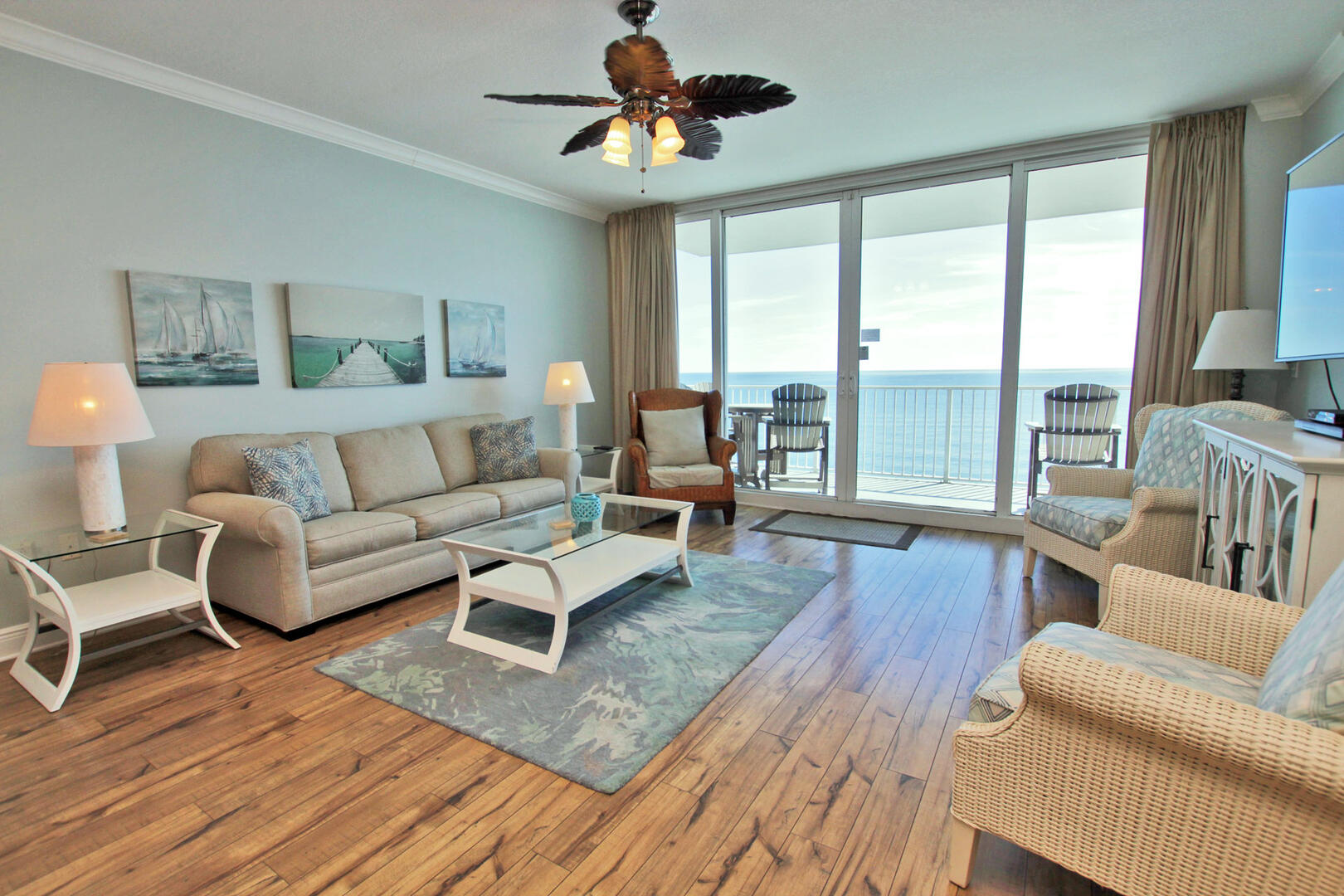 San Carlos 801 is your ticket to paradise! Open the door to this 3-bedroom, 3-bathroom vacation rental and leave the cares of the world behind you. The 8th floor provides views you see in magazines. Sit and gather in the spacious living room all while taking in the sights provided by the spacious and private gulf-front balcony or turn on the large flat screen television and watch you favorite show. If you need more sleeping space, there is a queen-size pull-out bed in the couch which allows San Carlos 801 to sleep up to 10 people comfortably. Feeling right at home is easy during your vacation. The kitchen is equipped with everything you need to prepare and serve a meal. There are stainless steel appliances and plenty of counter space to make it easy to prepare a fresh caught seafood feast. The dining table provides seating for 6 people and an additional 4 people can dine at the breakfast counter.

After a day of exploring and getting your toes in the sand you can expect nothing but pure relaxation when you arrive in the master bedroom. The cozy king bed is positioned perfectly to allow you the ability to lay in bed and look out over to the beautiful Gulf Shores beaches through the sliding doors leading to the balcony. Need some self-pampering? The large, jetted tub in the master bathroom will create a spa like experience. You can spread out all your things on the double vanity sink area, or if you need to get ready for a night out use the walk-in shower. The other two bedrooms provide comfort as well. There is a queen size bedroom with a private bathroom that has a tub and shower combination and a room with a set of twin bunk beds and a queen size bed just in case you are traveling with a large group. The third full bathroom can be accessed from the hallway and it has a tub and shower combination as well. All the bedrooms have flat screen televisions so there will not be a problem if there is a difference of opinion on what to watch.

San Carlos Condominiums has everything you desire for a perfect beach vacation. There is a washing machine and dryer in the condo and there is WiFi. You can choose to spend your day splashing in the large outdoor pool or use the private boardwalk to make your way down to the waters edge. There is a fitness center that overlooks the beach and a sauna. San Carlos is within walking distance of popular restaurants like The Hangout and the iconic Sea-n-Suds. You will make memories to last a lifetime at this Gulf Shores property.

The primary renter must be 25 years of age or older and be present during the duration of the stay. This is a non-smoking property, and no pets are permitted. Monthly rentals are available November 1st-January 1st.

Bedding:
Master- King
Bedroom 2- Queen
Bedroom 3- Queen and Twin over Twin Bunks
Living Room- Queen Sofa Sleeper
365 East Beach Blvd. Gulf Shores, AL

Unit Location : East Corner
Area : Gulf Shores
Sleep Cap : 10
Bedrooms : 3.00
Internet Type : Free Public WiFi
Square Ft. : 1407
Master Bedroom : King
Building Orientation : Gulf Side
Guest Bedroom 1 : Queen
Guest Bedroom 2 : Queen, Twin/Twin Bunk Beds
ilink : ilink Booking
Balcony View : Gulf Front
Video rm2 : DVD
Number Bathrooms : 3.0
Complex : San Carlos
TV - Unit : 4
Number of Beds : 4
Pool - Outdoor : Yes
Fitness Room : Yes
Sauna : Yes
BBQ Grills : Yes
Elevator : Yes
Parking Limit : 2 Vehicles
Rental Type : Condo
Sleeps : 10
Age Requirement : 25
Long Term : No
Pet Policy : No Pets
Pet Restriction : No Pets
Parking - Guest Purchase :
Thank you for submitting your review. It will be processed shortly!
We are sorry, there are no reviews for this unit. Be the first to leave a review!
September 2022
S
M
T
W
T
F
S
01
02
03
04
05
06
07
08
09
10
11
12
13
14
15
16
17
18
19
20
21
22
23
24
25
26

$190

27

$195

28

$200

29

$225

30
October 2022
S
M
T
W
T
F
S
01
02
03
04
05
06
07
08
09
10
11
12
13
14
15
16
17
18
19
20
21
22

$205

23

$190

24

$190

25

$190

26

$190

27

$190

28

$190

29

$190

30

$190

31

$190
November 2022
S
M
T
W
T
F
S
01

$190

02

$190

03

$190

04

$190

05

$190

06

$190

07

$190

08

$190

09

$190

10

$190

11

$190

12

$190

13

$190

14

$190

15

$190

16

$190

17

$190

18

$190

19

$190

20

$190

21

$250

22

$255

23

$250

24

$265

25

$285

26

$275

27

$250

28

$190

29

$190

30

$190
December 2022
S
M
T
W
T
F
S
01

$190

02

$190

03

$190

04

$190

05

$190

06

$190

07

$190

08

$190

09

$190

10

$190

11

$190

12

$190

13

$190

14

$190

15

$190

16

$190

17

$190

18

$190

19

$190

20

$210

21

$210

22

$220

23

$255

24

$245

25

$255

26

$255

27

$255

28

$285

29

$290

30

$295

31

$290
January 2023
S
M
T
W
T
F
S
01

$305

02

$310

03

$315

04

$190

05

$190

06

$190

07

$190

08

$190

09

$190

10

$190

11

$190

12

$190

13

$195

14

$195

15

$200

16

$200

17

$190

18

$190

19

$190

20

$190

21

$190

22

$190

23

$190

24

$190

25

$190

26

$190

27

$195

28

$195

29

$195

30

$190

31

$200
February 2023
S
M
T
W
T
F
S
01

$205

02

$205

03

$215

04

$210

05

$205

06

$205

07

$210

08

$210

09

$215

10

$225

11

$225

12

$220

13

$250

14

$220

15

$220

16

$255

17

$265

18

$270

19

$265

20

$265

21

$305

22

$340

23

$340

24

$340

25

$320

26

$315

27

$305

28

$260
March 2023
S
M
T
W
T
F
S
01

$265

02

$270

03

$275

04

$280

05

$280

06

$280

07

$270

08

$275

09

$280

10

$365

11

$365

12

$370

13

$370

14

$370

15

$375

16

$375

17

$375

18

$350

19

$350

20

$360

21

$360

22

$365

23

$360

24

$355

25

$365

26
27
28
29
30
31
April 2023
S
M
T
W
T
F
S
01

$420

02

$425

03

$420

04

$415

05

$415

06

$475

07

$465

08

$460

09

$415

10

$410

11

$400

12

$395

13

$415

14

$435

15

$450

16

$380

17

$245

18

$245

19

$245

20

$285

21

$320

22

$330

23

$250

24

$250

25

$250

26

$245

27

$285

28

$315

29

$315

30

$315
May 2023
S
M
T
W
T
F
S
01

$305

02

$315

03

$320

04

$365

05

$395

06

$400

07

$360

08

$285

09

$290

10

$310

11

$345

12

$380

13

$385

14

$355

15

$335

16

$350

17

$370

18

$760

19

$785

20

$790

21

$770

22

$405

23

$415

24

$435

25

$465

26

$625

27

$640

28

$615

29

$625

30

$485

31

$500
June 2023
S
M
T
W
T
F
S
01

$520

02

$520

03

$530

04
05
06
07
08
09

$555

10

$565

11

$535

12

$565

13

$570

14

$575

15

$575

16

$580

17

$580

18

$595

19

$615

20

$620

21

$580

22

$580

23

$580

24

$575

25
26
27
28

$565

29

$600

30

$600
July 2023
S
M
T
W
T
F
S
01

$600

02

$600

03

$600

04

$605

05

$605

06

$610

07

$620

08

$600

09

$600

10

$605

11

$610

12

$615

13

$625

14

$635

15

$635

16

$635

17

$640

18

$635

19

$635

20

$640

21

$640

22

$635

23

$625

24

$630

25

$625

26

$620

27

$620

28

$625

29

$615

30

$595

31

$595
August 2023
S
M
T
W
T
F
S
01

$590

02

$585

03

$590

04

$600

05

$585

06

$555

07

$555

08

$545

09

$540

10

$545

11

$565

12

$535

13

$490

14

$480

15

$465

16

$465

17

$480

18

$495

19

$465

20

$410

21

$390

22

$375

23

$380

24

$400

25

$430

26

$405

27

$355

28

$330

29

$315

30

$320

31

$355
September 2023
S
M
T
W
T
F
S
01

$580

02

$565

03

$515

04

$495

05

$290

06

$305

07

$340

08

$380

09

$370

10

$315

11

$295

12

$265

13

$285

14

$310

15

$355

16

$345

17

$290

18

$265

19

$235

20

$265

21

$285

22

$320

23

$300

24

$270

25

$260

26

$285

27

$285

28

$305

29

$335

30

$320