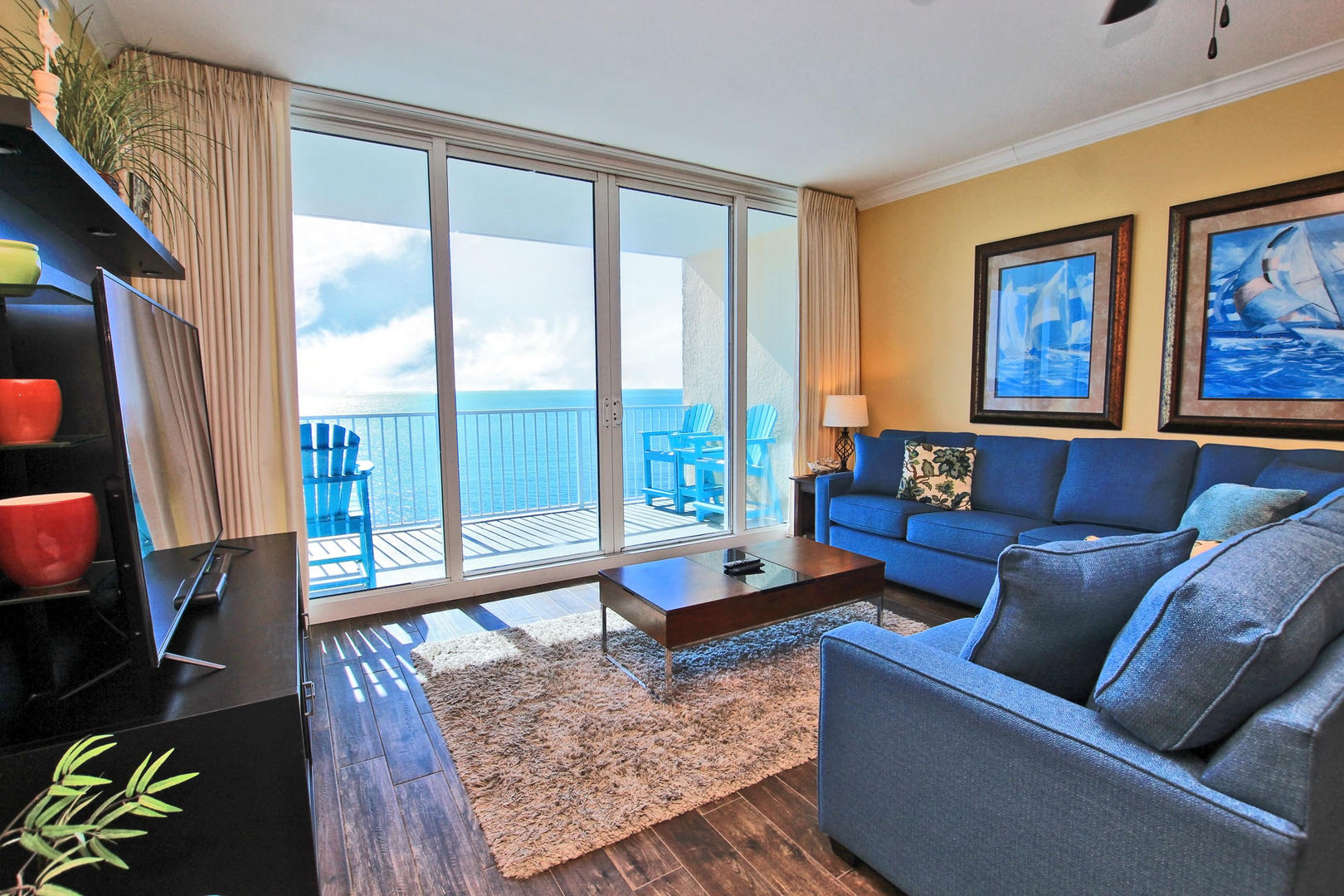 Luxurious comfort awaits you at our fabulous San Carlos Condominiums located in the heart of Gulf Shores. Everything about the 142 unit San Carlos complex has been designed to offer you the best vacation experience possible, including the desirable zero entry pool perfect for the entire family. This 14th floor 1419 sq ft condo boasts a deck large enough for outdoor dining or just enjoying the sunset. The floor to ceiling windows offer an unobstructed view of the Gulf of Mexico. While you are here, be sure to enjoy the Jacuzzi tub in the master bath, take advantage of the wet bar and stay connected with the free WIFI. This smoke-free unit features large smart Tv's in all bedrooms and living room, professional decor and full size washer/dryer. Parking is at a premium so a 2 car limit is strictly enforced. No boats, RV's or trailers are permitted

Free Public WiFi in all condos, public areas, and even as far as the beach!
Unit Location : Close to Elevator
Area : Gulf Shores
Sleep Cap : 8
Bedrooms : 3.00
Internet Type : Free Public WiFi
Square Ft. : 1419
Master Bedroom : King
Building Orientation : Gulf Side
Guest Bedroom 1 : King
Guest Bedroom 2 : King
ilink : ilink Booking
Balcony View : Gulf Front
Video rm2 : DVD
Number Bathrooms : 3.0
Complex : San Carlos
TV - Unit : 4
Number of Beds : 3
Pool - Outdoor : Yes
Fitness Room : Yes
Sauna : Yes
BBQ Grills : Yes
Elevator : Yes
Parking Limit : 2 Vehicles
Rental Type : Condo
Sleeps : 8
Age Requirement : 25
Long Term : No
Pet Policy : No Pets
Pet Restriction : No Pets
Parking - Guest Purchase :
Thank you for submitting your review. It will be processed shortly!
August 23, 2022 - Manual Entry
San Carlos 1406
by Jessie
Loved our stay in this condo! It was perfect for our stay, which included 4 adults and 2 kids. The unit was conveniently located near the elevators. Pool was clean, and the beach was easily accessible with multiple shower stations so there wasn't a long line when trying to leave the beach. We really enjoyed our stay and would love to stay again on our next trip back to Gulf Shores. - Reviewed on Airbnb
San Carlos 1406 - Gulf Shores, AL
by Sarah R
Everything was such a breeze from check-in to check-out. The room was very clean and exactly as pictured. We had no issues with this rental property. It was a great location for the teenagers in our group. Close to the Hang-Out and shopping (literally walking distance). Jet skis/parasailing/banana boat rides right next to the property. Loads of entertainment!!! It was a perfect vacation. Will definitely book again in the future. -Reviewed on VRBO
San Carlos 1406 - Gulf Shores, AL
by Sarah R
Everything was such a breeze from check-in to check-out. The room was very clean and exactly as pictured. We had no issues with this rental property. It was a great location for the teenagers in our group. Close to the Hang-Out and shopping (literally walking distance). Jet skis/parasailing/banana boat rides right next to the property. Loads of entertainment!!! It was a perfect vacation. Will definitely book again in the future. -Reviewed on VRBO
October 2022
S
M
T
W
T
F
S
01
02
03

$180

04
05
06
07
08
09
10
11
12
13
14

$180

15

$235

16
17
18
19
20
21
22

$210

23

$180

24

$180

25

$180

26

$180

27

$180

28

$185

29

$180

30

$180

31

$180
November 2022
S
M
T
W
T
F
S
01

$180

02

$180

03

$180

04

$180

05

$180

06

$180

07

$180

08

$180

09
10
11
12

$180

13

$180

14

$180

15

$180

16

$180

17

$180

18

$180

19

$180

20

$180

21

$250

22

$255

23

$250

24

$265

25

$285

26

$275

27

$250

28

$180

29

$180

30

$180
December 2022
S
M
T
W
T
F
S
01

$180

02

$180

03

$180

04

$180

05

$180

06

$180

07

$180

08

$180

09

$180

10

$180

11

$180

12

$180

13

$180

14

$180

15

$180

16

$180

17

$180

18

$180

19

$180

20

$180

21

$180

22

$180

23

$215

24

$205

25

$210

26

$215

27

$210

28

$240

29

$245

30

$250

31

$245
January 2023
S
M
T
W
T
F
S
01

$260

02

$265

03

$270

04

$180

05

$180

06

$180

07

$180

08

$180

09

$180

10

$180

11

$180

12

$190

13

$195

14

$195

15

$200

16

$205

17

$180

18

$180

19

$180

20

$185

21

$185

22

$185

23

$180

24

$190

25

$190

26

$190

27

$200

28

$200

29

$195

30

$190

31

$200
February 2023
S
M
T
W
T
F
S
01

$205

02

$205

03

$215

04

$210

05

$205

06

$205

07

$210

08

$210

09

$215

10

$225

11

$225

12

$220

13

$220

14

$225

15

$225

16

$255

17

$270

18

$270

19

$265

20

$270

21

$230

22

$300

23

$305

24

$305

25

$235

26

$240

27

$235

28

$230
March 2023
S
M
T
W
T
F
S
01

$235

02

$275

03

$280

04

$280

05

$280

06

$280

07

$270

08

$275

09

$285

10

$365

11

$365

12

$370

13

$370

14

$370

15

$375

16

$375

17

$375

18

$355

19

$355

20

$365

21

$365

22

$365

23

$365

24

$355

25

$370

26

$375

27

$385

28

$390

29

$395

30

$405

31

$410
April 2023
S
M
T
W
T
F
S
01

$425

02

$425

03

$420

04

$415

05

$415

06

$485

07

$470

08

$465

09

$420

10

$410

11

$405

12

$400

13

$420

14

$440

15

$455

16

$385

17

$245

18

$250

19

$245

20

$285

21

$320

22

$330

23

$255

24

$250

25

$255

26

$250

27

$290

28

$315

29

$320

30

$320
May 2023
S
M
T
W
T
F
S
01

$310

02

$315

03

$325

04

$365

05

$395

06

$400

07

$360

08

$285

09

$295

10

$310

11

$345

12

$380

13

$385

14

$355

15

$340

16

$350

17

$375

18

$765

19

$785

20

$795

21

$775

22

$405

23

$415

24

$435

25

$470

26

$630

27

$640

28

$620

29

$630

30

$485

31

$505
June 2023
S
M
T
W
T
F
S
01

$520

02

$520

03

$530

04
05
06
07
08
09
10

$570

11

$540

12

$570

13

$575

14

$575

15

$580

16

$585

17

$585

18

$595

19

$615

20

$620

21

$585

22

$585

23

$585

24

$580

25

$565

26

$570

27

$575

28

$565

29

$605

30

$605
July 2023
S
M
T
W
T
F
S
01

$605

02

$600

03

$605

04

$605

05

$610

06

$615

07

$620

08

$600

09

$605

10

$610

11

$615

12

$620

13

$630

14

$635

15

$640

16

$635

17

$645

18

$640

19

$635

20

$645

21

$645

22

$640

23

$630

24

$630

25

$625

26

$620

27

$625

28

$625

29

$620

30

$600

31

$600
August 2023
S
M
T
W
T
F
S
01

$590

02

$590

03

$595

04

$605

05

$590

06

$555

07

$560

08

$545

09

$540

10

$550

11

$570

12

$540

13

$490

14

$485

15

$465

16

$465

17

$480

18

$500

19

$470

20

$410

21

$395

22

$380

23

$380

24

$400

25

$430

26

$405

27

$355

28

$330

29

$315

30

$320

31

$355
September 2023
S
M
T
W
T
F
S
01

$585

02

$570

03

$520

04

$495

05

$290

06

$305

07

$340

08

$385

09

$370

10

$315

11

$295

12

$275

13

$285

14

$320

15

$355

16

$345

17

$285

18

$265

19

$255

20

$265

21

$295

22

$320

23

$320

24

$265

25

$260

26

$265

27

$275

28

$300

29

$320

30

$325
October 2023
S
M
T
W
T
F
S
01

$270

02

$265

03

$275

04

$275

05

$310

06

$515

07

$525

08

$450

09

$445

10

$265

11

$265

12

$295

13

$310

14

$305

15

$235

16

$220

17

$215

18

$215

19

$245

20

$260

21

$250

22

$205

23

$205

24

$205

25

$205

26

$205

27

$225

28

$205

29

$205

30

$205

31

$205