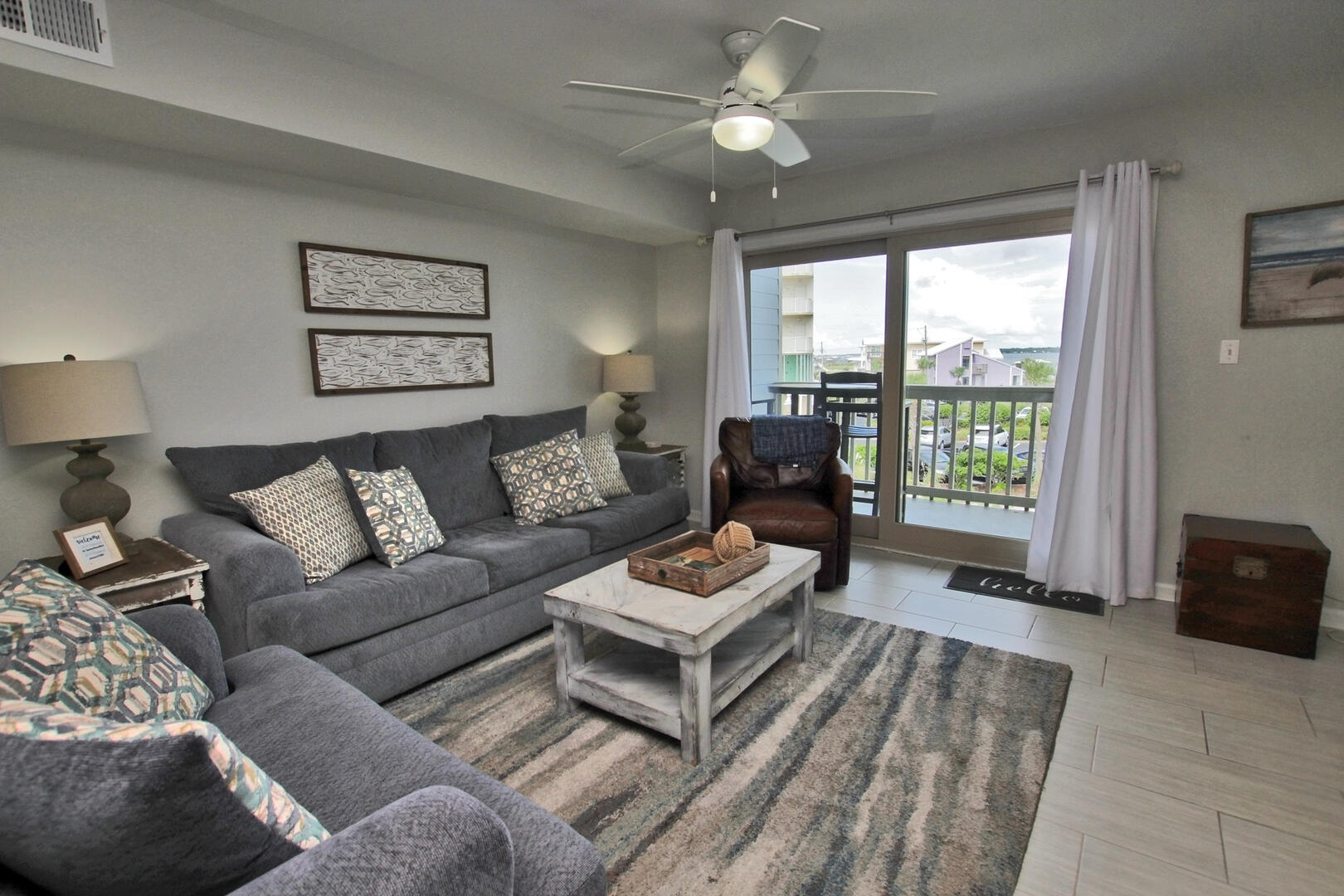 Summerhouse West 207B is an adorable 2 bedroom, 2.5 bath condo perfect for a family vacation. The living room is a great place for relaxing and has access to the private balcony to enjoy the fresh gulf breeze. The kitchen is fully equipped with all the cooking utensils needed to make a home-cooked meal. Seating for 6 people is available in the dining area and 2 people at the breakfast bar. The master bedroom has a king bed, the second bedroom has a queen bed and there is a queen size sofa sleeper in the living room which allows this vacation rental to sleep 6 people comfortably.

Summerhouse West is across the street from the beach, but this unit offers guests a direct Gulf View from the private Gulf facing balcony. Enjoy a dip in the outdoor pool or spend time on the pier. Deeded beach access is between the two teal houses. Stackable washer and dryer in the hallway. Monthly rentals available October to March 1. 1 assigned covered parking space.
This is a nonsmoking property. You must be 25 years of age or older to reserve. No pets are permitted.

Bedding:
Master: 1 King
Bedroom 2: 1 Queen
Living room: Sofa Sleeper Queen

Summerhouse West 207B 1988 West Beach Blvd. Gulf Shores, AL. 36542

Area : Gulf Shores
Sleep Cap : 6
Bedrooms : 2.00
Internet Type : Free Unit WiFi
Square Ft. :
Master Bedroom : King
Building Orientation : Across the Street
Guest Bedroom 1 : Queen
ilink : ilink Booking
Balcony View : Across the Street - Gulf View
Number Bathrooms : 2.5
Complex : Summerhouse West
TV - Unit : 3
Number of Beds : 2
Pool - Outdoor : Yes
Parking Limit : 2 Vehicles
Rental Type : Condo
Sleeps : 6
Age Requirement : 25
Long Term : No
Parking - Guest Purchase :
Thank you for submitting your review. It will be processed shortly!
Loved the condo!
by Tokelia M
The place was nice and clean. Everything looked just like the pictures. Very nicely decorated. Condo is located on the quite end of the beach. This is the place if you want to relax. A short walk across the street to the beach. There's a pool at the property also that was nice. Entertainment is a short drive away. There was one small issue with one of the patios door locks. I called property management and they had someone out in a short period of time to address the issue. Also it doesn't mention stairs in the description of the property. It's two flights of stairs to get to the property and another set inside of the property. It was a little challenging getting the luggage up. Thank goodness we were in shape.-Reviewed on VRBO
Summerhouse West Vacation
by Mary T
We really enjoyed our stay in room 207B. It was very clean and updated. Bedrooms were very spacious. The view from the balcony was beautiful. Would recommend this room for future guests as long as you don't have an issue with stairs.
October 2022
S
M
T
W
T
F
S
01
02
03
04

$110

05

$110

06

$110

07

$186

08

$198

09
10
11
12
13
14

$110

15

$110

16

$110

17

$110

18

$110

19

$110

20

$110

21

$110

22

$110

23

$110

24

$110

25

$110

26

$110

27

$110

28

$110

29

$110

30

$110

31

$110
November 2022
S
M
T
W
T
F
S
01

$110

02

$110

03

$110

04

$110

05

$110

06

$110

07

$110

08

$110

09

$110

10

$110

11

$110

12

$110

13

$110

14

$110

15

$110

16

$110

17

$110

18

$110

19

$110

20

$110

21

$110

22

$110

23

$110

24

$110

25

$115

26

$110

27

$110

28

$110

29

$110

30

$110
December 2022
S
M
T
W
T
F
S
01

$110

02
03
04
05
06
07
08
09
10
11
12
13
14
15
16
17
18
19
20
21
22
23
24
25
26
27
28
29
30
31
January 2023

| S | M | T | W | T | F | S |
| --- | --- | --- | --- | --- | --- | --- |
| 01 | 02 | 03 | 04 | 05 | 06 | 07 |
| 08 | 09 | 10 | 11 | 12 | 13 | 14 |
| 15 | 16 | 17 | 18 | 19 | 20 | 21 |
| 22 | 23 | 24 | 25 | 26 | 27 | 28 |
| 29 | 30 | 31 | | | | |
February 2023

| S | M | T | W | T | F | S |
| --- | --- | --- | --- | --- | --- | --- |
| | | | 01 | 02 | 03 | 04 |
| 05 | 06 | 07 | 08 | 09 | 10 | 11 |
| 12 | 13 | 14 | 15 | 16 | 17 | 18 |
| 19 | 20 | 21 | 22 | 23 | 24 | 25 |
| 26 | 27 | 28 | | | | |
March 2023

| S | M | T | W | T | F | S |
| --- | --- | --- | --- | --- | --- | --- |
| | | | 01 | 02 | 03 | 04 |
| 05 | 06 | 07 | 08 | 09 | 10 | 11 |
| 12 | 13 | 14 | 15 | 16 | 17 | 18 |
| 19 | 20 | 21 | 22 | 23 | 24 | 25 |
| 26 | 27 | 28 | 29 | 30 | 31 | |
April 2023
S
M
T
W
T
F
S
01
02
03
04
05

$200

06

$225

07

$225

08

$225

09

$215

10

$200

11

$210

12

$195

13

$200

14

$210

15

$210

16

$200

17

$125

18

$130

19

$125

20

$125

21

$145

22

$150

23

$125

24

$125

25

$125

26

$125

27

$130

28

$150

29

$155

30

$125
May 2023
S
M
T
W
T
F
S
01

$125

02

$125

03

$130

04

$140

05

$160

06

$165

07

$135

08

$135

09

$135

10

$140

11

$150

12

$170

13

$185

14

$155

15

$160

16

$160

17

$165

18

$355

19

$375

20

$395

21

$365

22

$190

23

$190

24

$190

25

$200

26

$300

27

$320

28

$290

29

$295

30

$220

31

$225
June 2023
S
M
T
W
T
F
S
01

$235

02

$255

03
04
05
06
07
08
09

$270

10

$275

11

$265

12

$270

13

$275

14

$275

15

$280

16

$275

17

$280

18

$285

19

$295

20

$295

21

$280

22

$285

23

$280

24

$285

25

$275

26

$280

27

$285

28

$280

29

$300

30

$300
July 2023
S
M
T
W
T
F
S
01

$300

02

$295

03

$300

04

$300

05

$305

06

$305

07

$305

08

$295

09

$290

10

$295

11

$295

12

$295

13

$300

14

$295

15

$300

16

$290

17

$305

18

$305

19

$305

20

$305

21

$300

22

$305

23

$295

24

$305

25

$305

26

$305

27

$305

28

$305

29

$300

30

$290

31

$295
August 2023
S
M
T
W
T
F
S
01

$290

02

$290

03

$295

04

$290

05

$285

06

$265

07

$265

08

$260

09

$260

10

$260

11

$265

12

$250

13

$225

14

$220

15

$210

16

$210

17

$220

18

$220

19

$210

20

$180

21

$175

22

$170

23

$170

24

$180

25

$185

26

$180

27

$155

28

$145

29

$145

30

$145

31

$155
September 2023
S
M
T
W
T
F
S
01

$240

02

$240

03

$220

04

$210

05

$135

06

$135

07

$150

08

$160

09

$165

10

$145

11

$140

12

$135

13

$135

14

$145

15

$155

16

$160

17

$140

18

$135

19

$130

20

$130

21

$140

22

$150

23

$155

24

$135

25

$130

26

$130

27

$130

28

$140

29

$155

30

$155
October 2023
S
M
T
W
T
F
S
01

$140

02

$130

03

$130

04

$140

05

$155

06

$275

07

$270

08

$245

09

$240

10

$130

11

$130

12

$140

13

$150

14

$140

15

$125

16

$125

17

$125

18

$125

19

$125

20

$125

21

$125

22

$125

23

$125

24

$125

25

$125

26

$125

27

$125

28

$125

29

$125

30

$125

31

$125