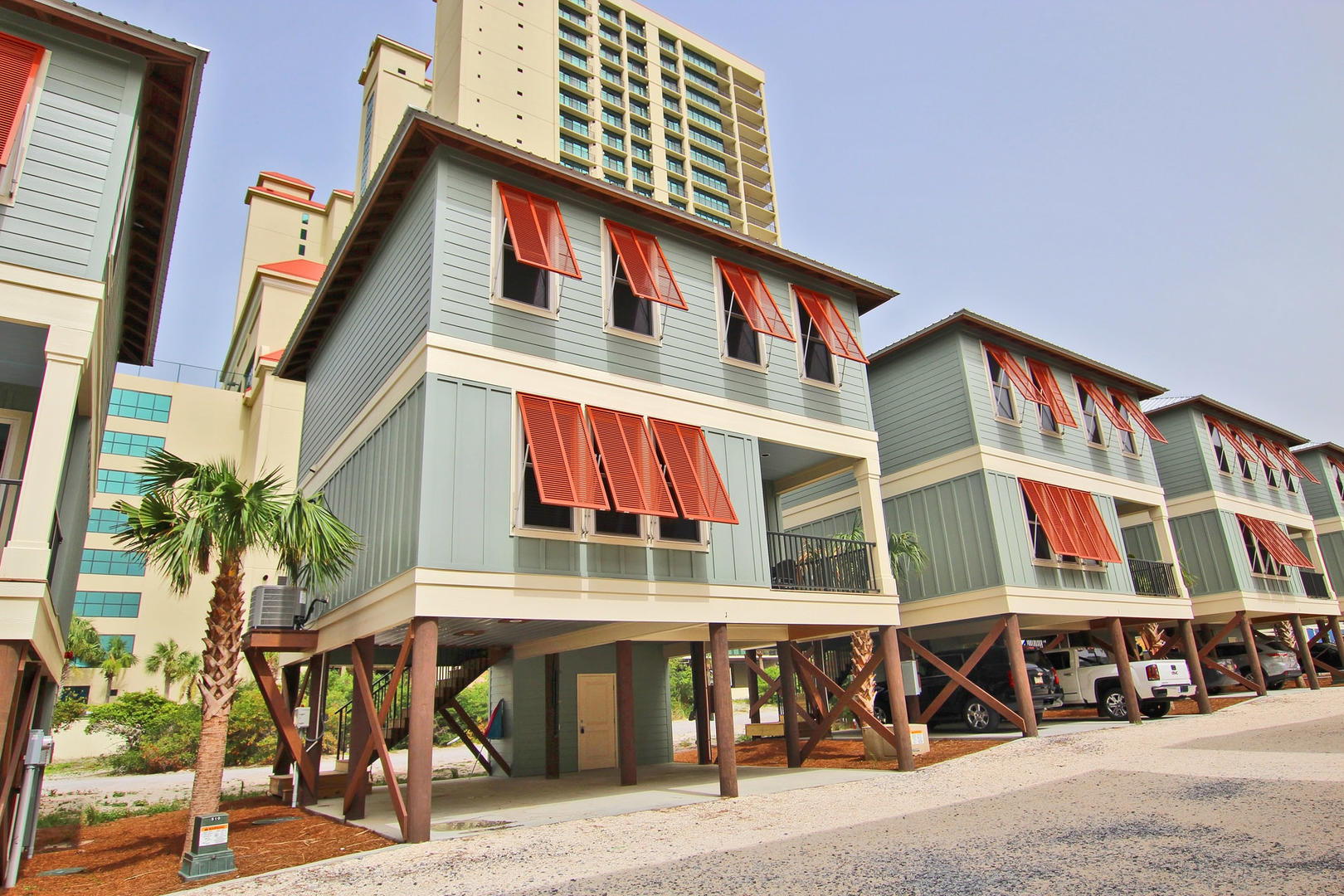 Step into paradise at the Cottages of Hammock Dunes in Orange Beach. This beautifully new constructed property has everything you need for the ultimate beach getaway. Hammock Dunes J is a 2-bedroom 3-bathroom beach house that comfortably sleeps up to 6 people. The living area provides a coastal atmosphere with brand new furniture and as well as a flat screen television. The modern kitchen has brand new stainless steal appliances with a breakfast bar that seats four people, as well as a dining area that also seats four people. There is a full bathroom downstairs with a tub / shower combination.

The master bedroom features brand new bedroom furniture, as well as a comfortable beach themed decor. The private master bathroom has a walk-in shower. The second bedroom has two queen sized beds and a private bath with a tub shower combination. Both bedrooms have brand new flat screen televisions.

Hammock Dunes J has balconies that will allow you to feel the Bama breeze from the Gulf of Mexico and is situated within a private community in Orange Beach. This property has a full-sized washer and dryer, as well as private parking. There is a shared community pool and private beach access.
This property is non-smoking. You must be 25 years of age or older to rent.

This property is pet friendly for one (1) dog only, with a size restriction up to 25 lbs. If applicable, the pet fee is $150.00 in addition to the reserved price of the property.

Bedding:
Master- King
Bedroom 1- 2 Queens


23916 Perdido Beach Blvd. Orange Beach, Alabama

Area : Orange Beach
Sleep Cap : 6
Bedrooms : 2.00
Internet Type : Free Unit WiFi
Square Ft. :
Master Bedroom : King
Building Orientation : Gulf Side
Guest Bedroom 1 : 2 Queens
ilink : ilink Booking
Balcony View : Indirect Gulf View
Number Bathrooms : 3.0
Complex : House
TV - Unit : 3
Number of Beds : 3
Pool - Outdoor : Yes
Parking Limit : 2 Vehicles
Rental Type : House
Sleeps : 6
Age Requirement : 25
Long Term : No
Pet Policy : Pet Friendly
Pet Restriction : Dog under 25lbs
Parking - Guest Purchase :
Thank you for submitting your review. It will be processed shortly!
We are sorry, there are no reviews for this unit. Be the first to leave a review!
October 2022
S
M
T
W
T
F
S
01
02
03

$190

04
05
06
07
08

$210

09

$250

10
11
12
13
14
15
16
17

$190

18

$190

19

$190

20

$190

21

$190

22

$190

23

$190

24

$190

25

$190

26

$190

27

$190

28

$190

29

$190

30

$190

31

$190
November 2022
S
M
T
W
T
F
S
01

$190

02

$190

03

$190

04

$190

05

$190

06

$190

07

$190

08

$190

09

$190

10

$190

11

$190

12

$190

13

$190

14

$190

15

$190

16

$190

17

$190

18

$190

19

$190

20

$190

21

$240

22

$240

23

$250

24

$260

25
26
27

$235

28

$190

29

$190

30

$190
December 2022
S
M
T
W
T
F
S
01

$190

02

$190

03

$190

04

$190

05

$190

06

$190

07

$190

08

$190

09

$190

10

$190

11

$190

12

$190

13

$190

14

$190

15

$190

16

$190

17

$190

18

$190

19

$190

20

$190

21

$190

22

$190

23

$230

24

$240

25

$245

26

$255

27

$265

28

$295

29

$300

30

$310

31

$305
January 2023
S
M
T
W
T
F
S
01

$310

02
03
04
05
06
07
08
09
10
11
12
13
14
15
16
17
18
19
20
21
22
23
24
25
26
27
28
29
30
31
February 2023

| S | M | T | W | T | F | S |
| --- | --- | --- | --- | --- | --- | --- |
| | | | 01 | 02 | 03 | 04 |
| 05 | 06 | 07 | 08 | 09 | 10 | 11 |
| 12 | 13 | 14 | 15 | 16 | 17 | 18 |
| 19 | 20 | 21 | 22 | 23 | 24 | 25 |
| 26 | 27 | 28 | | | | |
March 2023
S
M
T
W
T
F
S
01

$220

02

$240

03

$255

04

$290

05

$290

06

$235

07

$240

08

$250

09

$240

10

$335

11

$345

12

$340

13

$325

14

$330

15

$330

16

$325

17

$335

18

$320

19

$325

20

$320

21

$325

22

$325

23

$320

24

$325

25

$340

26

$345

27

$350

28

$355

29

$360

30

$355

31

$365
April 2023
S
M
T
W
T
F
S
01

$380

02

$385

03

$385

04

$395

05

$390

06

$425

07

$425

08

$420

09

$405

10

$390

11

$390

12

$375

13

$375

14

$390

15

$375

16

$350

17

$225

18

$235

19

$235

20

$260

21

$290

22

$280

23

$240

24

$225

25

$230

26

$235

27

$265

28

$300

29

$290

30

$245
May 2023
S
M
T
W
T
F
S
01

$230

02

$230

03

$245

04

$280

05
06
07
08
09
10
11
12
13

$325

14

$290

15

$285

16

$280

17

$295

18

$550

19

$590

20

$600

21

$575

22

$355

23

$345

24

$355

25

$390

26

$565

27

$575

28

$555

29

$555

30

$410

31

$420
June 2023
S
M
T
W
T
F
S
01

$445

02

$470

03

$480

04

$460

05

$465

06

$470

07

$480

08

$500

09

$505

10

$510

11

$495

12

$500

13

$510

14

$515

15

$535

16

$530

17

$525

18

$525

19

$535

20

$540

21

$530

22

$545

23

$540

24

$535

25

$520

26

$530

27

$530

28

$540

29

$585

30

$580
July 2023
S
M
T
W
T
F
S
01

$575

02

$560

03

$570

04

$565

05

$575

06

$585

07

$585

08

$555

09

$540

10

$545

11

$535

12

$540

13

$550

14

$545

15

$540

16

$515

17

$530

18

$530

19

$540

20

$550

21

$550

22

$545

23

$520

24

$530

25

$530

26

$535

27

$550

28

$550

29

$530

30

$500

31

$500
August 2023
S
M
T
W
T
F
S
01

$500

02

$500

03

$515

04

$515

05

$500

06

$460

07

$445

08

$445

09

$440

10

$455

11

$455

12

$435

13

$380

14

$360

15

$350

16

$350

17

$370

18

$375

19

$355

20

$295

21

$280

22

$265

23

$270

24
25
26
27
28

$220

29

$215

30

$220

31

$255
September 2023
S
M
T
W
T
F
S
01

$470

02

$475

03

$425

04

$415

05

$215

06

$215

07

$245

08

$270

09

$275

10

$225

11

$220

12

$215

13

$215

14

$250

15

$270

16

$280

17

$225

18

$220

19

$215

20

$215

21

$240

22

$265

23

$265

24

$215

25

$215

26

$215

27

$215

28

$235

29

$260

30

$260
October 2023
S
M
T
W
T
F
S
01

$220

02

$215

03

$215

04

$225

05

$255

06

$485

07

$480

08

$445

09

$430

10

$215

11

$225

12

$250

13

$260

14

$250

15

$215

16

$215

17

$215

18

$215

19

$220

20

$225

21

$215

22

$215

23

$215

24

$215

25

$215

26

$215

27

$215

28

$215

29

$215

30

$215

31

$215