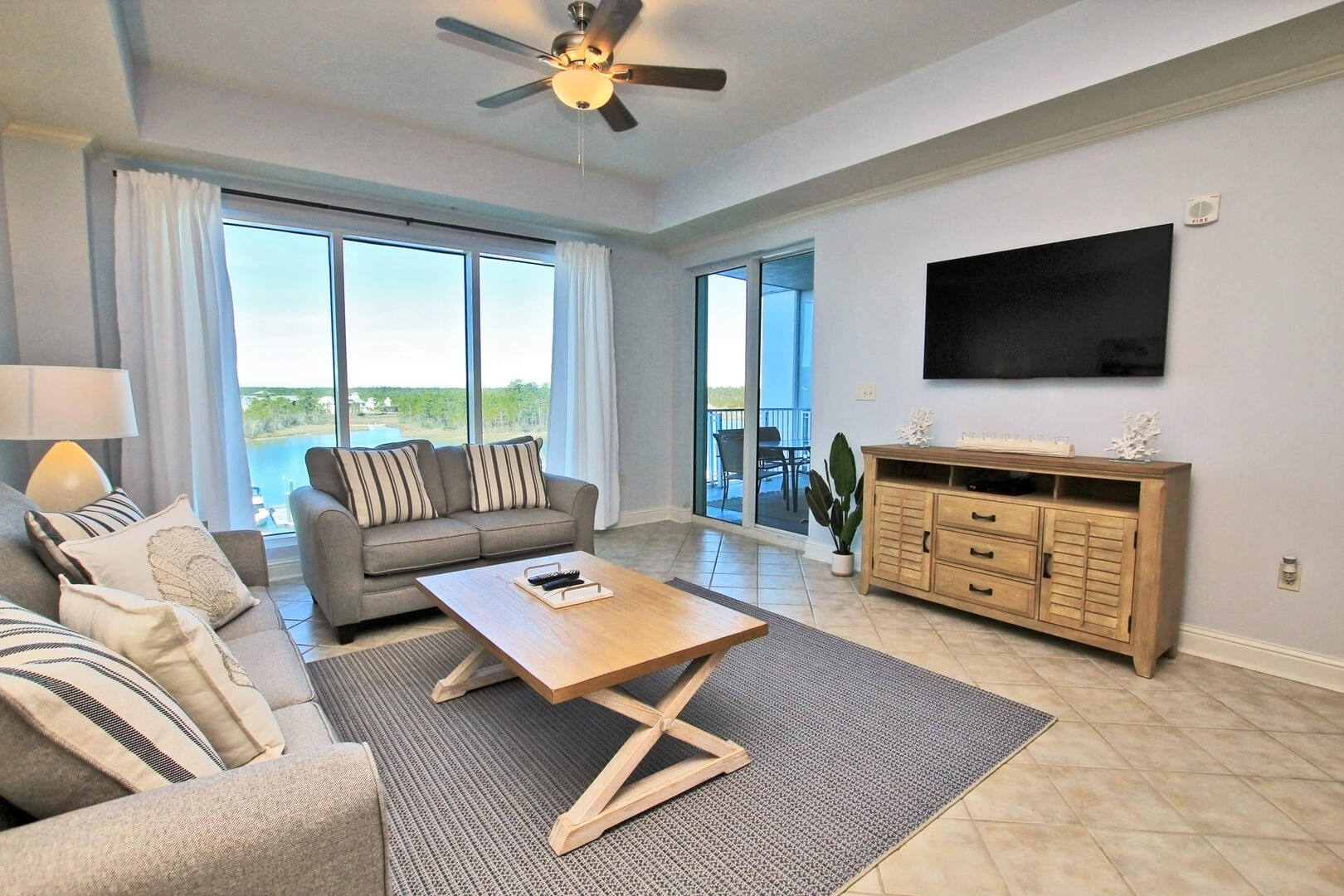 During the month of October there will be ongoing painting and balcony resurfacing projects. Entry doors may be required to be left open as fresh paint is drying and workers may be present on balconies.

Step into paradise when you open the door to Wharf 412. A magnificent display of coastal living at its best can be found in this 2-bedroom, 2-bathroom vacation rental. Located on the 4th floor of the much-desired Levin?s Bend condominiums at the Wharf in Orange Beach, relaxation is guaranteed. The spacious living room and kitchen provides more than great views. Spend hours over-looking the intracoastal waterway and Wharf Marina from the private balcony while grilling a fresh-caught meal on the gas grill. The comfort of the living room will make you feel right at home with the luxury of a flat screen TV and free in unit WIFI. The freshly painted kitchen features stainless steel appliances, granite counter tops, and under the counter ice-maker is fully equipped with everything you need to create culinary masterpieces.

After a busy day exploring, find serenity in the cozy master bedroom. The king size bed with a brand-new mattress will give sweet dreams of days spent with your toes in the sand. Watch the vibrant colors of the sun rise from the sliding glass doors leading to the balcony all while sipping your coffee in bed. The master bathroom has a large counter space with his and hers sinks, as well as a jetted tub and tiled walk in shower. The guest bedroom has 2 full size beds and a brand-new flat screen television. The shared guest bathroom has large counter space and a bathtub and shower combination. There is a queen size sleeper sofa in the living room which allows Wharf 412 to comfortably sleep up to 8 people.

A vacation at Levin's Bend includes on-site dining, shopping & attractions of the Wharf & Marina. Enjoy awe-inspiring sunset views, watch as boats pass & dock at leisure on the Intracoastal Waterway, from the spacious balcony of your condo while using the on-deck gas grill. This 9 story, 190 unit waterfront complex features premium furnishings, appliances such as a gas stove, washer/dryer, beautiful tile flooring & well-appointed architectural details in each amazing property. While on property, ride a tram to the Oasis hosting an outdoor pool, lazy river, cabana & hammocks under the palms. This beautiful 4th floor 1334 sq. ft. property includes WIFI access.

You must be 25 years of age or older to reserve this unit. This is a non-smoking property and no pets are permitted. Monthly rates available December thru March 1st.

Bedding:
Master- King
Bedroom 2- 2 Full Size
Living Room- Sofa Sleeper Queen

4851 Wharf Pkwy, Orange Beach, AL


The Oasis Pool is conveniently located 0.42 miles from the condominiums.
The amenity cards located inside your condo are required for entry to the Oasis Pool & Grill areas. There will be a guard on duty from 10 a.m. to 6 p.m. daily.

Oasis Access Guidelines
Internal Operation
9:00 a.m. – 8:00 p.m.
General Rules
Conduct at the pools must be such as to furnish the greatest pleasure for the greatest number. The staff servicing the pool has complete authority to enforce all swimming pool regulations. The Cooperation of ALL members is required.
Except as set forth below, The Oasis is not open to the public. All enterers must be accompanied by an owner, guest, or leaseholder. Owners, guest and Renters must have appropriate entry system to be allowed in the Oasis area.
• Use of the pool facilities is at the swimmer's own risk.
• Children under fourteen (14) years of age are permitted to use the pool facilities only if accompanied and supervised by an adult.
• No one under the age of thirteen (13) years of age is permitted to use the spa facilities at all.
• Saving of chairs or tubes for persons absent from the pool areas is not permitted.
• Tubes must be returned to the rack after each use.
• No oversized floats are allowed
• No boogie boards or large rafts allowed or Beach Balls allowed. It is a safety hazard
• No food or beverages may be brought into the pool area by Members or guests.
• Glass objects, drinking glasses, beverage coolers and sharp objects are not permitted in the pool areas.
• Any person having an apparent or known skin disease, sore or inflamed eyes, cough, cold, nasal or ear discharge, or any other communicable disease shall be excluded from the pool area.
• Flotation devices are permitted for non-swimming children up to five (5) years of age. All non-swimming children must be accompanied in the water by their parent or adult guardian. Small toys such as balls, water guns, rings, etc. may be permitted, depending on the number of persons in the pool and the manner in which the toys are used.
• Children wearing diapers must wear rubber pans or swim diapers while in the pool.
• All swimmers must wear bona fide swimming attire. Cutoffs, dungarees and Bermuda's are not considered appropriate swimwear.
• Running, ball playing and noisy or hazardous activity is not permitted in the pool areas. Jumping, diving, pushing, dunking, dangerous games, and climbing on rocks and/or trees are not permitted.
• The throwing of balls, Frisbees, wet clothes, etc. is not permitted.
• Radios may only be used at a low volume or with earphones.
• All persons using the pool areas are urged to cooperate in keeping the area clean by properly disposing of trash, food, or cans, etc.
No alcoholic beverages are allowed in the Oasis area per the ABC Board. This is an entertainment district and fines can be delivered.
Persons entering the pool after closing time will be trespassing and subject to arrest.

Unit Location : Close to Elevator
Area : Orange Beach
Sleep Cap : 8
Bedrooms : 2.00
Internet Type : Free Unit WiFi
Square Ft. : 1334
Master Bedroom : King
Building Orientation : Inland
Guest Bedroom 1 : 2 Full
ilink : ilink Booking
Balcony View : Waterfront
Number Bathrooms : 2.0
Complex : Wharf
TV - Unit : 3
Number of Beds : 3
Balcony Grill : Yes
Pool - Outdoor : Yes
Pool - Childrens : Yes
Jacuzzi : Yes
Fitness Room : Yes
Pool - Outdoor Lazy River : Yes
Pool - Outdoor Slides : Yes
BBQ Grills : Yes
Elevator : Yes
Parking Limit : 2 Vehicles
Rental Type : Condo
Sleeps : 8
Age Requirement : 25
Long Term : No
Pet Policy : No Pets
Pet Restriction : No Pets
Parking - Guest Purchase :
Thank you for submitting your review. It will be processed shortly!
We are sorry, there are no reviews for this unit. Be the first to leave a review!
October 2022
S
M
T
W
T
F
S
01
02
03
04

$140

05

$140

06

$145

07

$160

08

$200

09

$185

10

$175

11

$150

12

$140

13

$150

14

$160

15

$155

16

$145

17

$140

18

$140

19

$140

20

$140

21

$140

22

$140

23

$140

24

$140

25

$140

26

$140

27

$140

28

$140

29

$140

30

$140

31

$140
November 2022
S
M
T
W
T
F
S
01

$140

02

$140

03

$140

04

$140

05

$140

06

$140

07

$140

08

$140

09

$140

10

$140

11

$140

12

$140

13

$140

14

$140

15

$140

16

$140

17

$140

18

$140

19

$140

20

$140

21

$175

22

$175

23

$175

24

$180

25

$190

26

$185

27

$180

28

$140

29

$140

30

$140
December 2022
S
M
T
W
T
F
S
01

$140

02

$140

03

$140

04

$140

05

$140

06

$140

07

$140

08

$140

09

$140

10

$140

11

$140

12

$140

13

$140

14

$140

15

$140

16

$140

17

$140

18

$140

19

$140

20

$145

21

$145

22

$150

23

$200

24

$205

25

$205

26

$215

27

$220

28

$245

29

$250

30

$265

31

$260
January 2023
S
M
T
W
T
F
S
01

$265

02
03
04
05
06
07
08
09
10
11
12
13
14
15
16
17
18
19
20
21
22
23
24
25
26
27
28
29
30
31
February 2023

| S | M | T | W | T | F | S |
| --- | --- | --- | --- | --- | --- | --- |
| | | | 01 | 02 | 03 | 04 |
| 05 | 06 | 07 | 08 | 09 | 10 | 11 |
| 12 | 13 | 14 | 15 | 16 | 17 | 18 |
| 19 | 20 | 21 | 22 | 23 | 24 | 25 |
| 26 | 27 | 28 | | | | |
March 2023
S
M
T
W
T
F
S
01

$185

02

$205

03

$225

04

$235

05

$220

06

$205

07

$205

08

$210

09

$210

10

$300

11

$310

12

$290

13

$280

14

$280

15

$285

16

$285

17

$310

18

$300

19

$285

20

$280

21

$285

22

$290

23

$290

24

$310

25

$325

26

$320

27

$310

28

$315

29

$315

30

$320

31

$335
April 2023
S
M
T
W
T
F
S
01

$340

02

$330

03

$325

04

$320

05

$310

06

$335

07

$345

08

$335

09

$320

10

$310

11

$305

12

$295

13

$295

14

$315

15
16

$290

17

$195

18

$195

19

$195

20

$200

21

$225

22

$215

23

$200

24
25
26
27
28
29
30

$205
May 2023
S
M
T
W
T
F
S
01

$200

02

$205

03

$205

04

$215

05

$240

06

$250

07

$225

08

$220

09

$220

10

$225

11

$235

12

$260

13

$270

14

$250

15

$250

16

$250

17

$260

18

$405

19

$430

20

$450

21

$425

22

$295

23

$295

24

$305

25

$320

26

$465

27

$485

28

$465

29

$460

30

$340

31

$350
June 2023
S
M
T
W
T
F
S
01

$365

02

$390

03

$400

04

$385

05

$380

06

$385

07

$390

08

$405

09

$420

10

$425

11

$410

12

$405

13

$415

14

$420

15

$460

16

$485

17

$495

18

$465

19

$465

20

$475

21

$430

22

$435

23

$440

24

$440

25

$430

26

$435

27

$440

28

$445

29

$525

30

$530
July 2023
S
M
T
W
T
F
S
01

$535

02

$525

03

$530

04

$530

05

$540

06

$540

07

$545

08

$485

09

$470

10

$470

11

$470

12

$475

13

$475

14

$475

15

$475

16

$460

17

$465

18

$465

19

$470

20

$480

21

$485

22

$485

23

$465

24

$465

25

$470

26

$465

27

$470

28

$475

29

$465

30

$440

31

$435
August 2023
S
M
T
W
T
F
S
01

$435

02

$435

03

$435

04

$435

05

$425

06

$400

07

$390

08

$385

09

$380

10

$370

11

$370

12

$360

13

$330

14

$315

15

$305

16

$300

17

$295

18

$295

19

$290

20

$260

21

$245

22

$235

23

$230

24

$230

25

$235

26

$230

27

$205

28

$195

29

$195

30

$195

31

$200
September 2023
S
M
T
W
T
F
S
01

$305

02

$310

03

$295

04

$285

05

$195

06

$190

07

$195

08

$205

09

$250

10

$235

11

$195

12

$195

13

$195

14

$195

15

$210

16

$215

17

$200

18

$195

19

$195

20

$190

21

$190

22

$205

23

$205

24

$190

25

$185

26

$185

27

$180

28

$185

29

$205

30

$205
October 2023
S
M
T
W
T
F
S
01

$195

02

$185

03

$190

04

$190

05

$200

06

$250

07

$250

08

$235

09

$225

10

$190

11

$185

12

$195

13

$205

14

$205

15

$190

16

$180

17

$175

18

$165

19

$170

20

$180

21

$175

22

$160

23

$155

24

$155

25

$155

26

$155

27

$155

28

$155

29

$155

30

$155

31

$155