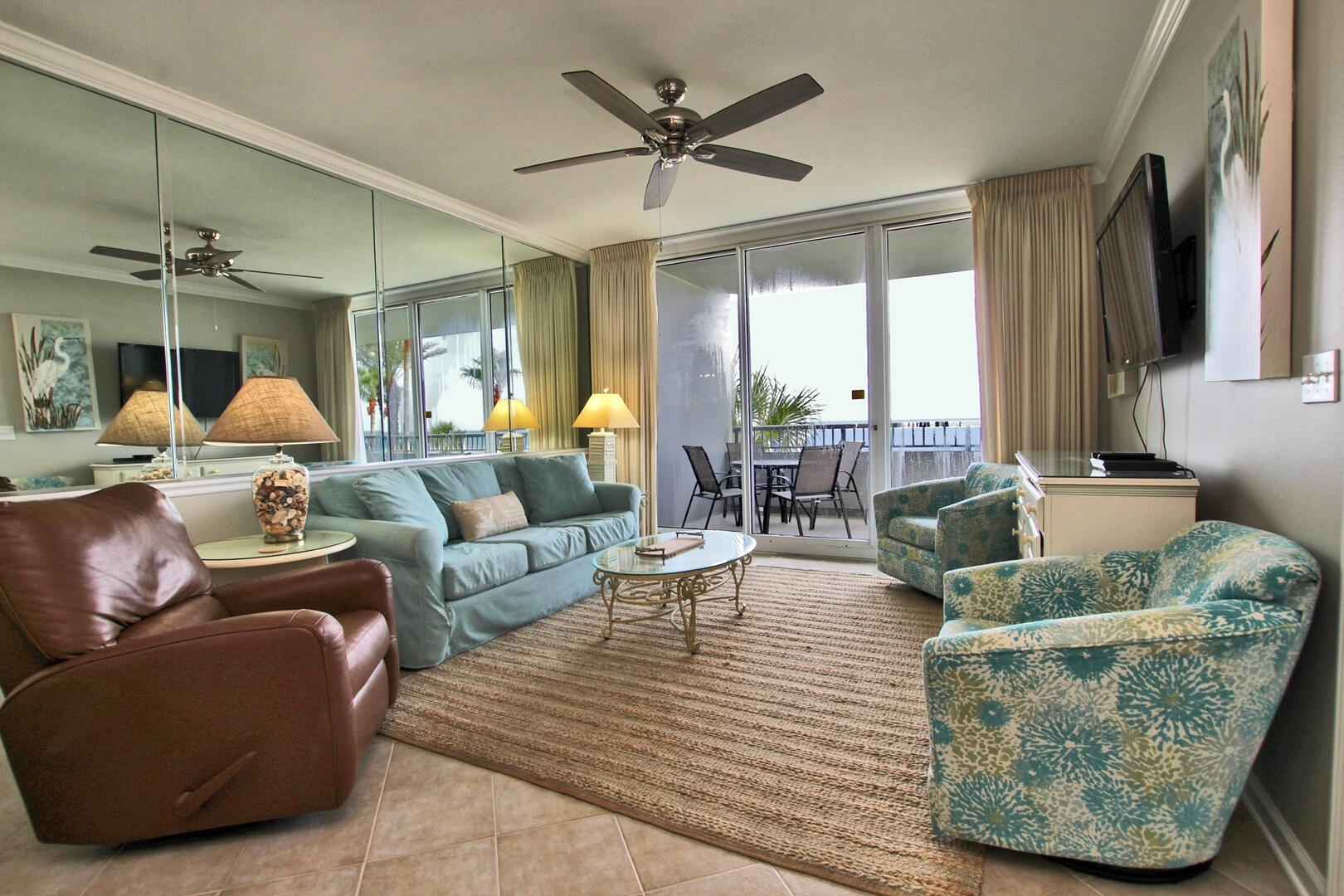 The Beach Club has so much to offer with so many things to do you will never want to leave. Right in front of your Beach Club Avalon building, enjoy a spacious outdoor swimming pool. Just to the north of the Avalon building is the entry to The Beach Club walking trail. This beautiful trail winds through the Cottages of Beach Club where you can spot all kinds of natural wildlife! The Clubhouse at The Beach Club allows you to take advantage of every luxury this resort has to offer. Right through the beautiful Clubhouse doors, you are greeted with the entrance to The Spa at The Beach Club where you can pamper yourself with every spa and salon treatment imaginable or relax with a variety of massage options. Upstairs, you will find Coast Restaurant which features fresh seafood dishes, amazing drink menus, and beautiful views when you choose to dine outside on the Clubhouse veranda. Downstairs in the exclusive membership area of the Clubhouse, you'll have the option to purchase passes to enjoy the indoor swimming pool, the state-of-the-art fitness center, and have fun with both kids and adults in the game and arcade room. The largest outdoor swimming pool on property is in front of the Clubhouse, with cabanas available for rentals and the Gulfside Bar and Grill, which is open seasonally, just steps away. Get the whole family involved in any of the dozens of fun activities available through the Clubhouse!

On the north Clubhouse lawn, you'll find Sand Island, which is where all the fun begins! Play a game of chess or checkers on the giant lawn set, get a team together for a volleyball match or a game of cornhole. You can even feed a crowd when you choose to grill at any of the four charcoal grills located on Sand Island. There's plenty of seating options with nearby picnic tables.

Rent basketball or shuffleboard equipment from the Clubhouse and challenge some friends to a game on the courts. Play a few tennis matches on any of the 8 lighted rubico clay tennis courts.

For a family-fun dining atmosphere, enjoy some pizza or wings at The Village Hideaway and then play 9 holes at your dream golf course on the HD golf simulator, try your luck at a game of billiards, or enjoy the arcade games. Looking for something different? During the spring and summer seasons, enjoy a variety of cuisines on The Village Lawn with food trucks, live music, and fun family activities. When you need to cool off in the middle of the day, treat yourself to one of 16 ice cream flavors at The Village Creamery! When you've finished your cone, browse the latest swimwear, or grab some souvenirs to take home from The Village Mercantile.

The Beach Club is situated along 500 yards of private white sand beaches, where you can reconnect with yourself, your family, and nature.

The primary renter of this condo must be 25 years of age or older and be present during the duration of the stay. This is a non-smoking property, and no pets are permitted.

Bedding:
Primary- King
Bedroom 2- Queen
Bedroom 3- 2 Twins


375 Beach Club Trail, Building B. Gulf Shores, AL
Unit Location : Center
Area : Fort Morgan
Sleep Cap : 6
Bedrooms : 3.00
Internet Type : Free Public WiFi
Square Ft. : 1610
Master Bedroom : King
Building Orientation : Gulf Side
Guest Bedroom 1 : Queen
Guest Bedroom 2 : 2 Twins
ilink : ilink Booking
Balcony View : Gulf Front
Number Bathrooms : 3.0
Complex : Beach Club
TV - Unit : 4
Number of Beds : 4
Pool - Outdoor : Yes
Pool - Indoor Heated : Yes
Jacuzzi : Yes
Fitness Room : Yes
Sauna : Yes
BBQ Grills : Yes
Elevator : Yes
Parking Limit : 2 Vehicles
Rental Type : Condo
Sleeps : 8
Age Requirement : 25
Long Term : No
Pet Policy : No Pets
Pet Restriction : No Pets
Parking - Guest Purchase :
Thank you for submitting your review. It will be processed shortly!
September 9, 2022 - Website
The perfect getaway!
by Sara S
We loved our stay here over Labor Day weekend! The resort is beautiful and the condo is perfection! Not one complaint!
October 2022
S
M
T
W
T
F
S
01
02
03

$200

04
05
06
07
08
09
10
11
12
13
14
15

$285

16

$220

17

$210

18

$200

19

$205

20

$225

21

$250

22

$255

23

$200

24

$200

25

$200

26

$200

27

$205

28

$235

29

$215

30

$200

31

$200
November 2022
S
M
T
W
T
F
S
01

$200

02
03
04
05
06
07
08
09
10
11
12
13

$200

14

$200

15

$200

16

$200

17

$200

18

$200

19

$200

20

$200

21

$285

22

$295

23

$295

24

$305

25

$310

26

$310

27

$295

28

$200

29

$200

30

$200
December 2022
S
M
T
W
T
F
S
01

$200

02
03
04
05
06
07
08
09
10
11
12
13
14
15

$200

16

$200

17

$200

18

$200

19

$200

20

$215

21

$220

22

$225

23

$325

24

$325

25

$340

26

$345

27

$340

28

$380

29

$395

30

$435

31

$425
January 2023
S
M
T
W
T
F
S
01

$445

02
03
04
05
06
07
08
09
10
11
12
13
14
15

$255

16

$245

17

$210

18

$215

19

$220

20

$235

21

$240

22

$225

23

$215

24

$210

25

$215

26

$215

27

$220

28

$220

29

$215

30

$210

31

$210
February 2023
S
M
T
W
T
F
S
01

$220

02
03
04
05
06
07
08
09
10
11
12
13
14
15

$260

16

$310

17

$325

18

$330

19

$335

20

$335

21

$280

22

$315

23

$280

24

$290

25

$290

26

$285

27

$280

28

$280
March 2023
S
M
T
W
T
F
S
01

$280

02
03
04
05
06
07
08
09
10
11
12
13
14
15

$460

16

$460

17

$490

18

$465

19

$450

20

$480

21

$485

22

$470

23

$470

24

$480

25

$490

26

$470

27

$505

28

$500

29

$480

30

$485

31

$495
April 2023
S
M
T
W
T
F
S
01

$525

02
03
04
05
06
07
08
09
10
11
12
13
14
15

$560

16

$460

17

$325

18

$315

19

$310

20

$300

21

$360

22

$385

23

$300

24

$315

25

$320

26

$300

27

$300

28

$365

29

$375

30

$310
May 2023
S
M
T
W
T
F
S
01

$320

02
03
04
05
06
07
08
09
10
11
12
13
14
15

$355

16

$365

17

$380

18

$720

19

$760

20

$775

21

$755

22

$465

23

$480

24

$495

25

$565

26

$745

27

$765

28

$735

29

$765

30

$630

31

$590
June 2023
S
M
T
W
T
F
S
01

$600

02

$610

03

$625

04

$590

05

$625

06

$635

07

$640

08

$650

09

$655

10

$665

11

$640

12

$670

13

$675

14

$725

15

$735

16

$730

17

$685

18

$720

19

$740

20

$745

21

$690

22

$680

23

$675

24

$675

25

$660

26

$670

27

$670

28

$665

29

$695

30

$700
July 2023
S
M
T
W
T
F
S
01

$700

02

$705

03

$710

04

$715

05

$705

06

$710

07

$720

08

$700

09

$700

10

$705

11

$715

12

$725

13

$730

14

$735

15

$740

16

$740

17

$745

18

$745

19

$745

20

$745

21

$745

22

$745

23

$735

24

$745

25

$735

26

$730

27

$725

28

$720

29

$715

30

$690

31

$705
August 2023
S
M
T
W
T
F
S
01

$690

02

$685

03

$685

04

$685

05

$680

06

$645

07

$660

08

$635

09

$635

10

$630

11

$655

12

$625

13

$570

14

$565

15

$535

16

$535

17

$540

18

$570

19

$535

20

$465

21

$435

22

$415

23

$415

24

$430

25

$460

26

$430

27

$360

28

$325

29

$320

30

$325

31

$365
September 2023
S
M
T
W
T
F
S
01

$620

02

$615

03

$550

04

$510

05

$305

06

$305

07

$355

08

$400

09

$405

10

$335

11

$310

12

$310

13

$310

14

$355

15

$390

16

$400

17

$330

18

$300

19

$295

20

$295

21

$325

22

$355

23

$370

24

$305

25

$285

26

$290

27

$300

28

$320

29

$355

30

$375
October 2023
S
M
T
W
T
F
S
01

$305

02

$295

03

$295

04

$300

05

$330

06

$520

07

$540

08

$460

09

$455

10

$300

11

$310

12

$340

13

$375

14

$370

15

$285

16

$270

17

$265

18

$270

19

$295

20

$325

21

$305

22

$235

23

$225

24

$225

25

$225

26

$245

27

$280

28

$260

29

$225

30

$225

31

$225