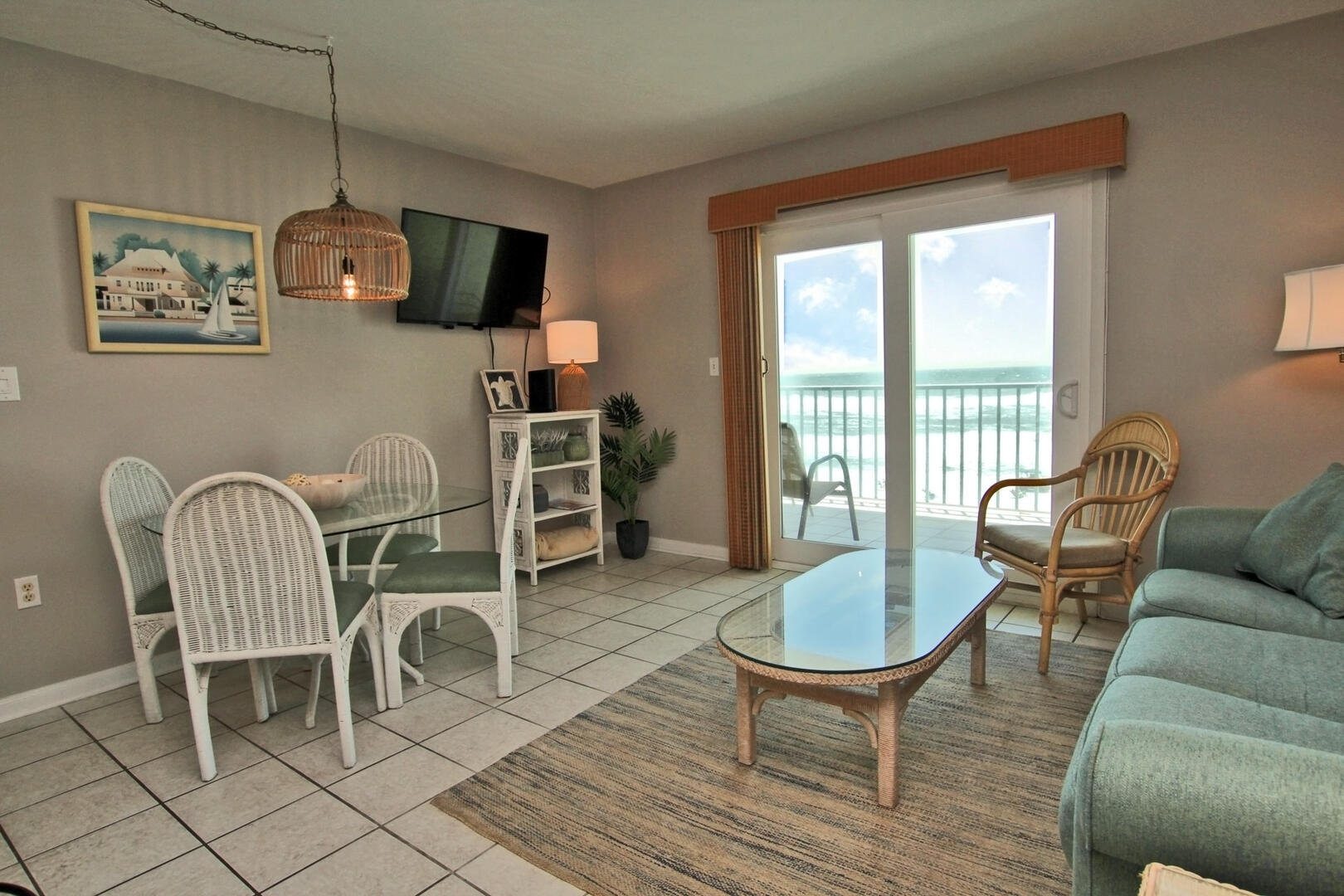 Seacrest is your dream destination for a traditional beach vacation. With 60+ units, this 9 story complex is the landing point for all your vacation activities. Close to shopping, dining and the many beach activities you love, Seacrest is your home base for fun! This privately owned East corner condo on the 4th floor boasts 930 sq ft and offers a private balcony accessed from the living room and master bedroom, junior bunk beds in the hallway suitable for children or youth, washer/dryer, free WIFI and a relaxing no worries style. This unit has 1 assigned parking space under the building and the 2nd car would park in the open lot. A 2 car parking limit is strictly enforced. Monthly reservations in this nonsmoking property are available November to March 1st. Reserve your fun at the beach today!
Unit Location : East Corner
Area : Gulf Shores
Sleep Cap : 8
Bedrooms : 2.00
Internet Type : Free Public WiFi
Square Ft. : 930
Master Bedroom : King
Building Orientation : Gulf Side
Guest Bedroom 1 : Queen
ilink : ilink Booking
Balcony View : Gulf Front
Number Bathrooms : 2.0
Complex : Seacrest
TV - Unit : 3
Number of Beds : 4
Pool - Outdoor : Yes
Jacuzzi : Yes
BBQ Grills : Yes
Elevator : Yes
Parking Limit : 2 Vehicles
Rental Type : Condo
Sleeps : 8
Age Requirement : 25
Long Term : No
Pet Policy : No Pets
Pet Restriction : No Pets
Parking - Guest Purchase :
Thank you for submitting your review. It will be processed shortly!
We are sorry, there are no reviews for this unit. Be the first to leave a review!
September 2022
S
M
T
W
T
F
S
01
02
03
04
05
06
07
08
09
10
11
12
13
14
15
16
17
18
19
20
21
22
23
24
25

$140

26
27
28
29
30
October 2022

| S | M | T | W | T | F | S |
| --- | --- | --- | --- | --- | --- | --- |
| | | | | | | 01 |
| 02 | 03 | 04 | 05 | 06 | 07 | 08 |
| 09 | 10 | 11 | 12 | 13 | 14 | 15 |
| 16 | 17 | 18 | 19 | 20 | 21 | 22 |
| 23 | 24 | 25 | 26 | 27 | 28 | 29 |
| 30 | 31 | | | | | |
November 2022
S
M
T
W
T
F
S
01
02
03
04
05
06

$140

07

$140

08
09
10
11
12
13
14
15
16
17
18
19
20
21
22
23
24
25
26
27
28
29
30
December 2022
S
M
T
W
T
F
S
01
02
03
04

$140

05

$140

06

$140

07

$140

08

$140

09

$140

10

$140

11

$140

12

$140

13

$140

14

$140

15

$140

16

$140

17

$140

18

$140

19

$140

20

$175

21

$175

22

$175

23

$200

24

$200

25

$205

26

$205

27

$205

28

$225

29

$225

30

$230

31

$235
January 2023
S
M
T
W
T
F
S
01

$235

02
03
04
05
06
07
08
09
10
11
12
13
14
15
16
17
18
19
20
21
22
23
24
25
26
27
28
29
30
31
February 2023

| S | M | T | W | T | F | S |
| --- | --- | --- | --- | --- | --- | --- |
| | | | 01 | 02 | 03 | 04 |
| 05 | 06 | 07 | 08 | 09 | 10 | 11 |
| 12 | 13 | 14 | 15 | 16 | 17 | 18 |
| 19 | 20 | 21 | 22 | 23 | 24 | 25 |
| 26 | 27 | 28 | | | | |
March 2023
S
M
T
W
T
F
S
01

$215

02

$215

03

$230

04

$240

05

$225

06

$230

07

$230

08

$225

09

$220

10

$295

11

$310

12

$300

13

$295

14

$300

15

$285

16

$285

17

$295

18

$290

19

$280

20

$285

21

$290

22

$275

23

$275

24

$285

25

$305

26

$315

27

$305

28

$325

29

$305

30

$310

31

$325
April 2023
S
M
T
W
T
F
S
01

$335

02

$335

03

$320

04

$330

05

$305

06

$345

07

$345

08

$345

09

$325

10

$305

11

$320

12

$300

13

$300

14

$320

15

$320

16

$300

17

$185

18

$195

19

$190

20

$195

21

$220

22

$225

23

$190

24

$185

25

$190

26

$195

27

$200

28

$230

29

$235

30

$190
May 2023
S
M
T
W
T
F
S
01

$190

02

$190

03

$200

04

$210

05

$240

06

$245

07

$210

08

$210

09

$210

10

$215

11

$230

12

$265

13

$265

14

$240

15

$245

16

$245

17

$255

18

$540

19

$580

20

$575

21

$555

22

$295

23

$295

24

$295

25

$315

26

$465

27

$460

28

$445

29

$460

30

$340

31

$345
June 2023
S
M
T
W
T
F
S
01

$365

02

$390

03

$385

04

$375

05

$415

06

$425

07

$425

08

$425

09

$435

10

$410

11

$400

12

$415

13

$420

14

$415

15

$455

16

$425

17
18
19
20
21

$425

22

$430

23

$430

24

$430

25

$420

26

$430

27

$435

28

$430

29

$460

30

$460
July 2023
S
M
T
W
T
F
S
01

$455

02
03
04
05
06
07
08

$445

09

$445

10

$455

11

$450

12

$455

13

$460

14

$460

15

$455

16

$445

17

$465

18

$460

19

$465

20

$470

21

$470

22

$460

23

$445

24

$465

25

$465

26

$470

27

$470

28

$470

29

$460

30

$440

31

$450
August 2023
S
M
T
W
T
F
S
01

$445

02

$445

03

$445

04

$450

05

$435

06

$405

07

$405

08

$395

09

$395

10

$400

11

$400

12

$380

13

$345

14

$335

15

$325

16

$320

17

$330

18

$335

19

$320

20

$275

21

$270

22

$255

23

$255

24

$270

25

$285

26

$275

27

$235

28

$225

29

$215

30

$215

31

$240
September 2023
S
M
T
W
T
F
S
01

$365

02

$365

03

$330

04

$325

05

$205

06

$210

07

$230

08

$245

09

$245

10

$220

11

$215

12

$200

13

$205

14

$220

15

$235

16

$235

17

$215

18

$205

19

$195

20

$205

21

$215

22

$235

23

$235

24

$210

25

$200

26

$200

27

$210

28

$225

29

$245

30

$240