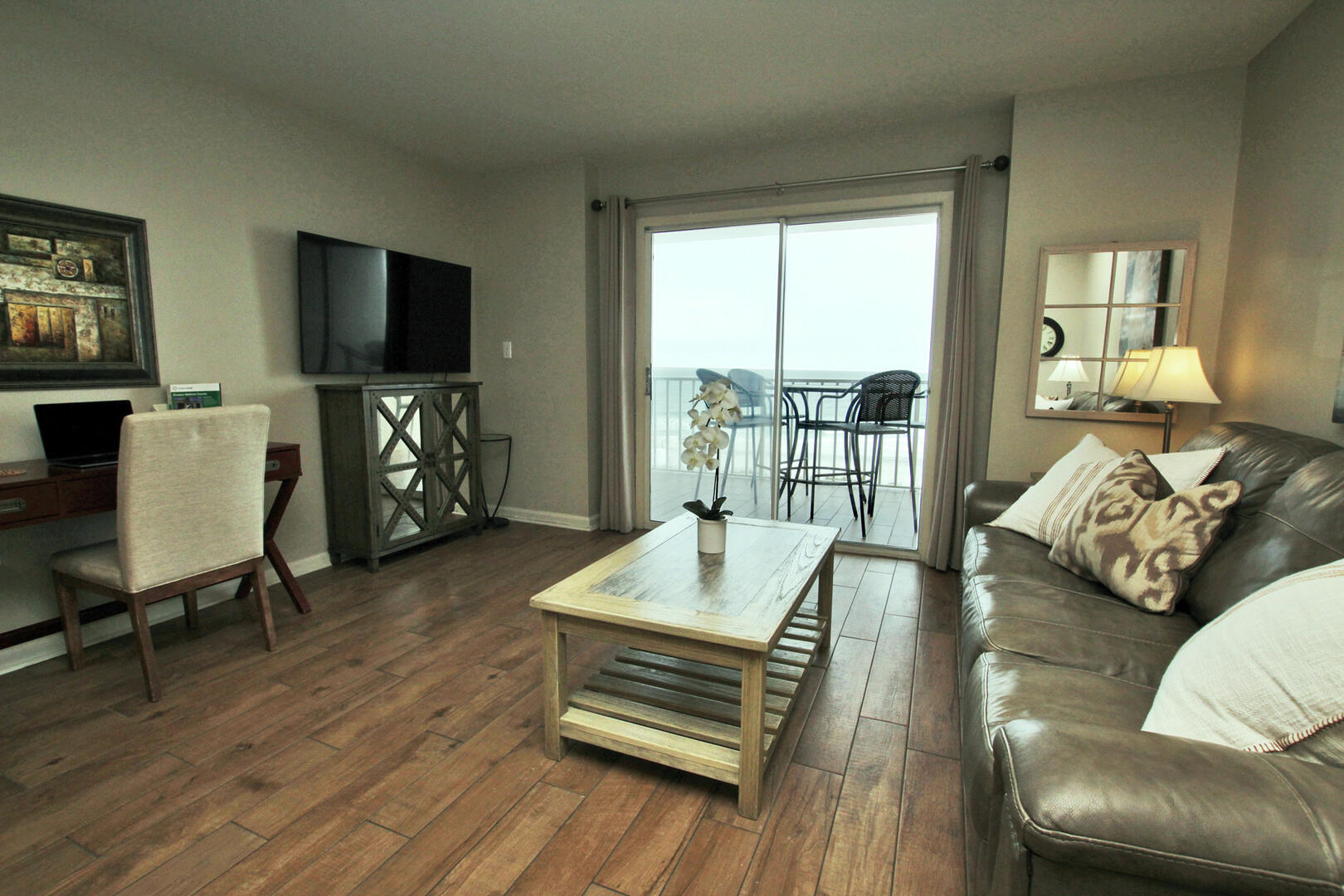 Make the most of your beach vacation in this newly renovated luxury-style condominium located 1.5 miles west of Hwy. 59 in Gulf Shores. You are invited to discover a brand new design and transformation-Gorgeous wood flooring and brand new chic furniture. Guests will love the convenience of the outdoor pool, hot tub and sunning deck. Beach lovers of all ages will be in paradise thanks to the direct access to the white sand beaches of Gulf Shores! Featuring it`s very own Gulf front private balcony, guests can enjoy hours relaxing, simply listening to the beauty of the waves crashing along the shore. This quaint 1 bedroom, 1 bath condo offers guests a great location, perfect for quick travel to area attractions, restaurants and shops!

Bedroom 1: King
Extra Bedding: Child's Bunks in Hall
Living Room: Sleeper Sofa

Unit Location : Close to Elevator
Area : Gulf Shores
Sleep Cap : 6
Bedrooms : 1.00
Internet Type : Free Public WiFi
Square Ft. : 620
Master Bedroom : King
Building Orientation : Gulf Side
ilink : ilink Booking
Balcony View : Gulf Front
Number Bathrooms : 1.0
Complex : Seacrest
TV - Unit : 2
Number of Beds : 3
Pool - Outdoor : Yes
Jacuzzi : Yes
BBQ Grills : Yes
Elevator : Yes
Parking Limit : 1 Vehicle
Rental Type : Condo
Sleeps : 6
Age Requirement : 25
Long Term : No
Pet Policy : No Pets
Pet Restriction : No Pets
Parking - Guest Purchase :
Thank you for submitting your review. It will be processed shortly!
We are sorry, there are no reviews for this unit. Be the first to leave a review!
September 2022
S
M
T
W
T
F
S
01
02
03
04
05
06
07
08
09
10
11
12
13
14
15
16
17
18
19
20
21
22
23
24
25

$120

26
27
28
29
30
October 2022

| S | M | T | W | T | F | S |
| --- | --- | --- | --- | --- | --- | --- |
| | | | | | | 01 |
| 02 | 03 | 04 | 05 | 06 | 07 | 08 |
| 09 | 10 | 11 | 12 | 13 | 14 | 15 |
| 16 | 17 | 18 | 19 | 20 | 21 | 22 |
| 23 | 24 | 25 | 26 | 27 | 28 | 29 |
| 30 | 31 | | | | | |
November 2022
S
M
T
W
T
F
S
01
02
03
04
05
06

$120

07

$120

08
09
10
11
12
13
14
15
16
17
18
19
20
21
22
23
24
25
26
27
28
29
30
December 2022
S
M
T
W
T
F
S
01
02
03
04

$120

05

$120

06

$120

07

$120

08

$120

09

$120

10

$120

11

$120

12

$120

13

$120

14

$120

15

$120

16

$120

17

$120

18

$120

19

$120

20

$140

21

$140

22

$140

23

$165

24

$165

25

$170

26

$170

27

$175

28

$185

29

$190

30

$195

31

$200
January 2023
S
M
T
W
T
F
S
01

$200

02

$200

03

$205

04

$120

05

$120

06

$120

07

$120

08

$120

09

$120

10

$120

11

$120

12

$120

13

$125

14

$130

15

$130

16

$130

17

$120

18

$120

19

$120

20

$125

21

$125

22

$125

23

$120

24

$120

25

$125

26

$125

27

$130

28

$130

29

$125

30

$125

31

$125
February 2023
S
M
T
W
T
F
S
01

$130

02

$130

03

$135

04

$135

05

$130

06

$125

07

$130

08

$135

09

$135

10

$145

11

$145

12

$135

13

$135

14

$135

15

$140

16

$165

17

$175

18

$180

19

$165

20

$165

21

$175

22

$190

23

$190

24

$195

25

$190

26

$170

27

$175

28
March 2023
S
M
T
W
T
F
S
01
02
03
04
05
06
07
08
09
10
11
12

$225

13

$225

14

$225

15

$215

16

$225

17

$230

18

$215

19

$210

20

$210

21

$215

22

$200

23

$210

24

$215

25

$225

26

$235

27

$225

28

$235

29

$225

30

$235

31

$250
April 2023
S
M
T
W
T
F
S
01

$265

02

$260

03

$250

04

$260

05

$240

06

$280

07

$285

08

$295

09

$270

10

$250

11

$260

12

$240

13

$250

14

$265

15

$295

16

$260

17

$165

18

$170

19

$165

20

$170

21

$190

22

$220

23

$175

24

$170

25

$170

26

$165

27

$175

28

$205

29

$225

30

$180
May 2023
S
M
T
W
T
F
S
01

$170

02

$175

03

$170

04

$190

05

$225

06

$235

07

$190

08

$185

09

$185

10

$180

11

$200

12

$240

13

$240

14

$210

15

$205

16

$205

17

$210

18

$455

19

$500

20

$490

21

$470

22

$245

23

$245

24

$250

25

$265

26

$400

27

$390

28

$365

29

$380

30

$285

31

$290
June 2023
S
M
T
W
T
F
S
01

$295

02

$330

03

$310

04

$295

05

$340

06

$345

07

$350

08

$350

09

$365

10

$345

11

$325

12

$340

13

$345

14

$340

15

$370

16

$350

17

$355

18

$355

19

$370

20

$370

21

$345

22

$350

23

$350

24

$350

25

$335

26

$340

27

$340

28

$335

29

$360

30

$365
July 2023
S
M
T
W
T
F
S
01

$360

02

$355

03

$370

04

$370

05

$365

06

$370

07

$375

08

$360

09

$360

10

$370

11

$370

12

$375

13

$380

14

$385

15

$380

16

$370

17

$385

18

$385

19

$385

20

$385

21

$390

22

$380

23

$370

24

$385

25

$380

26

$380

27

$380

28

$390

29

$375

30

$360

31

$365
August 2023
S
M
T
W
T
F
S
01

$360

02

$360

03

$360

04

$375

05

$360

06

$340

07

$340

08

$330

09

$325

10

$330

11

$345

12

$330

13

$295

14

$285

15

$275

16

$270

17

$275

18

$290

19

$280

20

$240

21

$225

22

$220

23

$215

24

$230

25

$250

26

$245

27

$210

28

$195

29

$190

30

$190

31

$210
September 2023
S
M
T
W
T
F
S
01

$320

02

$325

03

$285

04

$270

05

$175

06

$185

07

$205

08

$230

09

$235

10

$195

11

$185

12

$170

13

$185

14

$200

15

$220

16

$225

17

$185

18

$165

19

$155

20

$170

21

$180

22

$200

23

$205

24

$170

25

$160

26

$160

27

$170

28

$190

29

$210

30

$210