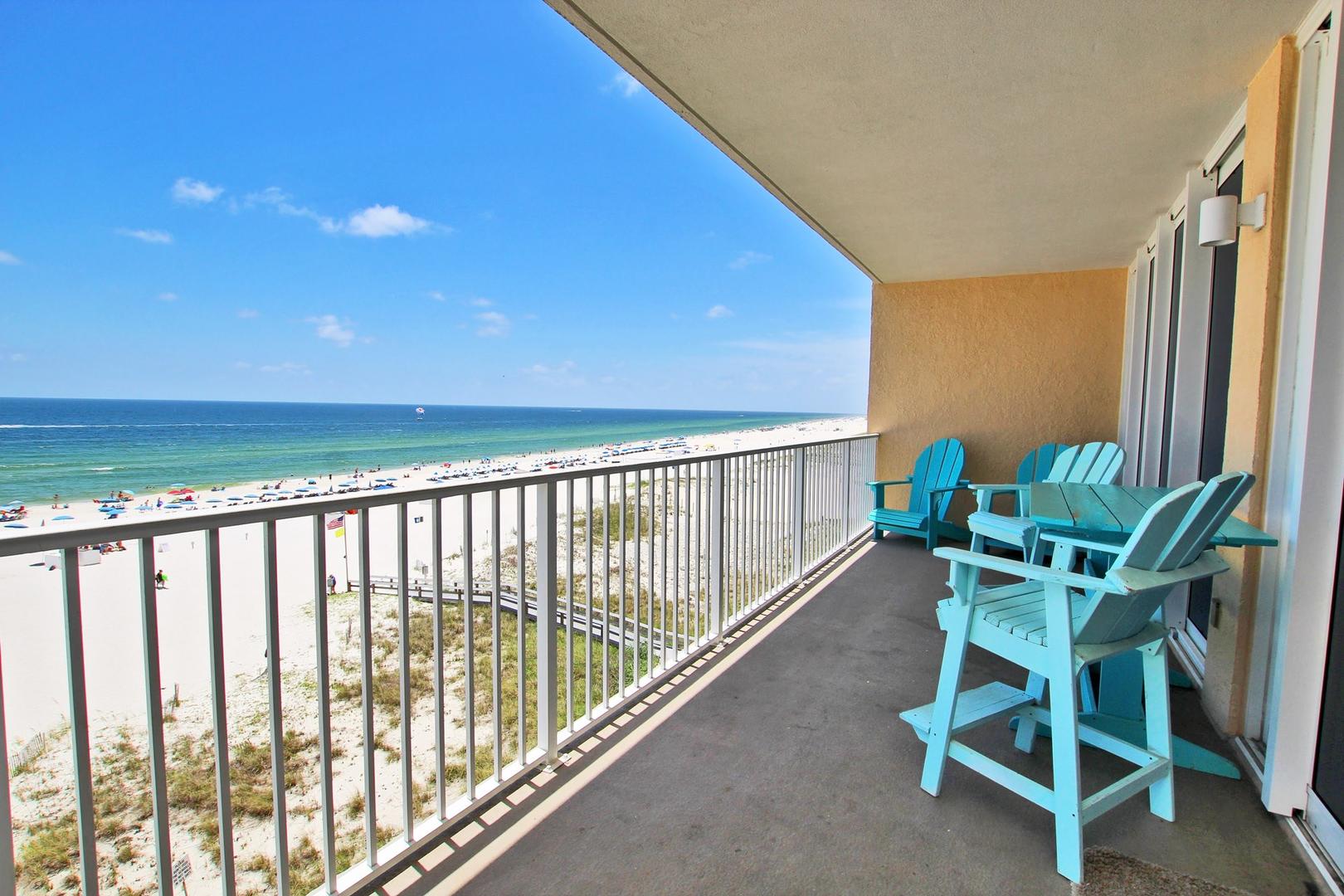 This spacious 1,229 sq. ft. 2-bedroom 2-bathroom condo features attractive tile floors throughout, and is located on the 5th floor of the luxurious San Carlos Condominiums in the heart of Gulf Shores. The living area features a queen-sized sleeper sofa complemented by a pair of rocker recliners, a 55 inch LG 4K UHD television, and boasts floor to ceiling windows offering an unobstructed view of the Gulf of Mexico. The dining table seats six comfortably with additional seating for six at the kitchen bar. Enjoy meal preparation in with the fully equipped kitchen featuring crisp white cabinetry and appliances, and mix up your favorite drinks at the adjacent wet bar. The master bedroom includes a king-size bed, memory foam mattress, 55 inch LG 4K UHD television, and access to the gulf front balcony. Soak up luxury in the master bathroom with a double sink vanity, large corner Jacuzzi tub, and separate shower. The guest bedroom features 2 full-size beds with memory foam mattresses and 26 inch Vizio HD television. A full-size washer and dryer are conveniently located inside the condo. The gulf front balcony is large enough to seat six and enjoy the view of the waves. San Carlos is walking distance to Sea-n-Suds, the Hangout, and numerous other dining/entertainment/shopping venues.

Free Public WiFi in all condos, public areas, and even as far as the beach!

Monthly rentals are available November through February. Free WIFI - Non-Smoking - Parking is at a premium so a 2 car limit is strictly enforced No boats, RV's or trailers are permitted

You must be 25 years of age or older to reserve this unit.


Bedding:
1 King
2 Full
1 Sleeper Sofa

365 East Beach Blvd. Gulf Shores, AL
Area : Gulf Shores
Sleep Cap : 8
Bedrooms : 2.00
Internet Type : Free Public WiFi
Square Ft. : 1229
Master Bedroom : King
Building Orientation : Gulf Side
Guest Bedroom 1 : 2 Full
ilink : ilink Booking
Balcony View : Gulf Front
Number Bathrooms : 2.0
Complex : San Carlos
TV - Unit : 3
Number of Beds : 3
Pool - Outdoor : Yes
Fitness Room : Yes
Sauna : Yes
BBQ Grills : Yes
Elevator : Yes
Parking Limit : 2 Vehicles
Rental Type : Condo
Sleeps : 8
Age Requirement : 25
Long Term : No
Pet Policy : No Pets
Pet Restriction : No Pets
Parking - Guest Purchase :
Thank you for submitting your review. It will be processed shortly!
February 1, 2022 - Website
We stayed Jan. 1 to Feb. 1 at San Carlos Condo # 502. We had a great view and accommodations. The condo was clean and spacious. Would love to stay there again. - Reviewed on Google
August 21, 2021 - Website
Beautiful unit
by Debra W
This unit was wonderful
by Nanette S
This unit was wonderful. Beautifully decorated and stocked well, even a brand new glass Oster blender. This was the cleanest condo we have ever stayed and we have stayed in several different condos in Gulf Shores. The cleaning team was top notch. Perfect location on the 5th floor and it wasn't over the pool which I really enjoyed. The beds were exceptionally comfortable. It is a quiet condominium. Sea n Suds is always our favorite and even better since it's right next door and we could walk from our beach chairs to grab a bite. Cricos pizza shop is terrific and also within walking distance. Our stay was perfect. You can't go wrong with this condo.
We had a great time The condo was one of the best I've ever stayed in. Everything you need to have a fantastic vacation. We will certainly be back again. Love the check in and check out. Enjoyed the beach so much and the many attractions. Ya'll are the best
September 2022
S
M
T
W
T
F
S
01
02
03
04
05
06
07
08
09
10
11
12
13
14
15
16
17
18
19
20
21
22
23
24
25

$170

26
27
28
29

$180

30

$195
October 2022
S
M
T
W
T
F
S
01

$190

02

$170

03

$170

04

$175

05
06
07
08
09
10
11
12
13
14
15
16
17
18
19
20
21
22
23
24
25
26
27
28
29
30
31
November 2022
S
M
T
W
T
F
S
01
02
03

$170

04

$170

05

$170

06

$170

07

$170

08

$170

09

$170

10

$170

11

$170

12

$170

13

$170

14

$170

15

$170

16

$170

17

$170

18

$170

19

$170

20

$170

21

$205

22

$210

23

$205

24

$215

25

$230

26

$220

27

$200

28

$170

29

$170

30

$170
December 2022
S
M
T
W
T
F
S
01

$170

02

$170

03

$170

04

$170

05

$170

06

$170

07

$170

08

$170

09

$170

10

$170

11

$170

12

$170

13

$170

14

$170

15

$170

16

$170

17

$170

18

$170

19

$170

20

$180

21

$180

22

$185

23

$210

24

$205

25

$210

26

$210

27

$210

28

$235

29

$240

30

$240

31

$235
January 2023
S
M
T
W
T
F
S
01

$245

02
03
04
05
06
07
08
09
10
11
12
13
14
15
16
17
18
19
20
21
22
23
24
25
26
27
28
29
30
31
February 2023

| S | M | T | W | T | F | S |
| --- | --- | --- | --- | --- | --- | --- |
| | | | 01 | 02 | 03 | 04 |
| 05 | 06 | 07 | 08 | 09 | 10 | 11 |
| 12 | 13 | 14 | 15 | 16 | 17 | 18 |
| 19 | 20 | 21 | 22 | 23 | 24 | 25 |
| 26 | 27 | 28 | | | | |
March 2023
S
M
T
W
T
F
S
01

$225

02

$235

03

$245

04

$250

05

$245

06

$245

07

$235

08

$240

09

$245

10

$315

11

$320

12

$320

13

$315

14

$315

15

$315

16

$315

17

$320

18

$305

19

$305

20

$305

21

$305

22

$305

23

$305

24

$305

25

$320

26

$330

27

$335

28

$335

29

$345

30

$345

31

$350
April 2023
S
M
T
W
T
F
S
01

$360

02

$365

03

$360

04

$355

05

$345

06

$390

07

$385

08

$375

09

$355

10

$340

11

$335

12

$330

13

$335

14

$350

15

$345

16

$315

17

$200

18

$205

19

$205

20

$230

21

$255

22

$245

23

$205

24

$200

25

$200

26

$210

27

$235

28

$255

29

$250

30

$255
May 2023
S
M
T
W
T
F
S
01

$245

02

$245

03

$260

04

$295

05

$315

06

$320

07

$280

08

$225

09

$230

10

$245

11

$280

12

$305

13

$315

14

$280

15

$280

16

$285

17

$295

18

$615

19

$640

20

$650

21

$620

22

$330

23

$335

24

$345

25

$370

26

$510

27

$520

28

$500

29

$510

30

$385

31

$400
June 2023
S
M
T
W
T
F
S
01

$415

02

$425

03

$430

04

$420

05

$430

06

$435

07

$440

08

$450

09

$450

10

$450

11

$440

12

$450

13

$460

14

$455

15

$460

16

$460

17

$460

18

$475

19

$485

20

$490

21

$460

22

$465

23

$465

24

$465

25

$460

26

$465

27

$470

28

$470

29

$500

30

$500
July 2023
S
M
T
W
T
F
S
01

$500

02

$495

03

$500

04

$500

05

$500

06

$510

07

$505

08

$485

09

$485

10

$485

11

$485

12

$485

13

$495

14

$500

15

$500

16

$490

17

$500

18

$500

19

$500

20

$510

21

$515

22

$505

23

$485

24

$500

25

$495

26

$495

27

$505

28

$510

29

$495

30

$465

31

$470
August 2023
S
M
T
W
T
F
S
01

$470

02

$465

03

$475

04

$480

05

$465

06

$430

07

$425

08

$420

09

$420

10

$430

11

$435

12

$415

13

$370

14

$360

15

$355

16

$355

17

$365

18

$370

19

$355

20

$305

21

$300

22

$285

23

$285

24

$300

25

$315

26

$305

27

$260

28

$255

29

$240

30

$240

31

$260
September 2023
S
M
T
W
T
F
S
01

$435

02

$425

03

$390

04

$390

05

$225

06

$225

07

$245

08

$270

09

$265

10

$235

11

$230

12

$215

13

$225

14

$235

15

$255

16

$250

17

$230

18

$220

19

$210

20

$220

21

$235

22

$255

23

$245

24

$220

25

$215

26

$225

27

$225

28

$240

29

$260

30

$255