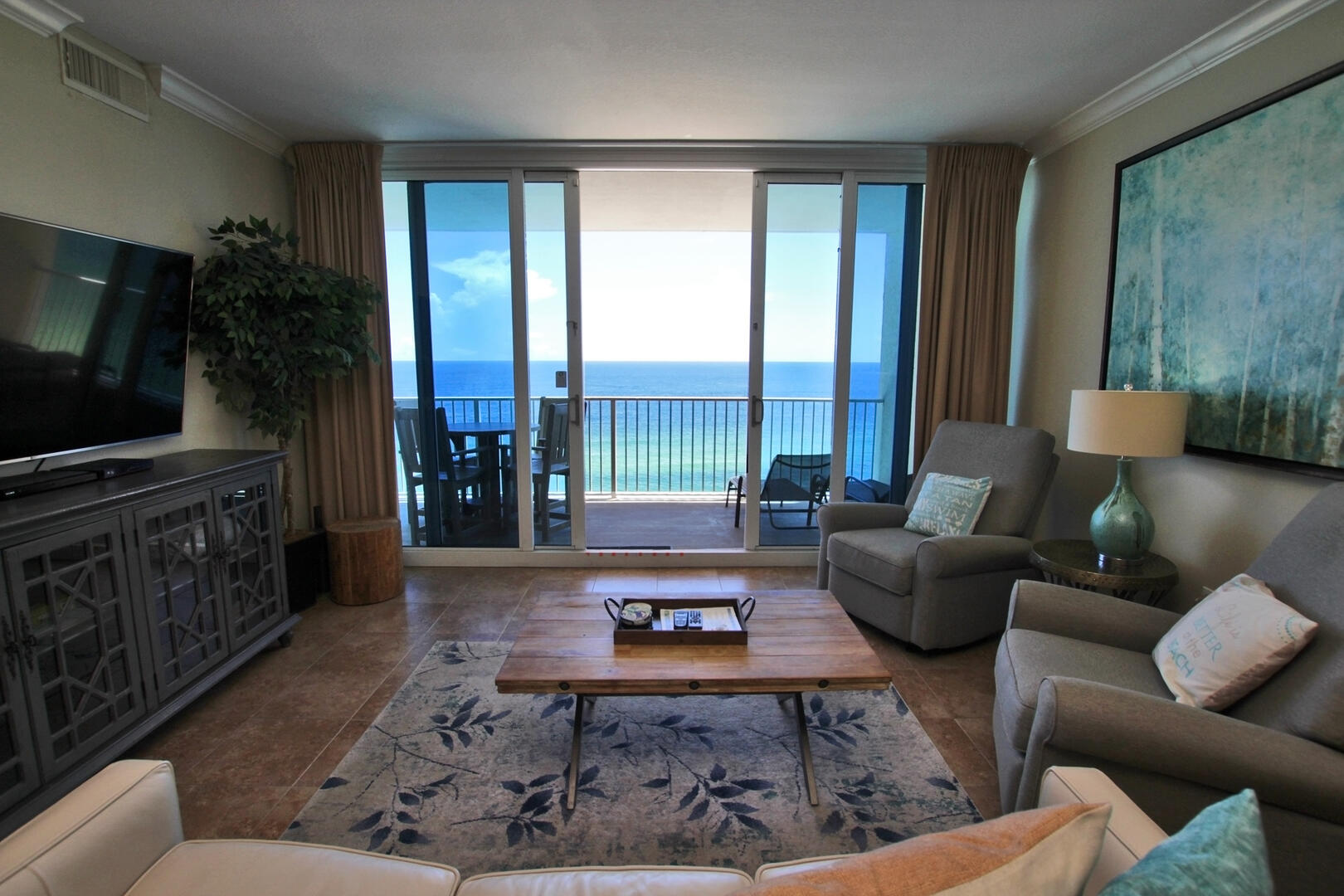 Sophisticated elegance awaits you when you arrive at this professionally decorated condo. No detail has been overlooked! Reconnect with yourself at San Carlos 1205... a lush paradise of unsurpassed elegance. Luxurious comfort awaits you at our fabulous San Carlos Condominiums located in the heart of Gulf Shores. Everything about the 142 unit San Carlos complex has been designed to offer you the best vacation experience possible, including the desirable zero entry pool perfect for the entire family. This 15th floor 1419 sq ft condo boasts a deck large enough for outdoor dining or just enjoying the sunset. The floor to ceiling windows offer an unobstructed view of the Gulf of Mexico. For your entertainment pleasure, this unit boasts a 65" Smart TV in the living room, a 65" Smart TV in the Master Bedroom, and the guest Bedroom has a 42" Smart television. The kitchen is fully stocked, and even includes a Keurig coffee maker. While you are here, be sure to enjoy the Jacuzzi tub in the master bath, take advantage of the wet bar and stay connected with the free WIFI. This smoke-free unit features professional decor, upscale furnishings and full size washer/dryer. Monthly stays November to March 1. Parking is at a premium so a 2 car limit is strictly enforced. No Smoking Common Areas, Pool, Hallways, Parking Decks, Balconies, etc A smoking area is on the east side outside the 1st floor parking garage.

Free Public WiFi in all condos, public areas, and even as far as the beach!

No boats, RV's or trailers are permitted


You must be 25 years of age or older to reserve this unit.


Unit Location : Close to Elevator
Area : Gulf Shores
Sleep Cap : 10
Bedrooms : 3.00
Internet Type : Free Public WiFi
Square Ft. : 1407
Master Bedroom : King
Building Orientation : Gulf Side
Guest Bedroom 1 : Queen
Guest Bedroom 2 : 2 Full
ilink : ilink Booking
Balcony View : Gulf Front
Video rm2 : DVD
Number Bathrooms : 3.0
Complex : San Carlos
TV - Unit : 4
Number of Beds : 4
Pool - Outdoor : Yes
Fitness Room : Yes
Sauna : Yes
BBQ Grills : Yes
Elevator : Yes
Parking Limit : 2 Vehicles
Rental Type : Condo
Sleeps : 10
Age Requirement : 25
Long Term : No
Pet Policy : No Pets
Pet Restriction : No Pets
Parking - Guest Purchase :
Thank you for submitting your review. It will be processed shortly!
First time using an air b-n-b. I was pleasantly surprised with the check-in process and the cleanliness of the condo upon arrival. The condo is exactly as pictured. We had 6 in our group we had enough room and privacy. The grounds around the building were always free of debris and clean. There was a constant presence of security and they were always friendly. The kitchen was adequately stocked with pots, pans, cups and utensils. Beautiful view of beach front from the balcony and the condo was just a 5 minute walk to the Hangout, which our teens loved. We would definitely recommend unit 1205!
October 2022
S
M
T
W
T
F
S
01
02
03

$180

04
05
06
07
08
09
10
11

$180

12

$180

13

$180

14
15
16
17
18
19
20
21
22
23

$180

24

$180

25
26
27
28
29
30
31

$180
November 2022
S
M
T
W
T
F
S
01

$180

02

$180

03

$180

04

$180

05

$180

06

$180

07

$180

08

$180

09

$180

10

$180

11

$180

12

$180

13

$180

14

$180

15

$180

16

$180

17

$180

18

$180

19

$180

20

$180

21

$250

22

$255

23

$245

24

$260

25

$280

26

$275

27

$245

28

$180

29

$180

30
December 2022

| S | M | T | W | T | F | S |
| --- | --- | --- | --- | --- | --- | --- |
| | | | | 01 | 02 | 03 |
| 04 | 05 | 06 | 07 | 08 | 09 | 10 |
| 11 | 12 | 13 | 14 | 15 | 16 | 17 |
| 18 | 19 | 20 | 21 | 22 | 23 | 24 |
| 25 | 26 | 27 | 28 | 29 | 30 | 31 |
January 2023

| S | M | T | W | T | F | S |
| --- | --- | --- | --- | --- | --- | --- |
| 01 | 02 | 03 | 04 | 05 | 06 | 07 |
| 08 | 09 | 10 | 11 | 12 | 13 | 14 |
| 15 | 16 | 17 | 18 | 19 | 20 | 21 |
| 22 | 23 | 24 | 25 | 26 | 27 | 28 |
| 29 | 30 | 31 | | | | |
February 2023

| S | M | T | W | T | F | S |
| --- | --- | --- | --- | --- | --- | --- |
| | | | 01 | 02 | 03 | 04 |
| 05 | 06 | 07 | 08 | 09 | 10 | 11 |
| 12 | 13 | 14 | 15 | 16 | 17 | 18 |
| 19 | 20 | 21 | 22 | 23 | 24 | 25 |
| 26 | 27 | 28 | | | | |
March 2023
S
M
T
W
T
F
S
01

$230

02

$275

03

$275

04

$275

05

$280

06

$275

07

$270

08

$275

09

$280

10

$360

11

$365

12

$365

13
14
15
16
17

$375

18

$355

19

$350

20

$360

21

$360

22

$360

23

$360

24

$355

25

$365

26

$370

27

$380

28

$385

29

$390

30

$400

31

$405
April 2023
S
M
T
W
T
F
S
01

$420

02

$425

03

$415

04

$410

05

$410

06

$475

07

$460

08

$460

09

$415

10

$405

11

$400

12

$395

13

$410

14

$435

15

$445

16

$380

17

$245

18

$245

19

$245

20

$280

21

$315

22

$325

23

$250

24

$250

25

$250

26

$245

27

$285

28

$315

29

$315

30

$315
May 2023
S
M
T
W
T
F
S
01

$305

02

$310

03

$320

04

$360

05

$390

06

$395

07

$360

08

$285

09

$290

10

$310

11

$345

12

$375

13

$385

14

$355

15

$335

16

$345

17

$370

18

$760

19
20
21
22

$400

23

$415

24

$435

25

$465

26

$625

27

$635

28

$615

29

$625

30

$485

31

$495
June 2023
S
M
T
W
T
F
S
01

$520

02

$515

03

$525

04

$505

05

$525

06

$535

07

$545

08

$555

09

$555

10

$565

11

$535

12

$565

13

$570

14

$570

15

$575

16

$580

17

$580

18

$590

19

$610

20

$615

21

$580

22

$580

23

$580

24

$575

25

$560

26

$565

27

$570

28

$560

29

$600

30

$600
July 2023
S
M
T
W
T
F
S
01

$600

02

$595

03

$600

04

$600

05

$605

06

$610

07

$615

08

$595

09

$600

10

$600

11

$610

12

$615

13

$625

14

$630

15

$635

16

$630

17

$635

18

$635

19

$630

20

$635

21

$640

22

$635

23

$625

24

$625

25

$620

26

$615

27

$620

28

$620

29

$610

30

$595

31

$595
August 2023
S
M
T
W
T
F
S
01

$585

02

$580

03

$590

04

$600

05

$580

06

$550

07

$555

08

$540

09

$535

10

$545

11

$560

12

$535

13

$485

14

$480

15

$460

16

$460

17

$475

18

$495

19

$465

20

$410

21

$390

22

$375

23

$380

24

$400

25

$425

26

$405

27

$350

28

$325

29

$310

30

$320

31

$355
September 2023
S
M
T
W
T
F
S
01

$580

02

$565

03

$515

04

$495

05

$285

06

$300

07

$340

08

$380

09

$365

10

$310

11

$295

12

$270

13

$285

14

$315

15

$350

16

$340

17

$285

18

$265

19

$255

20

$260

21

$290

22

$315

23

$315

24

$265

25

$255

26

$260

27

$270

28

$300

29

$320

30

$320
October 2023
S
M
T
W
T
F
S
01

$270

02

$265

03

$275

04

$270

05

$305

06

$510

07

$520

08

$445

09

$445

10

$260

11

$260

12

$290

13

$305

14

$305

15

$230

16

$220

17

$215

18

$215

19

$245

20

$260

21

$245

22

$205

23

$205

24

$205

25

$205

26

$205

27

$220

28

$205

29

$205

30

$205

31

$205