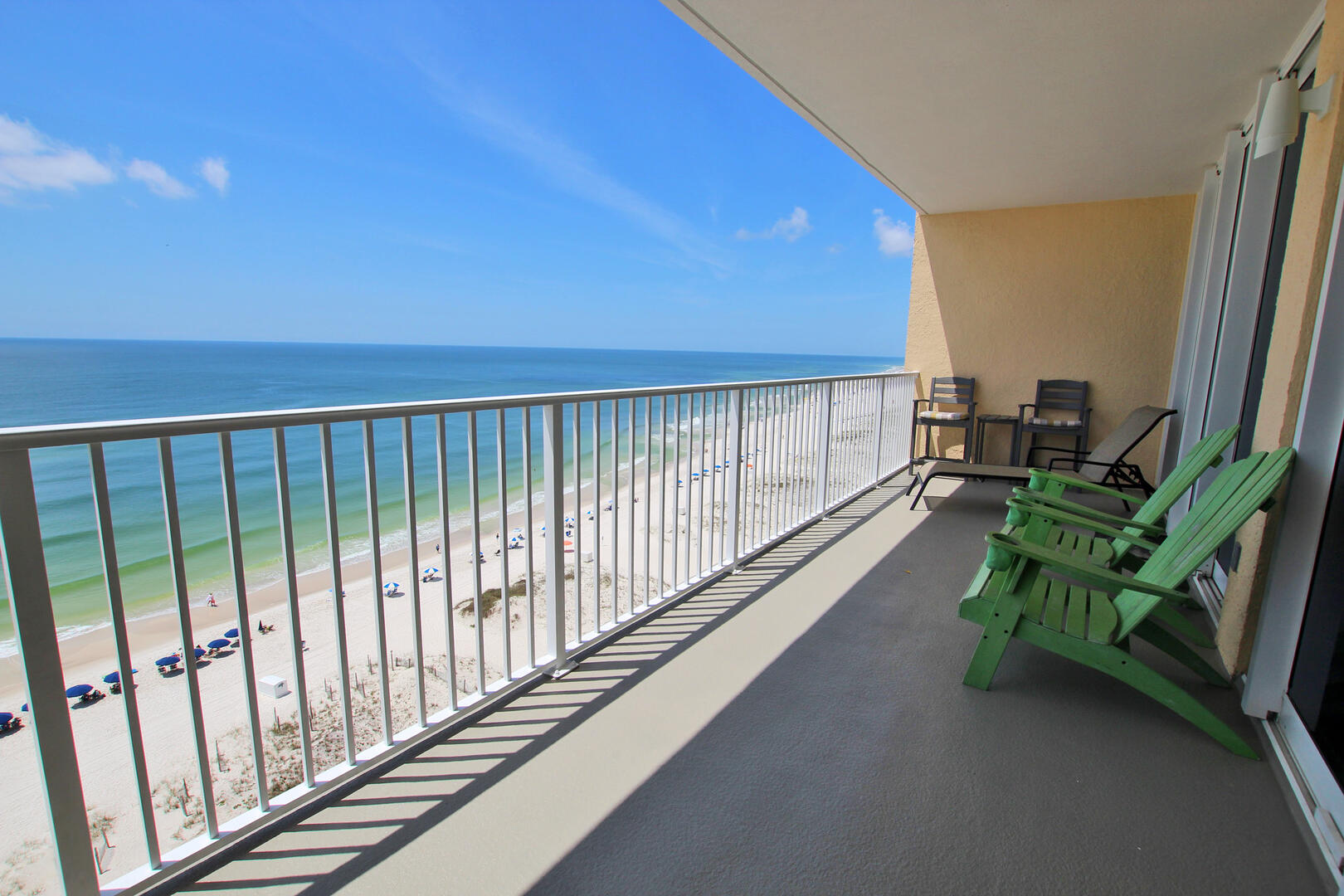 Start your next adventure and step into San Carlos 1107. When you walk in, you will be greeted with breath taking views through the floor-to-ceiling windows that lead to the private gulf-facing balcony. This 3-bedroom, 3-bathroom vacation rental will become your home away from home as you explore the Alabama Coast. The cozy living room offers enough seating for the entire family to lunge around and watch their favorite movie of television show. If you need extra sleeping space there is a queen size sofa bed, which allows this condo to sleep up to 8 people.

The kitchen is furnished with everything you need to prepare breakfast, lunch, or dinner. When it is time to eat everyone can gather around the dining table or choose to take it out on the private balcony to eat while enjoying an epic view.

After a busy day of getting your toes in the sugar white sands retreat to the master bedroom. You will find a king bed positioned perfectly to gaze out to watch the waves of the Gulf of Mexico roll in. The master bathroom features a spacious double sink vanity with plenty of room for all your belongings. There is a jetted tub and separate walk-in shower which is a great way to have a low-key spa like experience.

The first guest room has a queen bed and a private bathroom with a bathtub and shower combination, and the second guest bedroom has two twin beds perfect for tucking the kids in after a long day at the beach. There is a third full bathroom which is accessible to guest from the hallway and has a bathtub and shower combination. Each bedroom has a flat screen television with cable just in case everyone wants to watch something different.

For your convenience there is a washing machine and dryer in the condo, as well as Wi-Fi. There is a boardwalk which leads to the beach or you can swim in the zero-entry outdoor pool. There is a fitness room and sauna, as well as charcoal BBQ grills. San Carlos has everything you need to make your beach vacation memorable.

You must be 25 years of age or older to rent this condo. This is a non-smoking property and pets are not permitted. Monthly rentals are available November 1st through March 1st. 2 parking passes will be provided per condo and must be always displayed in your vehicle while parked at the property. Trailers and RVs are not permitted.

Bedding:
Master- King
Bedroom 2- Queen
Bedroom 3- 2 Twins
Living Room- Sofa Sleeper Queen

365 East Beach Blvd. Gulf Shores, AL

Unit Location : Close to Elevator
Area : Gulf Shores
Sleep Cap : 8
Bedrooms : 3.00
Internet Type : Free Public WiFi
Square Ft. : 1407
Master Bedroom : King
Building Orientation : Gulf Side
Guest Bedroom 1 : Queen
Guest Bedroom 2 : 2 Twins
ilink : ilink Booking
Balcony View : Gulf Front
Number Bathrooms : 3.0
Complex : San Carlos
TV - Unit : 4
Number of Beds : 5
Pool - Outdoor : Yes
Fitness Room : Yes
Sauna : Yes
BBQ Grills : Yes
Elevator : Yes
Parking Limit : 2 Vehicles
Rental Type : Condo
Sleeps : 8
Age Requirement : 25
Long Term : No
Pet Policy : No Pets
Pet Restriction : No Pets
Parking - Guest Purchase :
Thank you for submitting your review. It will be processed shortly!
September 19, 2022 - Manual Entry
Had a great time at San Carlos 1107 great location condo clean. Thanks Young's Suncoast for your service.- Reviewed on Google
October 2022
S
M
T
W
T
F
S
01
02
03

$190

04
05
06
07
08
09
10
11
12

$190

13

$190

14
15
16

$190

17

$190

18

$190

19

$190

20

$190

21

$195

22

$200

23

$190

24

$190

25

$190

26

$190

27

$190

28

$190

29

$190

30

$190

31

$190
November 2022
S
M
T
W
T
F
S
01

$190

02

$190

03

$190

04

$190

05

$190

06

$190

07

$190

08

$190

09

$190

10

$190

11

$190

12

$190

13

$190

14

$190

15

$190

16

$190

17

$190

18

$190

19

$190

20

$190

21

$245

22

$245

23

$240

24

$255

25

$275

26

$265

27

$240

28

$190

29

$190

30

$190
December 2022
S
M
T
W
T
F
S
01

$190

02

$190

03

$190

04

$190

05

$190

06

$190

07

$190

08

$190

09

$190

10

$190

11

$190

12

$190

13

$190

14

$190

15

$190

16

$190

17

$190

18

$190

19

$190

20

$190

21

$190

22

$190

23

$205

24

$195

25

$205

26

$205

27

$205

28

$230

29

$235

30

$245

31

$240
January 2023
S
M
T
W
T
F
S
01

$255

02
03
04
05
06
07
08
09
10
11
12
13
14
15
16
17
18
19
20
21
22
23
24
25
26
27
28
29
30
31
February 2023

| S | M | T | W | T | F | S |
| --- | --- | --- | --- | --- | --- | --- |
| | | | 01 | 02 | 03 | 04 |
| 05 | 06 | 07 | 08 | 09 | 10 | 11 |
| 12 | 13 | 14 | 15 | 16 | 17 | 18 |
| 19 | 20 | 21 | 22 | 23 | 24 | 25 |
| 26 | 27 | 28 | | | | |
March 2023
S
M
T
W
T
F
S
01

$225

02

$265

03

$270

04

$270

05

$270

06

$270

07

$265

08

$265

09

$270

10

$350

11

$355

12

$355

13

$355

14

$355

15

$360

16

$365

17

$365

18

$345

19

$340

20

$355

21

$350

22

$355

23

$355

24

$345

25

$360

26

$360

27

$370

28

$375

29

$380

30

$390

31

$395
April 2023
S
M
T
W
T
F
S
01

$410

02

$410

03

$405

04

$400

05

$400

06

$465

07

$450

08

$450

09

$405

10

$395

11

$390

12

$385

13

$405

14

$425

15

$435

16

$370

17

$235

18

$240

19

$240

20

$275

21

$305

22

$320

23

$245

24

$245

25

$245

26

$240

27

$280

28

$305

29

$305

30

$305
May 2023
S
M
T
W
T
F
S
01

$300

02

$305

03

$310

04

$350

05

$380

06

$385

07

$350

08

$275

09

$285

10

$300

11

$335

12

$370

13

$375

14

$345

15

$330

16

$340

17

$360

18

$740

19

$760

20

$770

21

$745

22

$390

23

$400

24

$425

25

$455

26

$610

27

$620

28

$600

29

$610

30

$470

31

$485
June 2023
S
M
T
W
T
F
S
01

$505

02

$505

03

$515

04

$490

05

$515

06

$520

07

$530

08

$540

09

$540

10

$550

11

$520

12

$550

13

$555

14

$555

15

$560

16

$565

17

$565

18

$575

19

$595

20

$600

21

$565

22

$565

23

$565

24

$560

25

$545

26

$550

27

$555

28

$550

29

$585

30

$585
July 2023
S
M
T
W
T
F
S
01

$585

02

$580

03

$585

04

$585

05

$590

06

$595

07

$600

08

$580

09

$585

10

$590

11

$595

12

$600

13

$610

14

$615

15

$620

16

$615

17

$625

18

$620

19

$615

20

$620

21

$625

22

$620

23

$610

24

$610

25

$605

26

$600

27

$605

28

$605

29

$600

30

$580

31

$580
August 2023
S
M
T
W
T
F
S
01

$575

02

$570

03

$575

04

$585

05

$570

06

$540

07

$540

08

$530

09

$525

10

$530

11

$550

12

$520

13

$475

14

$465

15

$450

16

$450

17

$465

18

$485

19

$450

20

$400

21

$380

22

$365

23

$370

24

$390

25

$415

26

$395

27

$340

28

$320

29

$305

30

$310

31

$345
September 2023
S
M
T
W
T
F
S
01

$565

02

$550

03

$505

04

$480

05

$280

06

$290

07

$330

08

$370

09

$360

10

$305

11

$285

12

$265

13

$275

14

$310

15

$340

16

$335

17

$280

18

$260

19

$245

20

$255

21

$285

22

$305

23

$305

24

$260

25

$250

26

$255

27

$265

28

$295

29

$310

30

$315
October 2023
S
M
T
W
T
F
S
01

$265

02

$260

03

$265

04

$265

05

$300

06

$495

07

$505

08

$435

09

$435

10

$255

11

$255

12

$285

13

$300

14

$295

15

$225

16

$215

17

$215

18

$215

19

$240

20

$255

21

$240

22

$215

23

$215

24

$215

25

$215

26

$215

27

$215

28

$215

29

$215

30

$215

31

$215