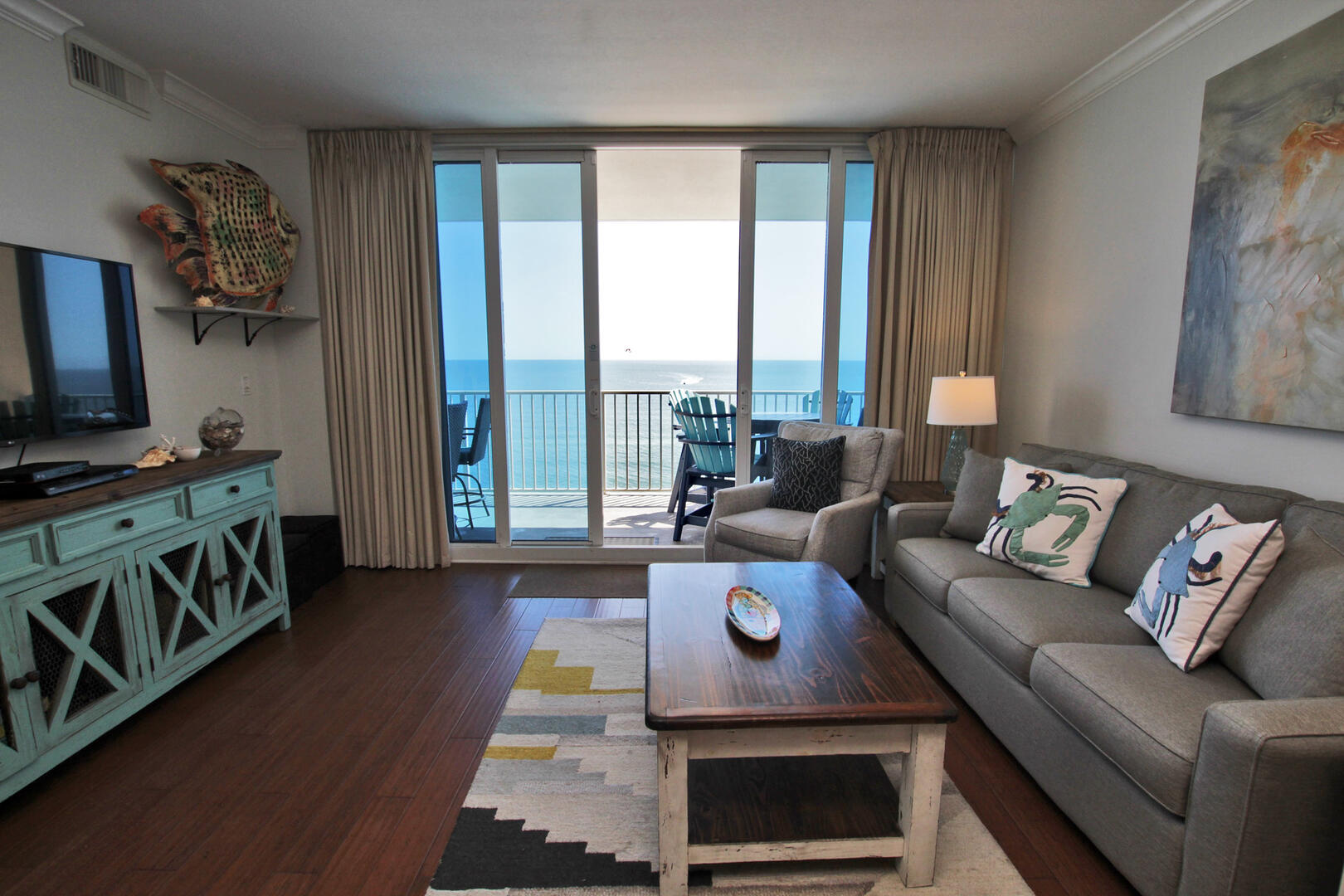 The beach life doesn?t get much better than this. San Carlos 1106 is a treasure located on the 11th floor in one of Gulf Shores most desired complexes. This 3-bedroom, 1,407 square foot condo is the perfect place to make beautiful beachside memories. Opening the door to paradise will bring views of the floor to ceiling windows overlooking the sugar white sands of the Gulf of Mexico. The living room boasts coastal comfort with a cozy island feel and invites families to enjoy time together. The kitchen updated with stainless steel appliances; has everything you need to prepare a fresh caught seafood feast.

Tired from a day of getting your toes in the sand? The master bedroom has comfortable king size bed and a breathtaking view of the beach. You can even slide open the doors and let the sounds of the waves drift you to sleep. The large master bathroom has his and hers counter space and jetted tub for ultimate relaxation. There is also a tiled walk in shower.

The second guest bedroom has a queen size bed and a full private bathroom with a tub and shower combination. The third guest bedroom is perfect for the kids with a full over full bunk bed and a twin-size trundle bed. The third bathroom is accessible by guests as well as the guests in the third bedroom. All bedrooms have a flat screen TV with cable and the entire unit has free public WIFI.

Everything about the 142 unit San Carlos complex has been designed to offer you the best vacation experience possible, including the desirable zero entry pool perfect for the entire family. There is a full-size washer and dryer in the unit. San Carlos 1106 can sleep up to 7 people comfortably. 2 Parking passes are included when renting this condo. No boats, RV's or trailers are permitted

This is a non-smoking property, and pets are not permitted. No Smoking in or around Common Areas, Pool, Hallways, Parking Decks, Balconies, etc. A smoking area is on the east side outside the 1st floor parking garage. You must be 25 years of age or older to reserve this unit. Monthly rental rates are available November 1- March 1.

Free Public WiFi in all condos, public areas, and even as far as the beach!



Bedding:
Master- King
Bedroom 2 ? Queen
Bedroom 3 ? Full over Full Bunks with Twin Trundle

365 East Beach Blvd, Gulf Shores AL

Unit Location : Close to Elevator
Area : Gulf Shores
Sleep Cap : 8
Bedrooms : 3.00
Internet Type : Free Public WiFi
Square Ft. : 1407
Master Bedroom : King
Building Orientation : Gulf Side
Guest Bedroom 1 : Queen
Guest Bedroom 2 : Full/Full Bunk-Twin Trundle
ilink : ilink Booking
Balcony View : Gulf Front
Video rm2 : DVD
Number Bathrooms : 3.0
Complex : San Carlos
TV - Unit : 4
Number of Beds : 5
Pool - Outdoor : Yes
Fitness Room : Yes
Sauna : Yes
BBQ Grills : Yes
Elevator : Yes
Parking Limit : 2 Vehicles
Rental Type : Condo
Sleeps : 8
Age Requirement : 25
Long Term : No
Pet Policy : No Pets
Pet Restriction : No Pets
Parking - Guest Purchase :
Thank you for submitting your review. It will be processed shortly!
We are sorry, there are no reviews for this unit. Be the first to leave a review!
September 2022
S
M
T
W
T
F
S
01
02
03
04
05
06
07
08
09
10
11
12
13
14
15
16
17
18
19
20
21
22
23
24
25
26

$190

27

$190

28

$190

29

$200

30

$240
October 2022
S
M
T
W
T
F
S
01

$225

02

$195

03

$190

04
05
06
07
08
09
10
11
12
13
14

$215

15

$235

16

$190

17

$190

18

$190

19

$190

20

$195

21

$210

22

$195

23
24
25
26
27
28

$190

29

$190

30

$190

31

$190
November 2022
S
M
T
W
T
F
S
01

$190

02

$190

03

$190

04

$190

05

$190

06

$190

07

$190

08

$190

09

$190

10

$190

11

$190

12

$190

13

$190

14

$190

15

$190

16

$190

17

$190

18

$190

19

$190

20

$190

21

$240

22

$245

23

$240

24

$250

25

$270

26

$260

27

$235

28

$190

29

$190

30

$190
December 2022
S
M
T
W
T
F
S
01

$190

02

$190

03

$190

04

$190

05

$190

06

$190

07

$190

08

$190

09

$190

10

$190

11

$190

12

$190

13

$190

14

$190

15

$190

16

$190

17

$190

18

$190

19

$190

20

$200

21

$200

22

$205

23

$245

24

$235

25

$245

26

$245

27

$240

28

$270

29

$275

30

$285

31

$280
January 2023
S
M
T
W
T
F
S
01

$290

02
03
04
05
06
07
08
09
10
11
12
13
14
15
16
17
18
19
20
21
22
23
24
25
26
27
28
29
30
31
February 2023

| S | M | T | W | T | F | S |
| --- | --- | --- | --- | --- | --- | --- |
| | | | 01 | 02 | 03 | 04 |
| 05 | 06 | 07 | 08 | 09 | 10 | 11 |
| 12 | 13 | 14 | 15 | 16 | 17 | 18 |
| 19 | 20 | 21 | 22 | 23 | 24 | 25 |
| 26 | 27 | 28 | | | | |
March 2023
S
M
T
W
T
F
S
01

$250

02

$260

03

$265

04

$265

05

$265

06

$265

07

$260

08

$260

09

$270

10

$345

11

$350

12

$350

13

$350

14

$350

15

$355

16

$355

17

$355

18

$335

19

$335

20

$345

21

$340

22

$345

23

$345

24

$335

25

$350

26
27
28
29
30
31
April 2023
S
M
T
W
T
F
S
01

$400

02

$400

03

$400

04

$395

05

$395

06

$455

07

$440

08

$440

09

$400

10

$390

11

$385

12

$380

13

$395

14

$415

15

$430

16

$365

17

$235

18

$235

19

$235

20

$270

21

$300

22

$310

23

$240

24

$235

25

$240

26

$235

27

$270

28

$300

29

$300

30

$300
May 2023
S
M
T
W
T
F
S
01

$295

02

$300

03

$305

04

$345

05

$375

06

$380

07

$340

08

$270

09

$275

10

$295

11

$330

12

$360

13

$365

14

$335

15

$320

16

$330

17

$355

18

$725

19

$745

20

$755

21

$730

22

$385

23

$395

24

$415

25

$445

26

$595

27

$610

28

$585

29

$595

30

$460

31

$475
June 2023
S
M
T
W
T
F
S
01

$495

02

$495

03

$505

04

$480

05

$505

06

$510

07

$520

08

$530

09

$530

10

$540

11

$510

12

$540

13

$545

14

$545

15

$550

16

$555

17

$555

18

$565

19

$585

20

$590

21

$555

22

$555

23

$555

24

$550

25

$535

26

$540

27

$545

28

$540

29

$575

30

$575
July 2023
S
M
T
W
T
F
S
01

$575

02

$570

03

$570

04

$575

05

$575

06

$585

07

$590

08

$570

09
10
11
12
13
14
15

$605

16

$600

17

$610

18

$605

19

$605

20

$610

21

$610

22

$605

23

$600

24

$600

25

$595

26

$590

27

$590

28

$595

29

$585

30

$565

31

$570
August 2023
S
M
T
W
T
F
S
01

$560

02

$560

03

$560

04

$570

05

$555

06

$525

07

$530

08

$520

09

$515

10

$520

11

$540

12

$510

13

$465

14

$455

15

$445

16

$440

17

$455

18

$475

19

$445

20

$390

21

$375

22

$360

23

$360

24

$380

25

$410

26

$385

27

$335

28

$315

29

$295

30

$305

31

$340
September 2023
S
M
T
W
T
F
S
01

$555

02

$540

03

$490

04

$475

05

$275

06

$290

07

$320

08

$365

09

$355

10

$300

11

$280

12

$250

13

$270

14

$295

15

$335

16

$325

17

$275

18

$250

19

$225

20

$255

21

$270

22

$305

23

$285

24

$255

25

$245

26

$270

27

$275

28

$285

29

$320

30

$305