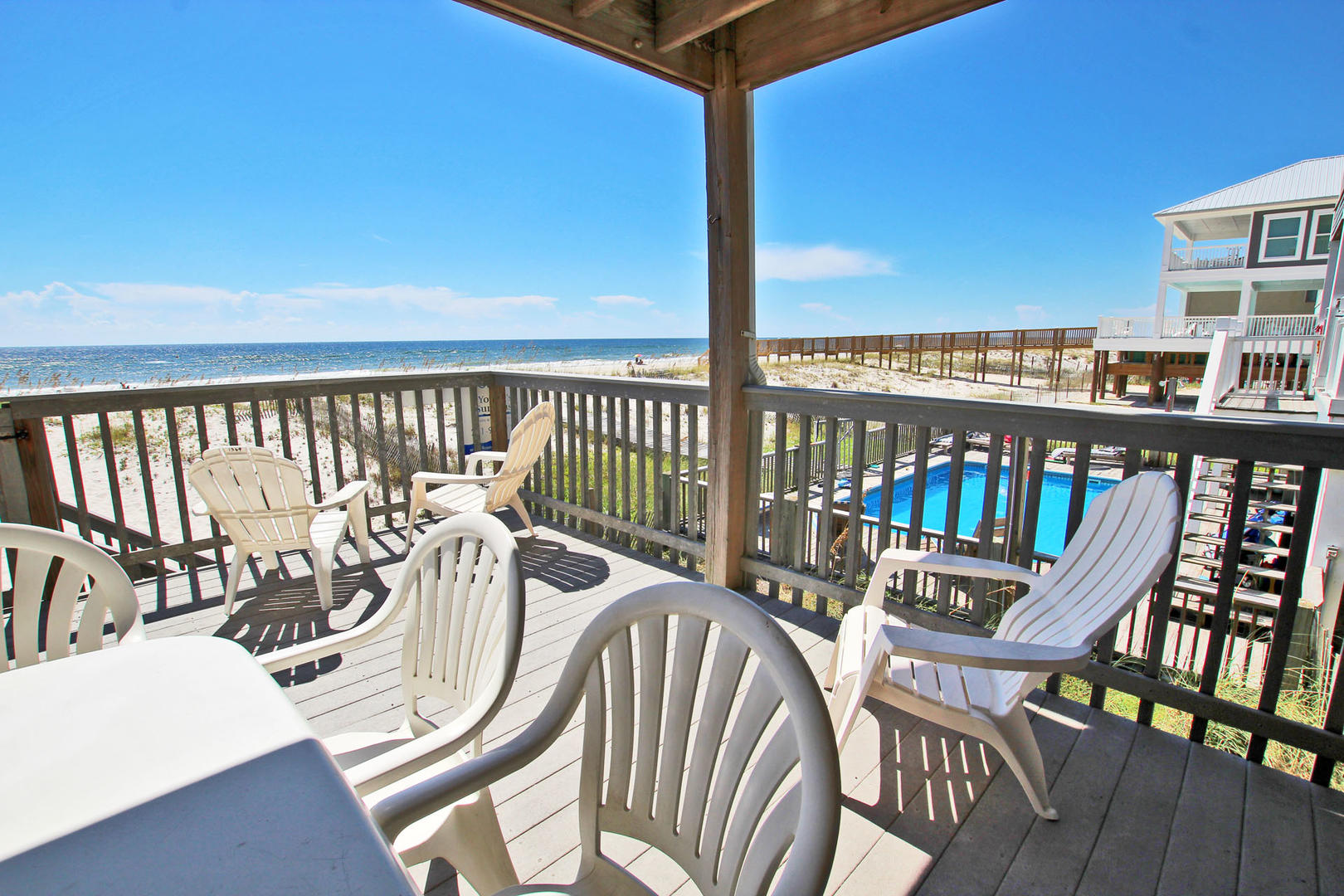 This privately owned west-side duplex boasts 2 large decks overlooking the Gulf of Mexico. The full kitchen, washer/dryer, fireplace in the living room and covered parking are all the comforts of home, with the exceptional, unobstructed views of the beach through floor to ceiling panoramic windows. Enjoy spacious bedrooms and free internet. Sit on the deck and drink your morning coffee or afternoon beverage. Soak in the sun. Take a walk on the beach. Visit the nearby shops, restaurants and attractions. When it is time to leave, you will surely call your secretary to clear your calendar for another visit in the very near future. Monthly reservations in this nonsmoking property are available November to March 1.
Area : Gulf Shores
Sleep Cap : 8
Bedrooms : 3.00
Internet Type : Free Unit WiFi
Square Ft. : 1842
Master Bedroom : King
Building Orientation : Gulf Side
Guest Bedroom 1 : Queen
Guest Bedroom 2 : 2 Twins
ilink : ilink Booking
Balcony View : Gulf Front
Number Bathrooms : 3.0
Complex : House
TV - Unit : 4
Number of Beds : 4
Rental Type : House
Sleeps : 8
Age Requirement : Spring Break/Music Fest- 25
Long Term : No
Pet Policy : No Pets
Pet Restriction : No Pets
Parking - Guest Purchase :
Thank you for submitting your review. It will be processed shortly!
Relaxing Beach Stay
by Celeste B
We stayed in the Parsonage Duplex - 2 story beach home. Unit 1369 in Gulf Shores. We absolutely loved it! Very clean and comfortable. Kitchen was set up very well. All 3 rooms were very spacious. Living room nice size and the fireplace was a extra bonus. Both decks were a good size. Walk to the beach was so close, maybe a walk would make it a little easier but was still not a problem. Would definitely come back. It felt like home. We have stayed in several places and this was the best place yet. Definitely a 5 star rating!
September 2022
S
M
T
W
T
F
S
01
02
03
04
05
06
07
08
09
10
11
12
13
14
15
16
17
18
19
20
21
22
23
24
25

$180

26
27
28

$180

29

$205

30

$220
October 2022
S
M
T
W
T
F
S
01

$210

02
03
04
05
06
07
08
09
10
11

$215

12

$210

13

$225

14

$225

15

$215

16
17
18
19
20
21
22

$180

23

$180

24

$180

25

$180

26

$180

27

$180

28

$180

29

$180

30

$180

31

$180
November 2022
S
M
T
W
T
F
S
01

$180

02
03
04
05
06
07
08
09
10
11
12
13
14
15
16
17
18
19
20
21
22
23
24
25
26
27
28
29
30
December 2022
S
M
T
W
T
F
S
01

$180

02

$180

03

$180

04

$180

05

$180

06

$180

07

$180

08

$180

09

$180

10

$180

11

$180

12

$180

13

$180

14

$180

15

$180

16

$180

17

$180

18

$180

19

$180

20

$195

21

$190

22

$195

23

$225

24

$230

25

$230

26

$230

27

$230

28

$255

29

$255

30

$265

31

$270
January 2023
S
M
T
W
T
F
S
01

$275

02
03
04
05
06
07
08
09
10
11
12
13
14
15
16
17
18
19
20
21
22
23
24
25
26
27
28
29
30
31
February 2023

| S | M | T | W | T | F | S |
| --- | --- | --- | --- | --- | --- | --- |
| | | | 01 | 02 | 03 | 04 |
| 05 | 06 | 07 | 08 | 09 | 10 | 11 |
| 12 | 13 | 14 | 15 | 16 | 17 | 18 |
| 19 | 20 | 21 | 22 | 23 | 24 | 25 |
| 26 | 27 | 28 | | | | |
March 2023

| S | M | T | W | T | F | S |
| --- | --- | --- | --- | --- | --- | --- |
| | | | 01 | 02 | 03 | 04 |
| 05 | 06 | 07 | 08 | 09 | 10 | 11 |
| 12 | 13 | 14 | 15 | 16 | 17 | 18 |
| 19 | 20 | 21 | 22 | 23 | 24 | 25 |
| 26 | 27 | 28 | 29 | 30 | 31 | |
April 2023

| S | M | T | W | T | F | S |
| --- | --- | --- | --- | --- | --- | --- |
| | | | | | | 01 |
| 02 | 03 | 04 | 05 | 06 | 07 | 08 |
| 09 | 10 | 11 | 12 | 13 | 14 | 15 |
| 16 | 17 | 18 | 19 | 20 | 21 | 22 |
| 23 | 24 | 25 | 26 | 27 | 28 | 29 |
| 30 | | | | | | |
May 2023
S
M
T
W
T
F
S
01

$225

02

$230

03

$235

04

$245

05

$285

06

$290

07

$255

08

$250

09

$250

10

$260

11

$270

12

$305

13

$305

14

$285

15

$280

16

$285

17

$295

18

$630

19

$670

20

$660

21

$645

22

$335

23

$340

24

$350

25

$365

26

$535

27

$530

28

$515

29

$535

30

$405

31

$410
June 2023
S
M
T
W
T
F
S
01

$425

02

$445

03

$445

04

$420

05

$480

06

$490

07

$495

08

$495

09

$505

10

$485

11

$460

12

$490

13

$495

14

$495

15

$530

16

$505

17

$505

18

$515

19

$530

20

$535

21

$505

22

$505

23

$505

24

$500

25

$485

26

$495

27

$495

28

$490

29

$520

30

$520
July 2023
S
M
T
W
T
F
S
01

$515

02

$520

03

$530

04

$535

05

$525

06

$530

07

$540

08

$520

09

$525

10

$530

11

$535

12

$545

13

$550

14

$550

15

$545

16
17
18
19
20
21
22

$545

23

$545

24

$550

25

$545

26

$550

27

$550

28

$545

29

$540

30

$530

31

$530
August 2023
S
M
T
W
T
F
S
01

$525

02

$525

03

$525

04

$530

05

$515

06

$495

07

$495

08

$480

09

$480

10

$475

11

$495

12

$460

13

$425

14

$420

15

$400

16

$400

17

$410

18

$425

19

$395

20

$350

21

$330

22

$320

23

$320

24

$340

25

$365

26

$345

27

$300

28

$275

29

$265

30

$270

31

$310
September 2023
S
M
T
W
T
F
S
01

$465

02

$460

03

$415

04

$390

05

$250

06

$265

07

$300

08

$325

09

$325

10

$275

11

$255

12

$235

13

$250

14

$275

15

$300

16

$305

17

$255

18

$230

19

$210

20

$235

21

$255

22

$275

23

$270

24

$240

25

$225

26

$240

27

$250

28

$270

29

$290

30

$285