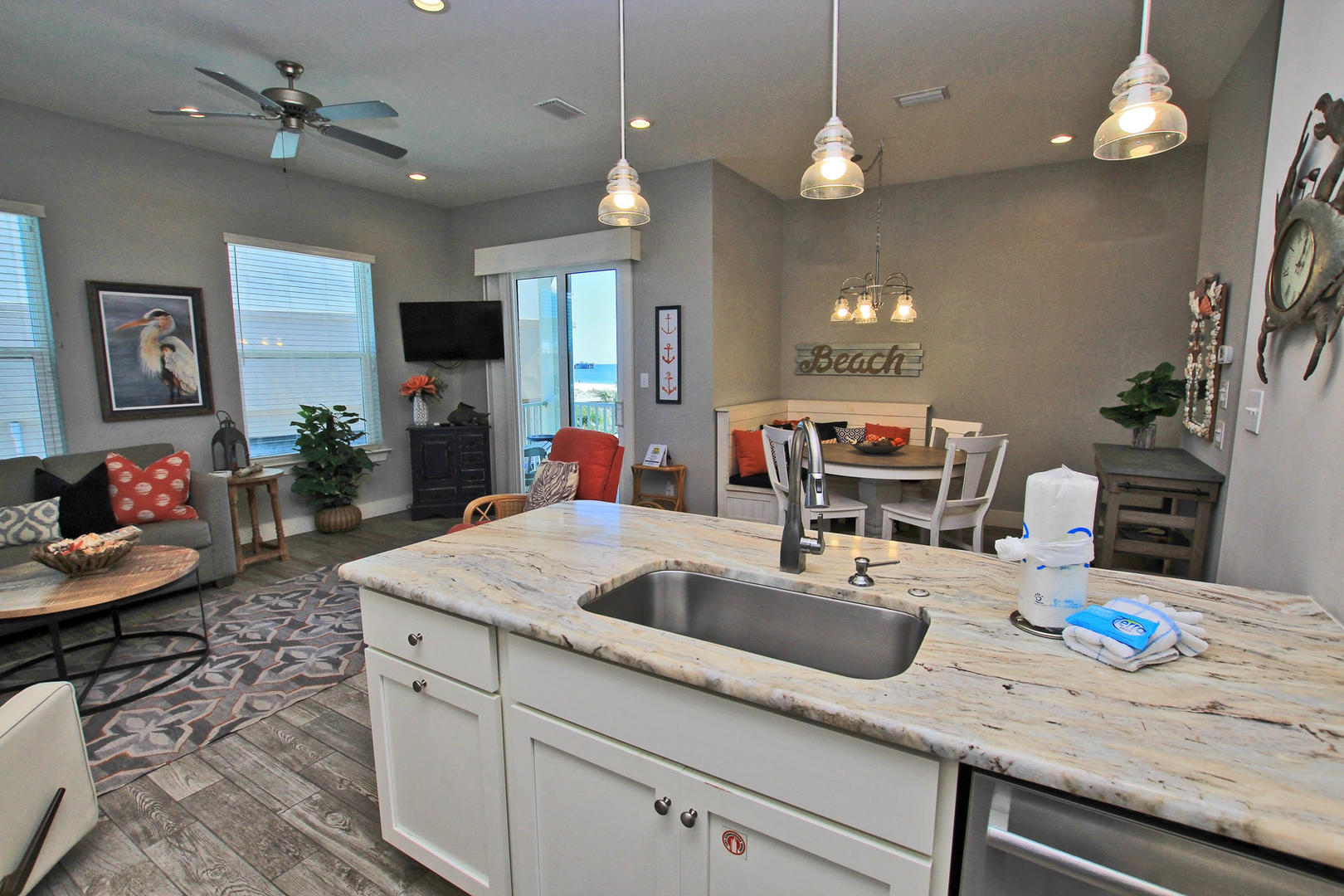 Come experience things from Our Point of View! This 3-bedroom, 3.5-bathroom town-home sits directly on the sugar white sands of the east beach side of Gulf Shores. Our Point of View 3 would be the perfect place to just getaway from the hustle and bustle of everyday life and get your toes in the sand. As you walk up the stairs to the entry way you can feel the cool breeze drifting off the waves of the Gulf of Mexico. Walk inside and feel right at home. The comfort of the inviting living room designed with vibes of the beach life in mind will aid in complete relaxation. If you need more sleeping space the couch folds out to a queen bed which allows this vacation rental to sleep up to 8 people comfortably. There is a half bath on the main level which is easily accessed when everyone is in the living area. The open floor plan on the main level makes spending quality time with family easy. The kitchen is fully equipped with all you need to prepare and serve a culinary feast. The corner dining table can seat up to 6 people and there are 3 additional seats at the breakfast counter. You will also find a door leading to the lower-level private balcony which faces the beach. This is a perfect spot for sipping your morning cup of coffee and preparing yourself for a fun-filled day of exploring the Alabama Coast.

When it is time to tuck in for the night make your way upstairs. You will find all 3 bedrooms that each have their own private bathroom and 2 of the rooms have private balcony access. The master bedroom features a cozy king bed. The master bathroom has a spacious doubly vanity and tiled walk-in shower. The second bedroom also has a king bed and bathroom with tiled walk-in shower and the third bedroom features 2 twin beds. The third bathroom has a tub and shower combination which makes it easier to get the kids clean after a day of splashing and building sandcastles on the beach.

Our Point of View 3 has everything you need. There is a full-size washer and dryer, all the bedrooms and living room have flat screen televisions and there is Wifi. There is covered parking under the house which makes things easier to load and unload your car.

The location cannot be beat. You are within just a short walking distance of the iconic Sea-N-Suds Restaurant and local attractions like the Hangout and Alvins Island Souvenir shop. You can hop in the car and drive about 3 miles to the Gulf State Park fishing pier and see if you can catch something for dinner if you choose.

Our Point of View 3 is a non-smoking property, and no pets are permitted. The primary renter must be 25 years of age or older and be present during the duration of the stay to rent this beach home. Monthly rental rates area available January 1-March 1.

Bedding:
Master-King
Bedroom 2 ? King
Bedroom 3 ? 2 twins
Living Room- Sofa Sleeper Queen

551 East Beach Blvd. Gulf Shores, AL

Area : Gulf Shores
Sleep Cap : 8
Bedrooms : 3.00
Square Ft. : 1600
Master Bedroom : King
Building Orientation : Gulf Side
Guest Bedroom 1 : King
Guest Bedroom 2 : 2 Twins
ilink : ilink Booking
Balcony View : Gulf Front
Number Bathrooms : 3.5
Complex : House
TV - Unit : 4
Number of Beds : 4
Parking Limit : 2 Vehicles
Rental Type : House
Sleeps : 8
Age Requirement : 25
Long Term : No
Pet Policy : No Pets
Pet Restriction : No Pets
Parking - Guest Purchase :
Thank you for submitting your review. It will be processed shortly!
This place is amazing!
by Cynthia P
Great property, price and location...will be back!
September 2022
S
M
T
W
T
F
S
01
02
03
04
05
06
07
08
09
10
11
12
13
14
15
16
17
18
19
20
21
22
23
24
25

$190

26
27
28
29
30
October 2022
S
M
T
W
T
F
S
01
02
03
04
05
06
07
08
09
10
11
12
13
14
15

$245

16

$190

17

$190

18
19
20
21
22
23

$190

24

$190

25

$190

26

$190

27

$190

28
29
30
31

$190
November 2022
S
M
T
W
T
F
S
01

$190

02

$190

03

$190

04

$190

05

$190

06

$190

07

$190

08

$190

09

$190

10

$190

11

$190

12

$190

13

$190

14

$190

15
16
17

$190

18

$190

19

$190

20

$190

21

$250

22

$255

23

$250

24

$265

25

$285

26

$275

27

$250

28

$190

29

$190

30

$190
December 2022
S
M
T
W
T
F
S
01

$190

02

$190

03

$190

04

$190

05

$190

06

$190

07

$190

08

$190

09

$190

10

$190

11

$190

12

$190

13

$190

14

$190

15

$190

16

$190

17

$190

18

$190

19

$190

20

$210

21

$210

22

$220

23

$255

24

$245

25

$255

26

$255

27

$255

28

$285

29

$290

30

$295

31

$290
January 2023
S
M
T
W
T
F
S
01

$305

02
03
04
05
06
07
08
09
10
11
12
13
14
15
16
17
18
19
20
21
22
23
24
25
26
27
28
29
30
31
February 2023

| S | M | T | W | T | F | S |
| --- | --- | --- | --- | --- | --- | --- |
| | | | 01 | 02 | 03 | 04 |
| 05 | 06 | 07 | 08 | 09 | 10 | 11 |
| 12 | 13 | 14 | 15 | 16 | 17 | 18 |
| 19 | 20 | 21 | 22 | 23 | 24 | 25 |
| 26 | 27 | 28 | | | | |
March 2023
S
M
T
W
T
F
S
01

$265

02

$270

03

$275

04

$280

05

$280

06

$280

07

$270

08

$275

09

$280

10

$365

11

$365

12

$370

13

$370

14

$370

15

$375

16

$375

17

$375

18

$350

19

$350

20

$360

21

$360

22

$365

23

$360

24

$355

25

$365

26

$370

27

$385

28

$390

29

$400

30

$405

31

$400
April 2023
S
M
T
W
T
F
S
01

$420

02

$425

03

$420

04

$415

05

$415

06

$475

07

$465

08

$460

09

$415

10

$410

11

$400

12

$395

13

$415

14

$435

15

$450

16

$380

17

$245

18

$245

19

$245

20

$285

21

$320

22

$330

23
24
25
26
27
28

$315

29

$315

30

$315
May 2023
S
M
T
W
T
F
S
01

$305

02

$315

03

$320

04

$365

05

$395

06

$400

07

$360

08

$285

09

$290

10

$310

11

$345

12

$380

13

$385

14

$355

15
16
17
18
19
20
21
22
23
24

$435

25

$465

26

$625

27

$640

28

$615

29

$625

30

$485

31

$500
June 2023
S
M
T
W
T
F
S
01

$520

02

$520

03

$530

04

$505

05

$530

06

$540

07

$545

08

$555

09

$555

10

$565

11

$535

12

$565

13

$570

14

$575

15

$575

16

$580

17

$580

18

$595

19

$615

20

$620

21

$580

22

$580

23

$580

24

$575

25

$565

26

$570

27

$570

28

$565

29

$600

30

$600
July 2023
S
M
T
W
T
F
S
01

$600

02
03
04
05
06
07
08
09
10
11
12
13
14
15

$635

16

$635

17

$640

18

$635

19

$635

20

$640

21

$640

22

$635

23

$625

24

$630

25

$625

26

$620

27

$620

28

$625

29

$615

30

$595

31

$595
August 2023
S
M
T
W
T
F
S
01

$590

02

$585

03

$590

04

$600

05

$585

06

$555

07

$555

08

$545

09

$540

10

$545

11

$565

12

$535

13

$490

14

$480

15

$465

16

$465

17

$480

18

$495

19

$465

20

$410

21

$390

22

$375

23

$380

24

$400

25

$430

26

$405

27

$355

28

$330

29

$315

30

$320

31

$355
September 2023
S
M
T
W
T
F
S
01

$580

02

$565

03

$515

04

$495

05

$290

06

$305

07

$340

08

$380

09

$370

10

$315

11

$295

12

$265

13

$285

14

$310

15

$355

16

$345

17

$290

18

$265

19

$235

20

$265

21

$285

22

$320

23

$300

24

$270

25

$260

26

$285

27

$285

28

$305

29

$335

30

$320