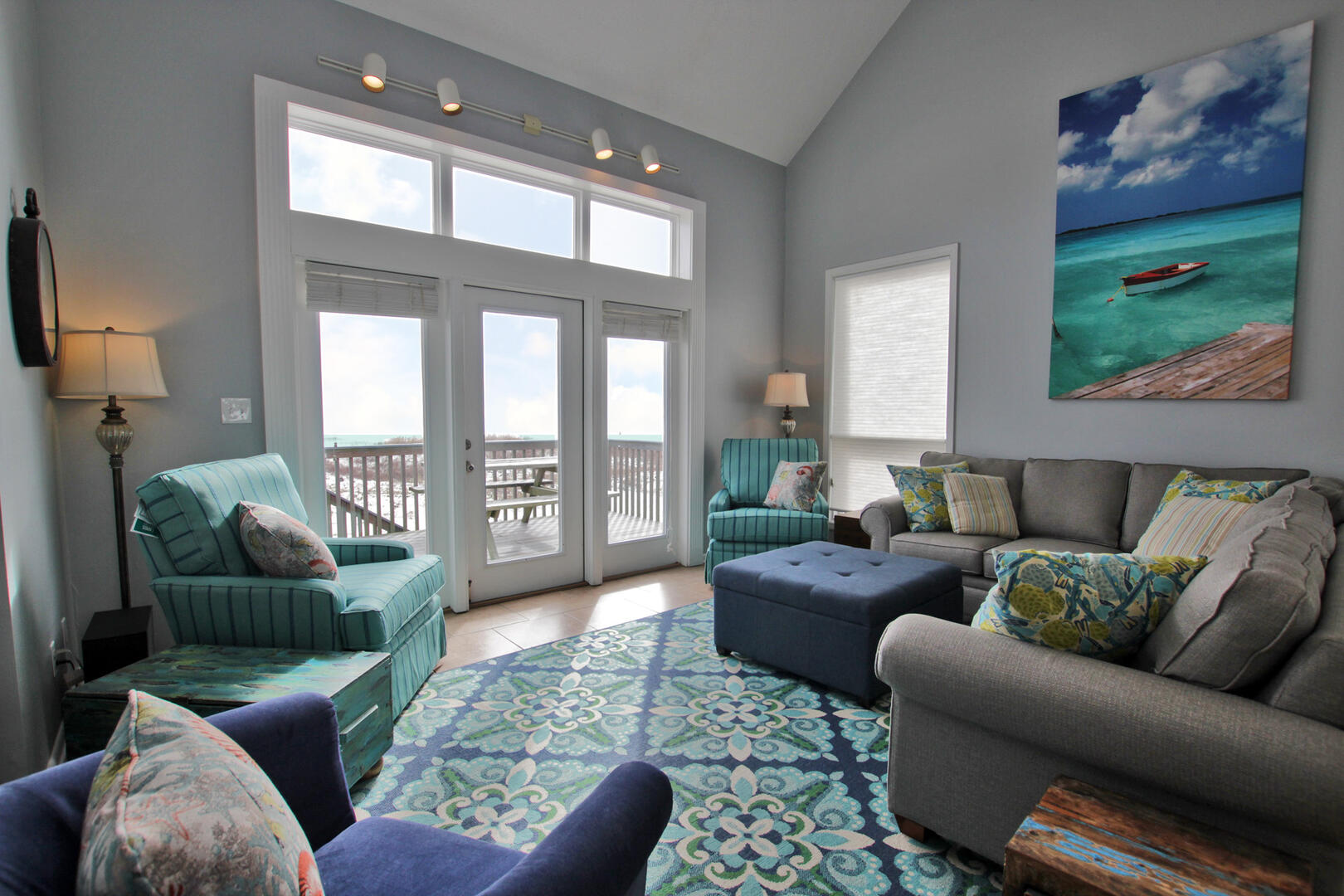 Imagine yourself being right on the beach, away from the busy condos, in a private home all to yourself. Imagine having happy hour and dinners on the deck at sunset while you see and hear the waves of the blue ocean. Imagine being able to watch your family play in the sand and fish in the ocean, while you are sipping a drink on your balcony. If you stay at Marilyns Cottage, this will be your reality.

Marilyns Cottage is a 3-bedroom, 3-bath Gulf-front single-family home on the beach that sleeps 10-12 on West beach Gulf Shores, a few houses past the lagoon bridge. The main living area boasts airy 20-foot ceilings, and the second floor has generous 10-foot ceilings. Because of this, Marilynn's Cottage is extra light and bright, and seems larger than most 3-bedroom spaces.

The house is perfect for multi-generational or family friends with kids. Each of the three bedrooms has its own bathroom, a seldom-seen feature for a 3-bedroom--- you don't have to share your bathroom with the kids while you're on vacation! Upstairs in the master bedroom, there is an amazing view from its private balcony. This is our favorite sunset happy hour spot! In the upstairs bunk room, there are two sets of bunk beds - that sleeps up to six people, along with an en-suite bath with tub.
In the main level guest bedroom, there is easy access to the living space without having to climb any stairs. There is one sleeper sofas in the living room, perfect for you to put those early risers or ones that make a lot of noise in the morning before you have had your first cup of coffee. There is plenty of furniture on the deck - along with a large picnic table for you and your family to enjoy. Finally, there is a convenient shower right off the beach - so you can wash the sand and salt water off before coming back inside to relax with your favorite beverage.

Of course, not everyone likes to cook when they are on vacation, but the people who stay at this cozy cottage are famous for cooking up meals in our well-equipped kitchen. There is one stove, microwave, dishwasher, blender, toaster, coffee maker and Keurig, and a crock pot. There is a wet bar that is perfect for making iced drinks out of the way of the kitchen. The washer and dryer are large capacity - which is great when those laundry stacks start to pile up because you are relaxing. There is also a highchair, baby gate, and pack-n-play. A special feature of the house is our toy closet, with trains, legos, books, games, and dolls.
Marilyns Cottage is located on West Beach, right on the gulf within walking distance to the lagoon pass bridge. It is so fun to go and watch all the water sports and fishing.

Imagine the sound of waves gently lapping on the shore and the most gorgeous sunsets mother nature has to offer. This home is dedicated to the memory of our mother, Marilynn, who passed away in 2014. She would have loved this house. Now it is time to sit back and soak in the panoramic views from this picturesque beach house.

Bedding:
Master- King
Bedroom 2- Full over Full Bunks and Twin over Twin Bunks
Bedroom 3- Queen
Living Room- Sofa Sleeper Queen

1789 West Beach Blvd. Gulf Shores, AL
test 2

Area : Gulf Shores
Sleep Cap : 12
Bedrooms : 3.00
Internet Type : Free Unit WiFi
Square Ft. : 1600
Master Bedroom : King
Building Orientation : Gulf Side
Guest Bedroom 1 : Full/Full BB, Twin/Twin BB
Guest Bedroom 2 : Queen
ilink : ilink Booking
Balcony View : Gulf Front
Video rm2 : DVD
Number Bathrooms : 3.0
Complex : House
TV - Unit : 4
Number of Beds : 6
Rental Type : House
Sleeps : 12
Age Requirement : 25
Long Term : No
Pet Policy : No Pets
Pet Restriction : No Pets
Parking - Guest Purchase :
Thank you for submitting your review. It will be processed shortly!
Great place
by Marguerite M
Great place for my sister and I for vacation. Everything we needed was provided. Had to call for Eli on Great time for my sister and I. House was great for the one who had trouble with stairs. The bedroom on first floor was a life saver. Everything you need is there and the beach was easy to get to. Had a question about the tv and they replied super fast. The week was a hit for all. Will return.
December Birthday Week
by Sherman and Vicky F
Our first time to visit Gulf Shores...we have been going to Mexico Beach for almost 20 years. This house is really on the beach! Love the way it was decorated. It is neat and clean. Furnished with everything you need and more. The views are great. Birds and Dolphins entertain you daily. I would stay here again and again. Just 3 (not really bad) negatives: The weather was super rainy the week we were there so watching TV and playing cards were much of our entertainment - it would of been nice if the living room had a much larger TV. The chairs in the dining room were not designed for you to sit there for a long time; especially if have above normal bottom!! If you have trouble climbing stairs this may not be the house for you!
Beautiful beach front home!
by Amanda W
Beautiful home right on the beach with an awesome balcony! Our family had a great time minus the jellyfish. It was perfect! Might consider new mattresses!!!
December 12, 2020 - Website
Two Lovely Weeks in Gulf Shores
by Donna B
We just spent 2 lovely weeks at Marilyn's Cottage on West Beach in Gulf Shores. The property was beautiful and the kitchen well stocked. It was like home but with a spectacular gulf front view from 2 different decks. Absolutely loved this property! - Reviewed on Google
September 2022
S
M
T
W
T
F
S
01
02
03
04
05
06
07
08
09
10
11
12
13
14
15
16
17
18
19
20
21
22
23
24
25

$250

26
27
28
29
30
October 2022
S
M
T
W
T
F
S
01
02
03
04
05
06
07
08
09
10
11
12
13
14
15
16
17
18
19
20
21
22
23
24
25
26
27
28
29

$230

30

$230

31

$230
November 2022
S
M
T
W
T
F
S
01

$230

02

$230

03

$230

04

$230

05

$230

06

$230

07

$230

08

$230

09

$230

10

$230

11

$230

12

$230

13

$230

14

$230

15

$230

16

$230

17

$230

18

$230

19

$230

20
21
22
23
24
25
26

$325

27

$290

28

$230

29

$230

30

$230
December 2022
S
M
T
W
T
F
S
01

$230

02
03
04
05
06
07
08
09
10
11
12
13
14
15
16
17
18
19
20
21
22
23
24
25
26
27
28
29
30
31
January 2023

| S | M | T | W | T | F | S |
| --- | --- | --- | --- | --- | --- | --- |
| 01 | 02 | 03 | 04 | 05 | 06 | 07 |
| 08 | 09 | 10 | 11 | 12 | 13 | 14 |
| 15 | 16 | 17 | 18 | 19 | 20 | 21 |
| 22 | 23 | 24 | 25 | 26 | 27 | 28 |
| 29 | 30 | 31 | | | | |
February 2023

| S | M | T | W | T | F | S |
| --- | --- | --- | --- | --- | --- | --- |
| | | | 01 | 02 | 03 | 04 |
| 05 | 06 | 07 | 08 | 09 | 10 | 11 |
| 12 | 13 | 14 | 15 | 16 | 17 | 18 |
| 19 | 20 | 21 | 22 | 23 | 24 | 25 |
| 26 | 27 | 28 | | | | |
March 2023
S
M
T
W
T
F
S
01
02
03
04
05
06
07
08
09
10
11

$480

12

$480

13

$480

14

$485

15

$475

16

$470

17

$485

18

$460

19

$450

20

$460

21

$475

22

$455

23

$455

24

$465

25

$490

26

$495

27

$495

28

$525

29

$500

30

$510

31

$520
April 2023
S
M
T
W
T
F
S
01

$545

02

$540

03

$520

04

$540

05

$505

06

$580

07

$580

08

$595

09

$545

10

$505

11

$530

12

$495

13

$520

14

$555

15

$585

16

$510

17

$315

18

$335

19

$320

20

$335

21

$385

22

$420

23

$325

24

$325

25

$330

26

$320

27

$335

28

$390

29

$410

30

$330
May 2023
S
M
T
W
T
F
S
01

$335

02

$340

03

$345

04

$365

05

$420

06

$425

07

$375

08

$370

09

$370

10

$385

11

$400

12

$455

13

$450

14

$425

15

$415

16

$425

17

$440

18

$930

19

$990

20

$975

21

$960

22

$495

23

$505

24

$520

25

$545

26

$790

27

$785

28

$760

29

$790

30

$735

31

$735
June 2023
S
M
T
W
T
F
S
01

$735

02

$735

03

$655

04

$620

05

$715

06

$730

07

$730

08

$735

09

$750

10

$720

11
12
13
14
15
16
17

$745

18

$760

19

$790

20

$795

21

$745

22

$745

23

$745

24

$735

25

$720

26

$730

27

$730

28

$725

29

$765

30

$765
July 2023
S
M
T
W
T
F
S
01

$760

02

$770

03

$780

04

$790

05

$775

06

$785

07

$795

08

$765

09

$775

10

$785

11

$790

12

$800

13

$810

14

$815

15

$810

16

$810

17

$825

18

$820

19

$830

20

$820

21

$820

22

$810

23

$805

24

$815

25

$810

26

$815

27

$810

28

$805

29

$800

30

$780

31

$785
August 2023
S
M
T
W
T
F
S
01

$775

02

$775

03

$775

04

$785

05

$760

06

$730

07

$730

08

$710

09

$710

10

$705

11

$730

12

$685

13

$635

14

$615

15

$590

16

$590

17

$610

18

$630

19

$580

20

$520

21

$490

22

$470

23

$470

24

$505

25

$535

26

$505

27

$445

28

$410

29

$390

30

$400

31

$455
September 2023
S
M
T
W
T
F
S
01

$685

02

$675

03
04
05
06
07
08
09

$485

10

$410

11

$380

12

$350

13

$370

14

$410

15

$445

16

$450

17

$380

18

$340

19

$315

20

$345

21

$375

22

$405

23

$400

24

$355

25

$335

26

$355

27

$370

28

$400

29

$430

30

$420