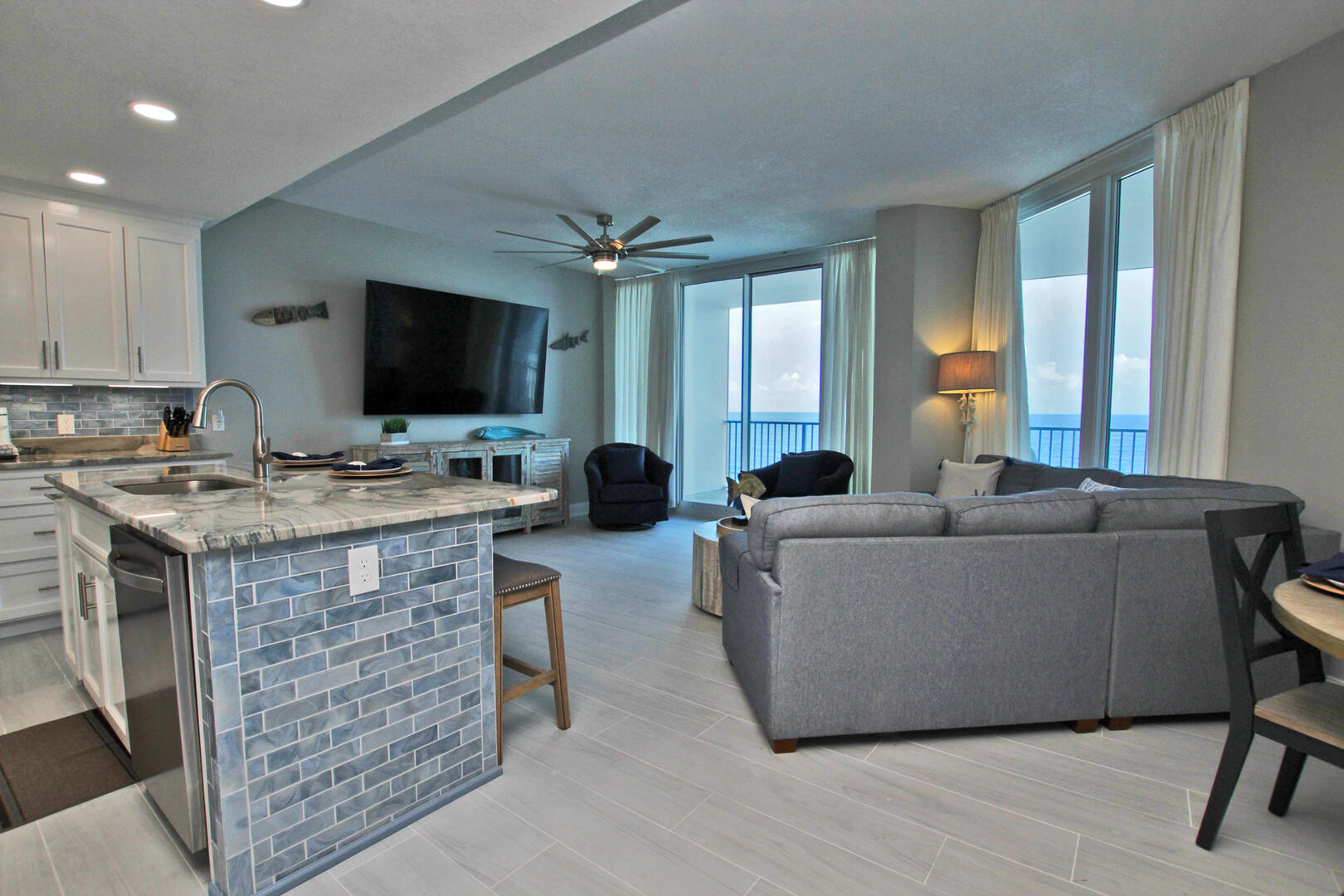 Lighthouse has been a beacon of Gulf Shores as long as most vacationers can remember. A visit to this 250 unit property places you near shopping, attractions, entertainment and dining! Enjoy the selection of pools, including a popular zero entry pool plus many other amenities such as meeting rooms. You are sure to appreciate the pristine view of the Gulf of Mexico from your private balcony. This 5th floor 1477 sq ft condo features a gulf front master bedroom with the private master bath, professional decor, twin double bunk, colorful tile back splash in kitchen, built in ice maker at the bar, full size washer/dryer and free WIFI. Indoor parking / 2 car max. Enjoy this nonsmoking environment. The Lighthouse is a long-time favorite property that rents quickly so make your reservation today!

You must be 25 years of age or older to rent. This is a non-smoking property. No pets are permitted.

This property collects parking fees onsite on the 2nd floor at $40.00/pass. Credit or Debit Cards ONLY. Passes are valid for the duration of your stay.
Unit Location : Close to Elevator
Area : Gulf Shores
Sleep Cap : 7
Bedrooms : 3.00
Internet Type : Free Public WiFi
Square Ft. : 1477
Master Bedroom : King
Building Orientation : Gulf Side
Guest Bedroom 1 : Twin/Full Bunk Beds
Guest Bedroom 2 : Queen
ilink : ilink Booking
Balcony View : Gulf Front
Number Bathrooms : 3.0
Complex : Lighthouse
TV - Unit : 4
Number of Beds : 4
Pool - Outdoor : Yes
Pool - Indoor : Yes
Pool - Indoor Heated : Yes
Jacuzzi : Yes
Fitness Room : Yes
Sauna : Yes
BBQ Grills : Yes
Elevator : Yes
Parking Limit : 2 Vehicles
Rental Type : Condo
Sleeps : 7
Age Requirement : 25
Long Term : No
Pet Policy : No Pets
Pet Restriction : No Pets
Parking - Guest Purchase : This property collects parking fees onsite on the 3rd floor at $40.00/pass. Only CREDIT CARDS are ac
Thank you for submitting your review. It will be processed shortly!
Great Location, Great Unit
by Susan
This was our first time staying at Lighthouse. 515 was renovated, clean, and decorated very nicely. The kitchen seemed to be well stocked and the ice machine was a huge plus. The view is incredible and access to the beach is very convenient. We used the pool occasionally but none of the other amenities. The table on the patio came in handy for playing cards on a rainy afternoon. Few suggestions: Some doormats (inside and out) would go a long way to controlling sand in the unit. The vacuum was clogged with sand and the brooms were not much help as the sand settled into the grout grooves of the tile. Also, small chests in the closets or luggage racks for the smaller rooms would be helpful. Maybe extension cords from the outlets behind the beds so they can be accessed for phone charging. Overall it was a great week at the beach! Thank you!
October 2022
S
M
T
W
T
F
S
01
02
03

$200

04
05
06
07
08
09
10

$220

11

$185

12

$185

13

$200

14
15
16
17
18
19
20
21
22

$225

23

$185

24

$185

25
26
27
28

$200

29

$185

30

$185

31

$185
November 2022
S
M
T
W
T
F
S
01

$185

02

$185

03

$185

04

$185

05

$185

06

$185

07

$185

08

$185

09

$185

10
11
12
13

$185

14

$185

15

$185

16

$185

17

$185

18

$185

19

$185

20

$185

21
22
23
24
25

$310

26

$300

27

$270

28

$185

29
30
December 2022
S
M
T
W
T
F
S
01
02
03
04

$185

05

$185

06

$185

07

$185

08

$185

09

$185

10

$185

11

$185

12

$185

13

$185

14

$185

15

$185

16

$185

17

$185

18

$185

19

$185

20

$185

21

$185

22

$185

23

$230

24

$220

25

$230

26

$235

27

$230

28

$260

29

$265

30

$275

31

$270
January 2023
S
M
T
W
T
F
S
01

$285

02

$290

03

$290

04

$185

05

$185

06

$185

07

$185

08

$185

09

$185

10

$185

11

$185

12

$205

13

$210

14

$215

15

$215

16

$220

17

$190

18

$195

19

$195

20

$200

21

$200

22

$200

23

$200

24

$205

25

$210

26

$210

27

$215

28

$215

29

$210

30

$210

31

$220
February 2023
S
M
T
W
T
F
S
01

$225

02

$225

03

$235

04

$230

05

$225

06

$225

07

$230

08

$230

09

$235

10

$245

11

$245

12

$240

13

$240

14

$245

15

$245

16

$280

17

$290

18

$295

19

$290

20

$290

21

$250

22

$330

23

$335

24

$335

25

$260

26

$260

27

$255

28

$255
March 2023
S
M
T
W
T
F
S
01

$255

02

$300

03

$305

04

$305

05

$305

06

$305

07

$295

08

$300

09

$305

10

$400

11

$400

12

$400

13

$405

14

$405

15

$410

16

$410

17

$410

18

$390

19

$385

20

$400

21

$395

22

$400

23

$400

24

$390

25
26
27
28
29
30
31
April 2023
S
M
T
W
T
F
S
01

$465

02

$465

03

$455

04

$450

05

$450

06

$525

07

$510

08

$505

09

$460

10

$445

11

$440

12

$435

13

$455

14

$480

15

$495

16

$420

17

$270

18

$270

19

$270

20

$310

21

$345

22

$360

23

$275

24

$275

25

$275

26

$270

27

$315

28

$345

29

$345

30

$345
May 2023
S
M
T
W
T
F
S
01

$340

02

$345

03

$350

04

$400

05

$430

06

$435

07

$395

08

$310

09

$320

10

$340

11

$375

12

$415

13

$420

14

$390

15

$370

16

$380

17

$405

18

$835

19

$855

20

$865

21

$845

22

$445

23

$455

24

$475

25

$510

26

$685

27

$700

28

$675

29

$685

30

$530

31

$545
June 2023
S
M
T
W
T
F
S
01

$570

02
03
04

$555

05

$580

06

$590

07

$600

08

$610

09

$610

10

$620

11

$590

12
13
14
15
16
17

$635

18

$650

19

$675

20

$675

21

$635

22

$635

23

$635

24

$630

25

$615

26

$625

27

$625

28

$620

29

$660

30

$660
July 2023
S
M
T
W
T
F
S
01
02
03
04
05
06
07

$675

08

$655

09

$660

10

$660

11

$670

12

$675

13

$685

14

$695

15

$695

16

$695

17

$700

18

$695

19

$695

20

$700

21

$705

22

$695

23

$685

24

$690

25
26
27
28
29

$675

30

$655

31

$655
August 2023
S
M
T
W
T
F
S
01

$645

02

$640

03

$645

04

$660

05

$640

06

$610

07

$610

08

$595

09

$590

10

$600

11

$620

12

$590

13

$535

14

$525

15

$510

16

$505

17

$525

18

$545

19

$510

20

$450

21

$430

22

$415

23

$415

24

$440

25

$470

26

$445

27

$385

28

$360

29

$340

30

$350

31

$390
September 2023
S
M
T
W
T
F
S
01

$640

02

$620

03

$565

04

$540

05

$315

06

$330

07

$370

08

$420

09

$405

10

$340

11

$320

12

$300

13

$310

14

$350

15

$385

16

$375

17

$315

18

$290

19

$280

20

$290

21

$320

22

$345

23

$345

24

$290

25

$280

26

$290

27

$300

28

$330

29

$350

30

$355
October 2023
S
M
T
W
T
F
S
01

$295

02

$290

03

$300

04

$300

05

$335

06

$560

07

$570

08

$495

09

$490

10

$290

11

$285

12

$320

13

$340

14

$335

15

$255

16

$240

17

$235

18

$235

19

$270

20

$285

21

$270

22

$210

23

$210

24

$210

25

$210

26

$220

27

$240

28

$225

29

$210

30

$210

31

$210