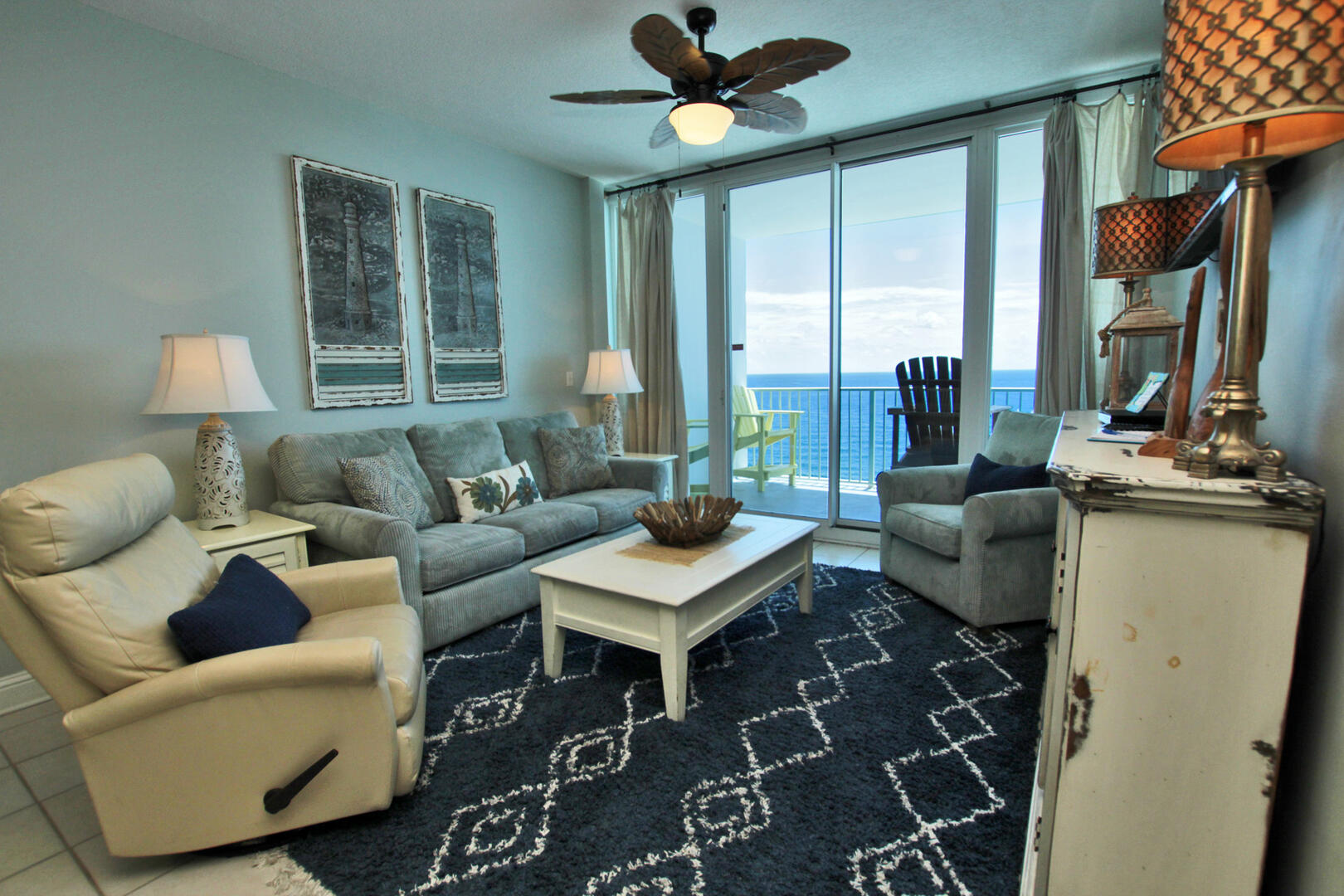 ** There is still active construction at this property. Guests must sign a construction waiver when purchasing parking passes*

Let Lighthouse 1608 be your beacon to the beach! This stunning, two-bedroom gulf front condo features a direct view of the pearly white sands of Gulf Shores, Al from the master bedroom, as well as private balcony access from the coastal themed living room. There are king size beds in both bedrooms and a bonus room with twin size bunks, there is also a sofa sleeper in the living room which allows this beach front paradise to comfortably sleep up to 8 people. You will find a Jacuzzi tub and walk in shower in the master bathroom, and a tub/shower combo in the second bathroom. This 16th floor, 1161 sq. ft. condo has a fully equipped kitchen with upgraded appliances to create culinary delights and a full- size washer and dryer.

The amenities at this property will not leave you disappointed. A zero- entry outdoor pool, as well as an indoor pool will have the family splashing around for hours. There is a fitness center as well as a sauna, and BBQ grills. The condo comes with 2 parking passes in the covered parking garage, as well as free Wi-Fi.
So grab your flip flops and a beach bag! Prepare to experience life at one of the best vacation rentals in Gulf Shores by reserving your stay today!

You must be 25 years of age or older to rent. This is a non-smoking property. No pets are permitted.


This property collects parking fees onsite on the 2nd floor at $40.00/pass. Credit or Debit Cards ONLY. Passes are valid for the duration of your stay.
Area : Gulf Shores
Sleep Cap : 8
Bedrooms : 2.00
Internet Type : Free Public WiFi
Square Ft. : 1161
Master Bedroom : King
Building Orientation : Gulf Side
Guest Bedroom 1 : King
ilink : ilink Booking
Balcony View : Gulf Front
Number Bathrooms : 2.0
Complex : Lighthouse
TV - Unit : 4
Number of Beds : 4
Pool - Outdoor : Yes
Pool - Indoor : Yes
Pool - Indoor Heated : Yes
Jacuzzi : Yes
Fitness Room : Yes
Sauna : Yes
BBQ Grills : Yes
Elevator : Yes
Parking Limit : 2 Vehicles
Rental Type : Condo
Sleeps : 8
Age Requirement : 25
Long Term : No
Pet Policy : No Pets
Pet Restriction : No Pets
Parking - Guest Purchase : This property collects parking fees onsite on the 3rd floor at $40.00/pass. Only CREDIT CARDS are ac
Thank you for submitting your review. It will be processed shortly!
Best condo ever!!
by Lisa G
I've stayed many places in Gulf Shores and Orange Beach but this one was the best!!! Beautiful decor and super clean!!! It was very cozy!! Definitely going back!!! -Reviewed on VRBO
October 2022
S
M
T
W
T
F
S
01
02
03

$180

04
05
06
07

$390

08

$396

09
10
11
12
13
14
15

$210

16

$180

17

$180

18
19
20
21
22
23

$180

24

$180

25

$180

26

$180

27

$180

28
29
30

$180

31

$180
November 2022
S
M
T
W
T
F
S
01

$180

02

$180

03

$180

04

$180

05

$180

06

$180

07

$180

08

$180

09

$180

10

$180

11

$180

12

$180

13

$180

14

$180

15

$180

16

$180

17
18
19
20
21

$235

22

$235

23

$230

24

$245

25

$265

26

$255

27

$230

28

$180

29

$180

30

$180
December 2022
S
M
T
W
T
F
S
01

$180

02

$180

03

$180

04

$180

05

$180

06

$180

07

$180

08

$180

09

$180

10

$180

11

$180

12

$180

13

$180

14

$180

15

$180

16

$180

17

$180

18

$180

19

$180

20

$180

21

$180

22

$180

23

$200

24

$195

25

$200

26

$205

27

$205

28

$225

29

$235

30

$235

31

$230
January 2023
S
M
T
W
T
F
S
01

$240

02
03
04
05
06
07
08
09
10
11
12
13
14
15
16
17
18
19
20
21
22
23
24
25
26
27
28
29
30
31
February 2023

| S | M | T | W | T | F | S |
| --- | --- | --- | --- | --- | --- | --- |
| | | | 01 | 02 | 03 | 04 |
| 05 | 06 | 07 | 08 | 09 | 10 | 11 |
| 12 | 13 | 14 | 15 | 16 | 17 | 18 |
| 19 | 20 | 21 | 22 | 23 | 24 | 25 |
| 26 | 27 | 28 | | | | |
March 2023
S
M
T
W
T
F
S
01
02
03
04
05
06
07
08
09
10
11

$370

12

$370

13

$365

14

$365

15

$365

16

$370

17

$370

18

$355

19

$350

20

$355

21

$355

22

$355

23

$355

24

$355

25

$370

26

$380

27

$385

28

$385

29

$390

30

$400

31

$405
April 2023
S
M
T
W
T
F
S
01

$420

02

$420

03

$410

04

$405

05

$400

06

$455

07

$445

08

$430

09

$410

10

$390

11

$390

12

$380

13

$390

14

$405

15

$400

16

$365

17

$230

18

$235

19

$240

20

$260

21

$290

22

$285

23

$235

24

$230

25

$230

26

$240

27

$270

28

$295

29

$290

30

$295
May 2023
S
M
T
W
T
F
S
01

$285

02

$285

03

$300

04

$340

05

$365

06

$365

07

$325

08

$260

09

$265

10

$280

11

$320

12

$355

13

$360

14

$325

15

$320

16

$325

17

$340

18

$705

19

$735

20

$750

21

$715

22

$385

23

$385

24

$400

25

$425

26

$590

27

$600

28

$580

29

$585

30

$445

31

$460
June 2023
S
M
T
W
T
F
S
01

$480

02

$490

03

$495

04
05
06
07
08
09
10

$520

11

$505

12

$520

13

$530

14

$525

15

$530

16

$530

17

$530

18

$545

19

$560

20

$565

21

$535

22

$535

23

$540

24

$540

25

$530

26

$540

27

$540

28

$540

29

$575

30

$575
July 2023
S
M
T
W
T
F
S
01

$575

02

$570

03

$575

04

$575

05

$580

06

$590

07

$585

08

$560

09

$555

10

$560

11

$560

12

$560

13

$570

14

$575

15

$575

16

$565

17

$580

18

$575

19

$570

20

$585

21

$595

22

$585

23

$565

24

$575

25

$575

26

$565

27

$580

28

$585

29

$575

30

$540

31

$545
August 2023
S
M
T
W
T
F
S
01

$540

02

$535

03

$550

04

$555

05

$540

06
07
08
09
10
11
12

$480

13

$425

14

$420

15

$410

16

$410

17

$420

18

$430

19

$410

20

$355

21

$345

22

$330

23

$330

24

$345

25

$365

26

$355

27

$300

28

$295

29

$280

30

$280

31

$300
September 2023
S
M
T
W
T
F
S
01

$500

02

$495

03

$455

04

$445

05

$260

06

$260

07

$285

08

$310

09

$305

10

$270

11

$270

12

$250

13

$255

14

$275

15

$300

16

$295

17

$265

18

$255

19

$245

20

$245

21

$265

22

$290

23

$285

24

$250

25

$245

26

$245

27

$245

28

$270

29

$295

30

$295
October 2023
S
M
T
W
T
F
S
01

$260

02

$245

03

$260

04

$260

05

$285

06

$480

07

$480

08

$430

09

$415

10

$245

11

$240

12

$265

13

$280

14

$275

15

$220

16

$205

17

$205

18

$205

19

$225

20

$235

21

$230

22

$205

23

$205

24

$205

25

$205

26

$205

27

$205

28

$205

29

$205

30

$205

31

$205