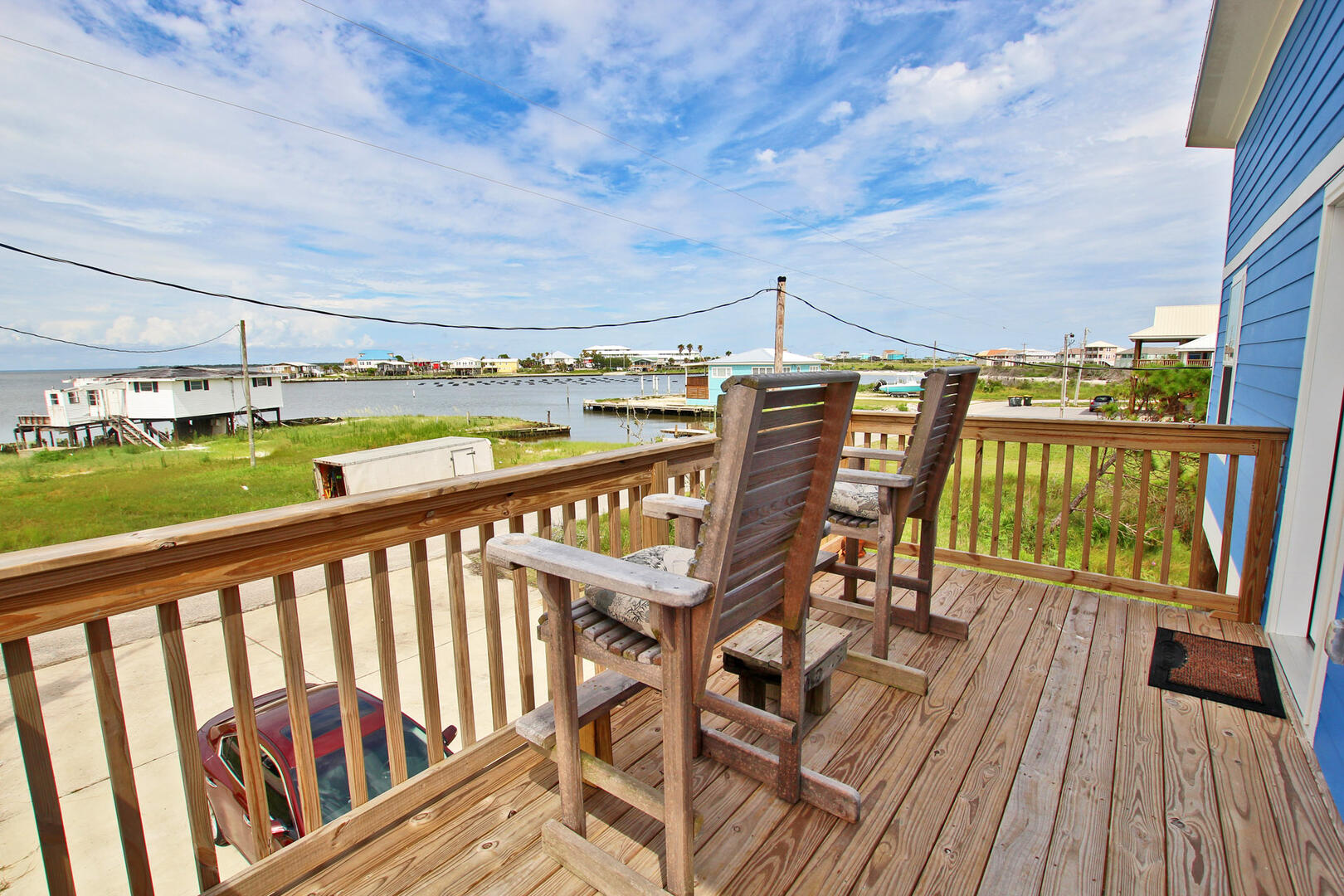 Escape reality at La Casita Azul! True to it's name, this little blue house is exactly what you need to relax and unwind. Located in Fort Morgan you will find water views from every angle. Enjoy the simple things in life all while soaking in what the Alabama coast has to offer. The open floor plan of the living room and kitchen makes it easy to spend time together. The kitchen is fully equipped with everything you need to prepare and serve a fresh seafood meal. There is a small sofa in the living room which folds out to a twin size sofa sleeper, and a wall mounted TV in case you want to watch a movie. This 1 bedroom, 1 bathroom home can sleep up to 3 people comfortably.

When it is time to rest from a busy day of exploring, the cozy master bedroom will be awaiting your arrival. There is a queen bed positioned just right to experience breathtaking views of the world around you from the windows. There is a wall mounted TV in the bedroom and WiFi throughout the home in case you need to stay connected to the world during your getaway. There is access to the shared bathroom from the bedroom and the common area. The bathroom has a walk in shower and a vanity to keep all of your personal items organized.

La Casita Azul offers all common household appliances including a stackable washing machine and dryer. This 600 square foot home has parking underneath and wooden deck overlooking the Bay Do not be surprised if you catch a glimpse of local wildlife during your stay, but please remember to admire from a distance.

This is a non-smoking home and pets are not permitted. Minimum age requirement to rent is 21 years. La Casita Azul does not offer discounted monthly rates.

Bedding:
Master- Queen
Living Room- Sofa Sleeper Twin

641 Bonita Ct. Gulf Shores, AL
Area : Fort Morgan
Sleep Cap : 3
Bedrooms : 1.00
Internet Type : Free Unit WiFi
Square Ft. : 600
Master Bedroom : Queen
ilink : ilink Booking
Balcony View : Indirect Gulf View
Number Bathrooms : 1.0
Complex : House
TV - Unit : 2
Number of Beds : 1
Parking Limit : 2 Vehicles
Rental Type : House
Sleeps : 3
Age Requirement : 21
Long Term : No
Pet Policy : No Pets
Pet Restriction : No Pets
Parking - Guest Purchase :
Thank you for submitting your review. It will be processed shortly!
September 7, 2021 - Website
Very quiet. Appropriate for 3 people - Reviewed on AirBnB
August 13, 2021 - Website
Nice place to simply get away - Reviewed on AirBnB
October 2022
S
M
T
W
T
F
S
01
02
03

$95

04
05
06
07
08

$156

09

$144

10

$95

11

$95

12

$95

13
14
15
16
17
18
19
20
21
22
23
24
25
26
27

$95

28

$95

29

$95

30

$95

31

$95
November 2022
S
M
T
W
T
F
S
01

$95

02

$95

03

$95

04

$95

05

$95

06

$95

07

$95

08

$95

09

$95

10

$95

11

$95

12

$95

13

$95

14

$95

15

$95

16

$95

17

$95

18

$95

19

$95

20

$95

21

$95

22

$95

23

$95

24

$95

25

$100

26

$100

27

$95

28

$95

29

$95

30

$95
December 2022
S
M
T
W
T
F
S
01

$95

02

$95

03

$95

04

$95

05

$95

06

$95

07

$95

08

$95

09

$95

10

$95

11

$95

12

$95

13

$95

14

$95

15

$95

16

$95

17

$95

18

$95

19

$95

20

$95

21

$95

22

$95

23

$110

24

$110

25

$115

26

$115

27

$120

28

$130

29
30
31

$145
January 2023
S
M
T
W
T
F
S
01

$150

02

$140

03

$140

04

$95

05

$95

06

$95

07

$95

08

$95

09

$95

10

$95

11

$95

12

$95

13

$95

14

$95

15

$95

16

$95

17

$95

18

$95

19

$95

20

$95

21

$95

22

$95

23

$95

24

$95

25

$95

26

$95

27

$95

28

$95

29

$95

30

$95

31

$95
February 2023
S
M
T
W
T
F
S
01

$95

02

$95

03

$95

04

$95

05

$95

06

$95

07

$95

08

$95

09

$95

10

$95

11

$95

12

$95

13

$95

14

$95

15

$95

16

$100

17

$110

18

$115

19

$105

20

$105

21

$95

22

$95

23

$95

24

$95

25

$100

26

$95

27

$95

28

$95
March 2023
S
M
T
W
T
F
S
01

$95

02

$105

03

$115

04

$115

05

$105

06

$105

07

$105

08

$105

09

$105

10

$150

11

$150

12

$140

13

$145

14

$145

15

$145

16

$150

17

$160

18

$150

19

$140

20

$150

21

$150

22

$140

23

$150

24

$155

25

$155

26

$150

27

$155

28

$155

29

$145

30

$155

31

$160
April 2023
S
M
T
W
T
F
S
01

$175

02

$165

03

$175

04

$175

05

$175

06

$190

07

$200

08

$210

09

$190

10

$190

11

$190

12

$180

13

$170

14

$180

15

$190

16

$165

17

$115

18

$110

19

$105

20

$105

21

$115

22

$135

23

$110

24

$110

25

$110

26

$105

27

$105

28

$130

29

$140

30

$110
May 2023
S
M
T
W
T
F
S
01

$110

02

$115

03

$105

04

$115

05

$140

06

$145

07

$120

08

$115

09

$110

10

$105

11

$120

12

$140

13

$145

14

$120

15

$120

16

$120

17

$125

18

$240

19

$265

20

$270

21

$255

22

$155

23

$155

24

$160

25

$190

26

$255

27

$260

28

$240

29

$250

30

$200

31

$190
June 2023
S
M
T
W
T
F
S
01

$195

02

$200

03

$200

04

$190

05

$200

06

$205

07

$205

08

$210

09

$210

10

$215

11

$205

12

$215

13

$215

14

$230

15

$235

16

$235

17

$220

18

$230

19

$235

20

$235

21

$220

22

$215

23

$215

24

$215

25

$205

26

$210

27

$210

28

$210

29

$220

30

$225
July 2023
S
M
T
W
T
F
S
01

$225

02

$225

03

$225

04

$230

05

$225

06

$225

07

$230

08

$225

09

$220

10

$225

11

$230

12

$230

13

$230

14

$235

15

$235

16

$230

17

$235

18

$235

19

$235

20

$235

21

$235

22

$240

23

$230

24

$235

25

$235

26

$235

27

$230

28

$230

29

$225

30

$215

31

$225
August 2023
S
M
T
W
T
F
S
01

$215

02

$215

03

$215

04

$220

05

$220

06

$200

07

$205

08

$200

09

$200

10

$200

11

$210

12

$205

13

$180

14

$175

15

$165

16

$165

17

$165

18

$180

19

$175

20

$145

21

$135

22

$130

23

$130

24

$135

25

$145

26

$140

27

$115

28

$105

29

$105

30

$105

31

$115
September 2023
S
M
T
W
T
F
S
01

$200

02

$205

03

$180

04

$165

05

$105

06

$105

07

$115

08

$130

09

$130

10

$110

11

$105

12

$105

13

$105

14

$115

15

$130

16

$135

17

$110

18

$105

19

$105

20

$105

21

$105

22

$120

23

$125

24

$105

25

$105

26

$105

27

$105

28

$105

29

$120

30

$125
October 2023
S
M
T
W
T
F
S
01

$105

02

$105

03

$105

04

$105

05

$105

06

$170

07

$175

08

$150

09

$140

10

$105

11

$105

12

$105

13

$115

14

$120

15

$105

16

$105

17

$105

18

$105

19

$105

20

$105

21

$105

22

$105

23

$105

24

$105

25

$105

26

$105

27

$105

28

$105

29

$105

30

$105

31

$105