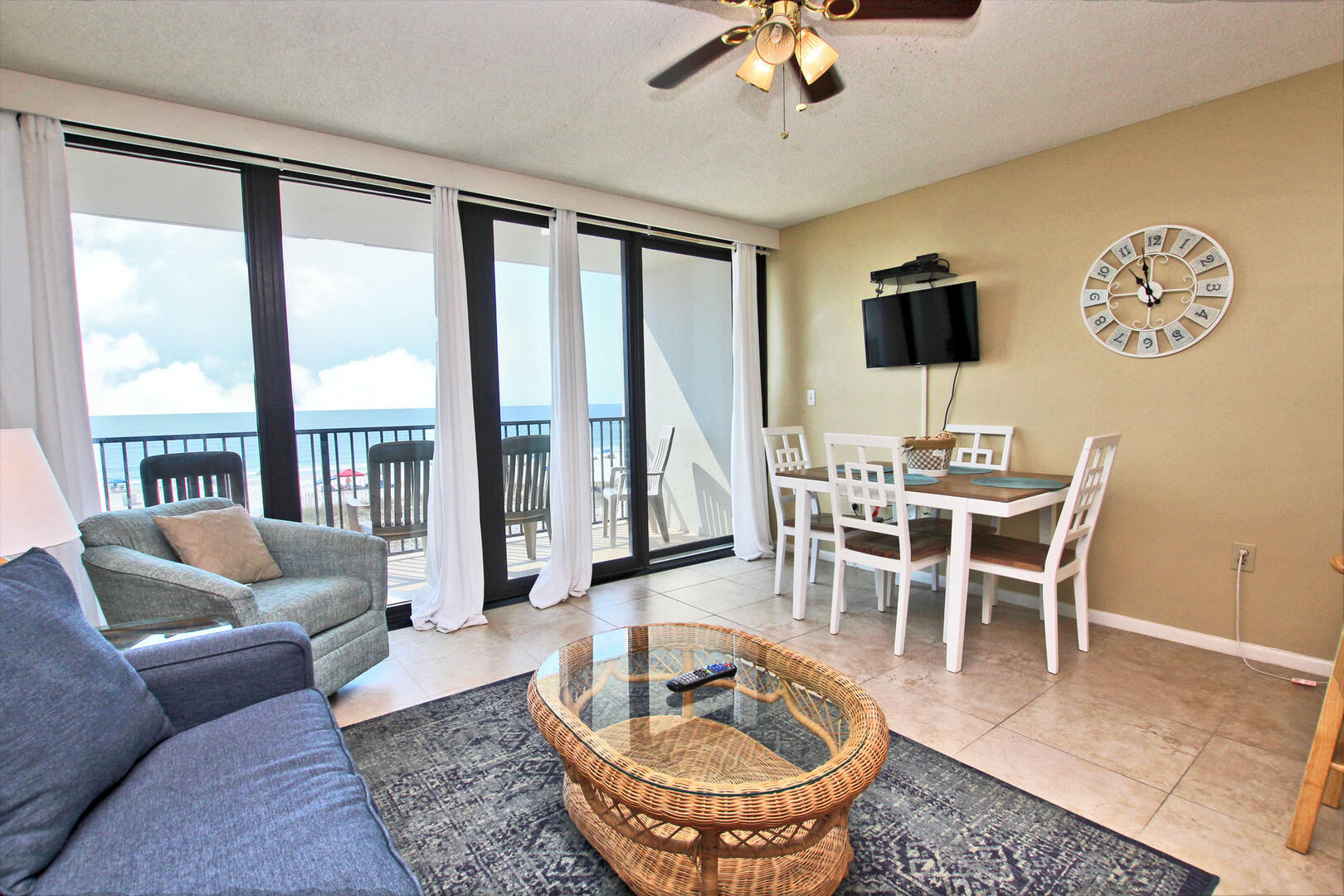 Roof Work will be ongoing from November - February 2023

Island Winds West is situated directly on the beach in the heart of Gulf Shores and is the very first complex you'll see when turning onto West Beach Boulevard. In fact, its the hottest ticket in accommodations for all of the local festivals as it is only 1 block from the Hangout! The gulf front views at Island Winds West are second to none plus you're within walking distance to restaurants, shopping and nightlife, making this an ideal location for travelers of all ages.
This adorable 1 bedroom, 1 bath unit, is Gulf front and was completely Remodeled from Top to Bottom in Fall of 2016. This unit has an open concept and the bedroom is completely open to the hallway. Be sure to take advantage of the extra sleeping capacity with the pull out sofa sleeper in the living room. Tired of dining out? No problem, staying in is a breeze with a newly remodeled fully-equipped kitchen. This unit also offers a new washer and dryer, FREE WIFI, a fitness room on site, a gulf front pool and a separate children?s pool. When not playing on the beach you are sure to enjoy the view from your private gulf front balcony.
This 720 sq ft, 3rd floor Efficiency Style 1 Bedroom Condo, is a nonsmoking unit that allows for up to 2 vehicles.

If you are looking for a place during The National Shrimp Festival or the Hangout Music Festival, this is right in the middle of the action.
Monthly rentals available November to March 1.

This property collects parking fees onsite. The cost is $28.25 per parking pass. The passes will be valid for the duration of your stay.
Unit Location : Close to Elevator
Area : Gulf Shores
Sleep Cap : 4
Bedrooms : 1.00
Internet Type : Free Unit WiFi
Square Ft. : 720
Master Bedroom : Queen
Building Orientation : Gulf Side
ilink : ilink Booking
Balcony View : Gulf Front
Number Bathrooms : 1.0
Complex : Island Winds West
TV - Unit : 1
Number of Beds : 1
Pool - Outdoor : Yes
Pool - Childrens : Yes
Fitness Room : Yes
Elevator : Yes
Parking Limit : 1 Vehicle
Rental Type : Condo
Sleeps : 4
Age Requirement : 21
Long Term : No
Pet Policy : No Pets
Pet Restriction : No Pets
Parking - Guest Purchase : This property requires parking passes to be purchased on-site. The cost is $20.00 each. The cost of
Thank you for submitting your review. It will be processed shortly!
August 27, 2022 - Manual Entry
Great family vacation
by Kirby D.
Great location on the beach, very clean condo and everything was as expected!!! - Reviewed on VRBO
My boyfriend and I just spent 3 days here and it was great. Awesome location, so many shops and places to eat within 5 minutes from us and it was right on the beach. It was a nice and clean place and it was a perfect size for me and my boyfriend. We had an amazing time. I'll would book this same location whenever we come again!!
October 2022
S
M
T
W
T
F
S
01
02
03

$110

04
05

$110

06

$135

07
08
09
10

$110

11

$110

12

$110

13
14
15
16
17
18
19

$110

20

$120

21

$125

22

$135

23

$110

24

$110

25

$110

26
27
28
29
30
31
November 2022
S
M
T
W
T
F
S
01
02
03

$110

04

$110

05

$110

06

$110

07

$110

08

$110

09

$110

10

$110

11

$110

12

$110

13

$110

14

$110

15

$110

16

$110

17

$110

18

$110

19

$110

20

$110

21

$145

22

$145

23

$145

24

$155

25

$175

26

$175

27

$155

28

$110

29

$110

30

$110
December 2022
S
M
T
W
T
F
S
01

$110

02

$110

03

$110

04

$110

05

$110

06

$110

07

$110

08

$110

09

$110

10

$110

11

$110

12

$110

13

$110

14

$110

15

$110

16

$110

17

$110

18

$110

19

$110

20

$110

21

$110

22

$110

23

$130

24

$130

25

$135

26

$135

27

$135

28

$150

29

$155

30

$160

31

$155
January 2023
S
M
T
W
T
F
S
01

$165

02
03
04
05
06
07
08
09
10
11
12
13
14
15
16
17
18
19
20
21
22
23
24
25
26
27
28
29
30
31
February 2023

| S | M | T | W | T | F | S |
| --- | --- | --- | --- | --- | --- | --- |
| | | | 01 | 02 | 03 | 04 |
| 05 | 06 | 07 | 08 | 09 | 10 | 11 |
| 12 | 13 | 14 | 15 | 16 | 17 | 18 |
| 19 | 20 | 21 | 22 | 23 | 24 | 25 |
| 26 | 27 | 28 | | | | |
March 2023
S
M
T
W
T
F
S
01

$130

02

$160

03

$165

04

$170

05

$165

06

$165

07

$155

08

$155

09

$170

10

$220

11

$225

12

$225

13

$220

14

$220

15

$220

16

$225

17

$230

18

$210

19

$210

20

$210

21

$210

22

$210

23

$215

24

$215

25

$220

26

$225

27

$225

28

$225

29

$230

30

$240

31

$245
April 2023
S
M
T
W
T
F
S
01

$260

02

$260

03

$255

04

$255

05

$250

06

$295

07

$290

08

$290

09

$270

10

$260

11

$250

12

$245

13

$260

14

$270

15

$285

16

$255

17

$165

18

$165

19

$160

20

$185

21

$200

22

$220

23

$180

24

$165

25

$170

26

$165

27

$185

28

$210

29

$220

30

$215
May 2023
S
M
T
W
T
F
S
01

$200

02

$200

03

$200

04

$230

05

$265

06

$270

07

$230

08

$180

09

$185

10

$185

11

$215

12

$255

13

$260

14

$225

15

$215

16

$215

17

$225

18

$475

19

$505

20

$510

21

$485

22

$255

23

$255

24

$265

25

$290

26

$400

27

$405

28

$380

29

$385

30

$290

31

$305
June 2023
S
M
T
W
T
F
S
01

$315

02

$320

03

$325

04

$305

05

$320

06

$325

07

$335

08

$340

09

$345

10

$345

11

$325

12

$340

13

$345

14

$345

15

$345

16

$350

17

$350

18

$355

19

$370

20

$370

21

$350

22

$350

23

$350

24

$345

25

$335

26

$340

27

$340

28

$335

29

$360

30

$365
July 2023
S
M
T
W
T
F
S
01

$365

02

$360

03

$365

04

$365

05

$365

06

$370

07

$375

08

$365

09

$360

10

$365

11

$370

12

$370

13

$380

14

$385

15

$385

16

$375

17

$385

18

$380

19

$380

20

$385

21

$390

22

$390

23

$370

24

$375

25

$375

26

$370

27

$375

28

$385

29

$380

30

$350

31

$355
August 2023
S
M
T
W
T
F
S
01

$350

02

$345

03

$350

04

$370

05

$360

06

$330

07

$330

08

$320

09

$315

10

$325

11

$345

12

$330

13

$290

14

$285

15

$275

16

$270

17

$280

18

$295

19

$285

20

$240

21

$230

22

$225

23

$225

24

$235

25

$255

26

$250

27

$210

28

$200

29

$190

30

$195

31

$210
September 2023
S
M
T
W
T
F
S
01

$350

02

$345

03

$310

04

$300

05

$175

06

$185

07

$200

08

$230

09

$225

10

$190

11

$180

12

$170

13

$180

14

$200

15

$225

16

$215

17

$180

18

$165

19

$155

20

$165

21

$180

22

$200

23

$195

24

$160

25

$155

26

$155

27

$160

28

$180

29

$200

30

$200
October 2023
S
M
T
W
T
F
S
01

$165

02

$155

03

$160

04

$165

05

$190

06

$315

07

$320

08

$275

09

$265

10

$150

11

$150

12

$175

13

$180

14

$185

15

$140

16

$130

17

$135

18

$135

19

$155

20

$160

21

$165

22

$125

23

$125

24

$125

25

$125

26

$140

27

$140

28

$135

29

$125

30

$125

31

$125