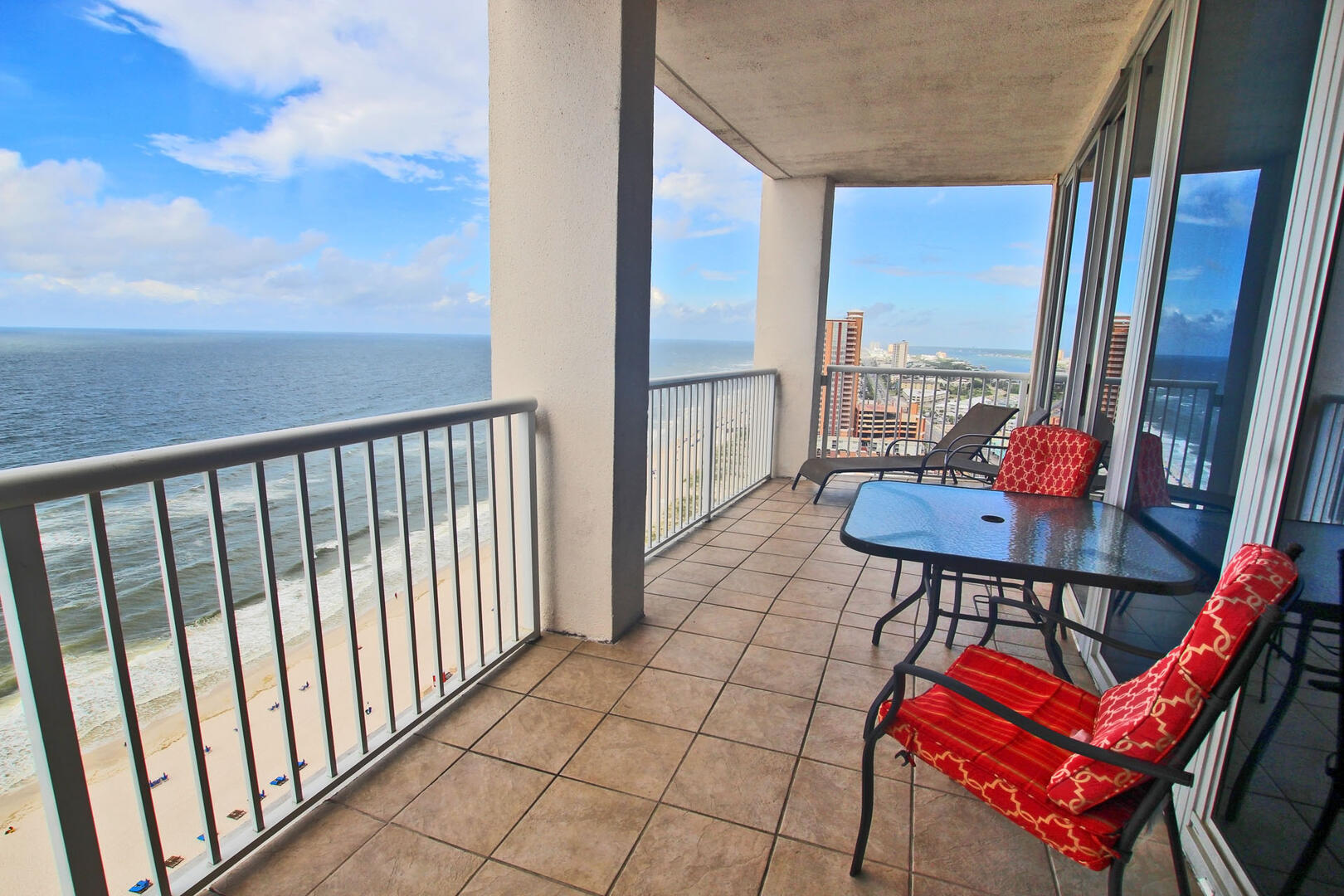 You will fall in love with the magnificent views from Island Tower. It is one of the newest buildings in the area and located on West Beach - the heart of Gulf Shores. A luxury vacation awaits you in this 62 unit complex with just 3 per floor. Enjoy your private balcony which can be accessed from the living room & master bedroom of your 1605 SF corner unit. Whether sunrise or sunset your direct gulf front views are unobstructed & breathtaking from the 22nd floor. This condo is decorated with a modern decor has floor to ceiling windows, granite counter tops, fully-equipped kitchen, WIFI and washer & dryer, Amenities you'll enjoy include both gulf front outdoor & heated indoor pools, outdoor shower, fitness center, sauna and walkway to the beach and gulf. The unit is nonsmoking, has a 2 car max and monthly rentals available November to February 1.
Unit Location : West Corner
Area : Gulf Shores
Sleep Cap : 8
Bedrooms : 3.00
Internet Type : Free Unit WiFi
Square Ft. : 1605
Master Bedroom : King
Building Orientation : Gulf Side
Guest Bedroom 1 : King
Guest Bedroom 2 : 2 Twins
ilink : ilink Booking
Balcony View : Gulf Front
Video rm2 : DVD
Number Bathrooms : 3.0
Complex : Island Tower
TV - Unit : 4
Number of Beds : 4
Pool - Outdoor : Yes
Pool - Indoor : Yes
Pool - Indoor Heated : Yes
Fitness Room : Yes
Sauna : Yes
BBQ Grills : Yes
Elevator : Yes
Parking Limit : 2 Vehicles
Rental Type : Condo
Sleeps : 8
Age Requirement : 21
Long Term : No
Pet Policy : No Pets
Pet Restriction : No Pets
Parking - Guest Purchase :
Thank you for submitting your review. It will be processed shortly!
August 26, 2022 - Manual Entry
Coming Back for More!
by Deron
Stayed here 8/18 to 8/21. Was our first time staying in this area. View was amazing. Will definitely be back.- Reviewed on Google
Loved the view! Loved the pool! Loved our stay!
October 2022
S
M
T
W
T
F
S
01
02
03

$185

04
05
06

$185

07

$408

08
09
10
11
12
13
14
15
16
17

$185

18

$185

19

$185

20

$185

21
22
23

$185

24

$185

25

$185

26

$185

27

$185

28
29
30
31
November 2022
S
M
T
W
T
F
S
01

$185

02

$185

03

$185

04

$185

05

$185

06

$185

07

$185

08

$185

09

$185

10

$185

11

$185

12

$185

13

$185

14

$185

15

$185

16

$185

17

$185

18

$185

19

$185

20

$185

21

$240

22

$245

23

$240

24

$250

25

$275

26

$265

27

$240

28

$185

29

$185

30

$185
December 2022
S
M
T
W
T
F
S
01

$185

02

$185

03

$185

04

$185

05

$185

06

$185

07

$185

08
09
10
11

$185

12

$185

13

$185

14

$185

15

$185

16

$185

17

$185

18

$185

19

$185

20

$185

21

$185

22

$185

23

$205

24

$195

25

$205

26

$205

27

$200

28

$230

29

$235

30

$240

31

$235
January 2023
S
M
T
W
T
F
S
01

$250

02

$255

03

$255

04

$185

05

$185

06

$185

07

$185

08

$185

09

$185

10

$185

11

$185

12

$185

13

$185

14

$190

15

$190

16

$195

17

$185

18

$185

19

$185

20

$185

21

$185

22

$185

23

$185

24

$185

25

$185

26

$185

27

$190

28

$190

29

$185

30

$185

31

$190
February 2023
S
M
T
W
T
F
S
01

$195

02
03
04
05
06
07
08
09
10
11
12
13
14
15
16
17
18
19
20
21
22
23
24
25
26
27
28
March 2023
S
M
T
W
T
F
S
01

$225

02

$265

03

$265

04

$270

05

$270

06

$265

07

$260

08

$265

09

$270

10

$350

11

$350

12

$355

13

$355

14

$355

15

$360

16

$360

17

$360

18

$340

19

$340

20

$350

21

$350

22

$350

23

$350

24

$345

25

$355

26

$355

27

$370

28

$370

29

$375

30

$385

31

$390
April 2023
S
M
T
W
T
F
S
01

$410

02

$410

03

$400

04

$395

05

$395

06

$460

07

$445

08

$445

09

$400

10

$390

11

$385

12

$380

13

$400

14

$420

15

$435

16

$370

17

$235

18

$240

19

$235

20

$270

21

$305

22

$315

23

$240

24

$240

25

$245

26

$235

27

$275

28

$300

29

$305

30

$305
May 2023
S
M
T
W
T
F
S
01

$295

02

$305

03

$310

04

$350

05

$380

06

$385

07

$345

08

$275

09

$280

10

$295

11

$330

12

$365

13

$370

14

$340

15

$325

16

$335

17

$355

18

$730

19

$755

20

$760

21

$740

22

$390

23

$400

24

$420

25

$450

26

$600

27

$615

28

$590

29

$600

30

$470

31

$480
June 2023
S
M
T
W
T
F
S
01

$500

02

$500

03

$510

04

$485

05

$505

06

$520

07

$525

08

$535

09

$535

10

$545

11

$515

12

$545

13

$550

14

$550

15

$555

16

$560

17

$560

18

$570

19

$590

20

$595

21

$560

22

$560

23

$560

24

$555

25

$540

26

$545

27

$550

28

$545

29

$580

30

$580
July 2023
S
M
T
W
T
F
S
01

$580

02

$575

03

$575

04

$580

05

$585

06

$590

07

$595

08

$575

09

$580

10

$580

11

$590

12

$590

13

$605

14

$610

15

$610

16

$610

17

$615

18

$610

19

$610

20

$615

21

$615

22

$610

23

$605

24

$605

25

$600

26

$595

27

$600

28

$600

29

$590

30

$575

31

$575
August 2023
S
M
T
W
T
F
S
01

$570

02

$565

03

$570

04

$580

05

$560

06

$535

07

$535

08

$525

09

$520

10

$525

11

$545

12

$515

13

$470

14

$460

15

$445

16

$445

17

$460

18

$480

19

$445

20

$395

21

$375

22

$365

23

$365

24

$385

25

$410

26

$390

27

$340

28

$315

29

$300

30

$305

31

$340
September 2023
S
M
T
W
T
F
S
01

$560

02

$545

03

$495

04

$475

05

$275

06

$290

07

$325

08

$365

09

$355

10

$300

11

$285

12

$265

13

$275

14

$305

15

$335

16

$330

17

$275

18

$255

19

$245

20

$255

21

$280

22

$305

23

$305

24

$255

25

$245

26

$255

27

$265

28

$290

29

$305

30

$310
October 2023
S
M
T
W
T
F
S
01

$260

02

$255

03

$265

04

$265

05

$295

06

$490

07

$500

08

$435

09

$430

10

$255

11

$250

12

$285

13

$295

14

$295

15

$225

16

$210

17

$210

18

$210

19

$235

20

$250

21

$240

22

$210

23

$210

24

$210

25

$210

26

$210

27

$210

28

$210

29

$210

30

$210

31

$210