Gulf Shores Surf & Racquet 716A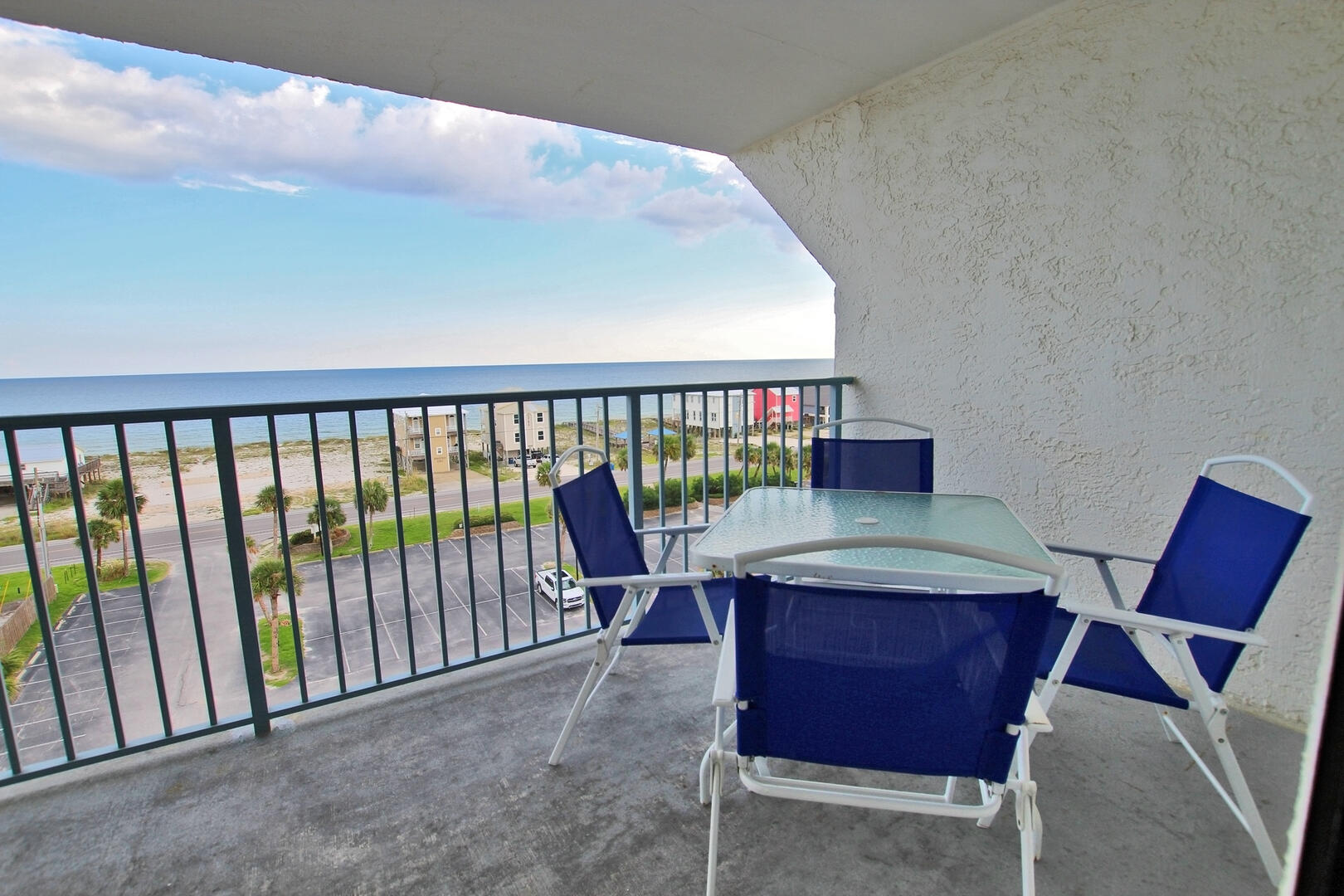 Elevator A is Out of Order Until Further Notice

This EFFICIENCY unit has a bedroom, but the bedroom has no door and open to the hallway. Beautiful views, easy beach access to gazebo & family friendly accommodations make Gulf Shores Surf and Racquet the ideal choice for your Gulf Shores getaway! This 7 story complex of 3 buildings is conveniently situated directly across the street from the beach & close to area attractions. It boasts a tropical oasis of pools, hot tubs, tennis courts, putting green & shuffleboard, as well as a pier & private beach, all overlooking Little Lagoon. This 485 sq ft, 7th floor (top) property faces South to catch cool breezes & glimpse the Gulf from your private balcony. Enjoy the washer/dryer and a traditional beach decor. WIFI only throughout the lobby and outdoor areas.

This property collects parking fees onsite. The cost is $25.00 per parking pass for vehicles and $20.00 for trailers. The passes will be valid for the duration of your stay.
Unit Location : Far from Elevator
Area : Gulf Shores
Sleep Cap : 4
Bedrooms : 1.00
Internet Type : Free Public WiFi
Square Ft. : 485
Master Bedroom : Queen
Building Orientation : Across the Street
ilink : ilink Booking
Balcony View : Waterfront
Number Bathrooms : 1.0
Complex : GS Surf and Racquet
TV - Unit : 2
Number of Beds : 1
Pool - Outdoor : Yes
Pool - Childrens : Yes
Jacuzzi : Yes
BBQ Grills : Yes
Elevator : Yes
Parking Limit : 1 Vehicle
Rental Type : Condo
Sleeps : 4
Age Requirement : 25
Long Term : No
Pet Policy : No Pets
Pet Restriction : No Pets
Parking - Guest Purchase : This property requires parking passes to be purchased on-site. The cost is $25.00 each. The cost of
Thank you for submitting your review. It will be processed shortly!
We are sorry, there are no reviews for this unit. Be the first to leave a review!
October 2022
S
M
T
W
T
F
S
01
02
03
04

$95

05

$95

06

$95

07

$156

08

$162

09
10
11
12
13
14
15

$95

16

$95

17
18
19
20
21
22
23
24
25
26
27
28
29

$95

30

$95

31

$95
November 2022
S
M
T
W
T
F
S
01

$95

02

$95

03

$95

04

$95

05

$95

06

$95

07

$95

08

$95

09

$95

10

$95

11

$95

12

$95

13

$95

14

$95

15

$95

16

$95

17

$95

18

$95

19

$95

20

$95

21

$95

22

$95

23

$95

24

$95

25

$95

26

$95

27

$95

28

$95

29

$95

30

$95
December 2022
S
M
T
W
T
F
S
01

$95

02

$95

03

$95

04

$95

05

$95

06

$95

07

$95

08

$95

09

$95

10

$95

11

$95

12

$95

13

$95

14

$95

15

$95

16

$95

17

$95

18

$95

19

$95

20

$95

21

$95

22

$95

23

$95

24

$95

25

$95

26

$95

27

$95

28

$105

29

$105

30

$110

31

$110
January 2023
S
M
T
W
T
F
S
01

$115

02

$115

03

$115

04

$95

05

$95

06

$95

07

$95

08

$95

09

$95

10

$95

11

$95

12

$95

13

$95

14

$95

15

$95

16

$95

17

$95

18

$95

19

$95

20

$95

21

$95

22

$95

23

$95

24

$95

25

$95

26

$95

27

$95

28

$95

29

$95

30

$95

31

$95
February 2023
S
M
T
W
T
F
S
01

$95

02

$95

03

$95

04

$95

05

$95

06

$95

07

$95

08

$95

09

$95

10

$95

11

$95

12

$95

13

$95

14

$95

15

$95

16

$110

17

$115

18

$115

19

$110

20

$105

21

$95

22

$95

23

$95

24

$100

25

$100

26

$95

27

$95

28

$95
March 2023
S
M
T
W
T
F
S
01

$95

02

$105

03

$115

04

$120

05

$110

06

$110

07

$110

08

$105

09

$110

10

$150

11

$155

12

$150

13

$150

14

$150

15

$140

16

$145

17

$150

18

$145

19

$140

20

$140

21

$140

22

$135

23

$140

24

$140

25

$150

26

$155

27

$150

28

$155

29

$145

30

$155

31

$165
April 2023
S
M
T
W
T
F
S
01

$175

02

$175

03

$165

04

$170

05

$155

06

$185

07

$190

08

$195

09

$180

10

$165

11

$170

12

$160

13

$165

14

$175

15

$190

16

$170

17

$110

18

$115

19

$105

20

$110

21

$125

22

$145

23

$115

24

$110

25

$115

26

$110

27

$115

28

$135

29

$150

30

$115
May 2023
S
M
T
W
T
F
S
01

$115

02

$115

03

$115

04

$125

05

$150

06

$155

07

$125

08

$120

09

$120

10

$120

11

$130

12

$160

13

$165

14

$140

15

$135

16

$135

17

$135

18

$295

19

$330

20

$340

21

$310

22

$155

23

$155

24

$165

25

$175

26

$260

27

$275

28

$240

29

$245

30

$180

31

$190
June 2023
S
M
T
W
T
F
S
01

$195

02

$210

03

$225

04

$190

05

$205

06

$210

07

$215

08

$220

09

$225

10

$235

11

$210

12

$225

13

$225

14

$225

15

$230

16

$230

17

$235

18

$235

19

$245

20

$245

21

$230

22

$230

23

$230

24

$230

25

$220

26

$225

27

$225

28

$220

29

$235

30

$235
July 2023
S
M
T
W
T
F
S
01

$235

02

$235

03

$235

04

$240

05

$240

06

$240

07

$245

08

$240

09

$235

10

$240

11

$245

12

$245

13

$245

14

$250

15

$250

16

$245

17

$250

18

$250

19

$250

20

$250

21

$250

22

$250

23

$245

24

$250

25

$250

26

$250

27

$250

28

$250

29

$245

30

$235

31

$240
August 2023
S
M
T
W
T
F
S
01

$235

02

$235

03

$235

04

$240

05

$235

06

$225

07

$225

08

$215

09

$215

10

$215

11

$225

12

$215

13

$190

14

$190

15

$180

16

$175

17

$180

18

$190

19

$185

20

$155

21

$145

22

$145

23

$140

24

$150

25

$165

26

$160

27

$135

28

$125

29

$125

30

$125

31

$140
September 2023
S
M
T
W
T
F
S
01

$215

02

$215

03

$190

04

$175

05

$115

06

$120

07

$135

08

$150

09

$155

10

$130

11

$120

12

$115

13

$120

14

$135

15

$145

16

$150

17

$120

18

$110

19

$105

20

$110

21

$120

22

$130

23

$135

24

$110

25

$105

26

$105

27

$105

28

$120

29

$135

30

$135
October 2023
S
M
T
W
T
F
S
01

$115

02

$105

03

$105

04

$110

05

$130

06

$225

07

$225

08

$200

09

$190

10

$105

11

$105

12

$120

13

$120

14

$120

15

$105

16

$105

17

$105

18

$105

19

$105

20

$105

21

$105

22

$105

23

$105

24

$105

25

$105

26

$105

27

$105

28

$105

29

$105

30

$105

31

$105