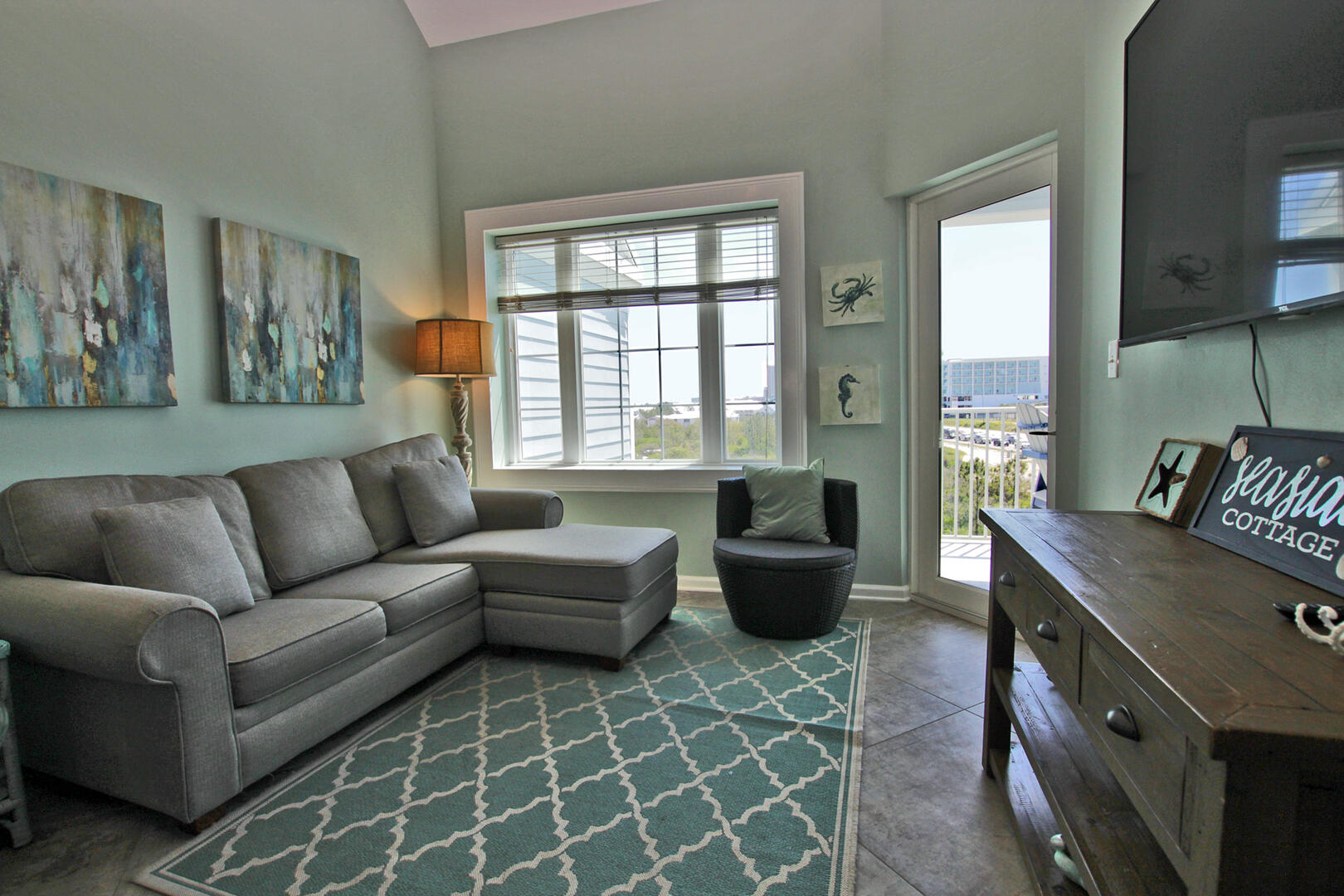 Attention beachgoers and bikers! This gorgeous top floor Grande Caribbean condo with beautiful views of the beach and Cotton Bayou awaits your family. This fabulous 2-bedroom plus loft condo offers a large flat screen television, gulf views and balcony access in the living area. The dining table seats four and the breakfast counter offers two additional seating options. The kitchen is fully equipped with everything you need to prepare a meal for your family and friends. The master bedroom features a king bed, wall-mounted flat screen television, balcony access, plus a soaring sloped ceiling with tons of natural light. The master bath has an extended vanity with a tub and shower combo. The guest bedroom offers a queen-sized bed and wall-mounted flat screen television, and the shared guest bathroom features a single sink vanity with step-in shower. The kiddos get their own loft upstairs with 2 twin beds, fun reading nook and a wall-mounted flat screen television. Enjoy free Wi-Fi throughout the condo as well as access to all your personal streaming services via Guest Mode on all the 4k Smart TVs! A full-size washer and dryer set is located inside the condo for convenience.

Grande Caribbean offers an outdoor swimming pool, a BBQ area with picnic tables, fitness center, plus a large covered gathering area with additional seating to enjoy the company of your family, friends, and other Grande Caribbean guests. Additional unique amenities include bike path access to the popular Hugh S. Braynon Backcountry Trail system and easy bike commuting to local restaurants. Grande Caribbean is ideally located in Orange Beach, close to grocery stores, shopping centers, restaurants, and popular nightlife hotspots.

Bedding:
Master- King
Bedroom 2- Queen
Bedroom 3- 2 Twins
Area : Orange Beach
Sleep Cap : 6
Bedrooms : 3.00
Internet Type : Free Unit WiFi
Square Ft. : 1450
Master Bedroom : King
Building Orientation : Across the Street
Guest Bedroom 1 : Queen
Guest Bedroom 2 : 2 Twins
ilink : ilink Booking
Balcony View : Across the Street - Gulf View
Number Bathrooms : 2.0
Complex : Grande Caribbean
TV - Unit : 4
Number of Beds : 6
Pool - Outdoor : Yes
Fitness Room : Yes
BBQ Grills : Yes
Elevator : Yes
Parking Limit : 2 Vehicles
Rental Type : Condo
Sleeps : 8
Age Requirement : Spring Break/Music Fest- 25
Long Term : No
Pet Policy : No Pets
Pet Restriction : No Pets
Parking - Guest Purchase :
Thank you for submitting your review. It will be processed shortly!
We are sorry, there are no reviews for this unit. Be the first to leave a review!
October 2022
S
M
T
W
T
F
S
01
02
03
04

$130

05

$130

06
07
08
09

$130

10

$155

11
12
13
14
15
16

$130

17

$130

18

$130

19

$130

20

$130

21

$130

22

$130

23

$130

24

$130

25

$130

26

$130

27

$130

28

$130

29

$130

30

$130

31

$130
November 2022
S
M
T
W
T
F
S
01

$130

02

$130

03

$130

04

$130

05

$130

06

$130

07

$130

08

$130

09

$130

10

$130

11

$130

12

$130

13

$130

14

$130

15

$130

16

$130

17

$130

18

$130

19

$130

20
21
22
23
24
25
26

$170

27

$160

28

$130

29

$130

30

$130
December 2022
S
M
T
W
T
F
S
01

$130

02

$130

03

$130

04

$130

05

$130

06

$130

07

$130

08

$130

09

$130

10

$130

11

$130

12

$130

13

$130

14

$130

15

$130

16

$130

17

$130

18

$130

19

$130

20

$130

21

$130

22

$130

23

$150

24

$155

25

$160

26

$165

27

$170

28

$190

29

$195

30

$205

31

$200
January 2023
S
M
T
W
T
F
S
01

$210

02
03
04
05
06
07
08
09
10
11
12
13
14
15
16
17
18
19
20
21
22
23
24
25
26
27
28
29
30
31
February 2023

| S | M | T | W | T | F | S |
| --- | --- | --- | --- | --- | --- | --- |
| | | | 01 | 02 | 03 | 04 |
| 05 | 06 | 07 | 08 | 09 | 10 | 11 |
| 12 | 13 | 14 | 15 | 16 | 17 | 18 |
| 19 | 20 | 21 | 22 | 23 | 24 | 25 |
| 26 | 27 | 28 | | | | |
March 2023
S
M
T
W
T
F
S
01

$135

02

$150

03

$155

04

$165

05

$175

06

$150

07

$145

08

$155

09

$150

10

$205

11

$210

12

$205

13

$205

14

$205

15

$210

16

$205

17

$210

18

$195

19

$200

20

$205

21

$205

22

$205

23

$205

24

$205

25

$210

26

$215

27

$215

28

$220

29

$225

30

$225

31

$225
April 2023
S
M
T
W
T
F
S
01

$235

02

$240

03

$245

04

$250

05

$250

06

$275

07

$275

08

$280

09

$260

10

$250

11

$250

12

$245

13

$250

14

$260

15

$265

16

$230

17

$150

18

$155

19

$150

20

$170

21

$195

22

$200

23

$160

24

$155

25

$155

26

$150

27

$175

28

$195

29

$200

30

$165
May 2023
S
M
T
W
T
F
S
01

$160

02

$160

03

$165

04

$185

05

$210

06

$210

07

$185

08

$170

09

$170

10

$175

11

$195

12

$215

13

$215

14

$200

15

$185

16

$185

17

$200

18

$370

19

$390

20

$395

21

$380

22

$230

23

$230

24

$245

25

$260

26

$375

27

$380

28

$365

29

$370

30

$280

31

$290
June 2023
S
M
T
W
T
F
S
01

$300

02

$305

03

$315

04

$300

05

$310

06

$315

07

$325

08

$335

09

$340

10

$345

11

$325

12

$335

13

$345

14

$350

15

$360

16

$360

17

$360

18

$355

19

$360

20

$365

21

$360

22

$360

23

$365

24

$355

25

$345

26

$345

27

$350

28

$350

29

$375

30

$375
July 2023
S
M
T
W
T
F
S
01

$370

02

$365

03
04
05
06
07
08
09

$365

10

$365

11

$365

12

$370

13

$375

14

$375

15

$370

16

$365

17

$365

18

$365

19

$370

20

$370

21

$370

22

$370

23

$365

24

$365

25

$360

26

$360

27

$360

28

$365

29

$355

30

$345

31

$345
August 2023
S
M
T
W
T
F
S
01

$340

02

$340

03

$345

04

$350

05

$340

06

$325

07

$315

08

$310

09

$310

10

$310

11

$320

12

$300

13

$275

14

$260

15

$250

16

$250

17

$265

18

$275

19

$255

20

$220

21

$200

22

$195

23

$195

24

$210

25

$225

26

$210

27

$170

28

$155

29

$150

30

$160

31

$185
September 2023
S
M
T
W
T
F
S
01

$345

02

$340

03

$300

04

$280

05

$145

06

$150

07

$180

08

$205

09

$210

10

$165

11

$150

12

$145

13

$150

14

$180

15

$200

16

$200

17

$155

18

$145

19

$145

20

$145

21

$165

22

$180

23

$185

24

$145

25

$145

26

$145

27

$145

28

$165

29

$180

30

$180
October 2023
S
M
T
W
T
F
S
01

$145

02

$145

03

$145

04

$150

05

$170

06

$325

07

$325

08

$295

09

$290

10

$145

11

$150

12

$175

13

$180

14

$170

15

$145

16

$145

17

$145

18

$145

19

$150

20

$155

21

$145

22

$145

23

$145

24

$145

25

$145

26

$145

27

$145

28

$145

29

$145

30

$145

31

$145