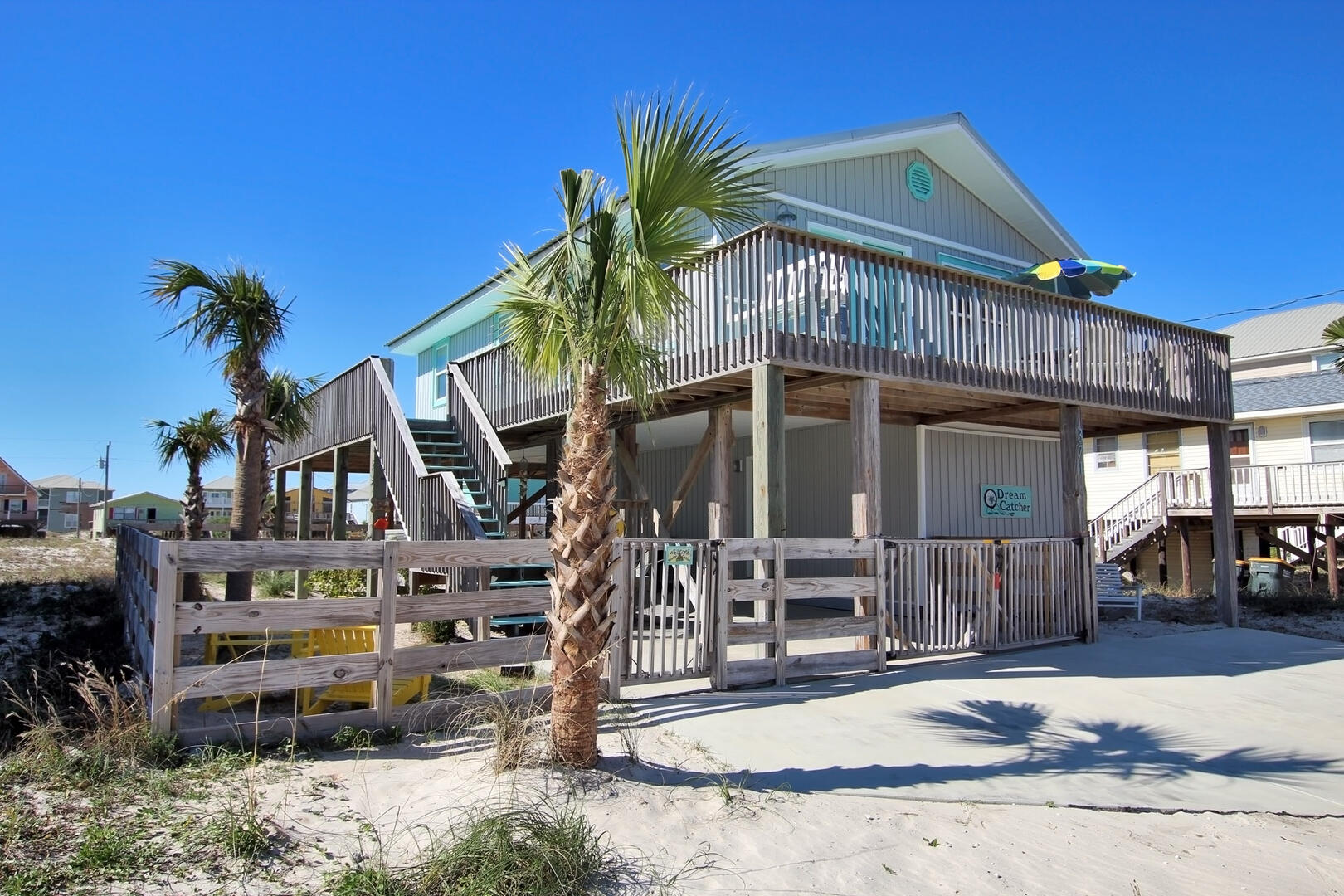 Live the salt life at the Dream Catcher! This charming and quaint 3-bedroom, 2-bathroom beach house makes the perfect vacation getaway. Situated down a private road, just a few short steps away from the sugar white sandy beaches of Fort Morgan, Dream Catcher has everything you need to make your beach dreams a reality. Walk up one flight of stairs and enter your own private beach escape. Decorated with coastal comfort in mind, the living room provides a cozy space where you can take in the views of the world around you. Keep a look out for the dolphins that can be seen from the living room window. Enjoy the comforts of home in the fully equipped kitchen, where you will find everything you need to prepare a true southern seafood feast. Seating for up to six people is available at the dining table and two additional people at the extended counter space. If you would like a little salt air with your meal you will find a picnic table on the lower deck and a patio table on the upper deck perfect for enjoying a home style breakfast and sipping coffee.

When you are ready to end your day, find solace in the master bedroom which features a queen size bed. There is a flat screen TV as well as private access to the side deck area. The second bedroom has a queen size bed, and the third bedroom has two sets of twin bunk beds which allows for this beach house to sleep up to eight people comfortably. There is also a portable crib available so you can save space when packing for your vacation. The whole family can enjoy all the comforts from home all while enjoying what the Alabama Coast has to offer. Both guest rooms have flat screen televisions with DVD player in the bunk room, and there is a full bathroom in the upper level of the home which has a bathtub and shower combination. The second bathroom is located on the ground level and has a walk-in shower.

You will find the beautiful, large upper deck and a lower deck with a picnic table and swing for your enjoyment, to sit and relax with your fur-babies. Dream Catcher is pet-friendly and allows dogs weighing up to fifty pounds. This beach home is located only footsteps away from the dog-friendly beaches, so make sure to pack the leashes. Dream Catcher has a gated enclosure and has a see-through boarded fence surrounding the yard, providing secure privacy for you and your four-legged friends.

For your convenience there are two washing machines and dryers. One set is located downstairs for your sandy blankets and towels, and the other upstairs. There is a BBQ grill, beach chairs and sand toys for the ultimate carefree beach experience. Covered parking is available to help keep you dry from the afternoon summer rain showers.

All this awaits you here at the Dream Catcher for your much-needed beach vacation get-away. Dream Catcher is located just a couple of driving miles from historic Fort Morgan. You can take a ride on the Mobile Bay Ferry which is will lead you across the bay onto Dauphin Island. Enjoy dinner at local hot-spot, Tacky Jacks, just 1.5 miles away. The drive to this beach house is worth it!

When you are ready to make your way to the Alabama Gulf Coast please remember you must be 25 years of age or older to reserve the Dream Catcher beach house. This is a non-smoking property and the maximum occupancy is 8 people. Monthly rentals are available at a discounted rate between November 1 and March 1. There is a non-refundable pet fee of $150 dollars. Only one (1) dog is allowed per pet-friendly property. Some breed restrictions apply. Please contact our office at 251-968-7158 for breed restriction details.


Bedding:
Master- Queen bed
Bedroom 2- Queen bed
Bedroom 3- 2 twin over twin bunk beds
*Portable Crib

371 Buchanan Ct. W. Gulf Shores, AL

Area : Fort Morgan
Sleep Cap : 8
Bedrooms : 3.00
Internet Type : Free Unit WiFi
Square Ft. : 1300
Master Bedroom : Queen
Guest Bedroom 1 : Queen
Guest Bedroom 2 : 4 Twins
ilink : ilink Booking
Balcony View : Indirect Gulf View
Number Bathrooms : 2.0
Complex : House
TV - Unit : 4
Number of Beds : 6
BBQ Grills : Yes
Parking Limit : 2 Vehicles
Rental Type : House
Sleeps : 8
Age Requirement : 25
Long Term : No
Pet Policy : Pet Friendly
Pet Restriction : Dog under 50lbs
Parking - Guest Purchase :
Thank you for submitting your review. It will be processed shortly!
Dream Catcher House
by Ken J
We loved Dream Catcher. Spend 2 months there with no problems at all. Very comfortable and just a short walk to the beach. The fence for our dog was the best part, just open the door and let him go. Young's Suncoast are the best.
Enjoying our visit at Dream Catcher's this week. Beautiful place. Comfy beds. Love it. We have enjoyed our stay at Dream Catcher this week. Nice place and decorated really cute. Seeing the ocean sitting on couch relaxing. Fenced in yard was great for the dog. Will stay here again, I hope.
December 26, 2020 - Website
Excellent Beach Getaway
by Elton H
An excellent beach get-away. Located on a quiet part of the peninsula with immediate access to the beach. Very comfortable with all conveniences. Booking, check-in, check-out was very easy. Great week!
October 2022
S
M
T
W
T
F
S
01
02
03

$190

04
05
06
07
08
09
10
11
12
13
14
15
16
17
18
19
20
21
22
23
24
25
26
27
28
29
30
31

$190
November 2022
S
M
T
W
T
F
S
01

$190

02
03
04
05
06
07
08
09
10
11
12
13
14
15
16
17
18
19
20
21
22
23
24
25
26
27
28
29

$190

30

$190
December 2022
S
M
T
W
T
F
S
01

$190

02

$190

03

$190

04

$190

05

$190

06

$190

07

$190

08

$190

09

$190

10

$190

11

$190

12

$190

13

$190

14

$190

15

$190

16

$190

17

$190

18

$190

19

$190

20

$190

21

$190

22

$195

23

$275

24

$275

25

$290

26

$290

27
28
29
30
31
January 2023

| S | M | T | W | T | F | S |
| --- | --- | --- | --- | --- | --- | --- |
| 01 | 02 | 03 | 04 | 05 | 06 | 07 |
| 08 | 09 | 10 | 11 | 12 | 13 | 14 |
| 15 | 16 | 17 | 18 | 19 | 20 | 21 |
| 22 | 23 | 24 | 25 | 26 | 27 | 28 |
| 29 | 30 | 31 | | | | |
February 2023

| S | M | T | W | T | F | S |
| --- | --- | --- | --- | --- | --- | --- |
| | | | 01 | 02 | 03 | 04 |
| 05 | 06 | 07 | 08 | 09 | 10 | 11 |
| 12 | 13 | 14 | 15 | 16 | 17 | 18 |
| 19 | 20 | 21 | 22 | 23 | 24 | 25 |
| 26 | 27 | 28 | | | | |
March 2023
S
M
T
W
T
F
S
01

$240

02

$270

03

$280

04

$280

05

$270

06
07
08
09
10
11

$385

12

$370

13

$385

14

$385

15

$390

16

$390

17

$415

18

$395

19

$380

20

$405

21

$410

22

$400

23

$395

24

$405

25

$415

26

$400

27

$425

28

$425

29

$405

30

$410

31

$420
April 2023
S
M
T
W
T
F
S
01

$445

02

$415

03

$455

04

$455

05

$450

06

$495

07

$505

08

$530

09

$470

10

$490

11

$480

12

$460

13

$445

14

$465

15

$475

16
17
18
19
20
21
22
23
24
25
26
27
28
29
30
May 2023
S
M
T
W
T
F
S
01
02
03
04
05
06
07
08
09
10
11
12
13
14
15
16
17
18
19
20
21
22
23
24
25
26
27
28
29
30
31

$500
June 2023
S
M
T
W
T
F
S
01

$510

02

$515

03

$530

04

$500

05

$530

06

$540

07

$540

08

$550

09

$555

10

$565

11

$540

12

$570

13

$575

14

$615

15

$625

16

$620

17

$580

18

$610

19

$630

20

$635

21

$585

22

$575

23

$575

24

$575

25

$555

26

$565

27

$570

28

$565

29

$590

30

$590
July 2023
S
M
T
W
T
F
S
01

$595

02

$600

03

$600

04

$605

05

$600

06

$600

07

$610

08

$590

09

$595

10

$600

11

$605

12

$615

13

$615

14

$620

15

$625

16

$630

17

$635

18

$635

19

$635

20

$630

21

$630

22

$630

23

$625

24

$635

25

$625

26

$620

27

$615

28

$610

29

$605

30

$590

31

$600
August 2023
S
M
T
W
T
F
S
01

$585

02

$580

03

$580

04

$580

05

$575

06

$550

07

$560

08

$540

09

$540

10

$535

11

$555

12

$530

13

$480

14

$485

15

$450

16

$455

17

$460

18

$485

19

$455

20

$395

21

$370

22

$350

23

$355

24

$365

25

$390

26

$365

27

$305

28

$275

29
30
31
September 2023

| S | M | T | W | T | F | S |
| --- | --- | --- | --- | --- | --- | --- |
| | | | | | 01 | 02 |
| 03 | 04 | 05 | 06 | 07 | 08 | 09 |
| 10 | 11 | 12 | 13 | 14 | 15 | 16 |
| 17 | 18 | 19 | 20 | 21 | 22 | 23 |
| 24 | 25 | 26 | 27 | 28 | 29 | 30 |
October 2023
S
M
T
W
T
F
S
01
02
03
04
05
06
07
08
09
10
11
12
13
14
15

$245

16

$230

17

$225

18

$230

19

$250

20

$275

21

$260

22

$215

23

$215

24

$215

25

$215

26

$215

27

$235

28

$220

29

$215

30

$215

31

$215