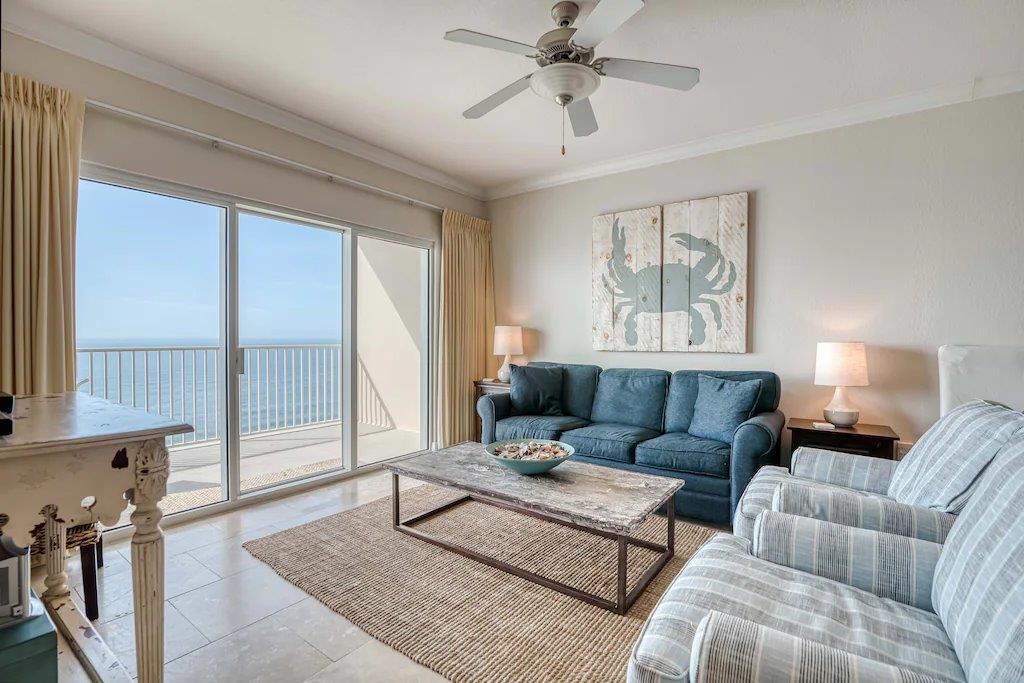 Crystal Shores West offers everything you want in a beachside vacation resort. This 12th floor, privately owned non-smoking condo features upscale, stylish furnishings with soothing coastal colors. The living area offers a queen sleeper sofa and a large flat-screen television. The dining room table seats six . The fully-equipped kitchen features beautiful wood cabinetry and and granite countertops. The master suite has a King size bed, flat screen television, and access to the gulf front balcony and a private bathroom. The guest bedroom has a queen bed, flat screen television and access to the 2nd bathroom which also has an entry off the hallway. This condo offers internet access, and a full sized washer and dryer. The balcony has an outdoor table and chair set for five to enjoy the gorgeous gulf front views! This island oasis is waiting for you, so come make some wonderful vacation memories at Crystal Shores West 1205!
This is a non-smoking property. You must be 25 years of age or older to rent. No pets are permitted.


Bedding:

Master-King
Bedroom 2- Queen
Living Room- Sofa Sleeper Queen

931 West Beach Blvd. Gulf Shores, AL

Unit Location : Far from Elevator
Area : Gulf Shores
Sleep Cap : 6
Bedrooms : 2.00
Internet Type : Free Public WiFi
Square Ft. : 1098
Master Bedroom : King
Building Orientation : Gulf Side
Guest Bedroom 1 : Queen
ilink : ilink Booking
Balcony View : Gulf Front
Number Bathrooms : 2.0
Complex : Crystal Shores West
TV - Unit : 3
Number of Beds : 2
Pool - Outdoor : Yes
Pool - Indoor : Yes
Pool - Indoor Heated : Yes
Jacuzzi : Yes
Fitness Room : Yes
Sauna : Yes
BBQ Grills : Yes
Elevator : Yes
Parking Limit : 2 Vehicles
Rental Type : Condo
Sleeps : 6
Age Requirement : 25
Long Term : No
Pet Policy : No Pets
Pet Restriction : No Pets
Parking - Guest Purchase :
Thank you for submitting your review. It will be processed shortly!
September 19, 2022 - Website
The Best Unit Ever
by April
I've visited gulf shores many times and love Crystal shores west, it's always my go to. This was undoubtedly the best unit I've ever stayed in!! The decor was beautiful, the beds were clean and comfortable and the kitchen was the first I've ever had that met all our needs. Next time I visit gulf shores if a corner unit is not available (always my first choice!) I'll request this same unit. Thank you young's suncoast staff for making my first mother/son vacation the best yet!! See you soon!!
September 7, 2022 - Manual Entry
Great location, clean, exactly as described, easy check in and out. Couldn't have asked for more.- Reviewed on VRBO
October 2022
S
M
T
W
T
F
S
01
02
03

$160

04
05
06
07
08
09

$222

10

$160

11
12
13
14
15
16
17
18

$160

19

$160

20

$160

21

$160

22

$160

23

$160

24

$160

25

$160

26

$160

27

$160

28

$160

29

$160

30

$160

31

$160
November 2022
S
M
T
W
T
F
S
01

$160

02

$160

03

$160

04

$160

05

$160

06

$160

07
08
09
10
11

$160

12

$160

13

$160

14

$160

15

$160

16

$160

17

$160

18

$160

19

$160

20
21
22
23
24
25
26
27

$160

28

$160

29

$160

30

$160
December 2022
S
M
T
W
T
F
S
01

$160

02

$160

03

$160

04

$160

05

$160

06

$160

07

$160

08

$160

09

$160

10

$160

11

$160

12

$160

13

$160

14

$160

15

$160

16

$160

17

$160

18

$160

19

$160

20

$160

21

$160

22

$160

23

$160

24

$165

25

$165

26

$165

27

$170

28

$185

29

$185

30

$190

31

$195
January 2023
S
M
T
W
T
F
S
01

$195

02
03
04
05
06
07
08
09
10
11
12
13
14
15
16
17
18
19
20
21
22
23
24
25
26
27
28
29
30
31
February 2023

| S | M | T | W | T | F | S |
| --- | --- | --- | --- | --- | --- | --- |
| | | | 01 | 02 | 03 | 04 |
| 05 | 06 | 07 | 08 | 09 | 10 | 11 |
| 12 | 13 | 14 | 15 | 16 | 17 | 18 |
| 19 | 20 | 21 | 22 | 23 | 24 | 25 |
| 26 | 27 | 28 | | | | |
March 2023
S
M
T
W
T
F
S
01

$185

02

$210

03

$225

04

$240

05

$225

06

$225

07

$225

08

$220

09

$215

10

$295

11

$305

12

$295

13

$290

14

$295

15

$285

16

$280

17

$295

18

$285

19

$275

20

$275

21

$285

22

$270

23

$270

24

$285

25

$300

26

$305

27

$300

28

$320

29

$300

30

$305

31

$320
April 2023
S
M
T
W
T
F
S
01

$330

02

$330

03

$315

04

$325

05

$300

06

$340

07

$340

08

$335

09

$325

10

$295

11

$315

12

$295

13

$295

14

$315

15

$315

16

$295

17

$180

18

$195

19

$190

20

$190

21

$215

22

$220

23

$185

24

$180

25

$185

26

$190

27

$195

28

$225

29

$230

30

$185
May 2023
S
M
T
W
T
F
S
01

$190

02

$190

03

$200

04

$205

05
06
07
08
09
10
11
12
13

$275

14

$235

15

$240

16

$240

17

$245

18

$525

19

$565

20

$590

21

$540

22

$285

23

$285

24

$285

25

$300

26

$450

27

$480

28

$435

29

$445

30

$330

31

$335
June 2023
S
M
T
W
T
F
S
01

$350

02

$380

03

$400

04

$365

05

$380

06

$380

07

$385

08

$395

09

$405

10

$415

11

$390

12

$405

13

$410

14

$410

15

$420

16

$415

17

$415

18

$430

19

$440

20

$445

21

$420

22

$425

23

$420

24

$420

25

$410

26

$420

27

$425

28

$425

29

$445

30

$445
July 2023
S
M
T
W
T
F
S
01

$445

02

$440

03

$450

04

$450

05

$455

06

$455

07

$455

08

$440

09

$435

10

$440

11

$440

12

$440

13

$445

14

$445

15

$445

16

$435

17

$450

18

$450

19

$455

20

$455

21

$450

22

$450

23

$440

24

$455

25

$455

26

$460

27

$460

28

$450

29

$450

30

$430

31

$445
August 2023
S
M
T
W
T
F
S
01

$435

02

$435

03

$440

04

$435

05

$425

06

$395

07

$395

08

$390

09

$385

10

$390

11

$395

12

$375

13

$340

14

$330

15

$320

16

$315

17

$325

18

$330

19

$315

20

$270

21

$260

22

$250

23

$250

24

$265

25

$275

26

$270

27

$230

28

$220

29

$215

30

$215

31

$235
September 2023
S
M
T
W
T
F
S
01

$360

02

$360

03

$325

04

$315

05

$205

06

$205

07

$225

08

$240

09

$245

10

$215

11

$210

12

$200

13

$200

14

$220

15

$235

16

$235

17

$210

18

$200

19

$195

20

$195

21

$210

22

$225

23

$230

24

$200

25

$195

26

$195

27

$195

28

$210

29

$230

30

$235
October 2023
S
M
T
W
T
F
S
01

$210

02

$195

03

$200

04

$210

05

$230

06

$410

07

$400

08

$370

09

$360

10

$190

11

$195

12

$210

13

$220

14

$210

15

$180

16

$180

17

$180

18

$180

19

$180

20

$190

21

$180

22

$180

23

$180

24

$180

25

$180

26

$180

27

$180

28

$180

29

$180

30

$180

31

$180