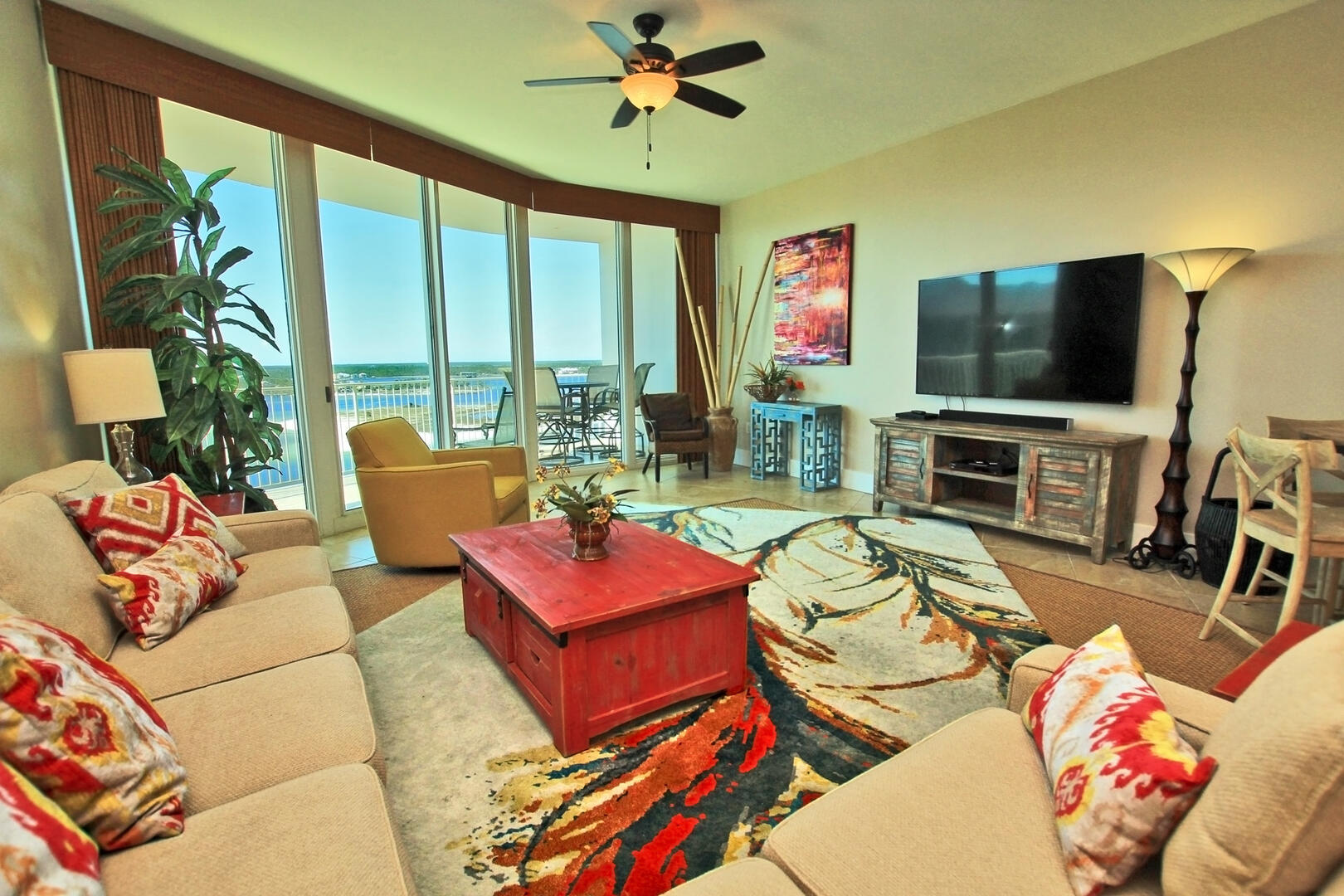 Due to ongoing balcony work, guests may not be able to access balconies and may be asked to allow works to access the balconies during their stay. The project has an estimated completion date of April 2023.

If you are looking for one of the most amazing views on the Alabama Gulf Coast look no farther than Caribe Penthouse 1C! This beautiful, 2 bedroom, 2 bathroom Penthouse condo is not only decorated beautifully inside, but the view is breathtaking. Caribe offers something for the whole family from a lazy river, water slides, saunas, steam rooms, hot tubs, tennis courts, and fitness room! Caribe also offers a fitness center, putting greens, basketball courts, tiered outdoor pools, AND heated indoor pools. You are on vacation so why not ask for more? Friends and family could gather to enjoy some corn hole, ping pong, or bocce ball. While relaxing poolside take advantage of the poolside deli! Once you are ready to retreat back to your condo, put your feet up on your private balcony with gorgeous views of both the Bay and the Gulf of Mexico. This large, 1800 square foot condo has plenty of room to spread out with the family in the spacious living room offering floor to ceiling windows, a wet bar, and a large, flat screen TV. Retreat to the master bedroom with the King size bed, a couch for lounging while watching the flat screen TV. This master suite also offers a private bathroom with a walk-in shower, and jetted-tub. The guest bedroom offers a King size bed, flat screen TV and private bathroom. Cook up some amazing local seafood in the large kitchen featuring stainless steel appliances, electric wall oven and built-in microwave. If you want to leave the cooking to someone else you are within walking distance to the amazing Cobalts restaurant, or just a short drive to many other amazing restaurants in the area. There is not much that Caribe Resort is missing, just you!

No pets are permitted. You must be 21 years of age or older to rent. This is a non-smoking property. Monthly rentals are available October-March 1st.

Bedding:
Master- King and Queen Sofa Sleeper
Bedroom 2- King
Living Room- Sofa Sleeper Queen

28103 Perdido Beach Blvd. Orange Beach, AL

Unit Location : Close to Elevator
Area : Orange Beach
Sleep Cap : 8
Bedrooms : 2.00
Internet Type : Free Unit DSL
Square Ft. : 1800
Master Bedroom : King
Building Orientation : Across the Street
Guest Bedroom 1 : King
ilink : ilink Booking
Balcony View : Waterfront
Number Bathrooms : 2.0
Complex : Caribe Resort
TV - Unit : 3
Number of Beds : 2
Pool - Outdoor : Yes
Pool - Indoor : Yes
Pool - Indoor Heated : Yes
Jacuzzi : Yes
Fitness Room : Yes
Pool - Indoor Slides : Yes
Pool - Outdoor Lazy River : Yes
Pool - Outdoor Slides : Yes
Sauna : Yes
Boat Parking : $10 Per Day
BBQ Grills : Yes
Elevator : Yes
Parking Limit : 2 Vehicles
Rental Type : Condo
Sleeps : 8
Age Requirement : 21
Long Term : No
Pet Policy : No Pets
Pet Restriction : No Pets
Parking - Guest Purchase :
Thank you for submitting your review. It will be processed shortly!
September 6, 2022 - Manual Entry
As a first timer to Orange Beach/Gulf Shores, this room and the resort amenities were even better than expected. The view is excellent and we enjoyed the multiple pools/water slides, lazy river, gym facilities (great setup of legitimate machines and free weights), sauna, and steam room. We'll definitely be back next year and plan to re-book this location! Note for anyone attending on parking: The C building is the middle of the three. As you approach the building, enter the parking garage from the entrance on the left (you'll see a road as you come through the roundabout). Once you've entered the underground parking, next turn left into the rear section of the garage. Then turn right as you see the elevators and once you round the first corner you'll see the single CPH01 spot on the left. - Reviewed on Airbnb



Awesome!!! We loved it, had a great time!!!
October 2022
S
M
T
W
T
F
S
01
02
03

$185

04
05

$185

06

$185

07
08
09

$270

10

$250

11

$240

12

$245

13

$255

14

$215

15
16

$185

17

$185

18

$185

19

$185

20

$185

21

$185

22

$185

23

$185

24

$185

25

$185

26

$185

27

$185

28

$185

29

$185

30

$185

31

$185
November 2022
S
M
T
W
T
F
S
01

$185

02
03
04
05
06
07
08
09
10
11
12
13
14
15
16
17
18
19
20
21
22
23
24
25
26
27
28
29
30
December 2022
S
M
T
W
T
F
S
01

$185

02

$185

03

$185

04

$185

05

$185

06

$185

07

$185

08

$185

09

$185

10

$185

11

$185

12

$185

13

$185

14

$185

15

$185

16

$185

17

$185

18

$185

19

$185

20

$185

21

$190

22

$195

23

$250

24

$255

25

$260

26

$275

27

$280

28

$315

29

$320

30

$335

31

$325
January 2023
S
M
T
W
T
F
S
01

$335

02
03
04
05
06
07
08
09
10
11
12
13
14
15
16
17
18
19
20
21
22
23
24
25
26
27
28
29
30
31
February 2023

| S | M | T | W | T | F | S |
| --- | --- | --- | --- | --- | --- | --- |
| | | | 01 | 02 | 03 | 04 |
| 05 | 06 | 07 | 08 | 09 | 10 | 11 |
| 12 | 13 | 14 | 15 | 16 | 17 | 18 |
| 19 | 20 | 21 | 22 | 23 | 24 | 25 |
| 26 | 27 | 28 | | | | |
March 2023
S
M
T
W
T
F
S
01

$235

02

$230

03

$270

04

$310

05

$310

06

$255

07

$255

08

$265

09

$255

10

$355

11

$365

12

$360

13

$350

14

$350

15

$355

16

$345

17

$360

18

$345

19

$345

20

$345

21

$350

22

$345

23

$340

24

$350

25

$365

26

$375

27

$375

28

$380

29

$385

30

$380

31

$390
April 2023
S
M
T
W
T
F
S
01

$410

02

$410

03

$415

04

$420

05

$420

06

$455

07

$455

08

$450

09

$435

10

$420

11

$415

12

$405

13

$400

14

$420

15

$400

16

$375

17

$245

18

$250

19

$255

20

$275

21

$310

22

$300

23

$255

24

$240

25

$245

26

$250

27

$285

28

$320

29

$310

30

$260
May 2023
S
M
T
W
T
F
S
01

$250

02

$250

03

$260

04

$300

05

$330

06

$335

07

$285

08

$270

09

$260

10

$275

11

$310

12

$345

13

$350

14

$315

15

$305

16

$300

17

$315

18

$590

19

$630

20

$645

21

$615

22

$375

23

$370

24

$385

25

$415

26

$605

27

$615

28

$590

29

$595

30

$435

31

$450
June 2023
S
M
T
W
T
F
S
01

$475

02

$500

03

$515

04

$495

05

$500

06

$505

07

$515

08

$535

09

$545

10

$550

11

$530

12

$540

13

$550

14

$555

15

$570

16

$565

17

$565

18

$560

19

$570

20

$580

21

$565

22

$580

23

$575

24

$570

25

$555

26

$565

27

$570

28

$575

29

$625

30

$620
July 2023
S
M
T
W
T
F
S
01

$615

02

$600

03

$610

04

$605

05

$615

06

$630

07

$625

08

$595

09

$575

10

$580

11

$575

12

$580

13

$590

14

$585

15

$575

16

$555

17

$570

18

$570

19

$575

20

$590

21

$590

22

$585

23

$555

24

$565

25

$570

26

$570

27

$585

28

$585

29

$570

30

$535

31

$535
August 2023
S
M
T
W
T
F
S
01

$535

02

$535

03

$555

04

$555

05

$535

06

$490

07

$475

08

$475

09

$470

10

$485

11

$485

12

$465

13

$410

14

$390

15

$375

16

$375

17

$395

18

$400

19

$380

20

$320

21

$295

22

$285

23

$285

24

$310

25

$320

26

$310

27

$245

28

$235

29

$230

30

$240

31

$270
September 2023
S
M
T
W
T
F
S
01

$505

02

$510

03

$455

04

$445

05

$230

06

$230

07

$265

08

$290

09

$295

10

$240

11

$235

12

$235

13

$235

14

$265

15

$290

16

$300

17

$245

18

$235

19

$230

20

$230

21

$260

22

$285

23

$280

24

$235

25

$220

26

$215

27

$225

28

$250

29

$280

30

$280
October 2023
S
M
T
W
T
F
S
01

$235

02

$225

03

$225

04

$240

05

$275

06

$520

07

$515

08

$480

09

$465

10

$230

11

$240

12

$270

13

$280

14

$265

15

$230

16

$215

17

$210

18

$215

19

$235

20

$245

21

$230

22

$205

23

$205

24

$205

25

$205

26

$205

27

$205

28

$205

29

$205

30

$205

31

$205