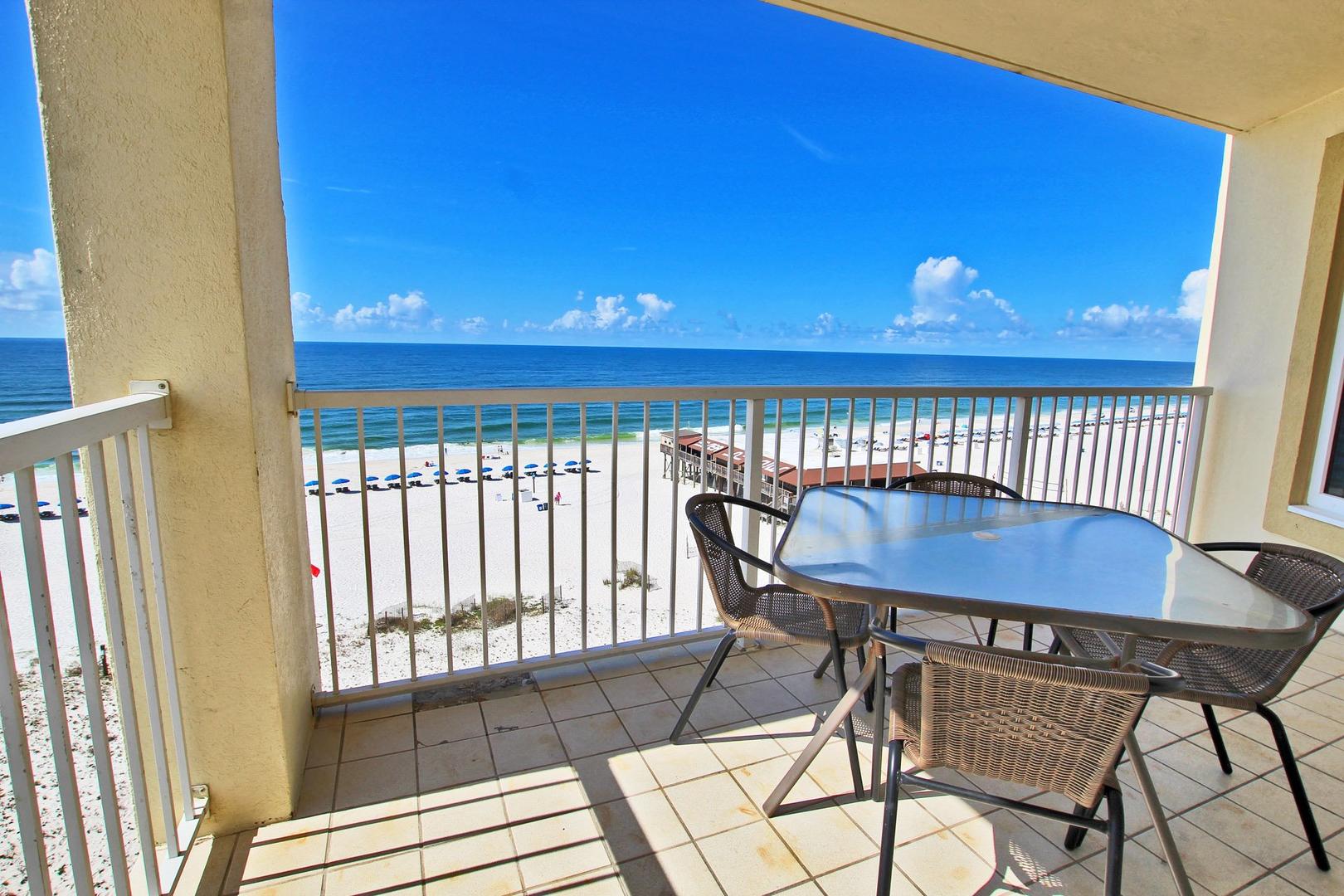 Boardwalk 681 awaits your arrival! This condo is located on the east corner of the 6th floor and offers plenty of natural light from the southern exposure and amazing views of the Gulf of Mexico. Relax in this freshly painted condo with coastal colors and local decor. Keep entertained with the new 50-inch television in the living room and free Wi-Fi throughout the condo. The fully equipped kitchen features new granite counter tops and offers seating for four at the kitchen counter. The dining area table seats six comfortably.

The master bedroom offers a new King size bed with fresh new bedding, a wall-mounted flat screen television, new carpet and balcony access. The 2nd bedroom has a queen bed, new flat screen televisions and carpet. The reconfigured bunk room features two sets of twin bunks to sleep an additional four guests, plus new carpet and flat screen television! The condo offers a full size washer and dryer for your convenience. Enjoy spectacular sunrises from your private balcony with brand new patio furniture.

Boardwalk is a timeless Gulf Shores tradition. The 70 unit complex is in the heart of shopping, attractions, entertainment and dining, including the famous Sea-n-Suds restaurant on-site. While outdoors, enjoy the gulf side pool, sundeck and BBQ area.

Monthly stays allowed November to March 1. No pets are permitted. FREE parking - 2 car maximum. Enjoy this non-smoking environment. We'll see you here soon!

Bedding:
Master - King
Bedroom 2- Queen
Bedroom 3- 2 Sets of Twin Bunks
Living Room- Queen Sofa Sleeper

409 East Beach Blvd. Gulf Shores, AL
Unit Location : East Corner
Area : Gulf Shores
Sleep Cap : 10
Bedrooms : 3.00
Internet Type : Free Public WiFi
Square Ft. : 1150
Master Bedroom : King
Building Orientation : Gulf Side
Guest Bedroom 1 : 2 Twin/Twin Bunk Beds
Guest Bedroom 2 : Queen
ilink : ilink Booking
Balcony View : Gulf Front
Number Bathrooms : 2.0
Complex : Boardwalk
TV - Unit : 4
Number of Beds : 6
Pool - Outdoor : Yes
BBQ Grills : Yes
Elevator : Yes
Parking Limit : 2 Vehicles
Rental Type : Condo
Sleeps : 10
Age Requirement : 21
Long Term : No
Pet Policy : No Pets
Pet Restriction : No Pets
Parking - Guest Purchase :
Thank you for submitting your review. It will be processed shortly!
Home Away from Home
by Del & Carol S
This is our second year to spend the winter season in #681 and were pleasantly surprised to see all the improvements and upgrades since last year. The bedrooms have been redone very nicely and the beds are very comfortable. The kitchen is well stocked with all the necessities we need. The new kitchen counters are beautiful and the dining table and stools fit quite nicely with the \"beach\" theme the owner is going for. We enjoyed our stay and consider this condo our \"home away from home\". Will be back next year!!
October 2022
S
M
T
W
T
F
S
01
02
03
04

$175

05
06
07
08
09
10
11
12
13
14

$175

15

$215

16

$175

17

$175

18

$175

19

$175

20

$175

21

$185

22

$190

23
24
25
26
27
28
29

$175

30

$175

31

$175
November 2022
S
M
T
W
T
F
S
01

$175

02

$175

03

$175

04

$175

05

$175

06

$175

07

$175

08

$175

09

$175

10

$175

11

$175

12

$175

13

$175

14

$175

15

$175

16

$175

17
18
19
20
21
22

$185

23

$230

24
25
26

$255

27

$230

28

$175

29

$175

30

$175
December 2022
S
M
T
W
T
F
S
01

$175

02

$175

03

$175

04

$175

05

$175

06

$175

07

$175

08

$175

09

$175

10

$175

11

$175

12

$175

13

$175

14

$175

15

$175

16

$175

17

$175

18

$175

19

$175

20

$175

21

$175

22

$175

23

$195

24

$185

25

$195

26

$195

27

$195

28

$220

29

$225

30

$230

31

$225
January 2023
S
M
T
W
T
F
S
01

$240

02
03
04
05
06
07
08
09
10
11
12
13
14
15
16
17
18
19
20
21
22
23
24
25
26
27
28
29
30
31
February 2023

| S | M | T | W | T | F | S |
| --- | --- | --- | --- | --- | --- | --- |
| | | | 01 | 02 | 03 | 04 |
| 05 | 06 | 07 | 08 | 09 | 10 | 11 |
| 12 | 13 | 14 | 15 | 16 | 17 | 18 |
| 19 | 20 | 21 | 22 | 23 | 24 | 25 |
| 26 | 27 | 28 | | | | |
March 2023
S
M
T
W
T
F
S
01

$215

02

$255

03

$255

04

$260

05

$260

06

$255

07

$250

08

$255

09

$260

10

$335

11

$340

12

$340

13

$340

14

$340

15

$345

16

$345

17

$345

18

$325

19

$325

20

$335

21

$335

22

$335

23

$335

24

$330

25

$340

26

$345

27

$355

28

$355

29

$365

30

$370

31

$375
April 2023
S
M
T
W
T
F
S
01

$390

02

$390

03

$385

04

$380

05

$380

06

$440

07

$430

08

$425

09

$385

10

$375

11

$370

12

$365

13

$385

14

$405

15

$415

16

$355

17

$225

18

$230

19

$225

20

$260

21

$295

22

$305

23

$235

24

$230

25

$235

26

$230

27

$265

28

$290

29

$295

30

$295
May 2023
S
M
T
W
T
F
S
01

$285

02

$290

03

$295

04

$335

05

$365

06

$370

07

$330

08

$265

09

$270

10

$285

11

$320

12

$350

13

$355

14

$330

15

$310

16

$320

17

$340

18

$705

19

$725

20

$730

21

$710

22

$375

23

$385

24

$400

25

$430

26

$580

27

$590

28

$570

29

$580

30

$450

31

$460
June 2023
S
M
T
W
T
F
S
01

$480

02

$480

03

$490

04

$465

05

$485

06

$495

07

$505

08

$515

09

$515

10

$525

11

$495

12

$525

13

$530

14

$530

15

$530

16

$540

17

$535

18

$550

19

$570

20

$570

21

$540

22

$535

23

$535

24

$530

25

$520

26

$525

27

$530

28

$520

29

$555

30

$555
July 2023
S
M
T
W
T
F
S
01

$555

02

$555

03

$555

04

$555

05

$560

06

$565

07

$570

08

$555

09

$555

10

$560

11

$565

12

$570

13

$580

14

$585

15

$590

16

$585

17

$590

18

$590

19

$585

20

$590

21

$590

22

$590

23

$580

24

$580

25

$575

26

$570

27

$575

28

$575

29

$570

30

$550

31

$550
August 2023
S
M
T
W
T
F
S
01

$545

02

$540

03

$545

04

$555

05

$540

06

$510

07

$515

08

$505

09

$500

10

$505

11

$520

12

$495

13

$450

14

$445

15

$430

16

$430

17

$445

18

$460

19

$430

20

$380

21

$360

22

$350

23

$350

24

$370

25

$395

26

$375

27

$325

28

$305

29

$290

30

$295

31

$325
September 2023
S
M
T
W
T
F
S
01

$540

02

$525

03

$480

04

$455

05

$265

06

$280

07

$315

08

$355

09

$340

10

$290

11

$270

12

$250

13

$260

14

$295

15

$325

16

$315

17

$265

18

$245

19

$235

20

$245

21

$270

22

$295

23

$295

24

$245

25

$235

26

$245

27

$255

28

$280

29

$295

30

$300
October 2023
S
M
T
W
T
F
S
01

$250

02

$245

03

$255

04

$255

05

$285

06

$470

07

$485

08

$415

09

$410

10

$245

11

$240

12

$270

13

$285

14

$280

15

$215

16

$205

17

$200

18

$200

19

$225

20

$240

21

$230

22

$200

23

$200

24

$200

25

$200

26

$200

27

$205

28

$200

29

$200

30

$200

31

$200